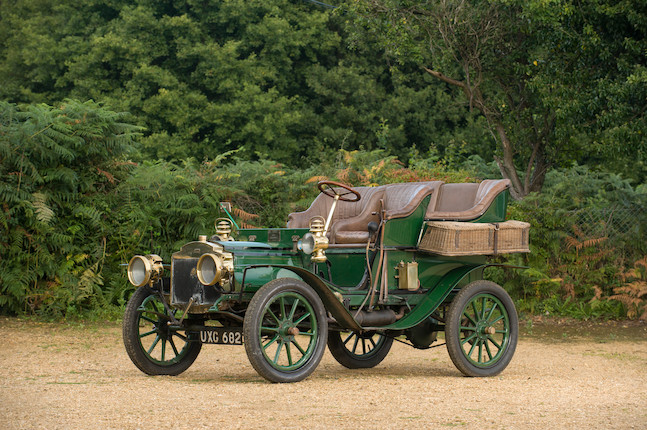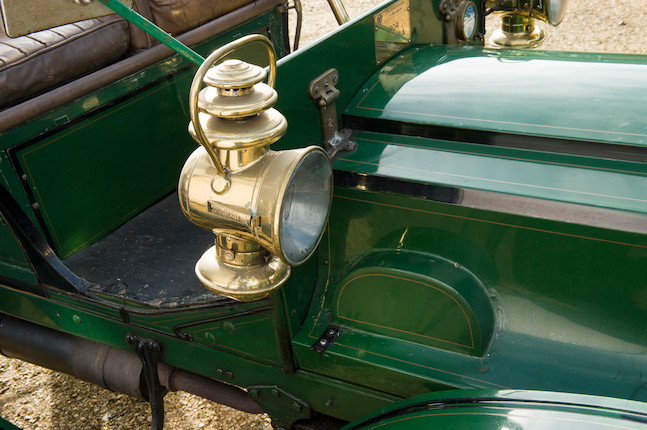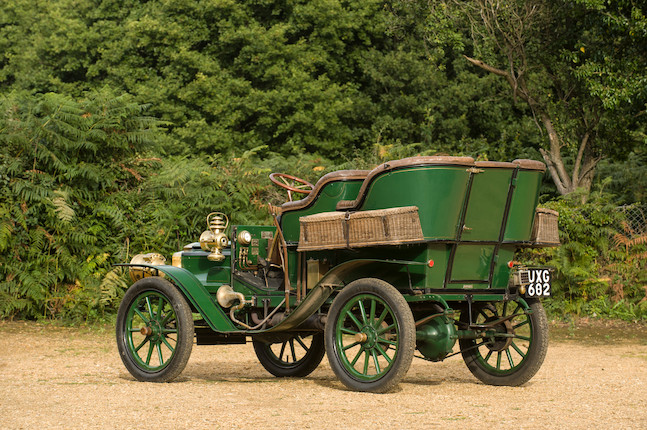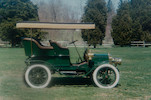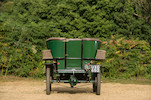 1904 Columbia Mark XLIII Two-Cylinder Rear Entrance Tonneau
Registration no. UXG 682 Chassis no. 4220
30 October 2015, 18:00 GMT
London, New Bond Street
Sold for £79,500 inc. premium
Own a similar item?
Submit your item online for a free auction estimate.
How to sell
Looking for a similar item?
Our Collector Cars specialists can help you find a similar item at an auction or via a private sale.
Find your local specialist
Ask about this lot
Tim Schofield
Senior Specialist, Head of Department, UK
1904 Columbia Mark XLIII Two-Cylinder Rear Entrance Tonneau
Registration no. UXG 682
Chassis no. 4220

*Short-lived American marque
*Cosmetically restored in the 1960s
*Current ownership since 2004
*Participant in seven London to Brighton Runs

Footnotes
Nowadays principally associated with electric vehicles, Columbia was established in Hartford, Connecticut by one of the giants of the nascent United States automobile industry: Colonel Albert Augustus Pope. The Colonel had established his manufacturing empire in the aftermath of the American Civil War. His first major product line was bicycles and by the end of the 19th Century the Colonel was head of the American Bicycle Company, a consolidation of some 40-plus firms. Pope first ventured into the field of powered transport in the late 1890s with the electrically powered Columbia, though a few gasoline-powered cars were made also, the first of which appeared around 1899. That same year Pope had merged his motor manufacturing interests with those of the Electric Vehicle Company (EVC) to form the Columbia Automobile Company. EVC also owned the infamous 'Selden patent' for a gasoline-powered automobile, which had been filed by George B Selden in 1895. EVC sought royalties from all US automobile manufacturers but was challenged by Henry Ford among others, and after many years of litigation the patent was overturned by the courts.

Hiram P Maxim was responsible for designing the first Columbias, his place as chief engineer being taken in the early 1900s by Frederick A Law. Electrically powered models continued to make up the bulk of Columbia production – in 1904 there were 37 listed as opposed to only two gasoline cars: a 12/14hp twin-cylinder and 30/35hp four. Gradually, the market for electric cars contracted and gasoline models took over. In 1911 there were only two of the former in Columbia's range while that same year the company was offering ten gasoline-powered cars on two different chassis. By then, Columbia had been absorbed by Benjamin Briscoe's United States Motor Company, only to disappear when USMC collapsed in September 1912.

Columbia's first gasoline model of 1899 was powered by a two-stroke engine designed by Maxim. The car shared many common features with contemporary horse-drawn carriages, its large-diameter wheels being designed for the deeply rutted roads of the time. Its engine was a vertical, twin-cylinder, water-cooled two-stroke displacing 616cc, which drove the rear axle directly by chain. Of 3' 11" wheelbase, the chassis featured full elliptic springing front and rear while the solid tyres were mounted on 32" front and 34" rear wheels.

A 1904 Mark XLIII rear-entrance tonneau, the gorgeous Columbia offered here is powered by a 2.9-litre twin-cylinder engine rated at 12/14hp and has a wheelbase of 82". Cosmetically restored in the early 1960s, this stunning automobile is finished in a beautiful deep green with brown leather interior, and features an attractive surrey top. It rolls on green artillery wheels shod with beaded tyres (the previous period-style white balloon tyres are available upon request). The brass grille and lamps are highly polished, while charming wicker baskets adorn each side of the tonneau. The provision of twin Schebler carburettors, replacing the originals, is the only notified deviation from factory specification.

The current vendor purchased the Columbia in January 2004 from John Kraft of New York, USA, who had rallied the car in local single- and twin-cylinder events plus two in Bermuda. Previous owners include H Jorgensen, H Gilbert, H A Clark and J Melton. Since acquisition, the Columbia has participated in various VCC events including the popular 'Creepy Crawly' and 'Snail Trail', and has successfully completed seven London to Brighton Runs. Presented in good useable condition, the car is offered with VCC dating Certificate and a UK V5C registration document.