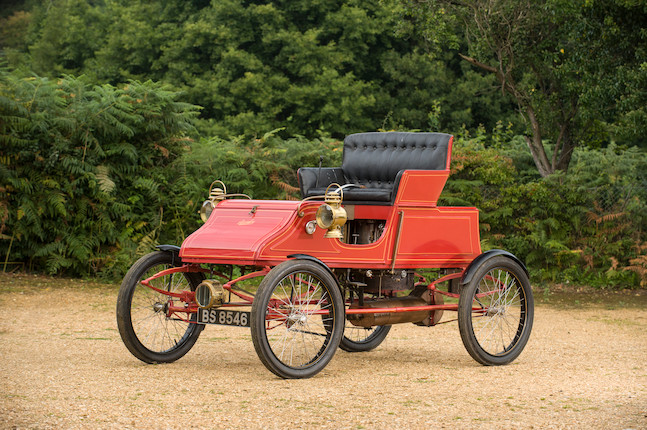 1903 Stanley CX 6½hp Steam Runabout
Registration no. BS 8546 Chassis no. 507 Engine no. 1200
30 October 2015, 18:00 GMT
London, New Bond Street
Sold for £40,250 inc. premium
Own a similar item?
Submit your item online for a free auction estimate.
How to sell
Looking for a similar item?
Our Collector Cars specialists can help you find a similar item at an auction or via a private sale.
Find your local specialist
Ask about this lot
Tim Schofield
Head of Department
1903 Stanley CX 6½hp Steam Runabout
Registration no. BS 8546
Chassis no. 507
Engine no. 1200

*Iconic American steam-powered passenger car
*Listed in the Stanley Register
*Extensively restored
*Boiler tested in June 2015
Footnotes
'When all was well, the little Stanley runabouts probably provided more pleasurable motoring than anything else on the market at the turn of the century - that is if they were handled properly - they ran very quietly and with that effortless smoothness which no petrol car of the time could rival. They were also quite lively...' - Anthony Bird, 1967.

Francis E and Freeland O Stanley were identical twins, whose Stanley Dry Plate Company produced photographic equipment. The brothers also designed steam cars, experimenting with a solitary prototype in 1887 before reviving the project in 1897. By the following year they had completed three more, one of which completed a spectacular demonstration in Charles River Park, Boston where it successfully scaled an 80ft incline that had defeated its rivals. Orders for 200 cars resulted and the Stanleys were in business. That first design was sold to John Brisben Walker and manufactured as the 'Locomobile', while the Stanleys progressed to a non-condensing engine driving the rear axle directly, with a rear-mounted boiler, production of which commenced in 1902. With Mobile out of business by 1903 and Locomobile by that time making petrol-engined cars, Stanley dominated the market and continued to do so until 1927 when steamer production ceased. Stanley's sole UK agent was F Wilkinson of Manchester.

Listed in Kelly R Williams' Stanley Register and the Sprague Register (when owned by Art Hart), this CX runabout was previously purchased by one A Sinclair from a G Brese in the USA and imported in a partially dismantled state in June 2008. It was rebuilt with the assistance of F J Theobald (of the Steam Car Club) and on Mr Theobald's death was sold to a Mr T Gurr. The current vendor acquired the Stanley in February 2013, since when a considerable amount of additional work has been carried out, mainly by J R Goold Vintage Steam Restorations. The rebuild was only completed earlier this year and the car is described as in generally excellent condition. Tested on 9th June 2015, the boiler (and its larger-than-stock tank) are the only notified deviations from factory specification. Accompanying paperwork consists of sundry restoration invoices and a V5C registration document.