Goodwood Revival / 1963 Jaguar E-Type 3.8-Litre 'Semi-Lightweight' Competition Coupé Chassis no. 888169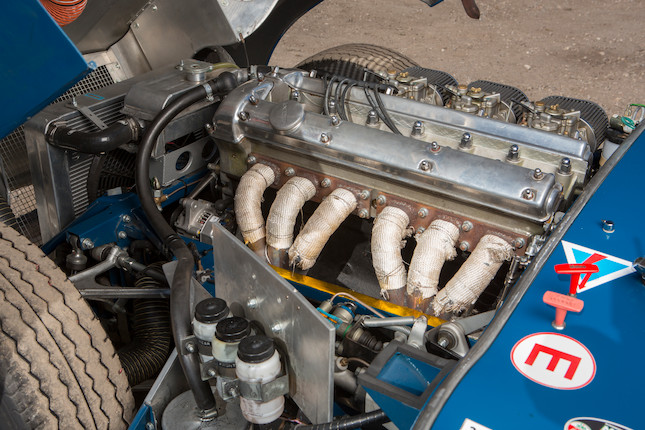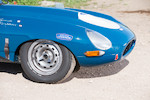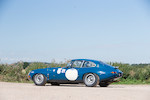 1963 Jaguar E-Type 3.8-Litre 'Semi-Lightweight' Competition Coupé
Chassis no. 888169
12 September 2015, 13:30 BST
Chichester, Goodwood
Sold for £180,700 inc. premium
Own a similar item?
Submit your item online for a free auction estimate.
How to sell
Looking for a similar item?
Our Collector Cars specialists can help you find a similar item at an auction or via a private sale.
Find your local specialist
1963 Jaguar E-Type 3.8-Litre 'Semi-Lightweight' Competition Coupé
Chassis no. 888169

* First E-Type at 2015 'Le Mans Legend'
* Fully documented
* Current FIA Historic Technical Passport (HTP) papers

Footnotes
Right from the moment deliveries commenced in 1961, the E-Type began to find its way on to the world's racetracks. In the Grand Touring class for production sports cars the E-Type proved competitive right from the start, Graham Hill celebrating the model's racing debut by winning at Oulton Park on 3rd April 1961.

The elevation of the GT class to Manufacturers' Championship status for 1963 prompted Jaguar to develop a small batch of very special lightweight cars to challenge Ferrari. The FIA's regulations for the Gran Turismo category stipulated that a minimum of 100 cars had to be built, but permitted coachwork modifications, thus enabling Jaguar to claim that its lightweights were standard E-types fitted with altered bodywork. (This is the same loophole exploited by Ferrari to get the limited edition 250 GTO homologated, by claiming that they were re-bodied 250 GTs). In fact, all 12 lightweight E-Types constructed in period were built from scratch with aluminium bodies, though they were invoiced as a new standard road car with additional modifications and numbered in the normal production sequence, albeit with an 'S' chassis number prefix.

To create the 1963 lightweight version, the E-Type's steel monocoque tub and outer body panels were remanufactured in aluminium and the engine dry-sumped and fitted with an alloy cylinder black, 'wide-angle' head and Lucas mechanical fuel injection, producing in excess of 300bhp. The production four-speed gearbox was used initially before a ZF five-speed unit was adopted towards the end of 1963. '4 WPD', the works development E-Type racer campaigned by John Coombs and driven by Graham Hill, was converted to lightweight specification and served as the prototype.

The 12 cars built by the factory were intended for the use of competition orientated Jaguar dealers or specially selected private entrants. Two of them, campaigned by Peter Lindner (Jaguar's Frankfurt distributor) and Peter Lumsden, were fitted with a revised, low-drag tail section devised by aerodynamicist Malcolm Sayer, the man responsible for the standard production E-Type. This move to a more aerodynamic design had been prompted by the fact that although the GTOs had proved beatable on British short circuits, on faster tracks and in events of longer duration they decisively held the upper hand.

Sadly, the lightweight and low-drag E-Types failed to fulfil their potential in the endurance classics, though the car did prove able to take on and beat the Ferrari GTOs at shorter distances. Today, copies of these rare competition variants are among the most popular and sought after of all E-Type replicas.

This FIA-certified semi-lightweight E-Type 'Le Mans' racer was raced by a Swiss collector for the 2014 and 2015 and comes with copy results sheets for the 'Le Mans Legend' (organised by Motor Racing Legend) and the 'Le Mans Classic' and 'Sixties Endurance Race' (organised by Peter Auto). In the 2014 'Le Mans Classic' (Race 4) this car qualified as first E-type, having lapped the historic Le Mans circuit in a highly respectable 5 minutes 4.972 seconds, beating other E-Types in a mixed field of Jaguars by two seconds. In the 2015 'Le Mans Legend', this car was the first E-type home, recording a maximum speed of 242.6km/h (150mph) ahead of the highly competitive E-type driven by Steve Soper. Finally, in the 'Sixites Endurance' race at the 2015 Monza Historic, this car finished 1st overall, putting an end to the domination of the AC Cobras.

Left-hand drive chassis number '888169' was totally restored in 2014 as a 'continuation' of the semi-lightweight E-type driven by Maurice Charles and John Coundley in the 1962 Le Mans 24 Hours race (car number '8'). It is a specially prepared competition semi-lightweight model featuring a 3.8-litre race engine built in 2013 by specialists Sigma Engineering (Peter Lander). Breathing through triple Weber 48 DCOE carburettors, this unit incorporates a high-compression cylinder head, thick '3.8' steel block, steel crankshaft, steel race con-rods, forged pistons, lightened flywheel, triple-plate competition clutch, hydraulic release bearing, and anodised billet aluminium cylinders. Power is transmitted via a Denis Welch Motorsport four-speed straight-cut gearbox. Fabricated by expert coachbuilder Simon Dunford, the new body is to 'Semi-Lightweight' specification, incorporating an aluminium bonnet, roof, boot lid and doors. Accompanying documentation includes correspondence with the service providers and others involved in the car's race preparation.

After a year spent fully restoring all the original parts, the E-type was sent for race preparation to M & C Wilkinson, who undertook further work under Mike Wilkinson's supervision, all to period specification, and obtained FIA papers. In 2014, the vendor began racing the E-Type, investing an additional £100,000 in 'getting the car just right', which included finishing the exterior in classic Opalescent Blue.

Additional specification highlights include:
Brand new FIA fuel cell
Lightweight specification alloy wheels
Cool-ducted FIA front brakes
Rebuilt front brake callipers and new stainless steel rear callipers
Interior roll bar as per Lightweight, set-up for HANS device
On-board fire extinguishing system
Perspex windows
Upgraded differential c/w cooling radiator

The car comes with a huge history file containing all documentation regarding special-order specifications and also a list of the additional lightweight items purchased for the Le Mans entry. Fully sorted, safe and extremely reliable, this highly successful E-Type is a proven 'turnkey' competition car ready for race, rally or street use.