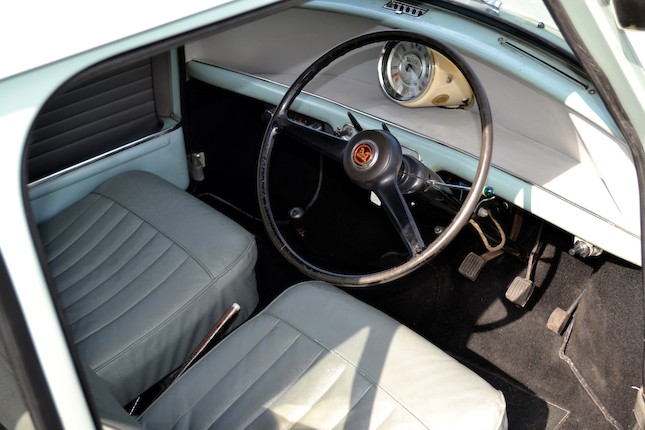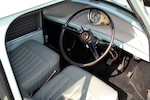 1962 Morris Mini Minor Saloon
Registration no. TSL 950 Chassis no. M-A2S4/124536 Engine no. 8AM-U-H/337118
Withdrawn
Amended
26 June 2015, 14:00 BST
Chichester, Goodwood
1962 Morris Mini Minor Saloon
Registration no. TSL 950
Chassis no. M-A2S4/124536
Engine no. 8AM-U-H/337118

*Early example of an iconic model
*Original and un-restored
*Believed-genuine 17,520 miles from new
*Offered from a private collection
Footnotes
'The new Mini was as different from the British small car norm in 1959 as a space shuttle from a firework. It bristled with innovative ideas, it looked radically different from any other car and was the most compact "real" car Britain ever produced.' – Chris Rees, 'Complete Classic Mini'.

The passage of time since its departure 15 years ago has only served to enhance the original Mini's classic status, resulting in a healthy demand for exceptionally original and un-restored examples such as that offered here, which displays a believed-correct total of only 17,520 miles on the odometer. There is no supporting paperwork, but the car's appearance suggests that the total is correct. A lovely 'time warp' example, it is in generally good condition, although some surface corrosion is beginning to appear in places.

The accompanying BMIHT certificate (issued in 2009) confirms matching engine and chassis numbers and reveals that the Mini was despatched on 22nd May 1962 to London based Morris distributors, Stewart & Arden Limited. It still retains its original colour scheme of Smoke Grey with Dark Grey interior.

The previous recorded keeper is a Mr Peter Attenburrow, who acquired the Morris Mini Minor from Brooklands (Exeter) Limited in February 2011. The car has been with its present owner since October 2013, forming part of his private collection together with four other Minis. The accompanying history file contains the aforementioned BMIHT certificate, a purchase invoice, driver's handbook, V5C registration document and a number of expired MoT certificates, the earliest issued by a Brighton garage in 2005 with an odometer reading of 17,500 miles. The most recent MoT was issued by Brooklands in January 2011 at 17,520 miles. A wonderful opportunity to acquire an original and unmolested example of one of the 20th Century's greatest cars in its earliest, purest form.
Saleroom notices
This lot will now be offered at the Goodwood Revival Sale on the 12th of September 2015.