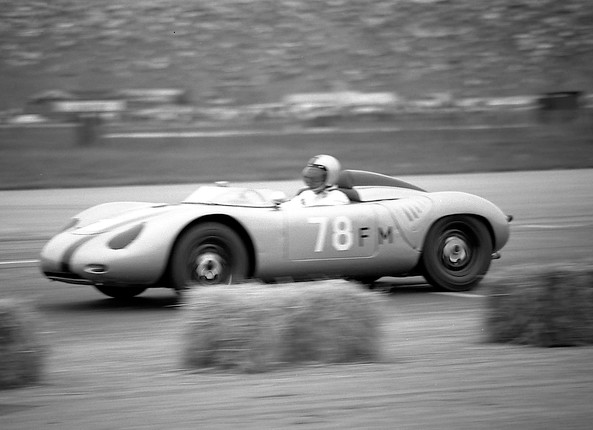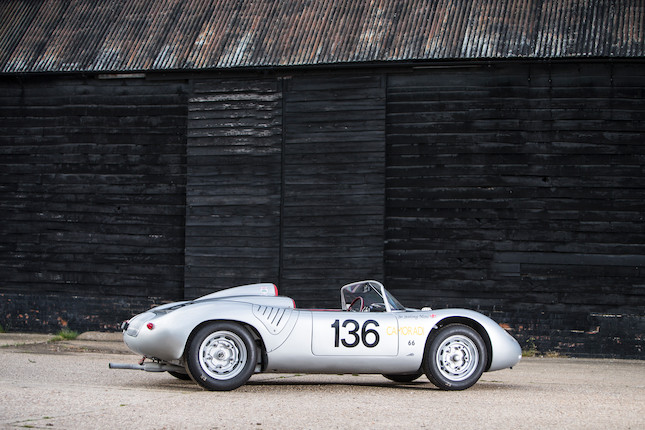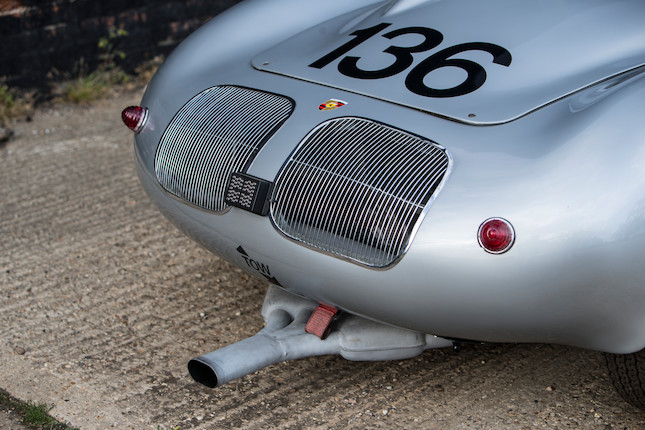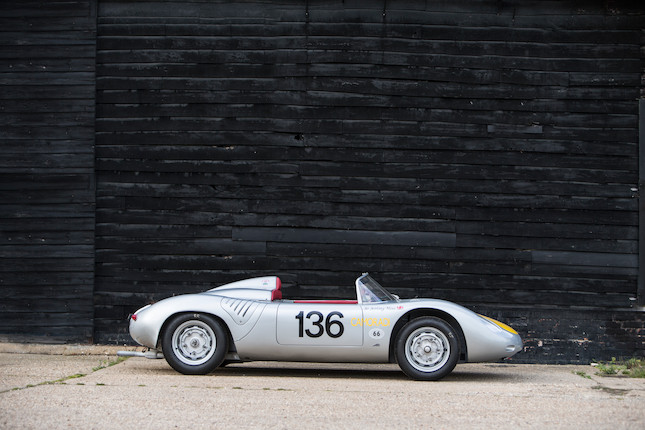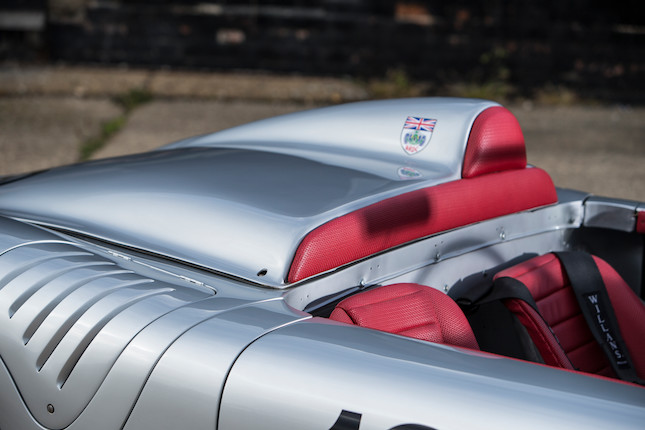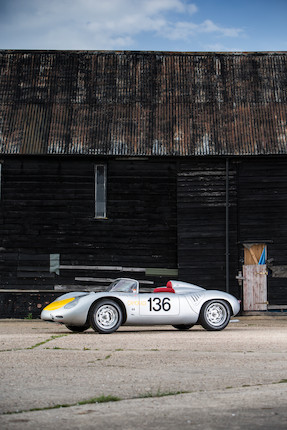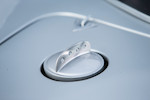 1961 Porsche RS-61 Spyder Sports-Racing Two-Seater
Chassis no. 718-070
26 June 2015, 14:00 BST
Chichester, Goodwood
Sold for £1,905,500 inc. premium
Own a similar item?
Submit your item online for a free auction estimate.
How to sell
Looking for a similar item?
Our Collector Cars specialists can help you find a similar item at an auction or via a private sale.
Find your local specialist
The Property of Sir Stirling Moss OBE
The Ex-Bob Holbert, 'Gentleman Tom' Payne, Millard Ripley
1961 Porsche RS-61 Spyder Sports-Racing Two-Seater
Chassis no. 718-070
Footnotes
The BONHAMS Motor Car Department is absolutely privileged to offer here this fine example of one of the greatest and most charismatic of all small-capacity sports-racing cars – Porsche RS-61 Spyder chassis number '718-070' – direct from the enthusiastic and charismatic ownership of none other than Sir Stirling Moss, OBE – for many enthusiasts one of the world's greatest-ever racing drivers, and most certainly the standard-setting driver of his heyday period, 1958-1962.

He is uniquely well-placed, as winner of multiple World Championship Grand Prix and major-league Sports Car races, to judge the quality of such classical competition cars as the Porsche RS-60/61 series.

He describes these nimble little, streamlined-bodied German-silver jewels as having been "Just super cars – beautifully balanced and simply tailor-made for such races as the mighty Targa Florio around 440 miles of Sicilian mountain roads. That was one morning when I woke up and really could say to myself, 'For today's race you have got the ideal car...' ".

In fact the charismatic Porsche company's agile little RennSport ('RS') sports-racing cars with powerful 4-cylinder air-cooled engine mounted behind the open two-seat cockpit, won the now almost mystical Targa Florio – absolutely the most romantic motor race on the Sports Car World Championship calendar – in 1956, 1959 and 1960.

In 1961, Sir Stirling shared a 2-litre Porsche RS60 there with 1962 and 1968 World Champion-to-be Graham Hill (father of 1996 World Champion Damon). Sir Stirling recalls today: "We have since been described as moral winners of that race, which is unfortunate, because moral first places don't pay first-place prize money."

Porsche chose the 2-litre engine for that race in place of their usual 1.7-litre to ease gear-changing demand on the gruelling Sicilian countryside circuit:
"Our race car was just perfect for the course, we could hardly have wished for nicer, and I led for the first four 44-mile laps, by 1½ minutes before handing over to Graham for his two laps. He handed the car back to me 76 seconds behind a Ferrari, and I managed to change that into a 65-second lead with one lap to go. We looked set for a lap record last time round and a great win until – only 8kms from the finish - the transmission failed, put us out, so Ferrari won instead..."

Moss and Hill then drove the latest works team car, the almost identical Porsche RS61 fitted with a 1605cc engine, in the subsequent Nürburgring 1,000 Kilometres race in West Germany. On a track slick with drizzle, Sir Stirling took the lead on the second lap but, as the course dried, he was overwhelmed by far larger and more powerful factory Ferraris.

He wrote of this race: "After twelve laps I handed over to Graham who rejoined fifth. Then it began to snow! Graham handed back to me and I found the little Porsche ideal for the Nürburgring in such conditions. We climbed into third, then second. I was set to take the lead when the little car broke – but it had been exciting while it lasted."

'Mr Motor Racing' never lost his great affection for 'this terrific little Porsche' and some years ago, when he saw the very well-restored RS61 chassis '070' offered for sale in America he "...just fell in love with it, all over again".

In fact his long love affair with the small-engined Porsche sports-racing Spyder series began as far back as mid-summer, 1955, when – the week after his first Formula 1 World Championship-qualifying victory in the British Grand Prix (driving a Mercedes) – he campaigned a Porsche 550 Spyder in the Civil Governor's Cup race on the Monsanto Park circuit in Lisbon, Portugal. He recalls how "By definition, most racing cars of the 'fifties were unreliable. Porsche's greatest attribute above all else was their incredible, legendary reliability". Of the Lisbon 550 he added: "I was quite impressed by the car in practice but then unfamiliarity spoiled my start as I gave too many revs and merely sat there with the wheels spinning but no traction. I subsequently caught the field and ran through them into the lead, eventually won and set fastest race lap."

He then arranged to share a works-entered Porsche 550 Spyder in that year's Goodwood 9-Hour race, co-driving with the Stuttgart-based company's racing director Baron Fritz Huschke von Hanstein: "It was terribly over-geared in practice but we were in pretty good shape come race day. After seven of the nine hours we were well set to win our class when I took over from Huschke, but I hadn't been out very long when Tony Crook's Cooper-Bristol spun on spilled oil at the chicane and slewed back into my path. There was nothing I could do to avoid him, and I rammed him fair and square, which put us out after 237 laps. Dammit.

"I drove a Porsche 550 only once more, round the other side of the world from Goodwood the following January, in the sports car race supporting the 1956 New Zealand Grand Prix. It was a handicap race but the handicappers were not too unkind, which allowed me a comfortable ride and an easy win...my second for Porsche in my first three races with them".

Two years then passed before Sir Stirling next drove the improved Porsche 550A in the model's swansong appearance as the factory team's spearhead, in Argentina.

"Jean Behra and I really fell into this drive in the 1958 Buenos Aires 1,000Kms after the Maserati 300S originally entered for us just fell apart as practice began. Huschke von Hanstein offered us one of his works Porsche instead. It proved just a joy to drive and we were able to go giant-killing amongst the works Ferraris which really was deeply satisfying. The Porsche felt much the same as the 550 which I had driven in 1955-56, but its chassis was now a true spaceframe in place of the basic 550 platform type. It was also lighter and had more power.

"What impressed me most was that rugged-sounding air-cooled engine behind my shoulders winding up to 7,400rpm while at the same time feeling utterly unburstable."

He qualified the Porsche sixth-fastest overall and in his diary enthused simply "V.V.G.!" . On race day he then ran second in the little 1500 Porsche for fully 2hrs 20mins, splitting the factory Ferrari team's full 3-litre V12-engind Testa Rossa cars. He then handed over to French team-mate Jean Behra, whose stint ended in his returning the car to Sir Stirling, who resumed in third place with only seven of the 5.8-mile laps remaining.

"Luigi Musso stopped his Ferrari for fuel and tyres which let me through into second place behind the leading Peter Collins/Phil Hill Ferrari, but Olivier Gendebien then took over from Musso and with my 1500 Porsche I wasn't really in a position to argue with his 3-litre V12, so I settled for third overall – and we still won our class by miles."

Consulting his diary again: "Jean lapped at 3:36 during the race and I ended it lapping in 3:30s, which was only two seconds slower than Phil Hill's pole position time in the Ferrari Testa Rossa... It had been thoroughly enjoyable as we had forced the Ferraris to run harder than they had really wanted all day long".

So it was against this extensive and successful background, and a virtual love-affair with the small-capacity Porsche Spyders, that Sir Stirling had renewed his works-driver relationship with the RS60 and '61 cars in the 1961 Targa Florio and Nűrburgring 1,000 Kilometre classics.

And when in recent years he saw the most attractive Porsche RS61 – chassis '070' – now offered here being promoted for sale in America his innate enthusiasm bubbled again to the surface. "I thought it looked a fabulous car. I remembered what fun it had been to drive and, Boy, I really got the hots for it!". Near-tragically he then suffered his now celebrated lift-shaft accident, stepping into the lift at his home in Mayfair, London, as he had done thousands of times before, while talking over his shoulder to a guest. In fact a system failure had left the lift car parked on the floor above, and Sir Stirling fell instead some 20-30 feet down the empty lift shaft. He was fortunate to land feet first but still sustained serious injuries to his feet and lower legs. He was recovering from this shocking incident in a London hospital when the American auction Sale took place, and as his wife Lady Moss recalls: "He seemed more exercised about not missing out on what he was already calling 'my Porsche' than having much concern with his injured condition". Consequently an American acquaintance was recruited to bid on his behalf, and Sir Stirling was delighted when he heard that he had been successful, and that '070' had become his property.

Sir Stirling's accident recovery progressed rapidly as the car was prepared for him in the USA by VRM to return to the race track at that same year's Monterey Historics race meeting at Laguna Seca.

There he had just gone out in the car on his opening practice lap when, just after the Californian course's famous 'Corkscrew' section, '070's transmission suddenly locked-up and spun him off onto the sandy verge. "I wasn't even pressing on. I had just left the pits and I was still settling in, checking the controls and the instruments and taking a look at the circuit, when the rear wheels suddenly locked and spun me off. I was then left sitting in no man's land, wondering what the hell had happened when I looked up and saw a Lotus also spinning like a top but coming straight for me...".

The out-of-control Lotus unfortunately collided with the stationary Porsche's nose, causing visually extensive, but fortunately not too serious body damage. Sir Stirling was more devastated than merely disappointed, but at least would have the supreme relief of the subsequent strip-down finding that a ball-bearing race in the gearbox had lost one the balls, which had then jammed between two gear-wheels, locking the car's transmission absolutely solid and so causing the maestro's ostensibly embarrassing incident.

"It was also regrettable...", Sir Stirling recalls, "...that the impact damage revealed how the original bodywork had been restored with a massive thickness of filler beneath the paint, and we also found other chassis and suspension problems after some poor previous repair work." But after complete repair and a proper restoration to raceworthy order the car was now just as Sir Stirling wanted it: "...when I entered in the Historic race supporting the Le Mans 24-Hours in 2011 - it was a joy..."

In fact that drive during practice at the Le Mans 24-Hour race circuit – on which he had so often led the World's most prestigious sports car race for such rival marques as Jaguar, Mercedes-Benz and Aston Martin - proved to be the then 81-year-old 'Mr Motor Racing's swansong competitive appearance.

"I had always said that I raced cars because I enjoyed racing them, and if I ever found that I was no longer enjoying it then I would give it up. While I loved driving my Porsche, I found I no longer really enjoyed racing amongst others whose capabilities I didn't know on a pretty crowded circuit. During practice I thought to myself, I could go faster than him ahead, but then I felt that if I tried to pass him I would scare myself. And I just didn't want to scare myself. I felt it was my body's way of telling me that the time had come, and so when I got back to the pits after that session, I announced my final retirement. It was nice to bow out at that point – so my Porsche RS61, which I really enjoyed to drive on its own – became my last racing car. And now I guess it's just the time for a new owner to share the RS61 experience..."

This particular Porsche - chassis '070' – was in fact delivered brand-new to first owner Bob Holbert of Pennsylvania early in 1961. A celebrated figure in the history of American sports car racing, Bob Holbert was the leading American Porsche specialist of his era running a Volkswagon-Porsche dealership in Warrington, PA, near Philadelphia, one of the German marque's first US dealerships. His son Al Holbert would win the Le Mans 24-Hour race three times in 1983-6-7, the Daytona 24-Hours twice, 1986-87 and the Sebring 12-Hours twice in 1976-81.

Bob Holbert drove '070', now offered here, in a busy programme of Sports Car Club of America east-coast events early in 1961, including the Daytona National. He won a 1961 SCCA National Championship title driving both '070' and its sister car '044' which was the ex-works machine which had been co-driven by Stirling Moss and Graham Hill in that year's Targa Florio, as related above.

On February 5 at Daytona he had won the 35-lap unlimited-capacity sports car race outright – defeating Scarab-Chevrolet and Lister-Chevrolet opposition. On April 16 he beat a Maserati Tipo 61 'Birdcage' to win the 40-lap Marlboro National Governor's Cup race, and on April 30 he placed '070' fourth behind three much more powerful Tipo 61 'Birdcage' cars in the President's Cup 3-Hour race at Danville, Virginia. Bob Holbert would also win in his Porsche RS61 at Cumberland, Maryland, on May 14.

He then sold the car to fellow SCCA driver Tom Payne – who had built his reputation as 'Gentleman Tom' Payne, since by preference he would habitually wear an impeccably-pressed lounge suit and tie while racing.

Tom Payne and Porsche RS61 '070' featured in such further 1961-season east-coast events as the Cumberland Nationals, Wisconsin Grand Prix, Thompson Nationals, Indianapolis Raceway Park and the Atlanta '500' Sprints. For example, on June 18, 1961, he drove '070' home ninth overall and third in class at the Elkhart Lake June Sprints – actually a 25-lap race around the magnificent Road America course. On July 1 he also featured at Lime Rock, on July 23 at Meadowdale and on August 5 at Bridgehampton.

He won his class in the car at Atlanta, before selling it to fellow SCCA owner/driver Millard Ripley in preparation for the 1962 season. He owned a sizeable Volkswagen-Porsche dealership business in Ithaca, New York, and had considerable road racing experience behind the wheel of Porsche 550 Spyders, Lola, Lotus and Elva cars. His finest performance in '070' came at Watkins Glen in June 1962 when he not only won his class in the car but also won overall in the feature race. In September back at Watkins Glen he then placed third overall and won his class yet again. Later that month, co-driving with Charlie Kurz, Millard Ripley won his class at Bridgehampton and finished fourth overall. A further class victory and second place overall ended the season at Lime Rock.

Two further victories followed in 1963. Charlie Kurz drove '070' to class success at Giant's Despair hill-climb and at Lime Rock Millard Ripley secured a first and another second-place award. Overall Porsche RS61'070' is credited with having achieved no fewer than 13 race victories and 20 podium placings in SCCA National competition.

We understand that the car continued to appear occasionally in SCCA road races into the mid-1960s before being retired from serious competition and sold in 1969 to a Mr Steadman. The car was sympathetically preserved over the following ten years, while seeing very little serious use. In 1978 it passed to a Mr Aase, and after another ten-year ownership was acquired by a Mr Hayes who ran it occasionally in Vintage races before offering it for sale in 1993.

Prominent southern California collector Terry Jones then acquired the car and had it prepared by West Coast Porsche specialist Al Cadrobbi before running it in several further Vintage events before selling it to another well-known American Porsche specialist, Warren Eads, in 1995.

His company Spyder Sports carried out a largely cosmetic partial restoration, while the 4-cam engine was replaced and rebuilt to what was described as 'Nurburgring' specification by Al Cadrobbi, reportedly with new heads, valves and rings. The description of '070' as offered subsequently in the American Sale states that "According to Mr Eads, the 4-cam (unit) currently fitted is a proper 1700 variant, one of the most sought-after amongst Spyder enthusiasts". Upon completion '070' was then run in the Colorado Grand rally.

Warren Eads then sold the car, and it was preserved and maintained over another decade, being used only sparingly - we understand - on public highways and byways. Most importantly, it survived as one of very few of the 14 Porsche RS61s built to have retained "the vast majority of its original bodywork"..
In Sir Stirling Moss's recent tenure the car has been repaired after its Laguna Seca misfortune and further restored to its current 'on-the-button' ready-to-run condition by Andy Prill of Maxted-Page & Prill, now Prill Porsche Classics.

He not only repaired the cosmetic damage sustained at Laguna Seca, he also stripped and completely rebuilt the car's 4-cam engine, five-speed transmission, front and rear of the chassis and the rear suspension, which had been modified to accommodate wider rear wheels at the cost of seriously compromising suspension geometry.

Most importantly, the 4-cam engine's bottom-end was converted from roller-type main bearings to current-technology plain-bearing – with hardly any performance loss - a decision partly influenced by the time constraints of meeting Sir Stirling's race date of Le Mans 2011.

Equally influential were the risks always associated with old roller-bearing crankshafts. Porsche used them originally as a no-compromise solution in a race engine in which the requirement was to maximise power and engine response with cost little object. This was sustainable in period with a ready supply of parts and owners following the factory's service and regular-rebuild schedules. Today in Historic and Vintage racing – lacking the stock parts and trained experts skilled in such technology – another consideration applies. Porsche advised their drivers in period to avoid running these engines below 4,000rpm in order to maintain sufficient oil pressure to avoid serious damage.

So today '070' features the far more practical and prudent alternative for a 21st century private owner of featuring a brand new plain-bearing crankshaft and new Carrillo con rods "...so that part of the engine should be pretty bullet-proof for a long time". The original roller-bearing crankshaft components are included amongst the spares accompanying this Lot, enabling re-conversion if a future owner should require it.

A long debate with Sir Stirling over the gearing required for Le Mans was then resolved by reference to his 1961 diary which recorded the gearing he and Graham Hill had selected for the mighty Buonfornello Straight along the coast on the Targa Florio course – peaking at 139mph.

At Le Mans in 2011, after the maestro had announced his retirement decision, the visiting President of the Republic interceded with the organizing ACO to allow Sir Stirling a lap of honour before the vast 24-Hour race crowd. Andy Prill chauffeured him in '070' and recalls that as having been "...an absolutely unforgettable experience". Ian Nuttall drove '070' in its race there, and won the class, so Sir Stirling – invited to present the awards - ended-up as entrant awarding a trophy to himself.

Today, this wonderful, world-class, sports-racing Porsche – still surviving in highly-original material condition – combines a prominent and extremely successful early American SCCA racing history with the extraordinary (and unique) additional provenance of Sir Stirling Moss's last racing car – the final competitive carriage of 'Mr Motor Racing' himself, the supreme unarguably world-class sporting legend.

SIDEBAR – PORSCHE RS61 BACKGROUND

The 1961 Porsche RS60 and RS61 Spyder sports-racing cars were developed from the preceding Typ 718 RSK model which had been introduced in 1958 as the Stuttgart company's replacement for its highly successful 550A Spyder sports-racing car.

The new design was based upon a lighter spaceframe chassis welded-up from narrow-gauge extruded-steel tubing, three lower elements of which promoted the 'K' title suffix. Its lightweight aluminium bodywork was generally lower with an improved aerodynamic drag figure than the RS Spyders. Originally, the RSK carried a regulation windscreen which was a metre wide and 20cm high (39.37 x 7.87 inches). Ahead of its front wheels, the body nose narrowed, carrying its two headlights beneath clear perspex fairings. The engine-oil surface radiator was built-in under the nose which was otherwise perfectly smooth without any large air intakes.

The mandatory spare wheel was housed within the nose, ahead of an 80-litre (17.6-gallon) fuel tank, with racing filler protruding through the front cover. The oil filler was on the right-hand side amidships, just ahead of the rear wheel. Two air intake grilles appeared on the tail section while a four-louvred panel on each body side, ahead of the rear wheels fed cooling air to the large drum brakes.

The RSK's external body shape would be modified several times. Vertical tail fins were fitted for fast circuits and a so-called 'aerodynamic hump' was also tried, both as a fairing behind the driver's head or covering the full width of the cockpit. For some events – such as Le Mans in 1958—the passenger's seat was covered by a rigid aluminium tonneau panel.

Vehicle weight was just under 530 kg (1,168lbs) and, in contrast to the 550A, the RSK's front suspension was much improved, with less-offset trailing arms to match longer torsion bars and hub carriers pivoting on spherical joints instead of multiple bushes. The steering column had two universal joints to permit a centreline steering gear mounting, actuating two symmetrical track rods. A left-side driving position was retained, but a true centerline steering wheel/seat combination could be easily achieved for speedy conversion as a 'streamline-bodied' Formula 2 einsitzer.

Rear suspension was by variable-rate coil springs with concentric telescopic dampers, while suspension travel was increased with low-pivot swinging half-axle geometry. Each half-axle was further located by a longitudinal Watt's linkage to avoid toe-in vagaries. Angled 'Turbofins' helped cool the car's four drum brakes.

Power was provided by a Typ 718 flat-4 air-cooled engine developed from the successful 550A unit. Output had been increased to an iniial 142bhp at 7,500 rpm, while a year's further development would provide 148bhp at 8,000 rpm. In racing, the Porsche RSK drivers were given a rev limit of 7,600 for any appreciable time, but 8,000rpm in urgency. Two down-draught twin-choke Type 40 DCM carburettors, were later replaced by for 46 IDMs.

Transmission was via a single dry-plate clutch and five-speed transaxle gearbox with the four upper ratios synchronised. A vast choice of gearbox and final drive ratios was available.

For 1960-61, the succeeding Porsche RS60 and RS61 models evolved as new variants of the previous 718 RSK. Their aluminium two-seat Spyder bodies were subtly reshaped in light of past experience and to match progressive regulation requirements. The cars' smoothly rounded nose sections were pierced by neat intakes to cool engine oil and the front brakes. A new rounded, lowered nose treatment was also adopted whil the redesigned bodywork featured completely detachable front and rear 'clamshell' sections. Two fuel tanks in the nose provided a combined capacity of over 80 litres (17.6 gallons). A head-fairing appeared as standard behind the driver's head.

Two large grilles were incorporated in the tail and enough space was provided behind the engine to hold the mandatory 'regulation suitcase'. For Le Mans a new body was also developed, looking rather like a flat, elongated coupe with the roof panel removed. A true Le Mans Coupe version was also developed, its lower panels identical with the RS61, but a truncated hardtop was added with its rearmost extremity above the rear axle line.

Front suspension was by twin trailing arms suspended by transverse laminated torsion bars. Wishbone rear suspension featured co-axial coil-spring/damper units, the dampers being twin-acting Konis front and rear. Tyre dimensions were 5.50-15 R at the front and 5.90 or 6.00-15 R at the rear, mounted on 4.00 J x 15 alloy rims.

The engine in these models was Porsche's Typ 547 four-cam 4-cylinder air-cooled unit, enlarged from 1500cc to 1587cc in the definitive RS61. The smaller variant produced "an honest" 150bhp at 7,800rpm while its 89cc larger successor achieved around 162bhp at the same crankshaft speed. Compared with the preceding models the RS60/61 crankshaft was of a stronger design, with roller-bearing big ends while the built-up crankshaft itself ran in three roller-bearing and one ball-bearing mains. Valves were operated by twin overhead camshafts per cylinder bank, and the power units breathed through two twin-choke Weber 46 IDM 1 carburettors.

Here we offer a fine and very rare Porsche Spyder of matchless quality, class capability and truly star-quality provenance.