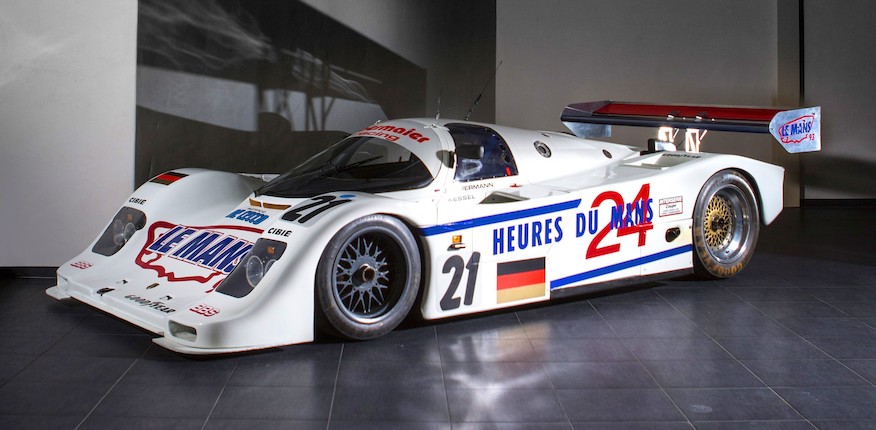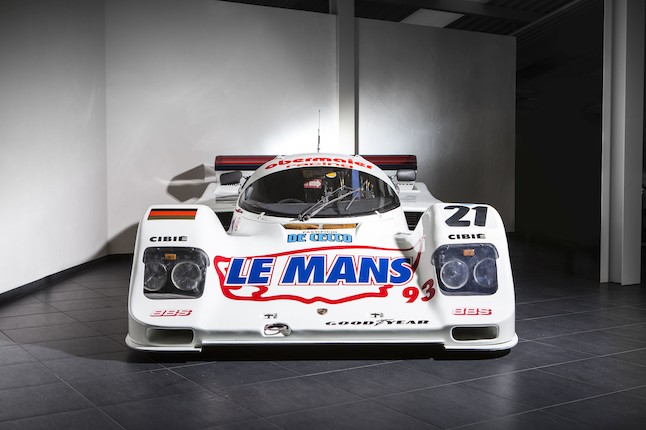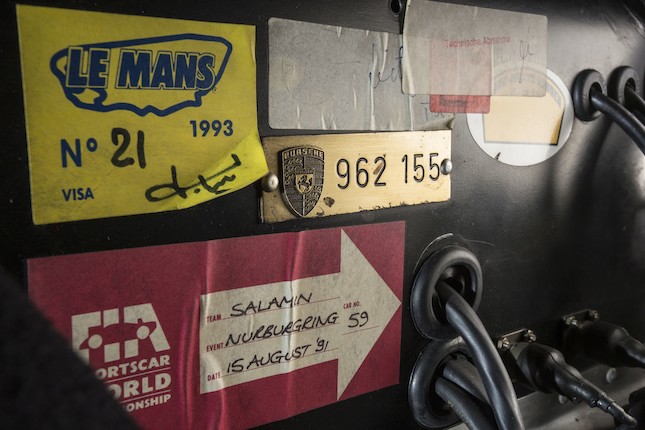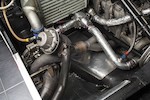 1990-93 Porsche Type 962 C Endurance Racing Competition Coupe
Chassis no. '962-155'
24 May 2015, 12:45 CEST
Francorchamps, Le circuit de Spa Francorchamps and Brussels
Sold for €1,495,000 inc. premium
Own a similar item?
Submit your item online for a free auction estimate.
How to sell
Looking for a similar item?
Our Collector Cars specialists can help you find a similar item at an auction or via a private sale.
Find your local specialist
Ask about this lot
Philip Kantor
International Chairman for Motoring
The Ex-Jürgen Oppermann/Otto Altenbach/Loris Kessel Obermaier Racing – first Porsche home at Le Mans
1990-93 Porsche Type 962 C Endurance Racing Competition Coupe
Chassis no. '962-155'
Here we are privileged to offer a great modern-classic competition Coupe, manufactured by the renowned German marque of Porsche. It is an outstanding example of their peerless Porsche 962, the Group C and IMSA GTP-racing design which was introduced towards the end of 1984, and which was still capable of winning premier-league International endurance races ten long years later...

By that time the Porsche 962 had won the Le Mans 24-Hour no fewer than three times (on the last occasion badged as a Dauer-Porsche); the FIA World Sports Car Championship twice; the North American IMSA GTP Championship every single year between 1985 and 1988; the Europan InterSerie Championship from 1987 to 1992 inclusive; and the All-Japan Sports Car Championship repeatedly, between 1985 and 1989.

The Porsche 962 was a development of the preceding Type 956 and like its predecessor was intended for both IMSA GTP racing in the USA and Group C competition in Europe. An aluminium monocoque chassis was used, braced by a steel roll cage, while the engine was an air-cooled flat six. Always turbo-charged, the latter varied in capacity according to the prevailing regulations and would later be redesigned to incorporate water-cooling. One of the reasons that the Porsche 962 remained competitive for so long was the fact that it underwent extensive development by private teams.

The example featured here – chassis number ' 962-155' – must today be unique in that it was sold by the factory - with a 3.0-litre works engine - to its first owner in 1990 and that self-same private owner has since retained the car over the entire intervening 25-year period until today.

Campaigned as-new by Obermaier Racing, '962-155' now offered here made its public race debut on August 18, 1991, in the World Championship-qualifying 430km race at the Nürburgring, finishing a fine 4th overall. It was co-driven that day by Jürgen Oppermann/Otto Altenbach, wore race number '59' and was finished in Team Salamin Primagaz livery. On October 13, 1991, the car returned to full-blooded competition in the year's second Zeltweg-Hinterstoisser, Austria, round of the European InterSerie Championship, winning Heat Two in the hands of Jürgen Oppermann.

The car's greater moment of glory was, however, surely on the weekend of June 19-20, 1993, when it was driven by the German/Swiss trio of Jürgen Oppermann/Otto Altenbach/Loris Kessel (a former F1 driver) in the Le Mans 24-Hour race – and finished seventh overall.

Having qualified ninth fastest during pre-race practice '962-155' here nearly did not start the race at all. Having no sponsor for the event, its private owner decided that to have the car finish-prepared bearing the distinctive logo and colour scheme of 'Les 24H du Mans' the official organisers' livery – which created an immediate furore with the official Automobile Club de l'Ouest in authority who refused to let the car start in that livery, despite its crew's excellent qualifying time and position on the starting grid. The owner steadfastly refused to change the car's fresh livery and the matter became a confrontational stand-off between him and the ACO. Quite incredibly – considering the French Club's implacably authoritarian attitude established over so many decades of their great race's long history – it was they who finally gave in and allowed the car to start....and right they were to do so, as the German/Swiss machine ran brilliantly well to achieve that 7th-place finish overall, headed only by the three victorious factory-entered Peugeots, three works Toyotas. Thus the Obermaier Racing-entered '962-155' offered here was the first Porsche to finish at Le Mans in that 1993 24-Hour classic – a very fine achievement for any privateer.

As offered here and according to Mr. Otto Altenbach the then principal at
Obermaier Racing, the engine installed today is an original 3.2 litre engine
supplied by the Porsche factory. It has been run for only a mere 11-12
hours since its last full factory rebuild, whereas the estimated engine life
between rebuilds for these power units is fully 60 hours. Thus '155's engine
as offered is estimated to be potentially 'on the button' for close on another
50 hours before it should require its next full service. The TAG electronic
engine management system fitted was also only ever proposed by the
works and all past services were carried out only at the Stuttgart factory.
As by 1991 the model was starting to gain age, solely for this car when it
competed at Le Mans, the factory fitted it with carbon fiber brakes together
with the completely revised and accordingly adapted suspension.

This Porsche 962 was to be the only car ever to compete at Le Mans in this 'official' 24-Hours livery. Having otherwise seen very little strenuous use in its long life beyond its brief - but actually very successful race history – having benefited from continuous maintenance within its caring single private ownership since delivery 25 years ago – the sale of this magnificent Coupe now represents a unique opportunity to acquire not only a Zeltweg-Hinterstoisser (today known as the Osterreichring) -winning Porsche, but also a unique part of Le Mans racing history.

When the FIA Group C-regulation Porsche 956 Coupe was first developed in late 1981, Porsche planned parallel race programs to contest both the World Sports Car Championship and the North American IMSA GTP Championship series. However, when IMSA shelved acceptance of the original 956 design, citing safety reasons because the driver's foot pedals were exposed to crash damage ahead of the front-axle center line, Porsche extended the basic 956's wheelbase length to accommodate the pedals abaft the front axle centreline. They also took the opportunity to build-in an integral steel roll cage into the new aluminium-panelled chassis.
Porsche's selected Type-935 2.8L flat-6 engine – derived from the 934 - was air-cooled and featured a KKK Type K36 turbocharger instead of the twin K27 devices specified for the preceding Group C-regulation 956, as twin-turbo systems were not IMSA GTP-accepted at that time.
Subsequently, by mid-1985, a replacement 3.2-litre fuel-injected flat-6 power unit would be produced for the 962, improving the model's competitiveness against Jaguar's latest XJR V12-engined Coupes. However it would not be until 1986 that the 2.6-litre 956 engine was replaced for World Sports Car Championship use, for which a variety of 2.8, 3.0 and 3.2-litre variants were deployed, each with twin-turbocharged induction.
The cars run under WSC regulations used the Porsche 962C designation to distinguish them them from their IMSA GTP sisters. The 3.2-litre unit was eventually disallowed by IMSA in 1987, but for 1988, to compete with the threat from factory-backed Nissans and to mollify the Porsche teams who threatened to abandon the American series, water-cooled twin-turbo Porsche power units were re-admitted, though with 36mm diameter induction restrictor plates now mandatory.
It is understood that Porsche manufactured some 91 of these Typ 962 racing Coupes 1984-1991, of which 16 were campaigned by the factory team as true works cars, while the balance of 75 were sold to private customers. Some 956s were rebuilt with the lengthened monocoque chassis as 962s, with two being previously written off and four others simply rebuilt. Three badly damaged 962s were also rebuilt to re-emerge under new chassis number identities.] Due to the high demand for 962 parts, some aluminium chassis were built by Fabcar in the United States before being shipped to Germany for completion.
Championship titles won by teams campaigning the 962 included International WSC honours in 1985 and 1986, the IMSA GTP Championship title for four successive seasons from 1985 to 1988, the European InterSerie Championship 1987-1992, all four years 1986-89 of the SuprCup series and the All-Japan Sports Prototype Championship from 1985 until 1989 inclusive. The 962 Coupes also dominated the American IMSA-series entry lists well into the 1990s, won both the 1986 and 1987 Le Mans 24-Hour races (co-driven by works drivers Derek Bell, Hans-Joachim Stuck and Al Holbert on both occasions) and in subsequent Dauer 962 configuration would win yet again in 1994.

It should be noted that the car is offered with the Porsche factory bill of sale and further substantial factory invoices as well as several spare parts which include a front section, a rear wing, several sets of wheels, carbon brakes and specific carbon fibre brake accessories. Bonhams highly recommend close inspection of this 'one owner 'from new' Porsche 962.


Ex Jürgen Oppermann/Otto Altenbach/Loris Kessel
Obermaier Racing –Le Mans

PORSCHE TYPE 962C
Coupé compétition d'endurance 1990-1993

Châssis n° 962-155

Nous avons maintenant le privilège de vous proposer un prestigieux coupé de compétition classique moderne construit par la réputée marque allemande Porsche. Il s'agit d'un exemplaire exceptionnel de son incomparable Porsche 962, type homologué en Groupe C et en compétition IMSA GTP, lancé vers la fin de 1984 et toujours capable de vaincre au plus haut niveau international en endurance dix ans plus tard...

À ce moment-là, la Porsche 962 avait remporté les 24 heures du Mans pas moins de trois fois (la dernière sous l'écusson Dauer-Porsche), le Championnat du Monde FIA pour Voitures de Sport deux fois, le Championnat IMSA GTP nord-américain tous les ans de 1985 à 1988, le Championnat d'Europe Intersérie de 1987 à 1992 inclus et le Championnat du Japon pour Voitures de Sport consécutivement de 1985 à 1989.

La Porsche 962 résulta du développement de la Type 956 antérieure et comme sa devancière, elle fut destinée à courir à la fois en IMSA GTP aux Etats-Unis et en Groupe C en Europe. Un châssis monocoque en aluminium fut adopté, rigidifié par un arceau cage en acier, tandis que le moteur était un six-cylindres à plat refroidi par air. Toujours alimenté par un turbocompresseur, ce groupe qui affichait des cylindrées diverses en fonction des règlements applicables allait être refondu pour intégrer un refroidissement par liquide. Une des raisons pour lesquelles la Porsche 962 demeura si compétitive pendant si longtemps tint au fait qu'elle bénéficia d'un développement permanent de la part des écuries privées qui l'engagèrent.

L'exemplaire proposé ici – châssis n° 962-155 – doit être unique actuellement du fait qu'il fut vendu par l'usine – avec un moteur 3,0 litres d'usine – à son premier propriétaire en 1990 et que ce même propriétaire a conservé cette voiture sans discontinuer pendant ces 25 dernières années.

Engagée encore toute neuve par Obermaier Racing, « 962-155 » offerte ici fit ses débuts en public le 18 août 1991 dans l'épreuve de qualification du championnat sur 430 km au Nürburgring où elle arriva quatrième au général. Elle était copilotée ce jour-là par Jürgen Oppermann et Otto Altenbach, sous le numéro de course « 59 » et sous la livrée du Team Salamin Primagaz. Le 13 octobre 1991, la voiture revint à la grande compétition dans le deuxième Zeltweg-Hinterstoisser de l'année en Autriche, épreuve du Championnat d'Europe Intersérie où elle remporta la deuxième manche aux mains de Jürgen Oppermann

Mais le plus grand moment de gloire fut sans nul doute le week-end des 19 et 20 juin 1993, lorsque pilotée par le trio germano- suisse Jurgen Oppermann/Otto Altenbach/Loris Kessel (ancien pilote de F1) aux 24 Heures du Mans, elle termina septième au général.

Après s'être qualifiée avec le neuvième meilleur temps aux essais préalables des 24 Heures, « 962-155 » faillit ne pas prendre du tout le départ de l'épreuve ! Sans sponsor pour cette course, son propriétaire privé décida de présenter la voiture sous la livrée et avec le logo de l'organisation officielle « Les 24 H du Mans », ce qui déclencha aussitôt l'ire de l'Automobile Club de l'Ouest, l'autorité responsable qui refusa de laisser partir la voiture sous ses couleurs malgré ses excellents temps de qualification et sa position sur la grille de départ. Le propriétaire refusa absolument de changer la décoration toute récente de sa voiture et l'affaire tourna à la confrontation entre lui et l'ACO.

Mais, fait presque incroyable quand on connaît l'attitude rigoureusement
autoritaire du club français cultivée au fil de la longue histoire de cette
course, c'est le club qui finit par céder et par autoriser le départ et bien
lui en prit car la machine germano-suisse fit une course si brillante qu'elle
termina septième au général, devancée seulement par les trois Peugeot
victorieuses d'usine et les trois Toyota officielles. C'est ainsi que « 962-
155 » d'Obermaier Racing proposée ici fut la première Porsche à l'arrivée
de la classique du Mans de 1993. Un beau résultat pour un « privé ».

Telle qu'elle est offerte ici, nous avons été informés par Monsieur Otto
Altenbach, ancien propriétaire de l'ecurie Obermaier Racing, que le moteur
est bien un 3.2 litres d'origine livrée par l'usine Porsche.

Nous savons que le moteur qui l'équipe maintenant n'a tourné qu'une
douzaine d'heures depuis sa dernière reconstruction à l'usine alors que
la durée de vie d'un moteur de ce type entre deux reconstructions est de
60 heures. Ainsi, le moteur de « 155 » est potentiellement prêt à démarrer
pour environ 50 heures avant sa prochaine révision complète.
L'auto est également munie d'un système de gestion moteur électronique
TAG, monté uniquement par l'usine, ainsi que de freins à disques en
carbone et une suspension révisée en fonction – ceci dû principalement
à la fin de vie du développement du modèle en 1991 et le souhait du
propriétaire de participer au 24H du Mans en 1993. Tous les entretiens
depuis sa sortie d'usine ont été effectués à Stuttgart.

Cette Porsche 962 devait être la seule voiture de l'histoire qui courut au Mans sous la livrée « officielle » des 24 Heures. N'ayant connu par ailleurs que peu de contraintes sévères au cours de sa longue existence après cette brève, mais très brillante carrière en course, et ayant bénéficié d'un entretien permanent et rigoureux pendant sa détention par un propriétaire privé au cours des 25 ans qui ont suivi sa livraison par l'usine, la cession de ce magnifique coupé représente une occasion unique d'acquérir non seulement une Porsche victorieuse à Zeltweg-Hinterstoisser (ensuite appelé l'Osterreichring) , mais aussi un chapitre unique de l'histoire de la course du Mans.

Lorsque le coupé Porsche 956 Groupe C FIA fut développé initialement à la fin de 1981, Porsche planifia parallèlement un programme de courses en vue de disputer le Championnat du Monde pour Voitures de Sport et le Championnat IMSA GTP nord-américain. Mais lorsque l'IMSA refusa l'homologation du type 956 original en se fondant sur des motifs de sécurité car les pieds du pilote placés en avant de l'axe de l'essieu avant étaient trop exposés en cas d'accident, Porsche rallongea l'empattement initial de la 956 afin de positionner le pédalier en arrière de l'axe de l'essieu avant. Le constructeur en profita pour inclure un arceau de sécurité intégral en acier dans le nouveau châssis coque en aluminium.

Le moteur flat-6 Type 935 2, 8 litres choisi par Porsche, dérivé du Type 934, était refroidi par air et alimenté par un turbocompresseur KKK Type K36 à la place des deux appareils K27 spécifiés pour la 956 précédente, homologuée en Groupe C avec deux systèmes de suralimentation qui n'étaient pas acceptés en IMSA-GTP à ce moment-là.

Par la suite, au milieu de l'année 1985, un groupe flat-6 à injection de 3,2 litre de remplacement produit pour la 962 améliora la compétitivité du modèle face aux derniers coupés XJR à moteur V12 de Jaguar. Mais il fallut attendre 1986 pour que le moteur 956 de 2, 6 litres fût remplacé dans le Championnat du Monde pour Voitures de Sport pour lequel une gamme de variantes de 2, 8, 3 et 3, 2 litres fut mise en ligne, tous alimentés par deux systèmes de suralimentation.

Les voitures qui coururent dans le cadre du règlement WSC utilisèrent la désignation Porsche 962 C pour les distinguer de leurs homologues de l'IMSA GTP. Le groupe 3, 2 litres fut ensuite rejeté par l'IMSA en 1987, mais en 1988, en vue de la confrontation avec les Nissan soutenues par l'usine et pour calmer les équipes Porsche qui menaçaient de ne plus participer aux épreuves américaines, les groupes Porsche à deux turbos refroidis par liquide furent réintégrés à condition de les équiper sur l'admission d'une bride de 36 mm désormais obligatoire.

On admet que Porsche construisit quelque 91 unités de ces coupés compétition Typ 962 de 1984-1991 dont 16 furent engagés comme voitures officielles, tandis que le solde de 75 voitures était vendu à des concurrents privés. Certaines 956 reconstruites avec un châssis coque allongé furent redésignées 962 dont deux voitures avaient été détruites antérieurement et quatre autres simplement reconstruites. Trois 962 sérieusement endommagées furent aussi reconstruites pour réapparaître munies de nouveaux numéros de châssis. En raison d'une forte demande de pièces 962, quelques châssis en aluminium fabriqués par Fabcar aux états-Unis furent expédiés en Allemagne pour y être complétés.

Les titres en championnat récoltés par les écuries utilisatrices de la 962 comprennent l'International WSC en 1985 et 1986, le Championnat IMSA GTP quatre fois de suite de 1985 à 1988, le Championnat européen Intersérie 1987-1992, quatre titres successifs 1986-1989 en série SuperCup et le Championnat du Japon pour Sport-Prototypes de 1985 à 1989 inclus. Les coupés 962 qui dominèrent aussi dans les listes d'engagement de la série américains IMSA jusque dans les années 1990 remportèrent les 24 Heures du Mans 1986 et 1987 (pilotées par Derek Bell, Hans-Joachim Stuck et Al Holbert ces deux années-là) et dans la configuration Dauer 963 ultérieure, la 962 gagna encore en 1994.
Il faut noter que l'auto est proposée à la vente avec sa facture de chez Porsche, d'autres factures d'usine ainsi que de diverses pièces de rechange dont une face avant, un spoiler arrière, des jeux de roues, freins en carbone ainsi que des pièces spécifiques en accessoires pour celle-ci. Bonhams recommande une inspection de près de cette Porsche 962 avec un seul propriétaire depuis sa livraison par l'usine.