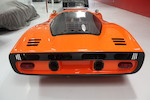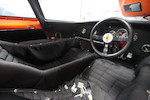 1969 McLaren M6GT Coupé
Chassis no. M6GT-2 R
The Ford Motor Company's 1960s campaign to challenge Ferrari and win the Le Mans 24-Hour Race required not just innovative engineers but also the assistance of some of the world's finest drivers, among them experienced F1 star Bruce McLaren. At around the same time New Zealander McLaren was establishing his own team in England and developing the first of the cars that would bear his name, the McLaren M1 sports-racer, developments of which, in the form of the mighty M6 and M8, would later dominate the legendary Can-Am series.

His experience of driving the Ford GT40 had convinced McLaren of the street potential of such a car, which could also be homologated for Group 4 sports car racing. What's more, he had the ideal basis for such a project in the form of his simple yet highly effective Can-Am sports-racer, the M6. The result was the McLaren M6GT coupé. Only three cars were built, two being converted from M6 Can-Am cars and the other being built from the ground up as a closed coupé by McLaren's partner Trojan, who were responsible for manufacturing the customer M6B cars. That car was shipped to the USA for the New York Auto Show and subsequently sold to Ted Peterson who used it as Bruce intended, on the road. Bruce too used one on the road but, sadly, there would be no more M6GTs, the project being abandoned after his tragic death in 1970.
Its accompanying FIA papers (issued November 1997) state that the example offered here was first owned by McLaren Cars followed by well-known racing driver David Prophet, who had previously raced a McLaren-Elva. Campaigned at various European circuits throughout the 1969 season, Prophet's appears to be the only McLaren M6GT with any competition history, racing at Magny-Cours, Dijon, the Norisring, Hockenheim, Crystal Palace and Wunstorf, its only win coming at Crystal Palace in August. Two further owners are listed on the FIA papers: Nigel Allbon (1987) and John Starkey of La Jolla, California (1994).

Restored in 1996 while owned by John Starkey, the M6GT has recently been on display in the showrooms of McLaren Newport Beach in California. The car is powered by a 5.0-litre Chevrolet V8, aspirated via a quartet of Weber 45IDA carburettors and driving via a Hewland LG600 gearbox. Described by the vendor as in generally good condition, this ultra-rare sports-racing GT car is offered with the aforementioned FIA papers and a bill of sale.

Cette voiture a été envoyée aux États-Unis pour le salon de New York et ensuite vendue à Ted Peterson qui l'utilisa sur route, ce pour quoi Bruce McLaren l'avait conçue. Bruce s'est également servi d'une autre M6 sur route, mais, malheureusement, il n'y eut pas d'autres M6 GT, le projet étant abandonné après son tragique décès en 1970.

Les papiers de la FIA (datés de novembre 1997) vendus avec la voiture, précise que l'exemplaire proposé à la vente fut d'abord la propriété de McLaren Cars, puis du pilote bien connu David Prophet, qui avait autrefois couru sur McLaren-Eva. Engagée sur plusieurs circuits européens, la voiture de Prophet semble bien être la seule M6 GT à avoir été engagée en compétition, ayant couru à Magny-Cours, à Dijon, au Norisring, Hockenheim, au Crystal palace et à Wunstorf, sa seule victoire ayant été acquise au Crystal Palace en août. Deux propriétaires successifs sont répertoriés sur la fiche de la FIA, Nigel Allbon (1987) et John Starkey de La Jolla, en Californie (1994).

Restaurée en 1996, alors qu'elle était aux mains de John Starkey, cette M6 GT a été récemment exposée dans le show room McLaren de Newport Beach, en Californie. La voiture est animée par un V8 Chevrolet de 5 litres, alimenté par quatre carburateurs Weber 45 IDA et entrainée par une boîte de vitesses Hewland LG600. Décrite pas son vendeur comme en bon état général, cette sportive extrêmement rare est vendue avec les papiers FIA et une facture de vente.

Saleroom notices
According to the vendor we are informed that the car was inspected at McLaren but that unfortunately as there is no longer a member of staff from the period when these cars were manufactured in order to certify it, the car must be regarded as a very good period correct rebuild of an M6GT to correct specifications. Please further note that the car comes with FIA papers but was never owned by Mr. John Starkey and that we cannot guarantee the chain of ownership listed in the description. Nous avons ete informe par le vendeur de la Mclaren qu'il n'y avait plus d'employe de l'epoque pour attester de l'originalite de l'auto. Nous en concluons qu'il s'agit vraisemblablement d'une excellente reconstruction d'epoque aux specifications correctes. Veuillez noter que la voiture vient avec des papiers FIA mais qu'elle n'a jamais appartenu a John Starkey et nous ne pouvons pas garantir la chaine des proprietaires listes dans la description.