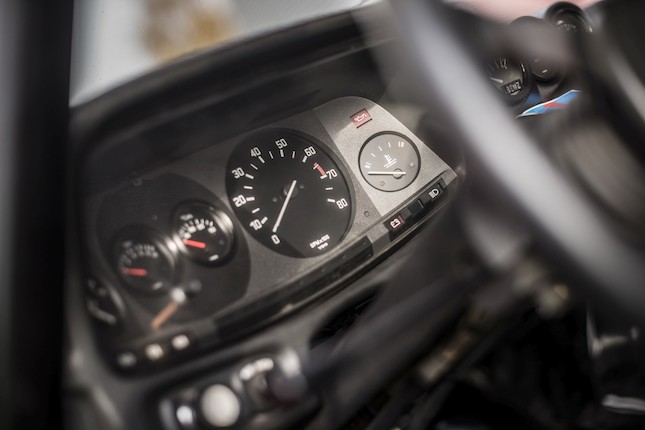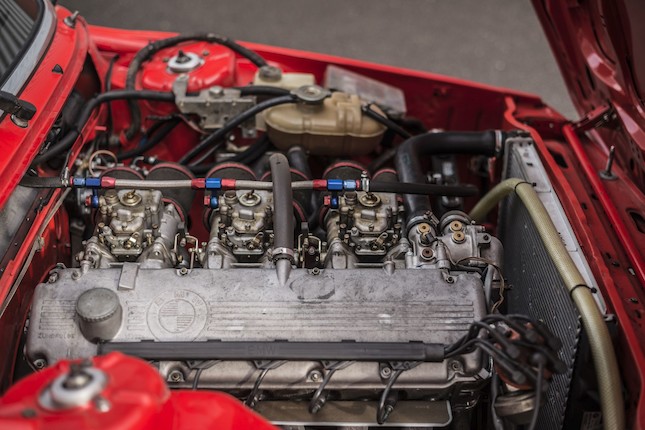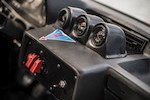 Ex-Eddy Joosen, Jean-Claude Andruet, Dirk Vermeersch 1981 Spa-Francorchamps 24 Hours Class Winner and 2nd Overall
1981 BMW 530i Competition Saloon
Chassis no. JUMA 1025
In 1977, Antwerp-based BMW racing specialist Juma entered a BMW 530i in the Spa 24 Hours race, which was driven to victory by Belgian star Eddy Joosen and ace French rally driver Jean-Claude Andruet. Further attempts to win the Belgian classic were made in 1978, 1979 and 1980 with a new car built for each season. For 1981, the final year before the FIA changed the racing regulations to Group A, Juma once again built a new 530i, on this occasion with Bastos backing.

The drivers were Joosen, Andruet and Dirk Vermeersch who, benefiting from Juma's technology and experience, and the 530i's superior handling and braking, were firm favourites for overall victory that year. The Juma BMW led the race during the night but the team suffered a setback early in the morning when Dirk Vermeersch missed the 'Bus Stop' chicane and ignored a marshal's instructions while proceeding down the escape road. His penalty was exclusion, leaving Joosen and Andruet to drive the rest of the race unsupported. The car continue to lead until early in the afternoon when, with Andruet at the wheel and heading for a victorious finish, a rocker arm broke with only one hour to go and the car had to stop at the pits. Nevertheless, Andruet was determined to finish strongly and brought the BMW home in 2nd place overall, winning the over 2,500cc Class. This would represent the start of 17 years of Bastos-BMW partnership.

At the end of 1981 the Bastos-BMW was sold to a privateer and raced for a few more seasons before being put in storage in 1987, where it would remain for 20 years. The car on offer is the original Juma car driven at Spa by Joosen, Andruet and Vermeersch. In 2010 it received a full 'last nut and bolt' restoration by LM-Engineering during which particular care was taken to retain the period Juma features. The roll cage and fuel cell have been replaced to meet FIA regulations, while the seat, harness and fire extinguisher are up to date and the car is 'on the button'. The BMW is built according to FIA homologation number '1713' (M535 1982 Gp2) making it fully eligible for historic racing such as Touring Car Masters, HTC by Peter Auto, etc.
Throughout 2013 and 2014 the car was tested, developed and maintained by GGA Classic Motorsport in France and now is ready to go racing once more. It is fitted with a period-correct specification 3.5-litre BMW M30 engine producing 295 horsepower on triple Weber carburettors, and is finished in the evocative Bastos livery. A rare opportunity to acquire an iconic, ready-to-race Juma Bastos BMW with Spa Francorchamps race history.

En 1981, dernière année avant un changement de règlement définissant le nouveau Groupe A, Juma, spécialiste BMW d'Anvers en Belgique prépara une nouvelle BMW 530i avec le soutien financier de Bastos. La BMW mena toute la nuit à Spa et, pilotée par Andruet, termina deuxième au général et première de la catégorie « plus de 2 500 cm3 », malgré l'exclusion d'un de ses trois pilotes et un culbuteur cassé.

Fin 1981, la Bastos-BMW fut cédée à un concurrent privé et courut jusqu'en 1987 avant d'être stockée pendant vingt ans. La voiture proposée est la voiture originale de Juma pilotée à Spa par Joosen, Andruet et Vermeersch. En 2010, elle bénéficia d'une restauration « jusqu'au dernier boulon » par LM-Engineering avec le souci de préserver les préparations Juma d'époque. L'arceau-cage et les outres à carburant ont été changés en fonction des nouveaux règlements de la FIA, tandis que le siège, le harnais et l'extincteur répondent aux normes actuelles. La voiture démarre « au quart de tour». Cette BMW est construite conformément à l'homologation - sous le n° 1713 (M535 1982 GP2) - qui la rend totalement éligible pour les épreuves historiques comme le Touring Car Masters, le HTC de Peter Auto, etc.

Pendant les années 2013 et 2014, la voiture fut testée, mise au point et entretenue par GGA Classic Motorsport en France et se présente prête à courir de nouveau. Équipée du moteur BMW M30 3, 5 litres correct donnant 295 ch avec trois carburateurs Weber, elle se présente sous la livrée Bastos bien connue. Une rare occasion d'acquérir une Juma Bastos BMW emblématique prête à courir accompagnée d'un prestigieux historique accumulé sur le circuit de Spa Francorchamps.