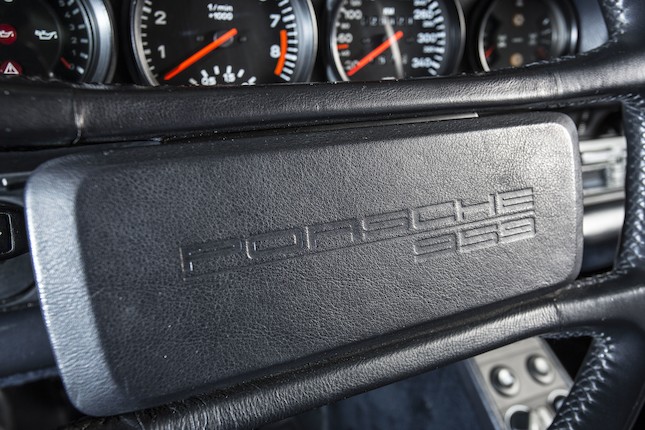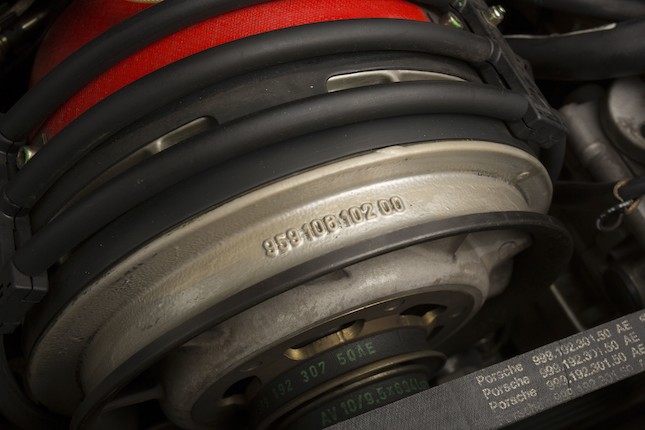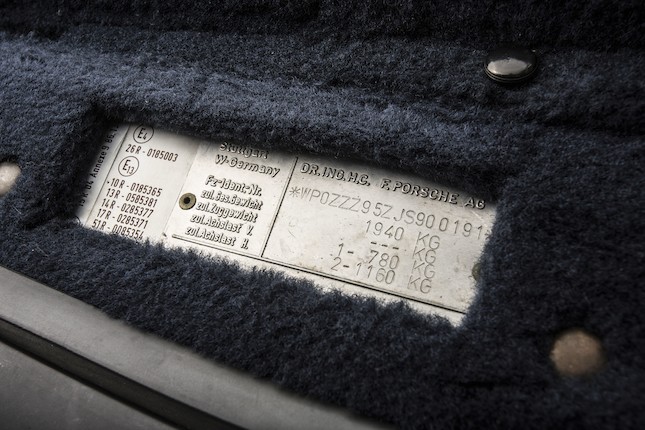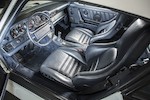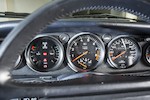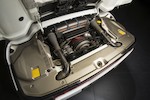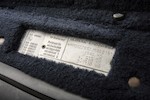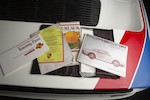 1988 Porsche 959 Coupé
Chassis no. WPOZZZ95ZJS900191
Conceived in the early 1980s as a four-wheel-drive Group B competitor, the Porsche 959 was first displayed in 'concept car' form at the 1983 Frankfurt Motor Show, and despite the subsequent abandonment of the events for which it had been intended, entered limited production in 1987.

Representing the ultimate in automobile design, the 959 successfully adapted state-of-the art racing technology for road use, and even today its specification remains unparalleled.

At the car's heart was a unique, 2,849cc version of the classic, six-cylinder, air-cooled 'boxer' engine equipped with water-cooled, double-overhead-camshaft, four-valve cylinder heads. The latter had been developed initially for the 1981 Le Mans-winning 936, and were further refined on the even more successful 956/962 that triumphed at La Sarthe every year from 1982 to 1987. In 959 specification this formidable twin-turbo-charged unit produced 450bhp, an output which, combined with the lightweight composite body's drag coefficient of just 0.32, proved sufficient to propel the 959 past 195mph and on to the front rank of all-time supercars.

The 959's sophisticated four-wheel-drive six-speed transmission paved the way for that of the Carrera 4; computer controlled, it provided variable torque split with alternative programmes for dry, wet, icy or off-road conditions. Ride height was electrically controlled, the ABS brakes delivered race-car levels of retardation and the run-flat tyres were monitored for pressure loss, all of which made for a car faster than just about anything else on the road yet, in the Porsche tradition, was comfortable, practical and reliable. Indeed, with its electric windows and mirrors, climate control, electric heated seats and superb stereo system, the 959 rivalled many a limousine for luxury.

Although its Group B raison d-être had ceased to exist, the Porsche 959 did achieve one major competition victory, René Metge and Dominique Lemoyne winning the gruelling Paris-Dakar Rally in 1986 in their works 959 with similar cars in second and seventh places, while the race-developed variant finished seventh at Le Mans that year, winning the IMSA GT2 class. In total, fewer than 300 of these exclusive supercars were made - the official factory figure is 292.

This Porsche 959 was delivered from the factory to the Otto Glöckler official Porsche dealership in Frankfurt, Germany and first registered on 5th May 1988. The car was personalised by the addition of stripes, and was driven by Mr Otto Glöckner himself.
The current vendor is the only owner after the Porsche Centre Glöckler.
In 1991 the vehicle came to Switzerland as a duty-free admission when its owner moved there, this being the only way to register a Porsche 959 in that country. One of very few Porsche 959s currently resident in Switzerland, the car was registered in Ticino ('TI 169 450') and in 1997 relocated to Gstaad.

A total of only 25,428 kilometres is recorded on the odometer and the car is described by the private vendor as in generally very good condition, as one would expect given this modest usage. The most recent major service was carried out in November 2014 at Porsche Service Center Gstaad, Pichler GFG AG (see bill for CHF13,559 on file). Additional documentation consists of the original Vehicle Identity Card and service booklet (with four stamps) and a Swiss Carte Grise. Surely an opportunity not to be missed for the serious Porsche aficionado in the 30th year of this landmark model when it was first presented at the 1985 Frankfurt Motor Show.

Cette Porsche 959 fut livrée par l'usine à la concession Porsche Otto Glöckler de Francfort (Allemagne) pour une première immatriculation le 5 mai 1988. Au début la voiture personnalisée par ajout de bandes décoratives fut conduite par M. Otto Glöckler lui-même. Le vendeur actuel est le seul propriétaire après le Centre Porsche Glöckler.

En 1991, la voiture importée en Suisse fut admise en exemption pour le modèle lorsque son propriétaire s'y installa, seul moyen d'immatriculer une Porsche 959 dans ce pays. Une des rares 959 suisses, la voiture fut immatriculée dans le canton de Ticino (« TI 169 450 ») puis transférée à Gstaad en 1997.

Un total de 25 458 km est enregistré au compteur et le vendeur décrit la voiture comme étant en très bon état général comme on peut s'en douter étant donné la modestie du kilométrage parcouru depuis l'origine. L'entretien complet le plus récent a été effectué en novembre 2014 au Porsche Service Center Gstaad, Pichler GFG AG (voir la facture d'un montant de CHF 13 559 dans le dossier). La documentation comprend en outre la carte d'identité originale du véhicule, le carnet d'entretien (portant quatre tampons) et la carte grise suisse. Une superbe occasion pour les amateurs de ce modèle dans sa trentième année suite à sa présentation au Salon de Frankfurt en 1985.

Saleroom notices
Please note that though the catalogue has this Lot marked with an *, due to the modernity of the car, it could-well be subject to VAT at 20%. Veuillez noter que bien que ce lot est marque par une *, en raison de la modernite de la voiture, il pourrait etre sujet a une TVA de 20%