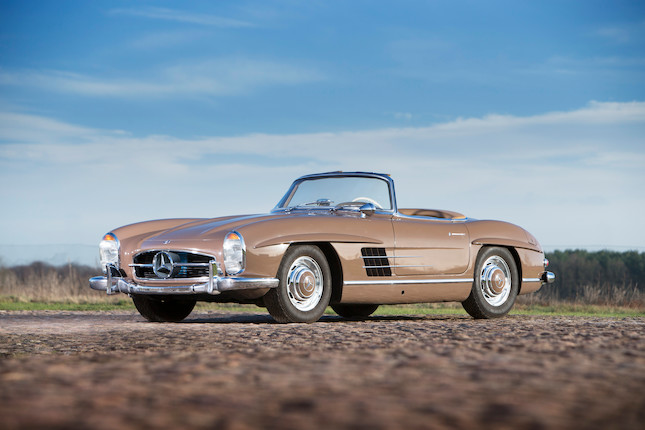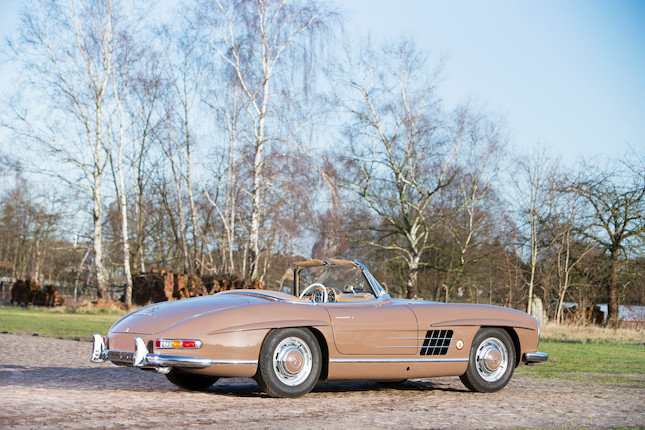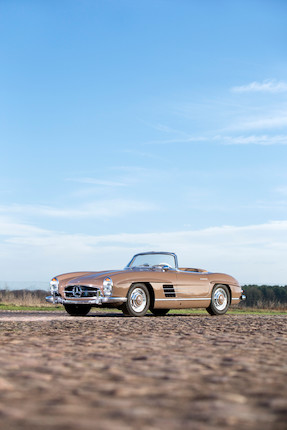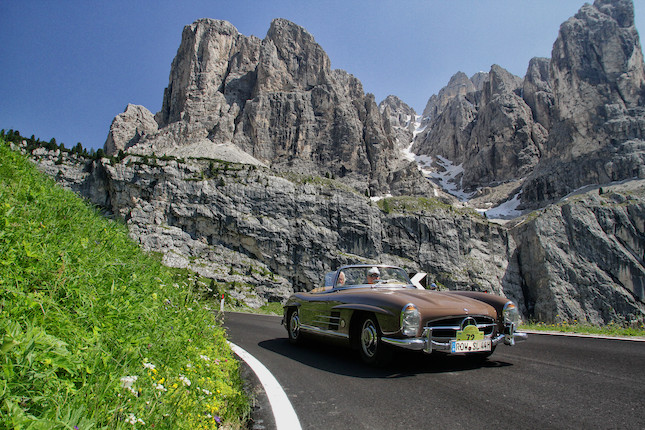 1960 Mercedes 300SL Roadster
28 March 2015, 14:30 CET
Stuttgart, Mercedes-Benz Museum
Sold for €1,121,250 inc. premium
Own a similar item?
Submit your item online for a free auction estimate.
How to sell
Looking for a similar item?
Our Collector Cars specialists can help you find a similar item at an auction or via a private sale.
Find your local specialist
Ask about this lot
Philip Kantor
International Chairman for Motoring
Formerly the property of Alfried Krupp, in current ownership since 1980 and an extremely original example
1960 Mercedes 300SL Roadster
Chassis no. 198.042-10-002539
Engine no. 198.980-10-002544
Created to spearhead Mercedes-Benz's return to competition in the post-war era, the 300 SL debuted in the 1952 Mille Miglia, finishing 2nd and 4th overall. Wins in the Carrera Pan-Americana and at Le Mans followed, and the 300 SL was on its way to becoming part of motor sporting legend. The first racers were open-topped but before the '52 season's end the distinctive gull-wing doored Coupé had appeared. Unusually high sills were a feature of the multi-tubular spaceframe chassis, and while access was not a problem of the open car, the adoption of coupé bodywork required innovative thinking - hence the gull-wing doors.

Launched in 1954, the production 300 SL retained the spaceframe chassis of the racer and was powered by a 2,996cc, overhead-camshaft, inline six canted at 45 degrees to achieve a lower, more aerodynamic bonnet line. Using innovative direct fuel injection, this state-of-the-art power unit produced 215bhp at 5,800rpm. A four-speed gearbox transmitted power to the hypoid bevel rear axle. Suspension was independent all round by wishbones and coil springs at the front, with swing axles and coil springs at the rear.

Tested by Road & Track magazine in 1955, the 300 SL accelerated from 0-60mph in 7.4 seconds, going on to achieve a top speed of 140mph - outstanding figures for its day. Clearly the 300 SL Coupé would be a hard act to follow yet the Roadster version, introduced just three years later, succeeded in bettering its closed cousin's already exemplary road manners. Conventionally doored, the 300 SL Roadster was first exhibited at the Geneva Salon in May 1957 and would outlive the Coupé by several years. The production of an open 300 SL involved altering the cockpit area, where the spaceframe was redesigned to permit lower sills for improved access. At the same time the rear suspension was changed to incorporate low-pivot swing axles.

The Roadster's neutral steering characteristics received fulsome praise from Road & Track in its 1958 road test. 'With the low-pivot rear suspension and more adhesive tyres, the car handles beautifully under all conditions. This is a tremendous improvement over the hardtop models, which had a tendency to oversteer rather violently if pressed too hard.' A 0-60mph time of 7.0 seconds and a top speed of 130mph were recorded, making the 300 SL Roadster one of the fastest convertibles of its time. R&T concluded: 'There is no doubt that the 300 SL roadster is a truly great dual-purpose sportscar, equally at home in traffic and the open road, or on the track,' words that remain equally true today.

This outstandingly original 300 SL Roadster was first owned by the prominent German industrialist Alfried Krupp von Bohlen und Halbach (1907-1967), head of the family steel-making firm Friedrich Krupp AG of Essen. The car comes with the original order form, signed by Alfried Krupp, and numerous other documents. Owned by the current vendor – only its third in 55 years – since 1980, chassis number '2539' has covered only 170,000 kilometres (approximately 105,500 miles) from new and is accident free. Original and un-restored, it retains matching chassis/engine numbers together with its original synthetic resin brown paintwork, beige leather interior, Becker Mexico radio and disc brakes, the latter ordered by Alfried Krupp shortly after delivery. The car comes with its original owner's manual and folder, original tool kit, original jack and a board-mounted owner's certificate. A steering wheel lock and plastic container for brake fluid come with it also.

During the vendor's 35-year ownership the 300 SL has been driven regularly in summer to attend classic car meetings and other events, covering only a limited distance annually. Meticulously maintained and serviced, it is never used on the road during winter months and is always kept garaged. Possessing a TüV (MoT) valid until 2016, this exceptional 300 SL Roadster is described as in excellent condition and is ready to enjoy.

Aus dem Vorbesitz von Alfried Krupp,
seit 1980 im Besitz des Einlieferers, ein äuβerst originaler Wagen
1960 Mercedes 300SL Roadster
Fahrgestell-Nr. 198.042-10-002539
Motor-Nr. 198.980-10-002544

Der 300 SL wurde mit Blick auf die Rückkehr des Konzerns in den Rennsport nach dem Krieg entwickelt. Er feierte seinen Einstand bei der Mille Miglia 1952, wo er auf den 2. und 4. Platz im Gesamtklassement kam. Gewinne bei der Carrera Pan-Americana und in Le Mans folgten, und so wurde er einer Legende des Motorsports. Die ersten Rennwagen waren noch offen, aber vor dem Beginn der Rennsaison 1952 erschien das Coupé mit den typischen Flügeltüren. Die ungewöhnlich hohen Seitenschweller waren dem Gitterrohrrahmen geschuldet, und während der Einstieg in die offenen Wagen kein Problem darstellte, bedurfte es bei der geschlossenen Variante einer innovativen Lösung – den Flügeltüren.

Im Jahr 1954 wurde die Serienversion des 300 SL präsentiert. Er behielt den aus dem Rennwagen übernommenen Gitterrohrrahmen. Im Motorraum verrichtet der Reihensechszylinder mit 2.996 cm³ Hubraum und obenliegender Nockenwelle seine Arbeit. Er ist um 45 Grad seitlich geneigt, um eine niedrigere Karosserie mit geringerem Luftwiderstand zu ermöglichen. Mit einer innovativen mechanischen Direkteinspritzung ist der Motor, der 215 PS bei 5.800 U/min leistet, auf dem aktuellsten Stand der Technik. Ein manuelles Viergang-Schaltgetriebe überträgt die Leistung an die Hinterachse. Die Räder sind ringsum einzeln an vorderen Doppel-Querlenkern mit Schraubenfedern und an der hinteren Pendel-Schwingachse mit Schraubenfedern aufgehängt.

In einem Test der amerikanischen Fachzeitschrift Road & Track im Jahre 1955 beschleunigt der 300 SL von 0 auf 100 km/h in 7.4 Sekunden. Die Höchstgeschwindigkeit wird mit 215 km/h beziffert – zu seiner Zeit herausragende Werte. Die Roadster-Version des 300 SL musste ein schweres Erbe antreten. Drei Jahre nach dem ersten 300 SL Coupé wurde sie im Mai 1957 auf dem Genfer Salon vorgestellt. Das Fahrverhalten konnte nochmals verbessert werden. Mit herkömmlichen, vorne angeschlagenen Türen sollte der Roadster das Coupé über mehrere Jahre überleben.

Die Fertigung des offenen 300 SL erforderte, wegen des niedrigeren Einstiegs und der damit verbundenen Änderung am Rohrrahmen auch eine Anpassung des Cockpits. Zur gleichen Zeit wurde für die Hinterradaufhängung die Pendelschwingachse durch eine Eingelenk-Pendelachse ersetzt.

Das neutrale Fahrverhalten des 300 SL Roadster erntete den Lob der amerikanischen Zeitschrift Road & Track, die den Wagen 1958 testete: "Mit der Eingelenk-Pendelachse und den Reifen mit besserer Haftung lässt sich das Fahrzeug in allen Situationen mühelos bewegen. Es ist eine gewaltige Verbesserung gegenüber dem Coupé festzustellen, welches bei rasanter Fahrt die unangenehme Art hatte, extrem zu übersteuern." Den Sprint von 0 auf 100 km/h absolvierte der Roadster in 7,0 Sekunden, bei einer Höchstgeschwindigkeit von 210 km/h. Damit zählt er zu den schnellsten offenen Automobilen seiner Zeit. R&T beendet den Test mit folgendem Satz: ,,Der 300 SL Roadster ist ohne Zweifel ein Fahrzeug mit einer Doppelfunktion, er fühlt sich sowohl im normalen Straßenverkehr und auf offener Straβe wie auch auf der Rennstrecke zu Hause." Dieses Zitat gilt auch noch heute.

Der Erstbesitzer dieses auβergewöhnlich originalen 300 SL Roadster war der bekannte Deutsche Industrielle Alfried Krupp von Bohlen und Halbach (1907 – 1967), Vorsitzender des Familien-Stahlunternehmens Krupp AG in Essen. Das originale, von Alfried Krupp unterschriebene Bestellformular sowie zahlreiche weitere Dokumente sind noch vorhanden und werden mitgeliefert. Der derzeitige Besitzer – erst der dritte in 55 Jahren – besitzt den Wagen seit dem Jahre 1980. Fahrgestellnummer 2539 zeigt erst ca. 170,000 km an und ist unfallfrei.

Im unrestaurierten Originalzustand, wird er mit der originalen Motor- und Fahrgestellkombination, der originalen braunen Lackierung, der beigen Lederpolsterung , dem Becker-Mexiko Radio und Scheibenbremsen, die im Auftrag von Alfried Krupp kurz nach der Auslieferung nachgerüstet wurden, angeboten. Ebenso mitgeliefert wird die originale Gebrauchsanleitung und Ordner, der originale Werkzeugsatz und Wagenheber und eine Besitzurkunde, nebst einer Lenkradsicherung und einem Behälter für Bremsflüssigkeit.

Während der letzten 35 Jahre wurde der Wagen vom Einlieferer regelmäβig zu Oldtimertreffen und anderen Veranstaltungen gefahren, bei einer begrenzten Jahreslaufleistung. Dieser 300 SL wurde akribisch gewartet, nie im Winter bewegt und immer in einer Garage aufbewahrt. Mit einem gültigen TÜV bis 2016 versehen, wird dieser klassische Roadster als in exzellentem Zustand befindlich beschrieben und wartet nur auf seinen nächsten Einsatz.