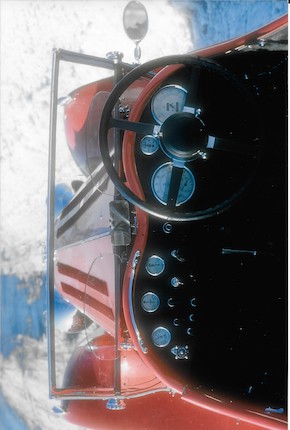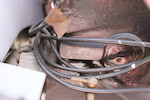 From the Estate of Geoffrey Howard
1938 Jaguar SS100 2½ Liter Roadster
Chassis no. 49049
Engine no. T 9528 (see text)
31 May 2015, 12:30 EDT
Greenwich
Sold for US$215,000 inc. premium
Own a similar item?
Submit your item online for a free auction estimate.
How to sell
Looking for a similar item?
Our Collector Cars specialists can help you find a similar item at an auction or via a private sale.
Find your local specialist
Ask about this lot
Eric Minoff
Senior Specialist
Rupert Banner
VP, Business Development
Evan Ide
Vice President, Senior Specialist
From the Estate of Geoffrey Howard
1938 Jaguar SS100 2½ Liter Roadster
Chassis no. 49049
Engine no. T 9528 (see text)
Body No. 4776

3,485cccc OHV (Originally Side-Valve, see text) Inline 6-Cylinder Engine
4-Speed Manual Transmission
Front Suspension by Semi-Elliptic Leaf Spring, with Hartford Shock Absorbers, Live Axle Rear Suspension by Semi-Elliptic Leaf Spring
4-Wheel Drum Brakes

*Icon from the origin of the Jaguar marque
*Long term North American car
*Single ownership for more than 40 years
*Ready for completion of restoration

THE SS100 JAGUAR

The background history to the all-new sports cars from SS Cars Ltd. is recounted in the description to Mr. Howard's SS90. Although good for 90mph, the SS90 was handicapped by the limitations of its side-valve engine, a deficiency that would soon be rectified by another of Lyons' new recruits, gas-flow consultant Harry Weslake.

Launched in 1936 alongside the 2½-Liter saloon, the SS100 Jaguar sports car marked the company's first use of the 'Jaguar' name. Beautifully styled in the manner of its SS90 predecessor, the newcomer employed a shorter, 102"-wheelbase chassis and a revised version of the 2,663cc Standard Six which, equipped with Weslake's overhead-valve cylinder head and breathing through twin SU carburetors, now produced 104bhp. In 1938 a 3½-liter version producing 125bhp was added to the range, the larger engine's extra power making the SS100 a genuine 100mph car.

Although a fine touring car, the SS100 was marketed primarily as competition work. Its first major success came early, if somewhat unexpectedly, when Tommy Wisdom, crewed by his wife, won the arduous International Alpine Trial in 1936, beating Bugatti and bringing the fledgling marque to the attention of the Continental public. This would be the first of many successful rallying forays, including class wins in the RAC events of 1937 and 1938, and the Alpine (outright) again in 1948. Around 198 2½-Liters and 116 of the later 3½-Liter cars had been made by the time SS100 production was prematurely ended by the outbreak of war.

THE MOTORCAR OFFERED

49049 would have been one of the later 2½ Liter SS100s to be delivered, and was supplied through Henlys on July 27, 1938. As new it sported the archetypal scheme for these cars of Gunmetal Grey with a red leather interior and must have looked extremely handsome when it arrived with its first owner E. A. Day in the UK. Wearing a local London license plate of EYU 868, the car may have been registered by Henlys in that region, or perhaps Mr. Day was a Londoner.

The car's early UK history was not known to Mr. Howard, but the car has certainly been in the U.S for at least 50 years as its previous custodian, John Freeman of Baldwin, New York, is known to have had it in the 1960s. Indeed, Freeman wrote a report in the Vintage Sports Car Club of America publication in the late 1960s of how he'd used the car at an event at Bridgehampton, which we believe was in 1968.

As pictured here, it still wore its UK plates at that time, and retains them to this day.

In August 1971, Geoffrey Howard was able to prize the car from Mr. Freeman. He would keep the car until his passing last year. As with other cars in the collection, first it went up to Montreal, but latterly in his retirement Mr. Howard brought the car back to his Vermont house. At some juncture a restoration was begun and, to judge from its condition today, this appears to have included repair and refurbishment of the wood frame of the body and some paintwork preparation although not much else. It is not known when the car received the replacement engine it carries today, which is a post-war 3½ Liter unit.

As offered today, the car appears to represent the basis for a straightforward re-assembly returning it to a driver quality example, or perhaps a concours restoration. Either way it will be sure to reward its new owner with an eminently usable pre-war sports car from this legendary era of Jaguar production.
Footnotes
When collected from Mr. Howard's garage, all evident boxes and parts annotated as being for this car were removed and every effort has been made by Bonhams to ensure that they accompany it. However, ultimately beyond the fact that the SS100 was acquired as a complete car and then dismantled for restoration and remained in his ownership continuously, it is up to prospective purchasers to assess the completeness of the car as offered.