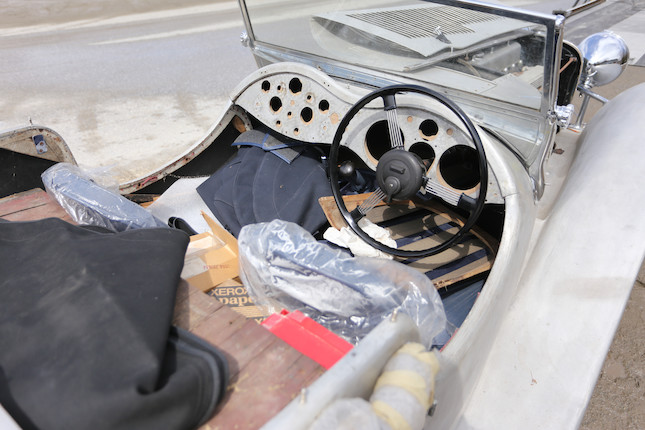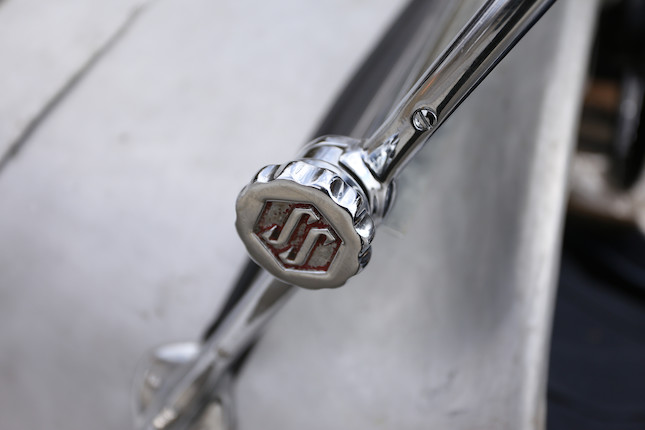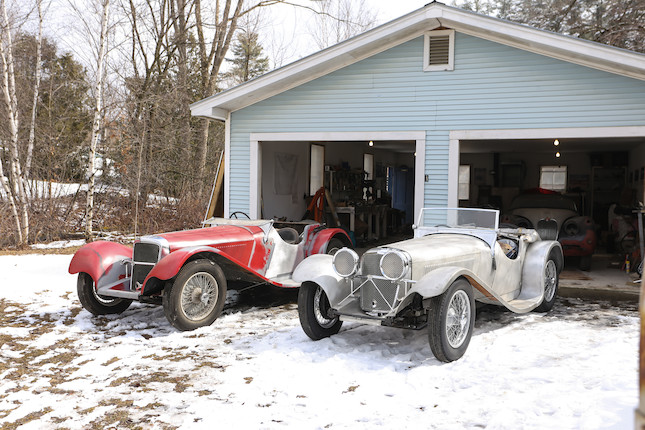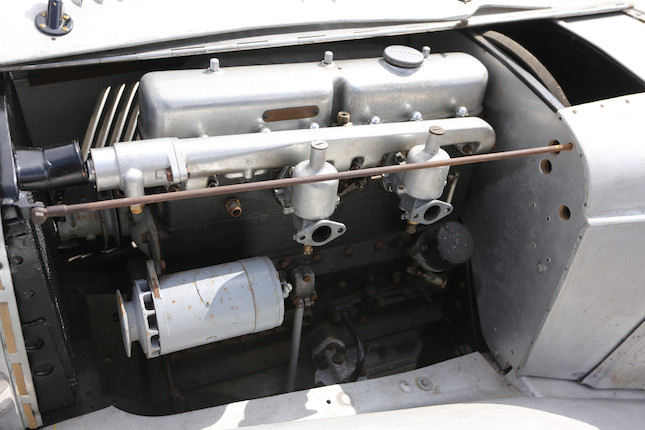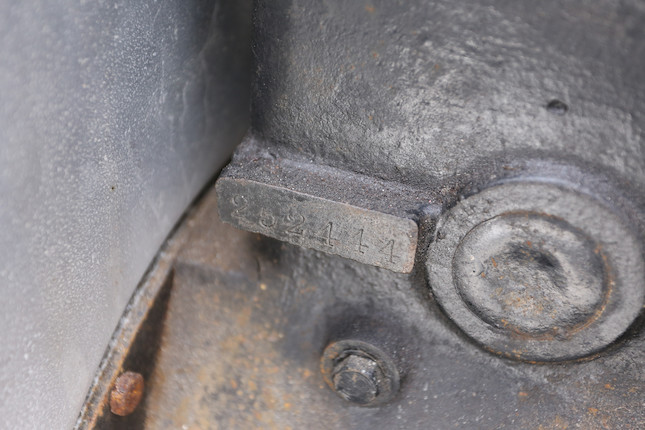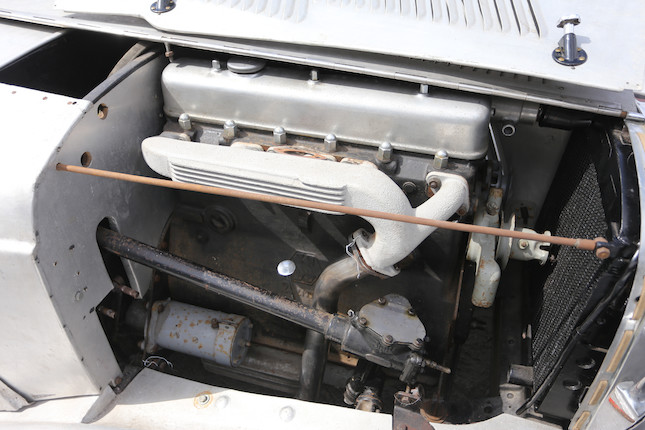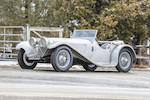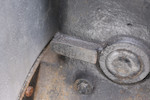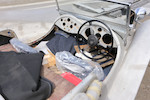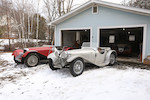 From the Estate of Geoffrey Howard
1935 SS90 Roadster
Chassis no. 249485
Engine no. 252444 – (see text)
31 May 2015, 12:30 EDT
Greenwich
Sold for US$214,500 inc. premium
Own a similar item?
Submit your item online for a free auction estimate.
How to sell
Looking for a similar item?
Our Collector Cars specialists can help you find a similar item at an auction or via a private sale.
Find your local specialist
Ask about this lot
Eric Minoff
Senior Specialist
Rupert Banner
VP, Business Development
Evan Ide
Vice President, Senior Specialist
From the Estate of Geoffrey Howard
1935 SS90 Roadster
Chassis no. 249485
Engine no. 252444 – (see text)
2,663cc OHV (Originally Side-Valve, see text) Inline 6-Cylinder Engine
4-Speed Manual Transmission
Front Suspension by Semi-Elliptic Leaf Spring, with Telecontrol Shock Absorbers, Live Axle Rear Suspension by Semi-Elliptic Leaf Spring
4-Wheel Drum Brakes

*Holy Grail of the Jaguar marque
*One of only 24 examples built, 16 known to survive
*Single ownership for more than 40 years
*Ready for completion of restoration

JAGUAR AND THE SS90

"In the 'S.S.90' we have a car to suit the sporting youth of today, and he who appreciates a little thoroughbred. A fine performance and a car full of character" – The Hon. Brian Lewis, News Chronicle.

The Swallow Sidecar & Coachbuilding Company was founded in Blackpool, England by William Walmsley. The company branched out into motor manufacture in 1926, its first major success being an attractive sports saloon on the Austin Seven chassis, which was a design of Walmsley's partner, one William Lyons. Relocation to Coventry followed and the Swallow range expanded to include models on Morris Cowley, Wolseley Hornet and Standard Sixteen chassis. Marque status arrived in October 1931 with the launch of the SS1, the chassis of which was supplied exclusively to Swallow by Standard, who also provided the six-cylinder side-valve engine and four-speed gearbox. Although unspectacular in performance, the SS1 went some way towards establishing the pattern for future Jaguars, combining sporting good looks with a better-than-average specification and all at a bargain price. Historians debate what the 'SS' nomenclature actually represented, suggestions being either Standard Swallow, or Swallow Sports and it is said even William Lyons himself was non-committal on the topic.

In 1935 the business evolved substantially with the arrival of William Heynes who joined as Chief Engineer. By March that year an altogether different proposition was offered from SS Cars Ltd. Dubbed the SS90, referring to its claimed road speed of 90mph, this new model immediately showed the massive potential of Heynes and Lyons. Heynes re-engineered the SS1 chassis and shortened it to an 8 ft., 8 in. wheelbase, while Lyons pooled the styling cues of its forebears into a two seater form. His iconic design, which ostensibly stayed in production for five years through the SS100 models, was at once distinctive with its long hood, smooth flowing fenders and cutaway doors, a fold-flat windshield, exposed gas tank and rear mounted spare.

As ever with Lyons, the bodywork and fenders were shaped on every plane, the combined result being an incredibly voluptuous and appealing design from any angle. But it wasn't just the lines of the car that they had dialed in: Lyons knew how to create an attractive cabin, the seats were carefully sculpted buckets to hold their sporting driver comfortably and, when seated, the driver and passenger had an almost airline like dashboard to entertain them complete with Telecontrol shock absorber controls. Aiming to 'fit like a glove' the limited cockpit space was then filled with a large steering wheel to navigate with.

If the aesthetics were a revolution, the drivetrain still owed much to its predecessors with a 2.7 liter side valve engine provided by Standard. Ultimately this would lead to its replacement within the year. Initially The Honorable Brian Lewis and Tom Wisdom campaigned the 'bob-tail' SS90 prototype without success, but the first seeds of the car's potential came when William Lyons himself piloted the first production example at the SS Car Club gathering in Blackpool with the fastest time of the day in their sprint/obstacle event.

It could be argued that over time the '90' would have been developed and refined in its existing form, but Lyons and Heynes were on a roll and wisely recruited Harry Weslake as a consult them, to build an overhead valve version of Standard's 20hp. This new power unit debuted in October that year and enabled the Two Seater SS Sports car to be capable of the magic 100mph, and the rest as they say is history...

In this brief transitional period for the company, and despite their relatively modest cost, just two dozen SS90 cars would be built in total.

THE MOTORCAR OFFERED

The 10th of the 23 production SS90 cars built, chassis 249485 was delivered new in the middle of the year, being registered on July 15, 1935 to A.L. Dyer of Cheshire in the U.K. It was licensed with the Manchester County Council plate 'BNF 346'.

Although its late 1930s history is not known at present, the car still retains its immediate postwar British Registration/Log Book, which records it returning to the road on July 9, 1945 as the property of Star Motors of Reading. By the fall, it was the property of Arthur Taylor of Holbeach, Lincolnshire, and was subsequently transferred into his business entity in 1951. The log book is fully stamped up to 1955 as being on the road; it is thought that after this time the car was laid up.

Geoffrey Howard had long held a fascination for these early pre-war Jaguars and on June 19, 1970 was able to purchase the car offered here. According to its log book his acquisition was directly from the successor to Arthur Taylor's company, Wright Engineering of Holbeach. As evidenced from photos taken in this period of a very proud Howard with his 'new toy', the SS90 was clearly quite tired by this period, but in almost all respects was complete. The sole exception to this was its engine, which by now had been replaced with another six cylinder unit, that of an Alvis.

Following his securing of the car, Howard began a restoration. Over the course of his four decades of ownership trusted British experts, which in the early days included Ashton Keynes Vintage Restorations, H.H. Cooke & Sons, Tula Restorations and others, carried out work for him. Throughout, Geoffrey Howard maintained fastidious notes on the car's progress and made copious, detailed drawings of the ways in which the features operated. Along the way, the Alvis power unit was removed and in its place a period SS unit was fitted, an overhead valve 2½ Liter (252 prefix unit) itself most likely originally fitted either to an early SS100, Jaguar Sedan or Drophead Coupe.

Having spent its whole life in the UK, as Mr. Howard entered retirement in the mid-1990s, the SS90 was brought to North America. Technically it was imported into the U.S.A., although a British Vehicle Registration remains active.

Ultimately, with a handful of distractions and a greater fascination with his own tribute to these cars, completion of the car's restoration sadly eluded him. As viewed today, it is in a state of basic assembly, with bodywork fitted, running gear in place and 'rolling'. In its stripped unpainted form and without the interior refitted it is easy to see the extent of any restoration that has taken place cosmetically and ostensibly it appears to be close to ready for painting. According to its UK log book, its original colorway was blue, and it seems that it was Mr. Howard's intention to return it to that scheme as much of the interior has been remade in royal blue leather and matched carpeting.

As with so many cars, the evolution from drawing board design to practical/usable automobile sees a certain degree of compromise, and as beautiful as its successor is close inspection of the original work here shows how exquisitely refined and well penned these forerunners are. For this reason particularly, and the fact that these cars represent the breakaway model from the SS era to the journey that lead to the XK and E Type and all that the brand became, the SS90 is a pivotal car in the Jaguar legend.

Of the 24 cars built, it is thought that the survival rate is roughly two-thirds of that production. Accordingly, opportunities to acquire examples of this highly important model rarely occur. Bonhams is delighted to present this recent discovery for sale, from its long term ownership, ready for its next custodian to return it to the road.
Footnotes
When collected from Mr. Howard's garage, all evident boxes and parts annotated as being for this car were removed and every effort has been made by Bonhams to ensure that they accompany it. However, ultimately beyond the fact that the SS90 was acquired as a complete car and then dismantled for restoration and remained in his ownership continuously, it is up to prospective purchasers to assess the completeness of the car as offered.