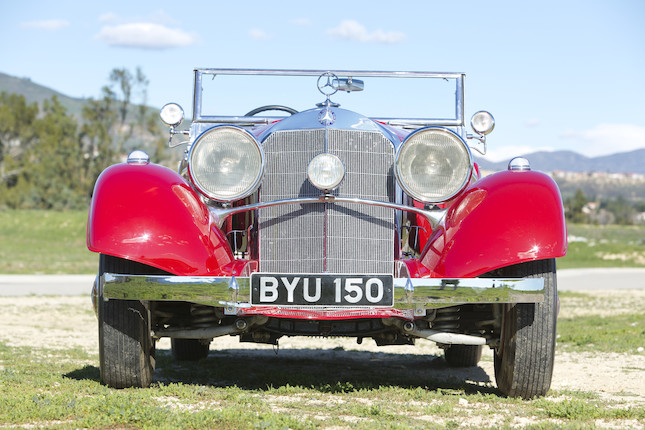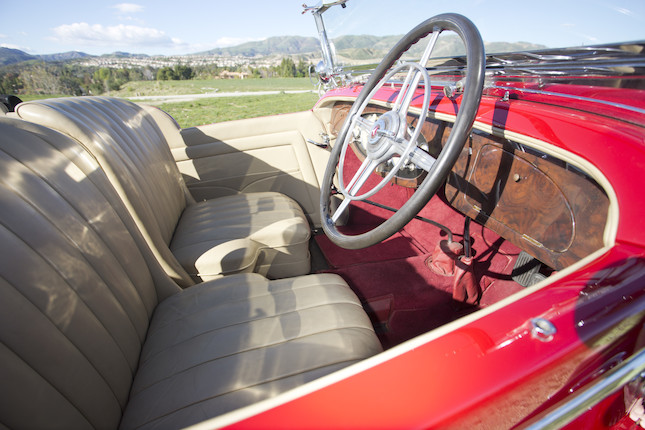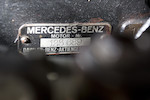 The ex-Baronet Sir Everard Scarisbrick, William Lassiter Jr., Paul Karassik
1934 MERCEDES-BENZ 500K FOUR-PASSENGER TOURER
Coachwork by Mayfair Carriage Works Ltd. of London
Amended
12 March 2015, 12:00 EDT
Fernandina Beach Golf Club
US$1,250,000 - US$1,500,000
Own a similar item?
Submit your item online for a free auction estimate.
How to sell
Looking for a similar item?
Our Collector Cars specialists can help you find a similar item at an auction or via a private sale.
Find your local specialist
Ask about this lot
Rupert Banner
VP, Business Development
Eric Minoff
Senior Specialist
Evan Ide
Vice President, Senior Specialist
The ex-Baronet Sir Everard Scarisbrick, William Lassiter Jr., Paul Karassik
1934 MERCEDES-BENZ 500K FOUR-PASSENGER TOURER
Coachwork by Mayfair Carriage Works Ltd. of London
Chassis no. 123689
Engine no. 123689
5,019cc OHV Inline 8-cylinder Engine with Rootes Supercharger
160bhp at 3400rpm With Blower Engaged
4-Speed Manual Transmission
4-Wheel Independent Suspension
4-Wheel Drum Brakes

*One of just eight RHD 500K chassis delivered to England for custom coachwork
*Believed to be the only Mayfair-bodied 500K
*Matching numbers
*Restored in the 1990s
*Lightweight aluminum body

THE MERCEDES-BENZ 500K

The sensation of the 1934 Berlin Auto Show, Mercedes-Benz's legendary 500K supercar cost a small fortune when new and today commands a king's ransom, such is its rarity. The 1930s were a period of unprecedented innovations in motorcar styling, of which the sublime 500K represented the very pinnacle of excellence. Its timeless appeal endures to this day.

The 500K, which boasted an ingenious swing-axle independent rear suspension layout, was created by Hans Nibel who, having started with Benz in the early years of the 20th Century, succeeded Marius Barbarou as chief engineer in 1904 and designed (and raced) the huge Benz cars of the period, culminating in the 200hp 'Blitzen' Benz. After the merger with Mercedes, he replaced Ferdinand Porsche and created the most sophisticated chassis of their day for road and track, including the first of the 'Silver Arrow' racers. The supercharged road-going Mercedes of the 1930s are a wonderful tribute to his engineering skills.

Together with its successor, the 540K, the magnificent Mercedes-Benz 500K was arguably the most noteworthy production model offered by the Stuttgart firm during the 1930s. The 500K was powered by a 5,018cc supercharged straight-eight engine that featured the company's famous Roots-type supercharger system in which pressing the accelerator pedal to the end of its travel would simultaneously engage the compressor and close off the alternative atmospheric intake to the carburetor. This system had been thoroughly proven on the preceding series of Dr. Porsche-conceived S-Type cars, and in effect the 500/540K was the last supercharged production Mercedes until relatively recent times.

Beneath its seemingly endless bonnet, the 500K's straight-eight engine developed 100bhp un-supercharged or 160bhp with the compressor engaged. The gearbox was a four-speed with overdrive top ratio. With the supercharger engaged, the 500K had a top speed approaching 110mph (177km/h) matched by servo-assisted hydraulic braking. Its performance potential was such that Mercedes-Benz in the UK retained racing driver Goffredo 'Freddy' Zehender as technical adviser and demonstration driver, since the supercharged Mercedes was one of the few genuine 100mph road cars available in the 1930s.

Although the 500K/540K chassis attracted the attention of many of the better quality bespoke coachbuilders of the day, the company's own Sindelfingen coachwork left little room for improvement.

The cabriolet came in a variety of styles. This example has the Cabriolet A option with two-door, left-hand drive coachwork and is outstandingly handsome, boasting wire wheels, twin boot-mounted spares, exposed landau irons, twin horns and a center spotlight. The work of the gifted Hermann Ahrens, design chief at Mercedes-Benz's in-house Sindelfingen coachworks, the Cabriolet A offered two-seater accommodation allied to breathtaking performance. After testing a 500K Cabriolet in 1936, The Autocar declared: "This is a master car, for the very few. The sheer insolence of its great power affords an experience on its own."

The manufacturing record of the 500K reveals its exclusive nature: 105 were produced in 1934, 190 in 1935 and 59 in 1936. In recent years, the rarity, style and performance of these big supercharged Mercedes have made them one of the most sought-after of all classic cars on the few occasions they have come on the open market.

THE MOTORCAR OFFERED

Just 342 examples of the breathtaking 500K were built from 1934 to 1936 before that model was superseded by the mighty 540K of which 419 were constructed. Most of those chassis were fitted with factory coachwork in various long- and short-wheelbase styles from Sindelfingen, but no more than 70 are known to have been delivered to custom coachbuilders. According to marque authority Michael Frostick, 56 right-hand drive chassis were sent to England, eight of them as rolling chassis. Those eight received bespoke bodies, both open and closed, to the buyers' specifications. This long-wheelbase (129.5-inch) right-hand-drive chassis carries Daimler-Benz commission number 207792, and was delivered through Norwich dealer Mann Egerton to its first owner, Sir Everard Talbot Scarisbrick (1896-1955), the 2nd Baronet and 30th Lord of Scarisbrick in Lancashire. The Baronet, a connoisseur of fine automobiles, would have had his choice of many coachbuilders, and selected the Mayfair Carriage Company of Kilburn, London, where a handsome four-place touring body of aluminum with steel fenders was designed and crafted. Founded as the "Progressive Carriage Company" in 1920, Mayfair is best known for its fine, high-quality coachwork. By 1929, the firm had changed its name to "Mayfair". One source states that "By the 1930s, (they) were responsible for creating some of the most luxurious and impressive coach bodies of their time."

Nearly 400 Rolls-Royce chassis were clothed in Mayfair's coachwork, as were a few pre-war Bentleys, several open and closed Alvis Speed models, Lagondas, Armstrong-Siddeleys, at least one Sunbeam, a Buick, and according to the consignor, a single Mercedes Benz 500K, chassis 123689. Originally finished in British Racing Green, this Mayfair Tourer body is wonderfully stylish, it's sporting lines highlighted by a beltline dip highlighted by a chrome accent strip, a feature also seen on some Alvis convertibles bodied by Mayfair as well as many of Howard Darrin's famed custom Packards. At the same time, this 500K retains all the classic hallmarks of that series, including the massive upright radiator, long sweeping fenders, and twin chromed exhaust pipes exiting through the hood side panels.

Upon its completion and delivery to the Baronet in July of 1935, the car was assigned UK registration BYU150. It is not known when it left the Baronet's ownership, perhaps after his passing in 1955, but a sales advertisement by prominent London dealer Jack Bond appeared in the November 1952 issue of Motor Sport. This unique 500K surfaced in America in the early 1960s, when it was displayed in Albany, New York by Mr. Arnold Dubb. Mr. Dubb registered the car with the Classic Car Club of America, as it appears in that group's 1967 directory. Its next owner, a Mr. David Cohen, installed a striking new interior in what was charitably described as "grapefruit pink", which must have made a stunning combination. The next owner was a Dr. Henry A. Camperlengo, also a resident of the Albany area. Dr. Camperlengo reportedly purchased the car for $5000. The doctor retained the Mercedes until 1973, when it was acquired by well-known marque enthusiasts Paul and Barbara Karassik. Mr. Karassik - born in Russia and fluent in that language - is famed in car collector circles for his decade-long search and recovery of two long-missing 1939 Auto Union Type D Grand Prix racing cars from the old Soviet Union in the 1990s.

History records that BYU150 returned to the United Kingdom, but was purchased by Don Williams and returned to America. In late 1992, it was purchased by the late William Lassiter, Jr. of West Palm Beach, Florida, another well-regarded antique car collector. Mr. Lassiter was known for his stable of fine classics which were all driven and maintained to a high standard. In 1999, it was again sold, remaining in a family collection for over 15 years.

As offered today, this magnificent custom-bodied Mercedes Benz 500K Four-passenger Tourer by Mayfair is finished in bright red with complimentary cream leather upholstery, red carpeting, and a black canvas folding top, all offset by silver-painted wire wheels and twin spares. While the paint and leather still appear to be in good condition, some of the plating will need attention to prepare the car for show. Because of its rare coachwork and brilliantly-designed drive-train, it is certainly a candidate for a full restoration and would thus become a welcome entrant to major Concours anywhere in the world. 123689 retains its original matching-numbers chassis, frame, and engine, as well as its original Typenschild, or data plate.
Saleroom notices
Please note that the title for this vehicle is in transit.