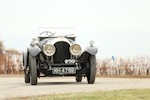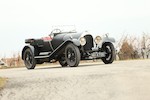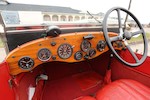 Numbers matching and with original Vanden Plas Sports Coachwork
1925 BENTLEY 3 LITER FOUR SEATER TOURER
Coachwork by Vanden Plas
12 March 2015, 12:00 EDT
Fernandina Beach Golf Club
Sold for US$462,000 inc. premium
Own a similar item?
Submit your item online for a free auction estimate.
How to sell
Looking for a similar item?
Our Collector Cars specialists can help you find a similar item at an auction or via a private sale.
Find your local specialist
Ask about this lot
Rupert Banner
VP, Business Development
Evan Ide
Senior Specialist
Eric Minoff
Senior Specialist
Numbers matching and with original Vanden Plas Sports Coachwork
1925 BENTLEY 3 LITER FOUR SEATER TOURER
Coachwork by Vanden Plas
Chassis no. 1009
Engine no. 1007
Body No. 1125
Former UK Registration no. MH 4796

2,996cc SOHC Inline 4-Cylinder Engine - 4 Overhead Valves Per Cylinder
80bhp at 3,500rpm
4-Speed Close-ratio Gearbox
Front and Rear Leaf Spring Suspension
Four-Wheel Drum Brakes with Perrot shaft actuation

*Rare original matching numbers car with original Vanden Plas Sports Coachwork
*Offered from long term ownership
*Meticulously researched history
*Great looking Vintage Bentley, eligible for many road touring events

THE BENTLEY 3 LITER

The genre of the sporting Vintage Bentley dates from the earliest days of Walter Owen Bentley's founding of the firm that bore his name and the partnership of his chassis and coachwork which was provided by local coachbuilder Vanden Plas. Between them they created a style that remained with the company throughout its first era of production: that of a compact sports car with lightweight open four seater touring bodywork. It was in this same guise that virtually all of the famed Le Mans campaigns were undertaken. Even when the 4-cylinder cars were usurped by their 6-cylinder models, the most sporting examples were still built in this guise. The legend of the 'Bentley Boys', Tim Birkin and their Le Mans successes, created the spirit and character of the brand that perpetuates today, particularly since its reinvigoration from the early 2000s. It is for this reason that the iconic Bentley 3 Liter Speed Model with Vanden Plas coachwork is such an important part of the Bentley story.

W.O. Bentley had proudly unveiled his new 3 Liter car on Stand 126 at the 1919 Olympia Motor Exhibition—the prototype engine having fired up for the first time just a few weeks earlier. Bentley's 4-cylinder 'fixed head' engine incorporated a single overhead camshaft, 4-valves per cylinder and a bore/stroke of 80x149mm. Twin ML magnetos provided the ignition, and power was transmitted via a 4-speed gearbox with right-hand change. The pressed-steel chassis started off with a wheelbase of 9' 9½" then adopted dimensions of 10' 10" ('Standard Long') in 1923, the shorter frame being reserved for the TT Replica and subsequent Speed Model. Rear wheel brakes only were employed up to 1924 when 4-wheel Perrot-types were introduced.

Early success in the 1922 Isle of Man Tourist Trophy, where Bentleys finished second, fourth, and fifth and took the Team Prize, led to the introduction of the TT Replica (later known as the Speed Model) on the existing 9' 9½" wheelbase, short standard chassis. Identified by the Red Label on its radiator, the Speed Model differed by having twin SU 'sloper' carburetors, a higher compression ratio, different camshaft, and the close-ratio A-type gearbox, the latter being standard equipment prior to 1927 when the C-type gearbox was adopted. These engine changes increased maximum power from the standard 70 to 80bhp and raised the top speed to an impressive 90mph. Other enhancements included the larger (11-gallon) fuel tank and (usually) Andre Hartford shock absorbers.

The 3 Liter was by far the most popular model of Vintage Bentley production, with some 1613 chassis built, however of those only a third were the short chassis Speed models. By the very nature of their racing association the privateers that bought these cars in the Roaring Twenties were keen to push these cars to their limits. A cursory glance through a few of the period service records show many returns to the factory following accident damage, making the actual survival statistics for all 3 Liters less than half of the original production. Because these cars were rather reliable work horses, it was common for them to continue their lives in more rudimentary work, particularly during the war; in the UK many turned into farm 'hacks', shooting brakes, or tow vehicles. For all of these reasons, the actual number of surviving examples of what is undeniably the iconic Vintage Bentley look is rather modest, and they rarely appear for sale.

THE MOTORCAR OFFERED

Bonhams is proud to offer this definitive Vintage Bentley example from the estate that has owned the car for more than 30 years. It is one of the much coveted original Vanden Plas bodied Sports Touring 'Speed' Models.

The car was acquired by its enthusiast owner, a qualified Chartered Engineer, in the UK in the 1980s from a noted London Bentley dealer. It was later brought to the U.S. by him where it has resided ever since. As a truly passionate collector he spent much of his ownership researching the car's ownership history. Compiled in the pre-internet era this was a labor of love – requiring careful thought and an almost forensic eye for detail. The fruits of this work are on file in extensive correspondence with former owners as he pieced together its long British life and endorsed its pedigree.

Importantly, copies of its original build sheet and Vanden Plas coachbuilder records exist and confirm that chassis 1009 was built as it remains to this day, as a Speed Model, with engine number 1007 and wearing Vanden Plas Body number 1125. These records provide insight into how the car looked when new, and show that it must have been quite a striking example. It was finished in Dockers French Grey paintwork, with its chassis and fenders contrasting in Parsons Long Acre Red and with a corresponding Grey mohair top, side curtains and tonneau cover and Connolly leather upholstery and red wheels.

The proud new owner of the car was C. L. Warwick, of Beech Hill Park, Hadley Wood in the UK. Mr. Warwick appears to have kept the car for only a matter of months before it passed to its next keeper, C. A. Cuthbert of Compton, Nr. Guildford in whose hands it was maintained by the Cricklewood Bentley works until its next sale in 1927 to G.R. Sutton of Newcastle-Upon-Tyne at which point it migrated to the North of England. Notes on the factory records detail some parts supplied to garages in this region until just before the war.

By roughly 1943 the car migrated a little down the country, known to have been owned by a J. F. Collinge of Rochdale in Lancashire. From this point its postwar history is charted as the next owner being a Squadron Leader Baron, who kept the car up to 1949. The car then passed progressively down the country, being owned by a K. Hadley, J. F. Edmondson in 1952, W.F. Crosland from October 1954, and P. Patchett from July 1960, before arriving in the long term custody of the Simons family of Chippenham in Wiltshire in 1965. In the early days of their ownership it is understood that the car was exhibited at the nearby Cheddar Veteran and Vintage Car Museum, a long since disbanded institution that was situated in the town where the most popular UK brand of cheese was founded.

By the 1970s the car was clearly in need of attention and its then owner commissioned a rebuild at one of the UK's leading restoration shops for Vintage Bentleys, Elmdown Engineering. During this refurbishment, its owner elected to have the car's metal bodywork covered in black fabric. In doing this, the holes for the side curtains were covered; they are no longer with the car. It also is known that at this time the original engine was repatriated to the car.

Its current livery of black with red upholstery and German silver accessories is an extremely handsome scheme, and while its 40 year old rebuild has some light age to it, the car still presents very well. Close inspection reveals it to be a particularly authentic example. Its chassis number is clearly stamped in the front dumb iron 'knuckle' and front cross member and rarely found details such as its original seats and some floorboards are still numbered with their Vanden Plas commission number (1125). Only its front axle number is inconsistent with the close proximity of its other component numbers, meaning this may have been replaced at some time.

Naturally, therefore, the Bentley has been regularly campaigned in this ownership. Participating in numerous North American Vintage Bentley Meets including those at Chatauqua Lake, Lake Placid and Niagara Falls, it has also been used as an everyday transport – used to drive on the daily commute!—as every true 'car nut' should on occasion. All the while using its owner's strong technical prowess as a meticulous engineer, with able assistance from a noted national expert locally, the car would receive regular maintenance. For more arduous tasks parts were sometimes sent overseas. For example, it is known that the car's magnetos and rear axle were reconditioned by noted UK specialists.

Offered with its comprehensive history file which charts the history noted above and incorporates such gems as early owner J.F. Collinge's original annotated handbook and the British license 'log book', it still retains its UK license/registration plates.

Over the course of the last 30 years, the car has been as carefully maintained as its history was researched, its owner taking great care to preserve its usability and at the same time to participate in the true spirit with which these cars were built - it will no doubt provide its next custodian with similar entertainment.

Aside from simply being one of the greatest looking cars of its era, these cars offer a multitude of applications for touring events, be it with the North American Vintage Bentley Club, Rolls-Royce Owners Club, or further afield in the British Bentley Driver's Club. They have great road presence and perform well enough to comfortably keep up with modern speeds, yet because they ride on a relatively short chassis, they are nimble enough to be enjoyed on country lanes.

We are proud to offer and recommend this great Vintage Bentley.