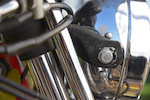 Moto Guzzi V7 Sport 749 cm3 1971
Frame no. VK11147 Engine no. VK30098
5 February 2015, 12:30 CET
Paris
Sold for €41,400 inc. premium
Own a similar item?
Submit your item online for a free auction estimate.
How to sell
Looking for a similar item?
Our Collector Cars specialists can help you find a similar item at an auction or via a private sale.
Find your local specialist
Ask about this lot
Ben Walker
Department Director
Moto Guzzi V7 Sport 749 cm3 1971
Frame no. VK11147
Engine no. VK30098
Le vénérable V-twin à 90 degrés de Moto Guzzi apparut pour la première fois sur une moto en décembre 1965 lorsque la V7 de 703 cm3 fut dévoilée au salon international de Milan. C'était la routière la plus grosse et la plus rapide jamais sortie de l'usine de Mandello del Lario. La première véritable version sport, la V7 Sport, arriva en 1971. En créant cette machine, l'ingénieur Lino Tonti déplaça le générateur électrique du haut du carter sur le nez du vilebrequin, permettant ainsi d'adopter un cadre beaucoup plus bas. D'après le spécialiste de la marque Mick Walker, ce fut « une étonnante métamorphose d'un ensemble jusque-là calme et trop lourd ». De plus, la nouvelle venue offrait un moteur de 749 cm3, une boîte à cinq rapports et des freins à tambour de grand diamètre avec à l'avant, un système double à deux mâchoires primaires. Avec 52 ch transmis à la roue arrière, la superbe V7 Sport était bonne pour 190 km/h.

Cette V7 Sport figure dans l'ouvrage « Moto Guzzi V7 Sport 750 » de Vittorio Crippa. Elle possède son certificat d'origine de Moto Guzzi confirmant l'année, le numéro de cadre et le fait qu'il s'agit bien d'un modèle « telaio rosso » (cadre rouge). Dans la collection privée du vendeur depuis 2004, cette Guzzi qui n'a eu que quatre propriétaires au total se présente en état d'origine, non restaurée et en très bon état général, accompagnée de son libretto italien et du document de l'ASI.
Footnotes
1971 Moto Guzzi 749cc V7 Sport
Frame no. VK11147
Engine no. VK30098.
Moto Guzzi's venerable 90-degree v-twin engine first appeared in a motorcycle in December 1965 when the 703cc V7 was displayed at the International Milan Show. It was the biggest and fastest roadster ever to come out of the Mandello del Lario factory. The first true sports version, the V7 Sport, arrived in 1971. In creating the V7 Sport, designer Lino Tonti moved the electrical generator from atop the crankcase to the crankshaft nose, thus enabling a much lower frame to be used. In marque expert Mick Walker's words, it was 'an amazing transformation of a formerly staid, overweight package.' In addition, the newcomer featured a 749cc engine, five-speed gearbox and large-diameter drum brakes, the front a double-sided, twin-leading-shoe unit. With 52bhp available at the rear wheel, the magnificent V7 Sport was good for 190km/h (120mph).
This V7 Sport features in the book 'Moto Guzzi V7 Sport 750' by Vittorio Crippa, and comes with certificate of origin from Moto Guzzi confirming the year, frame number and the fact that it is a 'telaio rosso' (red frame) model. In the vendor's private collection since 2004, the Guzzi has had four owners from new and is presented in original, un-restored and generally good condition. The machine is offered with Italian libretto and ASI document.