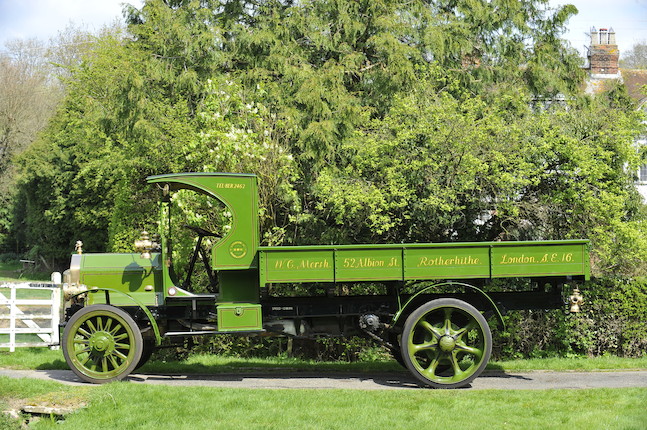 1915 Peerless TC4 4-Ton Open Back Lorry
Registration no. FN 5284 Chassis no. 621 Engine no. 419
14 June 2014, 15:00 BST
Staplehurst, Iden Grange
Sold for £42,550 inc. premium
Own a similar item?
Submit your item online for a free auction estimate.
How to sell
Looking for a similar item?
Our Collector Cars specialists can help you find a similar item at an auction or via a private sale.
Find your local specialist
1915 Peerless TC4 4-Ton Open Back Lorry
Registration no. FN 5284
Chassis no. 621
Engine no. 419
Footnotes
With British manufacturers struggling to meet demand for motor lorries for war service, in 1914 the British Government contracted with export agents Gaston, Williams & Wigmore to supply American chassis to be fitted with bodies in England. Prominent among these makes was Peerless of Cleveland, Ohio, a firm that had started life in Victorian times making mangles before turning to cycle manufacture and then, in 1900, entering the car market with de Dion-engined voiturettes. Within a few years, Peerless had become one of America's most prestigious manufacturers, ranking alongside Packard and Pierce-Arrow. Trucks of 3-ton, 4-ton and 5-ton capacity were added to the product line in 1911 and found favour with the US Army.

Between 1915-18 the British Government bought a total of 12,000 Peerless truck chassis, which were imported via Liverpool, then inspected and made "ready for service" at a Gaston, Williams & Wigmore repair facility at Islington, North London.

After the war ended, the American made arrangements for the 60,000 or so trucks that they had in Europe to be sold. Many were sent to the Government repair depot at Slough. In 1920 the Government Surplus Disposal Board sold the Slough site and all the vehicles – including those still in France, Egypt, Turkey, India and Mesopotamia – for over £7 million to a group of investors headed by Sir Percival Perry and Noel Mobbs, who continuing rebuilding and selling reconditioned lorries before converting the site into the Slough Trading Estate.

FWD and Peerless established independent companies on the estate, and after war service this 4-ton truck, which was built in Cleveland in 1915 and shipped to Europe in 1916, was extensively rebuilt in 1921 by the Peerless Trading Company at Slough. It has a 6.76-litre bi-block T-head engine driving the massive cast iron rear wheels through a four speed and reverse gearbox and side chains. From Slough, the Peerless was acquired by C & G Yeoman of Canterbury, Kent, who were nationalised in 1948, becoming part of the East Kent Group of the South Eastern Division of British Road Services. The old Peerless remained in BRS service until 1956, when it was auctioned off. Ten years later, Michael Banfield acquired the Peerless as a chassis for £30 from J.T. Evans' scrapyard at Wiggington, near Tring, and subjected it to a typically painstaking restoration, its body being built and painted "in-house" at Nunhead Lane as a replica of a Peerless operated in the 1920s by W. G. Mersh of Albion Street, Rotherhithe. Typical of the standard of restoration, the impeccably lined-out apple green paintwork represents some 30 coats of paint and varnish, and the lettering is in real gold leaf. Running well, the Peerless has been officially dated as 1915 by the Veteran Car Club.