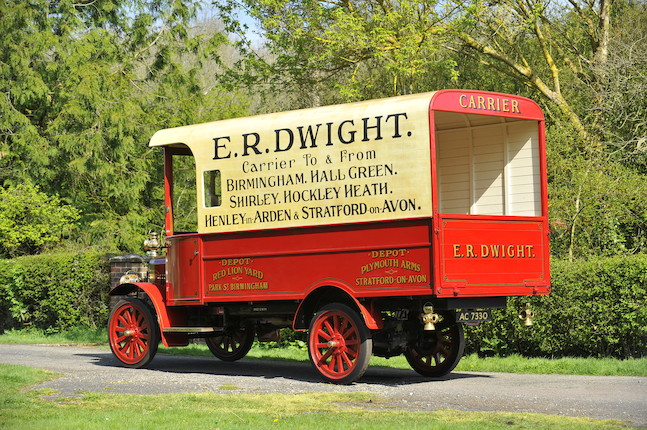 1917 Maxwell Commercial Delivery Car
Registration no. AC 7330 Chassis no. 861 Engine no. 922 19P3
14 June 2014, 15:00 BST
Staplehurst, Iden Grange
Sold for £21,850 inc. premium
Own a similar item?
Submit your item online for a free auction estimate.
How to sell
Looking for a similar item?
Our Collector Cars specialists can help you find a similar item at an auction or via a private sale.
Find your local specialist
1917 Maxwell Commercial Delivery Car
Registration no. AC 7330
Chassis no. 861
Engine no. 922 19P3
Footnotes
In 1903, convinced that he was wasting his money backing the automobile designed by David Buick, sheet-metal manufacturer Benjamin Briscoe turned to engineer Jonathan Maxwell, who had a sound track record with the Oldsmobile and Northern companies. Maxwell's first car, a twin-cylinder model, appeared in 1905, and backed by brilliant sales promotion, the marque became a great success, with annual sales topping 20,000 by 1910. Commercial vehicles had been offered from the start, and despite a hitch when Briscoe's United States Motor combine collapsed in 1912 in an ill-advised attempt to overhaul Ford and Maxwell resumed control of the eponymous firm, which he relocated to Detroit, Maxwell Motors continued to do well.

This 20-hp "Commercial Delivery Car" dates from Maxwell's banner year of 1917, when the 100,000th Maxwell was built. Powered by a four-cylinder L-head engine of just over 3.0 litres, it was promoted by its makers as "designed and constructed by men who have an intimate knowledge of delivery requirements... all parts are made of materials that guarantee long and effective service". The reliability of the model was underlined by Maxwell's claim to have made a world endurance record of 22,022.3 miles without stopping the engine, running continuously for 44 days and nights. The Maxwell company was ultimately absorbed by Chrysler in 1925.

This actual Maxwell was given to Michael Banfield in 1964 in poor condition after having spent many years abandoned in an orchard. It had been stripped of every brass component including the radiator and data plates, but retained its original bodywork, signwritten with the name and address of its original owner, E.R. Dwight "of Red Lion Yard, Park Street, Birmingham and also of the Plymouth Arms, Stratford-on-Avon".

Michael restored the Maxwell with his customary attention to detail, using as guide an original photograph of the van dated 9 September 1917, and acquiring the remains of a second Maxwell to furnish the missing parts. A build date of 1917 was subsequently confirmed by the Veteran Car Club. In running order, this handsome veteran commercial epitomises its makers' proud boast that the ownership of a Maxwell van conferred "smartness and prestige" on its fortunate users.