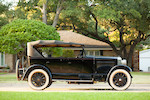 1925 Stanley (Steam Vehicle Corporation) Model SV 252A Touring Car
Chassis no. 25007
Engine no. V-1006
6 October 2014, 14:00 EDT
Philadelphia, Simeone Foundation Automotive Museum
Own a similar item?
Submit your item online for a free auction estimate.
How to sell
Looking for a similar item?
Our Collector Cars specialists can help you find a similar item at an auction or via a private sale.
Find your local specialist
Ask about this lot
Rupert Banner
VP, Business Development
Evan Ide
Vice President, Senior Specialist
Eric Minoff
Senior Specialist
1925 Stanley (Steam Vehicle Corporation) Model SV 252A Touring Car
Chassis no. 25007
Engine no. V-1006
2-Cylinder
20hp Engine
4-Wheel Semi-Elliptical Leaf Spring Suspension, Bosch Snubbers on Front Axle
Original 4-Wheel Lockheed Hydraulic External Contracting Brakes
Emergency Hand Operated Expanding Brake on Rear Wheels

*Original coachwork and mechanicals throughout on the sole surviving original Steam Vehicle Corporation's Model SV 252A Phaeton
*Documented history and provenance back to 1930
*Extraordinarily original running steam car

The Stanley Steam Car

The Stanley Twins began making steam cars in 1897 and re-entered the market in 1902, having sold out to Locomobile in 1899. The Twins left the Stanley Motor Carriage Company in 1917 and the firm limping through World War I and the early 1920s entering receivership in 1923. The Steam Vehicle Corporation of America emerged in late 1923 and in 1925 introduced its new Light Steam Car, the SV 252, as both a touring car and a sedan. In 1925, SVCA made five sedans and forty-eight touring cars.

The new SV 252 featured four-wheel Lockheed Hydraulic Brakes, a single venturi burner, an air pump, and a redesigned engine and rear end. The 1925 cars were hand assembled in Newton, MA between late 1924 and June 1925 when the factory moved to Allentown, PA. In 1926, the SVCA started nine chassis before being sold at bankruptcy in September 1926.

The SV 252 carries over many of the elements and parts of the earlier Models 740 and 750.

The Motorcar Offered

This important Stanley Steam Car is the only surviving unrestored 1925 Touring Car. Several documented 1925 Stanleys were converted to pickup trucks and one restored car survives in England.

It is very likely the prototype car built in 1924 and road tested by Fred Marriott and Hector Halhead "Steam" Stewart, Stanley's New Zealand agent. It was likely bodied in early 1925 and sold as a standard vehicle. Its unusual serial number stamp and its lack of a body plate as well as technical details such as the location of the brake lines point to this conclusion.

This car may have been sold to a Cleveland buyer before ending up on a Bryn Mayr, PA used car lot in 1930, where it was purchased and placed in storage by Francis W. Bunting. In 1989, Bunting's executrix contacted with Carl Amsley, the well know Stanley Steam Car expert, who purchased the car on November 15, 1990. Amsley made a few changes to the car, adding a hand pump and replacing a gauge and the original black condenser shell with a nickel plated shell. He installed an earlier Stanley water tank and an incorrect tail light.

Carl Amsley sold the car to Don Clark in 1995. Clark re-tubed the original boiler, installed a larger hydraulic brake master cylinder, and replaced the original tires.

Donald & Carolyn Hoke acquired the car from Don Clark in February 2009 and have owned it since. They performed routine maintenance such as valve packing, and rebuilt the hydraulic brakes.

This rare steam automobile will qualify for AACA's HPOF designation, as it features its original body on its original 122" wheel base chassis, paint, leather upholstery, engine, rear end, and all mechanicals. It has never been restored.

This extraordinary steam car is the last of the Stanley breed and carries itself exceptionally well for a car virtually identical to that which emerged from the factory.

Every great collection needs at least one original steam car and this running Stanley Prototype is not only original but unique. It touches all the bases for high end, original condition exhibition. With its elegantly aged looks and precise provenance and history, the opportunity to acquire such a Stanley Prototype may never come again.