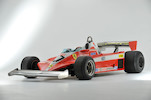 The Ex-Carlos Reutemann, Gilles Villeneuve 1978 British Grand Prix-winning, 1979 Race of Champions-winning
1978 FERRARI 312 T3 FORMULA 1 RACING SINGLE-SEATER
Chassis no. 033
14 August 2014, 17:00 PDT
Quail Lodge & Golf Club
Sold for US$2,310,000 inc. premium
Own a similar item?
Submit your item online for a free auction estimate.
How to sell
Looking for a similar item?
Our Collector Cars specialists can help you find a similar item at an auction or via a private sale.
Find your local specialist
Ask about this lot
Mark Osborne
Vice President
The Ex-Carlos Reutemann, Gilles Villeneuve 1978 British Grand Prix-winning, 1979 Race of Champions-winning
1978 FERRARI 312 T3 FORMULA 1 RACING SINGLE-SEATER

Chassis no. 033


*1978 British Grand Prix winner - driven by Carlos Reutemann
*1978 Race of Champions winner – driven by Gilles Villeneuve
*1978 Belgian Grand Prix – 3rd place – driven by Carlos Reutemann
*312 T3 design acclaimed as Ferrari's most beautiful 'T-car'
*Over 530-horsepower from 3-litre flat-12 engine
*Offered fresh from 34 years with Violati/Collezione Maranello Rosso


THE FORMULA 1 FERRARI 312 T3

Five of these cars were manufactured in the Ferrari Formula 1 'shop for the 1978 Formula 1 World Championship season. They were designed under the direction of the Reparto Corse (Racing Department) chief engineer Mauro Forghieri, and represented an evolutionary development of the highly-successful World Championship-winning 1975 312 T and 1976-77 312 T2-series cars. Power was provided by Ferrari's latest iteration of its magnificent 3-litre flat-12 cylinder F1 engine.

The five 312 T3s built were chassis-numbered in perfect sequence from '032' to '036'. These were great Grand Prix cars, but unlucky too. And their greatest misfortune was simply to come up against Mario Andretti, Ronnie Peterson and Colin Chapman's latest, greatest Lotus innovation – the revolutionary ground-effects Lotus 79 'wing car'.

Journalist Peter Windsor observed sagely in his end-of-season Formula 1 review: "Take away the Lotus 79 and the Ferrari was superior to every other car, and Michelin..."- Ferrari's tyre supplier that year against Lotus's Goodyear – "...had the best North American season to prove it...". In fact the works Ferrari 312 T3s won five Grand Prix races that year and their drivers finished 24 times from their 32 starts.

Carlos Reutemann himself won four of the team's races that season – the Brazilian GP (in a 312 T2) - United States (West) GP at Long Beach, California – the British Grand Prix at Brands Hatch (won in '033' offered here) – and the United States (East) GP at Watkins Glen. Gilles Villeneuve won his home Canadian GP (to a tumultuous reception) in Montreal. Windsor wrote of Carlos Reutemann that year: "He established himself in the top three (drivers). He was consistently fast, he withstood the political pressure, contrary to expectations, and he scored the hardest-earned win of the year – at Brands Hatch, when he beat Lauda (driving for Brabham)". The Ferrari 312 T3 that the fine Argentine driver was piloting that day was, just to emphasise the point, '033' now offered here.

THE MOTORCAR OFFERED

When the Bonhams team first saw '033' now offered here, displayed upon its plinth within the Collezione Maranello Rosso Museum at Falciano, its tangible impact struck us dumb. Some of us had seen its race wins back in 1978-79. In period the Ferrari 312 T3 with its utterly distinctive spearhead planform was widely acclaimed as being the most beautiful of all the Maranello 'T-car' Formula 1 designs with their transverse-shaft trasversale gearboxes centralising mass within their wheelbase length.

Add to the car's good looks the engaging – and to many the no less handsome - contemporary charm of Argentine team driver Carlos Reutemann, plus the stupendous contemporary charisma of his French-Canadian team-mate Gilles Villeneuve, and this Ferrari 312 T3's jaw-dropping effect upon a bunch of real car enthusiasts becomes entirely understandable

In fact this car - '033' - made its racing debut in the 1978 South African Grand Prix race at Kyalami, Johannesburg, on March 4 that year. Reutemann drove it, but a troubled practice period saw the brand-new car qualify only ninth on the starting grid. During the race Reutemann ran eighth for the first 27 laps, before being displaced by Alan Jones's Williams. However, on lap 55 team-mate Gilles Villeneuve's Ferrari 312 T3 popped an oil union, larding the braking area into Crowthorne Corner at the end of the long hump-backed straight. Into the braking area sailed '033', Carlos Reutemann reporting: "I hit the brakes and it was like the car had broken, nothing happened". The car speared head-on through two rows of catch-fencing and stopped before hitting anything hard. Just as its driver was climbing out a fuel leak ignited, but the fire marshals soon smothered it.

Ferrari ran a two-in, two-out race programme with their four and eventually five 312 T3 chassis. Carlos Reutemann reappeared in the repaired '033' at Zolder for the Belgian GP on May 21. The car was prepared with a narrow front track and he preferred it to the wider-track alternative for the race, starting from the front row of the grid, headed only by Andretti's Lotus 79 wing car. But on race day he missed his first gearshift from first to second, '033's hesitation triggering a multiple collision in its wake.

Reutemann climbed back up the lap chart to slot into second place behind Mario's black JPS-Lotus. But into the closing laps the Ferrari's radial-ply Michelin tyres were wearing and Jacques Laffite's Ligier caught him into the last lap, to race side-by-side down the straight towards the chicane. Laffite was fractionally ahead on the left side of the track as the cars rushed into the braking area. But Reutemann took his normal line for the chicane, the Ferrari striking the Ligier which bounded over '033's front wheel.

Both cars careered off the road into the sand. Reutemann smartly selected bottom gear and lit off for the finish line, but the stricken Ligier was out, its rear suspension deranged. Ronnie Peterson's Lotus had stolen by, meanwhile to make it a Lotus one-two result, with Reutemann in '033' claiming third and a share in the podium Champagne. Carlos qualified third fastest for the Spanish GP at Jarama on June 4, and ran third for 28 laps before having to pit for fresh Michelin tyres, rejoining ninth. He had recovered two places when – on lap 57 – '033' broke a half-shaft at the left-handed Le Mans turn. The car ran straight on, punched its way through two catch fences before somersaulting over the guardrail. Apart from seat-belt bruises, Reutemann emerged unhurt, and the Ferrari suffered only cosmetic damage after coming to rest bouncing gently at spectator head level, 'hammocked' in a catch-fence which had been beaten back at 45-degrees.

The car was again combat-ready for the British GP at Brands Hatch on July 16. Carlos Reutemann qualified only eighth fastest in an unhappy practice period, complaining his Michelin tyres gave "no grip". Late on the Saturday evening new tyres arrived from France, S76 compound and higher-profile by 4cm at the front, 3cm at the rear. Ferrari's prospects did not look good as the race developed, with Villeneuve bringing-in his sister 'T3 after only ten laps to change its left-front tyre. But he had chosen to keep the original Michelin fronts, while Reutemann was running the new taller alternative.

Mario Andretti led imperiously in his Lotus 79 until its Cosworth development engine burst. After 40 laps Niki Lauda's Brabham-Alfa Romeo BT46 led by around 4 seconds from Reutemann in '033'. But into the closing stages Reutemann began to close the gap. The interval between Brabham-Alfa and Ferrari 312 T3 diminished, 3.1secs – 2.8 – 2.6... Lauda held it there for several laps, but with 20 remaining 'Lole' Reutemann was suddenly only a second behind Niki Lauda, and the stage seemed set for a classic duel to the chequered flag.

On lap 59 the two red cars blared across the timing line nose-to-tail. Ripping into Clearways Corner for the 60th time Bruno Giacomelli's McLaren had Lauda right behind. The Italian held his line then waved Lauda through. The World Champion flicked his car left, but Giacomelli was now moving left himself. Niki Lauda had to lift off, and in an instant Carlos Reutemann, in '033' offered here, was through on the inside, past and gone.

With six laps to go, Reutemann led by 4 seconds. Lauda launched one final attack, closing the gap to 2.2 secs. With four laps to run he set fastest race lap. But on that day Reutemann was not to be denied, nor flustered into a late mistake. Ferrari '033' flashed across the finish line to win, with Lauda's Brabham still more than a second adrift in second place.

"For sure, it was the best drive of my life", the beaming Argentine exclaimed: "There was no time in the race when I could relax. Always I want to win the British Grand Prix at Brands Hatch. I see a gap there – and I fill it!"

In the German GP at Hockenheim on July 30, Reutemann again ran '033' but could only qualify 12th and pulled out after 14 laps due to fuel vapourisation. The car was then kept as a team spare for the remainder of that season, but early in 1979 it was brought out for one last hurrah, back at Brands Hatch in England for the early-season non-Championship Race of Champions, on a very warm and sunny April 15.

The car was to be driven there by Gilles Villeneuve, and he qualified third fastest behind Mario Andretti – almost inevitably on pole in his Lotus 79 – and Niki Lauda (again) in the latest Brabham-Alfa Romeo BT48. It was the Austrian who led for the opening eight laps when he had to call for fresh tyres. While he was delayed, Villeneuve briefly led in '033' (which again proved well suited to England's acrobatic circuit in the county of Kent). Mario then shouldered his way by to lead for 16 laps before slowing with numerous problems. Thereafter Ferrari's favourite French-Canadian simply dominated the race, drawing away from all pursuit to win handsomely from newcomer Nelson Piquet's Brabham-Alfa Romeo.

This most significant – and mouth-wateringly beautiful – Grand Prix-winning Formula 1 Ferrari was sold by the factory on March 18, 1981, eventually to join Fabrizio Violati's Collezione Maranello Rosso in which it has been maintained and preserved on display ever since.

He appeared in the car at the Ferrari 40th Anniversary celebration at Imola, unfortunately proving rather too exuberant in the cockpit and bending one of its front-suspension corners against an unyielding concrete barrier. The damage was quickly repaired and the car has since enjoyed single-seater pride of place in the Museum until this day.

The car is offered absolutely as seen. It is in highly original, unspoiled aesthetic condition and will require expert assessment, investigation and re-commissioning work before it can run – and perhaps race – again. Here we are offering tangible history – the actual fabric once blasted past the chequered flag not only by its 3-litre flat-12 engine's 500-plus horsepower, but also by the innate abilities of two of Ferrari's most charismatic modern-era racing drivers. Carlos Reutemann and Gilles Villeneuve – Ferrari's class car of the 1978 Formula 1 World Championship season – a Mauro Forghieri-masterminded Maranello masterpiece.

Without reserve
Footnotes
Please note this vehicle is subject to Import Duty should it remain in the US.

Furthermore, this motorcar is offered on a Bill of Sale.