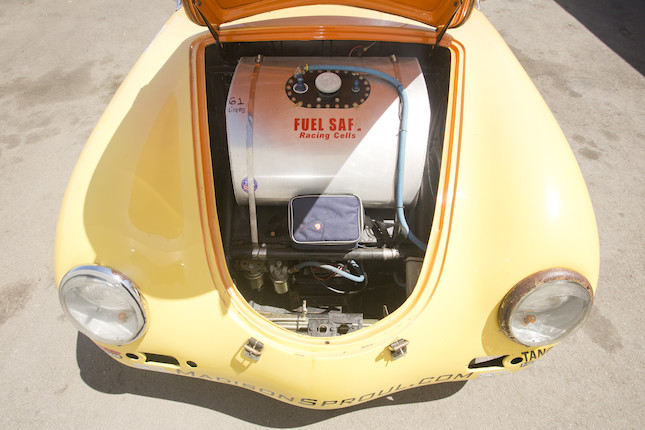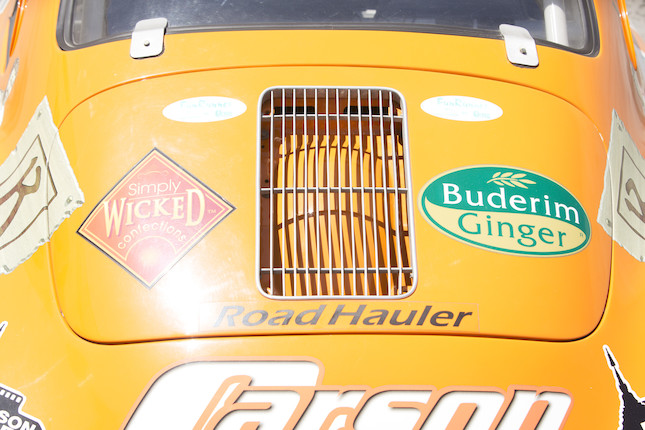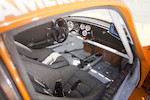 1958 PORSCHE 356A COUPE LA CARRERA PANAMERICANA RALLY CAR
Coachwork by REUTTER
Chassis no. 105616

Without reserve
15 August 2014, 11:00 PDT
Quail Lodge & Golf Club
Sold for US$55,000 inc. premium
Own a similar item?
Submit your item online for a free auction estimate.
How to sell
Looking for a similar item?
Our Collector Cars specialists can help you find a similar item at an auction or via a private sale.
Find your local specialist
Ask about this lot
Mark Osborne
Vice President
1958 PORSCHE 356A COUPE LA CARRERA PANAMERICANA RALLY CAR
Coachwork by REUTTER

Chassis no. 105616

1,715cc OHV Flat 4-Cylinder Engine
2 Solex Carburetors
Approximately 135bhp at 5,200 rpm
4-Speed Manual Transaxle
4-Wheel Independent Suspension
4-Wheel Disc Brakes


*Three-time veteran of La Carrera Panamericana
*Hot 912 engine for improved performance
*Street legal, road licensed racing car
*Eligible for numerous Porsche club activities
*A genuine Reutter bodied 356 Coupe

THE PORSCHE 356

Although Ferdinand Porsche had established his independent automotive design consultancy in the early 1930s, his name would not appear on a car until 1949. When it did, it graced one of the all-time great sports cars: the Porsche 356. The work of Ferry Porsche, the Type 356 was based on the Volkswagen designed by his father, Ferdinand and like the immortal 'Beetle' employed a platform-type chassis with rear-mounted air-cooled engine and all-independent torsion bar suspension.

Having commenced manufacture with a short run of aluminium-bodied cars built at Gmünd, Porsche began volume production of the steel-bodied 356 coupé at its old base in Stuttgart, at first in premises shared with coachbuilders Reutter and then (from 1955) in its original factory at Zuffenhausen. In 1951 a works car finished first in the 1,100cc class at the Le Mans 24-Hour Race, thus beginning the marque's long and illustrious association with Le Sarthe.

The first phase of development saw the 356's engine grow to 1.3 and then to 1.5 liters; the original split windscreen replaced by a one-piece; and a Porsche synchromesh gearbox adopted. 1955 marked the arrival of the restyled 356A, the newcomer being readily distinguished by its rounded windscreen and 15" - down from 16" - wheels. At the same time, a 1,600cc engine replaced the old 1.5-liter unit and would be standardized on the successor 356B model. In production until 1965, the 356 is where the Porsche legend began.


THE MOTORCAR OFFERED

This 1958 Reutter-bodied 356A Coupe is a three-time veteran of the La Carrera Panamericana road race in Mexico, having competed there in 2001, 2005, and 2007. Together with a sister car, the two competed as the "Tangerine Scream" racing team. It is often said that the La Carrera is the last true open road race in the world, where teams compete over special stages at full speed, with all the thrill and danger of the original version. It is still today a challenging test for man and machine. For Porsche fans, the event holds a special cache as the namesake of the hallowed Porsche "Carrera".

Built as a rally car in 2001 by Ray Stephens, this 356A has been maintained by him since. It is prepared as a full rally car with a roll cage, fire suppression system, timing equipment and more. It is powered by a 1,715cc motor from a 912, believed to put out approximately 135bhp and offering a top speed somewhere in the region of 125mph. Importantly, this car comes with a California title, allowing it to be street registered and therefore enabling it to participate in many different Porsche gatherings and club activities.

Sure to be a hit at the next Porsche club corral or on the road during any number of vintage driving events, this "Tangerine Scream" Porsche 356A should provide many exciting miles for its next owner.

Without reserve

Footnotes
Please note that this vehicle is titled as a 1959.