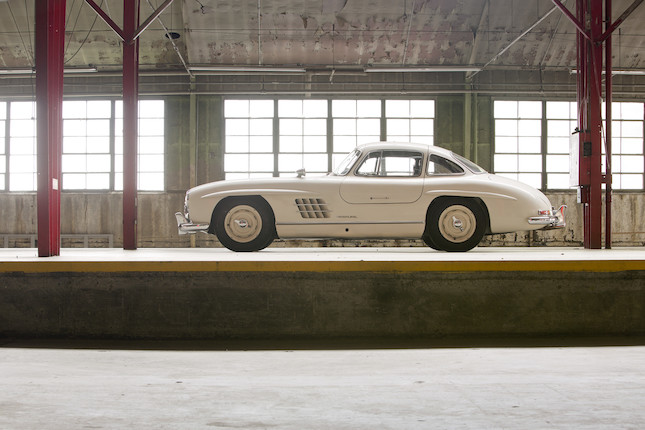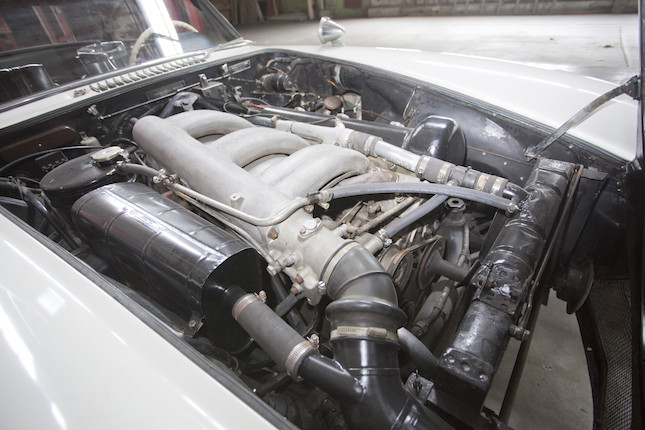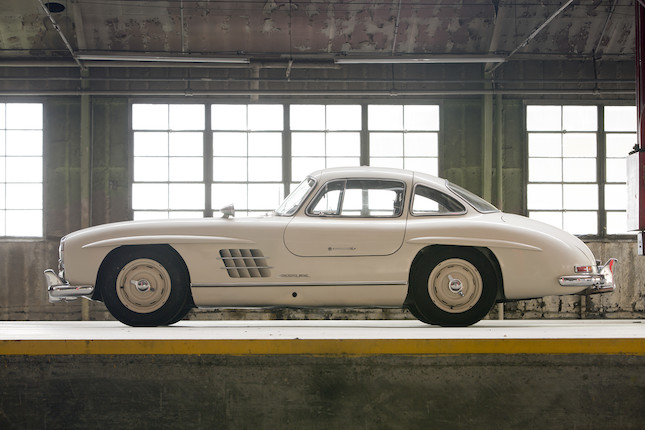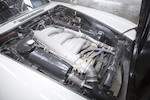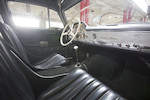 The ex-Pat Boone - From the Bob Ullrich Collection
1954 MERCEDES-BENZ 300SL GULLWING COUPE
Chassis no. 198.040.4500130
Engine no. 198.980.4500145

Without reserve
15 August 2014, 11:00 PDT
Quail Lodge & Golf Club
Sold for US$1,347,500 inc. premium
Own a similar item?
Submit your item online for a free auction estimate.
How to sell
Looking for a similar item?
Our Collector Cars specialists can help you find a similar item at an auction or via a private sale.
Find your local specialist
Ask about this lot
Mark Osborne
Vice President
The ex-Pat Boone - From the Bob Ullrich Collection
1954 MERCEDES-BENZ 300SL GULLWING COUPE

Chassis no. 198.040.4500130
Engine no. 198.980.4500145

2,996cc SOHC Inline 6-Cylinder Engine
Bosch Mechanical Fuel Injection
240bhp at 6,100rpm
4-Speed Manual Transmission
4-Wheel Independent Suspension
4-Wheel Drum Brakes


*Early production Gullwing, factory delivered with Rudge wheels
*Owned new by singer Pat Boone
*Low-mileage, matching numbers example
*Just two owners from new
*In collection of current owner more than 50 years


THE MERCEDES-BENZ 300SL GULLWING

Instantly recognizable not only by automobile buffs, but virtually anyone on the planet, the immortal 300SL (for Sports Leicht) Gullwing coupe arguably competes for the title of "Greatest Sports Car of the 1950s", and surely qualifies for anyone's Top 10 list of the greatest automobiles of all time. A period favorite of wealthy celebrities, it ranks today among the most valued and collectable sports cars ever produced.

The 300SL coupe was the direct descendant of Mercedes Benz' Le Mans W194 competition coupe, conceived in 1952 and aimed at wresting the World Sportscar Championship from Alfa Romeo, Ferrari, and Lancia, which were dominating post-war endurance racing. Mercedes Benz historian W. Robert Nitzke writes that company management wanted to jump back into Grand Prix racing, where it had been so successful before the war, but lacked the time necessary to design, build, and develop a new single-seater for the 1954 season. Instead, Chief Engineer Fritz Nallinger suggested that the company build a new two-seat sports car utilizing the strong in-line SOHC six-cylinder engine from its luxurious 300 series. Because the engine and drivetrain were relatively heavy, the chassis would have to be very light. Test Department manager Rudy Uhlenhaut, having some experience with tubular chassis design, sat down with construction engineer Joseph Müller and laid out an extremely light (154 pounds) and rigid lattice-work chassis capable of accommodating the big in-line six. One major problem soon presented itself: There was no way to mount conventional doors without compromising the rigidity of the chassis. The solution was to raise the entry so that the doors cut into the roof, but that meant hinging them from the top, thus giving birth to this car's timeless signature design feature. The steering wheel was hinged to allow the driver easier access. To reduce the frontal aspect, the tall engine was laid over at a steep angle.

The existence of the new 300SL coupe was first reported in January of 1952, when Auto Motor und Sport wrote that an aluminum-bodied prototype, fitted with twin Weber carburetors, had tested at Hockenheim the previous December. Factory driver Karl Kling had achieved lap speeds of over 118 mph and top speeds of about 150, impressive numbers for the day. The 300SL's first racing trial was the 1952 Mille Miglia, where Kling finished second to Giovanni Bracco's open Ferrari, while Rudy Carraciola was fourth, the two Gullwings being split by a Lancia. The third coupe had gone off the road early in the grueling contest. Next came the Grand Prix of Berne, where a quartet of 300SLs took the start and swept the top three positions, Carraciola having crashed in what would prove to be his last race.

Then came Le Mans, where Uhlenhaut struck fear into the competition by bringing an SL coupe fitted with a hand-operated air brake mounted on the roof. While that particular car was not raced, Mercedes would tuck the idea in its pocket for future use. After the grueling 24 hour epic, a pair of 300SLs had finished in the top two positions...and were then driven back to the factory! Four topless roadsters were entered at the German Grand Prix, where both a new fuel injection system and even a supercharger were tested; all four, however, ran with standard engines and claimed the top four finishing positions. A pair of coupes and a pair of roadsters crossed the Atlantic to compete in the third Carrera Panamericana sports car race in Mexico in November 1952. There, Karl Kling and Hermann Lang captured the top two positions, beating a Lancia and three very fast Ferraris.

Mercedes Benz sat out the 1953 and 1954 sports car seasons, concentrating instead on developing its new Grand Prix car, but the SLs weren't done; they reappeared in 1955 as the airbrake-equipped 300SLR, utilizing that feature and a great many more of the advancements successfully tested on company's Formula One racing cars. The year would bring triumph and tragedy; 300SLRs winning at Buenos Aires, the incredibly difficult Mille Miglia – where Stirling Moss and Denis Jenkinson won at a record average speed of just under a hundred miles an hour - the Nurburgring, Spa, Zandvoort, Aintree, Kristianstad, Monza, Dundrod, and Sicily's Targa Florio. The only setback, and one that would have devastating consequences, occurred at LeMans, where team driver Pierre Levegh and more than 80 spectators died in one of racing's worst accidents, prompting Mercedes Benz to withdraw from racing for many years.

New York imported auto entrepreneur Max Hoffman is credited with urging Mercedes Benz to build a production sports car based on the 300SL. Nitzke writes that the company was reluctant to take such a step, but Hoffman's firm order for 1000 units settled the question. The 300SL Gullwing in final form was unveiled at the New York International Motor Sports Show in early February, 1954, and actual production began that fall. The new coupe was slightly changed in appearance from the racing coupes and featured Bosch direct fuel injection. The engine now produced 240 horsepower, and while heavier than the racing model, was capable of reaching 60 miles an hour in less than nine seconds, 100 mph in 18 seconds, and could easily top 75 in second gear. It was, claimed the factory, "the fastest German production sports car".

Between 1954 and 1957, a total of 1,400 Gullwings were delivered to eager purchasers, and in 1957, the elegant and improved 300SL roadster appeared, proving even more successful from a sales standpoint, with 1,858 units produced.


THE MOTORCAR OFFERED

This early US specification 1954 300 SL Coupe has a fascinating early Southern California celebrity history, having been originally purchased from Mercedes Benz of Hollywood by singer, film, and television entertainer Pat Boone. It was originally delivered with Code 180 Metallic Silver paint, red plaid cloth/leatherette upholstery, and painted optional Rudge center-lock wheels with chromed knock-off hubs.

Apparently preferring blue to silver, it is understood that Boone took the car to customizer Dean Jeffries in North Hollywood for a new coat of paint. Jeffries rose to fame during this period doing custom paint jobs for a clientele that included the likes of James Dean and Lance Reventlow. His early projects included painting "Little Bastard" on the back of Dean's Porsche 550 Spyder, and painting the Scarab sports cars for Reventlow. The 300SL still retains Jeffries' signature on the dashboard, as well as his tagline: "The Painter".

In the late 1950s, Boone sold the car back to the same dealer for a newer model. It was promptly acquired by a young Los Angeles refrigeration contractor, Robert Ullrich, who put the Gullwing to use as a daily driver. Mr. Ullrich, who describes himself as an old-school Southern California hot-rodder, had the Gullwing painted again in a very flattering shade of white during the early 1960s; it wears this coat of paint to this today. The car was also fully reupholstered in black leatherette by another famed SoCal customizer, George Barris.

For many years, Mr. Ullrich used this 300SL as a daily driver. Since retiring to the Northwest, it has seen less use, with the owner spending more time with his other classic brass cars and steamers on club events and tours.

Although it had been properly maintained all its life, a few years ago the car was sent to noted Mercedes Benz expert Tom Daniels in Aurora, Oregon for a mechanical overhaul, which included a rebuild of its Bosch mechanical fuel injectors by a specialist in San Francisco, plus a new ignition distributor, and a complete brake system rebuild. All of the brightwork was polished and replated. Donn Snyder of Boring, Oregon, recently installed a new flywheel ring gear. The car has been fitted with a new fuel tank and recently a new battery, and is supplied with its correct spare wheel, jack, and factory shop manual. The odometer indicates just under 75,000 miles, which the owner says is original and correct. This white Gullwing, resplendent with its authentic patina of age, so impressed Mercedes Benz executives that they arranged to borrow it from Mr. Ullrich in 2004 for use in the marketing campaign for the new SLK 230 convertible.

300SL Gullwing Coupes have risen steadily in value and demand over the past decade, with serious collectors adopting the opinion that their stables are incomplete without having at least one 300SL on hand. Their relative rarity and competition pedigree make them welcome today at the majority of classic car rallies and high-speed tours. Gullwings offer a thrilling driving experience, and this is a true "driver" example that has seen regular use over the last 55+ years. It has a remarkable provenance of long-term ownership and an early California history during which time it was associated with some of the most influential names in show business and California car culture. In short, it is a very special Gullwing, with a unique provenance.

The proceeds of this automobile's sale will be donated to the Immanuel Lutheran Church in Hood River, Oregon, which in turn will use the funds to support the Immanuel Orphanage of Guatemala, benefitting homeless children and providing child care services.

Without reserve

Footnotes
Please note that this vehicle is titled as a 1955.