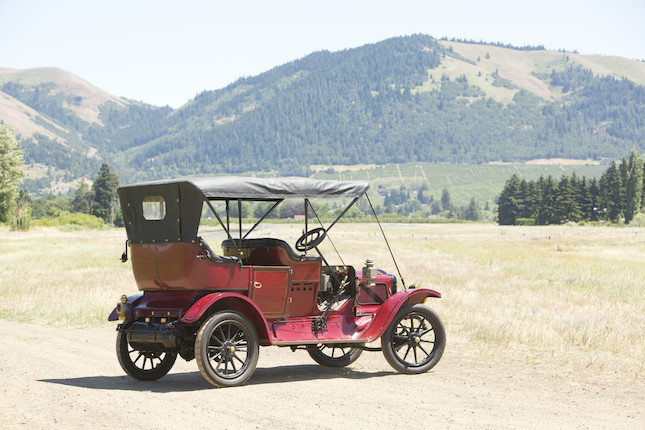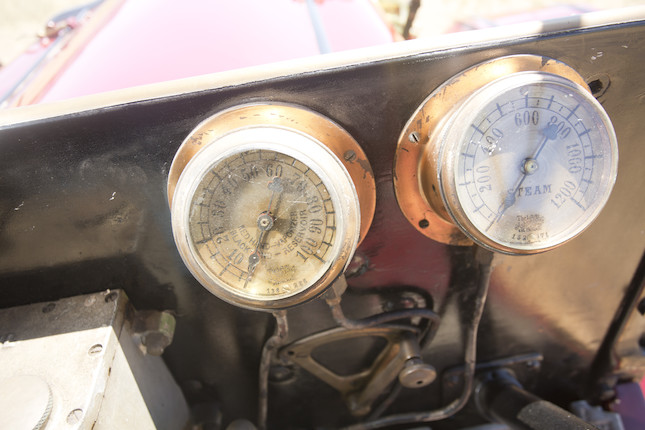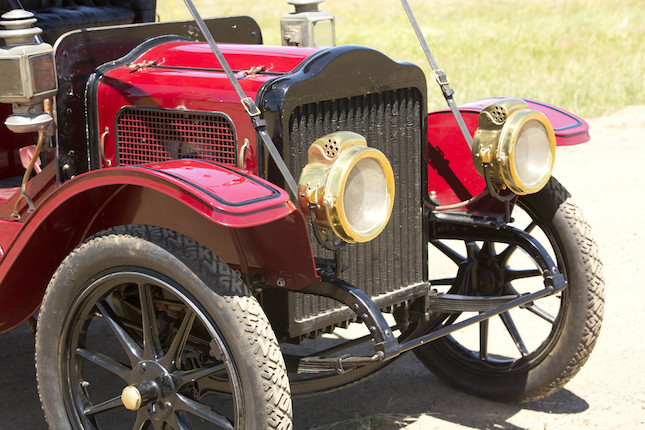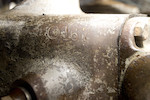 From the Robert Ullrich Collection
1910 WHITE MODEL O-O 5-PASSENGER TOURING
Chassis no. 00306
Engine no. 0167

Without reserve
15 August 2014, 11:00 PDT
Quail Lodge & Golf Club
Sold for US$143,000 inc. premium
Own a similar item?
Submit your item online for a free auction estimate.
How to sell
Looking for a similar item?
Our Collector Cars specialists can help you find a similar item at an auction or via a private sale.
Find your local specialist
Ask about this lot
Mark Osborne
Vice President
From the Robert Ullrich Collection
1910 WHITE MODEL O-O 5-PASSENGER TOURING

Chassis no. 00306
Engine no. 0167

2-Cylinder Compound (High/Low) Steam Engine
Water-Tube Flash Boiler
Approximately 20bhp
2-Speed Transaxle
4-Wheel Leaf Spring
Rear Drum Brakes


*An important motorcar from the pioneer days of American motoring
*Extremely rare and desirable
*Owned by a devoted steam enthusiast for over 20 years
*Properly maintained
*Regularly driven on tours


THE WHITE STEAMER

White Steamers were manufactured in Cleveland, Ohio, from 1900 until 1910 by the White Motor Company. Thomas White and William Grout had gone into business as a manufacturer of sewing machines in Massachusetts before the Civil War, later moving the firm to Ohio. Around 1900, White's sons Rollin, Windsor, and Walter entered the steam automobile industry, producing four automobiles and one truck. Rollin White had already invented the semi-flash boiler, at that time an important advancement in steam technology. According to the Standard Catalog of American Cars, the firm had produced 193 vehicles in 1901. In 1906, White's automobile division began operating separately from its parent sewing machine business. White steamers were of excellent quality, and many were purchased by prominent individuals, including President Taft and John D. Rockefeller. In fact, a White was the only automobile present in the 1905 inaugural parade of President Theodore Roosevelt. In 1910, White made a successful foray into the manufacture of gasoline-powered vehicles, selling nearly as many of those as it had of steam cars. The numbers were fairly even again in 1911, but that was the final year for White steamers. By 1911, White had handily surpassed Stanley as the largest manufacturers of steam automobiles, delivering over 9,000 examples to Stanley's total of 5,200, despite costing significantly more.

White steamers featured a complex, "Compound" two-cylinder system in which water was flash-heated in a boiler, then compressed in one cylinder, and then injected into a second cylinder at high pressure. White steamers also used a rear transaxle that incorporated two forward speeds plus neutral; the neutral allowed an operator to warm up the car at rest. In 1918, when White ceased production of automobiles to concentrate on commercial trucks, it had produced more than 9,000 steam-powered cars. Although many were built, White steamers are rarely seen today. Whites are viewed by many as the finest of the early steam cars, well-built and costly when new, and greatly appreciated today.


THE MOTORCAR OFFERED

This wonderful and evocative Model 0-0 5-passenger steam touring car has been in the collection of steam enthusiast Robert Ullrich since the 1990s. This big touring car harkens back to the pioneer days of American motoring, and has been carefully maintained and driven regularly by its owner. In very fine condition throughout, the White is finished in a dark Maroon with a black leather tufted interior and fabric top. Its conventional-looking radiator was actually an integral part of the innovative dual-condenser steam power system, which allowed for longer distances traveled between refilling the boiler. Utilizing this technology, the White was truly ahead of its time; Stanley would not introduce such a system for a number of years to come.

Featuring artillery-style wooden wheels, dual Solar brass sidelights, brass headlamps and a single brass rear taillamp, as well as brass steam-pressure gauges for the driver to monitor, the White is a resplendent picture of the early days of American automotive adventuring. It would be a fine and impressive addition to any collection of early American steamers.

Without reserve

Footnotes
Please note that this vehicle is titled with engine number 167.