Quail Lodge Auction / From the Robert Ullrich Collection1908 STANLEY MODEL K SEMI-RACER Chassis no. 3810 Engine no. 22388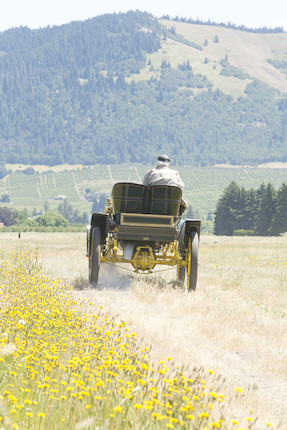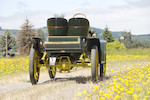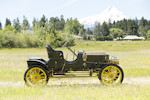 From the Robert Ullrich Collection
1908 STANLEY MODEL K SEMI-RACER
Chassis no. 3810
Engine no. 22388

Without reserve
Amended
15 August 2014, 11:00 PDT
Quail Lodge & Golf Club
Sold for US$93,500 inc. premium
Own a similar item?
Submit your item online for a free auction estimate.
How to sell
Looking for a similar item?
Our Collector Cars specialists can help you find a similar item at an auction or via a private sale.
Find your local specialist
Ask about this lot
Mark Osborne
Vice President
Jakob Greisen
Head of Business Development
From the Robert Ullrich Collection
1908 STANLEY MODEL K SEMI-RACER

Chassis no. 3810
Engine no. 22388

2-Cylinder Double-Acting Steam Engine
Approximately 25bhp
Chain-Driven Rear Differential
4-Wheel Leaf Spring Suspension
2-Wheel Mechanical Brakes


*Restored to rare K Semi-Racer specification
*A fine example of a sporting Stanley steamer
*Fitted with a later Model 740 motor and a new boiler
*A standout on Brass-era tours
*Presented in original color scheme

THE STANLEY MODEL K

At the turn of the 20th century, steam cars looked like the most promising technology for the new-fangled horseless carriage industry. Clean, virtually silent, and relatively easy to operate once they warmed up, all it took was a little patience, and access to a water supply. Until the evolution of the gasoline engine and electric starting made steam obsolete, even with the invention of the flash boiler - which almost eliminated slow startups - a broad range of steam car manufacturers vied for the public's dollars and attention. Certainly the best known, if not the most common steamers, came from the Massachusetts workshops of former photographic equipment makers F.E. and F.O. Stanley. The Stanley brothers – identical twins – produced a wide range of steam automobiles between 1896 and 1924. Only the Columbia Automobile Company's high-quality electrics outsold them from 1899 to 1905. The Stanley brothers built and sold several hundred of their first model in 1898 and 1899. After F.E. and his wife drove one to the top of Mount Washington in New Hampshire in 1899, other interested parties took notice; one was Locomobile, which purchased rights to the design. The Stanley brothers used the proceeds to found their own eponymous firm in 1902, and began producing more advanced models.

Stanleys were powered by a double-acting two-cylinder engine, and benefitted from the use of a fire-tube boiler that was reinforced with piano wire and fitted with a safety valve. Because Stanley's early motors did not incorporate any sort of recovery system, vented steam was lost to the atmosphere. After 1914, that issue was resolved with a fairly efficient condenser system, which greatly increased the distance travelled without stopping for a refill of water. The earliest cars were buggy-like, with their boiler and valve controls under the seat, but eventually came to look much like conventional automobiles, having the boiler and motor under a boxy, coffin-like nose and the drive taken to the rear wheels.

The Model K Semi-Racer was introduced in 1907 on a 100-inch wheelbase steel frame, and featuring an attractive wooden body. It was a very sporting automobile, described by some as the road-going version of Stanley's streamlined racing car called the "Woggle-Bug", which was driven by a company employee to a staggering 127 mph on the sand at Daytona Beach, Florida. That Stanley established a world's record for the flying mile – 28.2 seconds – along with a new World Land Speed Record. The Model K was a very attractive automobile, with smartly-curved fenders and a pair of deep bucket seats for driver and one passenger alongside, and often with an additional "mother-in-law" seat on the rear turtledeck. Only 25 Model Ks were built, and today only three original examples are known to survive; these three cars are well documented in the Stanley Registry . They are the most prized and highly valued of the Stanleys thanks to their sporting specification.

THE MOTORCAR OFFERED

This Stanley has been in the collection of steam car enthusiast Robert Ullrich since the early 1980s, when its chassis and associated running gear were acquired in non-running condition from collector Robert Burch in California. Mr. Ullrich believes the Semi-Racer body was one reproduced years ago. Ullrich replaced its worn-out engine with a 20hp "closed" motor (with Stanley's usual 4-inch by 5-inch bore and stroke) from a later Model 740 and purchased a new 30hp boiler from Bourdon Boiler Works in Vermont, well-known in the steam car community for its accurate and well-made reproductions. The new boiler is correctly wrapped in three layers of piano safety wire, just like the original.

Ullrich's Semi-Racer uses all original parts aside from the aforementioned modifications; the running gear is all Stanley, and overall it presents as a highly accurate representation of the coveted Semi-Racer model. The body and chassis were stripped and repainted in typical Model K colors of dark green with yellow frame, wheels, and trim. Upholstery is tufted black leather. As offered today, this fine Stanley has all the presence one would expect of such an automobile, and a driving record to back it up; the Stanley is a veteran of many steam car tours, most recently to Stanley, Idaho.

This lovely Stanley presents a rare opportunity to acquire a beautifully restored early steamer with a racing heritage, still capable of delivering amazing performance on the road.

Without reserve


Saleroom notices
Please note this motorcar was mistakenly attributed to Mr. Robert Burch, and in fact was formerly from the collection of Loren Burch prior to joining the collection of the current owner and consignor, Robert Ullrich.