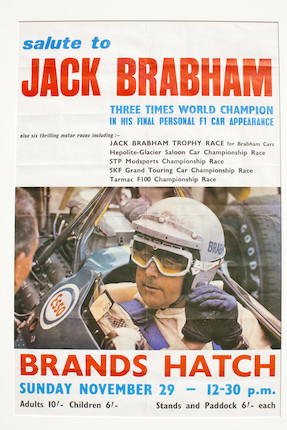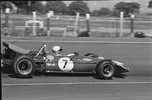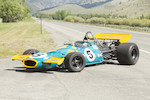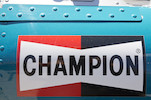 The ex-Sir Jack Brabham, Ron Tauranac-designed, and South African Grand Prix-winning
1970 BRABHAM-COSWORTH FORD BT33 FORMULA 1 RACING SINGLE-SEATER
Chassis no. BT33-2
Engine no. DFV 061
15 August 2014, 11:00 PDT
Quail Lodge & Golf Club
Sold for US$1,034,000 inc. premium
Own a similar item?
Submit your item online for a free auction estimate.
How to sell
Looking for a similar item?
Our Collector Cars specialists can help you find a similar item at an auction or via a private sale.
Find your local specialist
Ask about this lot
Mark Osborne
Vice President
The Ex-Sir Jack Brabham – 1970 South African Grand Prix-winning
1970 BRABHAM-COSWORTH FORD BT33 FORMULA 1 RACING SINGLE-SEATER

Chassis no. BT33-2
Engine no. DFV 061

2,993cc DOHC DFV V8 Engine
4 Twin Carburetors
430bhp at 10,000rpm
5-Speed Manual Transaxle
4-Wheel Independent Suspension
4-Wheel Disc Brakes


*Historic Grand Prix winning chassis
*Tailored specifically when new for Sir Jack Brabham himself
*The last car in which Sir Jack Brabham won a Grand Prix
*Four podium finishes during 1970
*Actively campaigned and exquisitely well-maintained

SIR JACK BRABHAM and BT33-2

We at Bonhams have never felt more privileged to be able to offer a great Historic Formula 1 car than we are with this sparklingly-presented, actively campaigned Brabham BT33 in which Sir Jack Brabham scored the last World Championship-qualifying race win of his glittering career – in the 1970 South African Grand Prix.

Sir Jack retired from racing at the end of that momentous season, in which – while driving this same Brabham BT33, chassis '2' – he had come within a whisker of winning two more World Championship-level Grand Prix races and challenging seriously for a fourth World Championship crown.

It was in this car that Sir Jack led Jochen Rindt's Lotus until the very last corner of the very last lap in the Monaco Grand Prix, only to slide off into the barrier at the Gasworks Hairpin there. And it was in this car that Sir Jack had broken Jochen Rindt's challenge in the groundbreaking new Lotus 72 to lead the British Grand Prix into the last corner, where 'BT33-2' sputtered into silence – out of fuel.

On May 19 this year, Sir Jack Brabham passed away at his home in Australia, aged 88. Sir Jack was, demonstrably, one of the most significant motor racing personalities of the 20th century. Not only did he win the Formula 1 Driver's World Championship title no fewer than three times. He also won the Formula 1 Constructor's Championship twice, and upon his initial victory in that competition he became the first man – and today remains likely to be the only one – ever to win both the World Championship in a car bearing his own name, built by his own company.

And Sir Jack's place in motor racing history extends to the Indianapolis 500 also, because in 1961 he was the first for decades to drive a Grand Prix-racing derived rear-engined car at Indy – finishing ninth in the Kimberly-Cooper-Climax, to trigger Indy's renowned "rear-engined revolution".

Sir Jack had been the Cooper Car Company's number one driver since 1959 and after winning that year's Formula 1 World Championship titles for himself and for the team, he followed-up immediately in 1960 with total domination of the year's Grand Prix season, and a second consecutive title success.

His development of his Cooper cars had long been assisted by what was effectively a pen-pal correspondence with an old friend from the Australian racing scene, engineer Ron Tauranac. By 1961 Sir Jack could see that his friends at Cooper lacked the freedom of thought and action to develop their rear-engined design theme much further, and he decided to go it alone by founding his own racing car manufacturing business. He persuaded Ron Tauranac to join him as a UK resident, and they created a new racing car manufacturing business under the name Motor Racing Developments Ltd. They produced their prototype single-seater racing car to contemporary Formula Junior regulations during 1961 and as the MRD it showed immediate promise, attracting customer interest for 1962.

Sir Jack left Cooper at the end of the 1961 season to concentrate upon his new venture, and 1962 saw his new company produce its pilot batch of Tauranac-designed Formula Junior cars, followed quickly by their first Formula 1 Grand Prix car – the Brabham BT3. Unfortunately, when French race circuit commentators pronounced the initials 'MRD' it sounded very rude to Continental crowds, and so Sir Jack and Ron Tauranac hastily re-titled the cars they were building and racing under the already renowned "Brabham" name.

Through the 1960s the Brabham Racing Organization became one of the most consistently competitive challengers in world-class Formula 1, Formula 2, Formula 3 and even Indianapolis-style USAC speedway racing. America's own Dan Gurney scored the Brabham F1 team's maiden Grand Prix victory in the French race of 1964, and in 1966 with new 3-liter Repco V8 engines – based upon the alloy Oldsmobile F85 light-alloy block – Sir Jack clinched that historic World title victory in a car bearing his own name. In 1967, his New Zealand team-mate Denny Hulme drove his Repco Brabham to win a second consecutive Championship for the team – while 'Blackie' Brabham himself (so named after his characteristically dark-shaven, dark-tanned look) – went on to win further Grand Prix races on his own account.

Ron Tauranac preferred the lightweight, easily-repairable, highly-tuneable, multi-tubular spaceframe form of chassis construction into 1969, although his 1968-69 BT26 and BT26A designs were highly sophisticated, the spaceframe itself reduced in tube size and weight, then partially stress-skinned in sheet material to augment its rigidity. Team driver Jacky Ickx won both the 1969 German and Canadian GPs in his BT26A entries.

But in 1970 revised Formula 1 regulations demanded greater protection for Formula 1 car fuel tanks, which in effect dictated the adoption of fully stressed-skin monocoque construction, as pioneered by Lotus and as espoused by all other Formula 1 constructors by the end of the 1960s. Tauranac had previously produced a semi-monocoque chassised Indy car – the BT25 – in 1968-69, but the BT33 as now offered here became Brabham's first full monocoque Formula 1 design.

The second such chassis – 'BT33-2' here – was tailor-made to be driven by Sir Jack himself. After private shake-down testing at Riverside Raceway in California, he made his public debut in this car in the 1970 Formula 1-season opening South African Grand Prix at Kyalami circuit, Johannesburg, on March 7th that year. Already the oldest driver in the entry, Sir Jack immediately qualified third fastest on the outside of the front row of the starting grid.

His chief mechanic caring for the car there was Ron Dennis – later creator of McLaren International and still head of the now world-famous marque today. Recalling 'BT33-2' in that South African GP today, Ron Dennis recalls: "It was so hot there at Kyalami that we had to rig an intake duct to feed air down into the cockpit to keep Jack as cool as possible. I remember having to shape a section of aluminium pipe to do the job, which meant first packing it with sand to prevent it collapsing as I worked it, and then bending and beating it to shape. We got it fitted but it was all last minute and I remember being really upset by how bad it looked..." The famously fastidious Ron Dennis's discomfort at what he still characterizes as "a really rude piece of work" was more than compensated for in the race.

After being delayed by a first-corner multiple car incident, Sir Jack ran sixth in the opening stages but by the end of lap six he and 'BT33-2' here had ripped back into second place, beginning an intense pursuit of Jackie Stewart's leading Tyrrell-team March 701. Sir Jack recalled: "I felt I could pass him. While I was trying to do so, Jackie put a wheel off the road and threw back a stone which cracked me on the cheekbone..." – Jack preferring an open-faced helmet at that time. "Some uncharitable types suggested he'd learned a thing or two from me. My face would carry the scar for years".

Undeterred, Sir Jack then tore past Jackie Stewart's blue March to lead on lap 20 – quarter-distance – and thereafter he paced himself imperiously to the finish, scoring a dominant debut victory for 'BT33-2' and the first monocoque Formula 1 Brabham design – driver cooled adequately throughout by "the Dennis duct"...

On March 22 back home in England, Sir Jack then drove 'BT33-2' to finish fourth in the non-Championship Race of Champions at Brands Hatch circuit, while in the subsequent Spanish Grand Prix and the BRDC International Trophy race at Silverstone, England, Sir Jack failed to finish.

On May 10th, 1970, the Monaco Grand Prix then proved packed with drama. Sir Jack qualified fourth fastest in qualifying, lining up on the outside of the second 2x2 grid row, behind Jackie Stewart's Tyrrell on pole position, Chris Amon's March and Denny Hulme's McLaren. On lap 22, Sir Jack slithered 'BT33-2' past Amon to take second place and as Stewart's Tyrrell developed a misfire Sir Jack took the lead. In his wake, Jochen Rindt's elderly Lotus 49C profited from others' retirements to inherit second place, nine seconds behind 'BT33-2'. The hard-charging Austrian star had made his name driving Brabham cars in Formula 2, and he had been Sir Jack's Formula 1 teammate in 1968. The veteran Australian had enormous respect and affection for the younger man – such high regard was mutual, in fact – but here on track, in combat, no quarter would be asked, nor any given.

The closing stages of that Monaco Grand Prix proved to be an enduring classic, Sir Jack exploiting every chance to save time and maintain his lead, while Jochen threw all caution to the winds and hunted him down. The Brabham came upon Jo Siffert's stricken, slowing March and was badly baulked. The Lotus rushed up onto Sir Jack's tail. The two cars screamed into the last lap in close formation, down onto the Monte Carlo seafront at Le Portier, right-handed through the famous Tunnel, flick left-right through the chicane and down into the left-hander at Tabac. Hurtling past the harbor with its moored yachts, Sir Jack came upon Piers Courage's De Tomaso entering the last corner – the Gasworks Hairpin. The triple-World Champion braked late to lap the Italian car, leaving it to block Rindt's charge. But it was one chance too many – 'BT33-2's front brakes locked and the car slithered head-on into the barrier. Rindt flashed by to win, while Sir Jack's engine had stalled. In his own words:

"I was desperate to avoid receiving outside assistance, for I could still salvage second place with its Championship points. An excited flag marshal made to push me back. As I saw him coming I'd just hit the starter button, thankfully the engine fired immediately, and I grabbed reverse. My engaging the clutch coincided exactly with the enthusiastic marshal lunging forward to push.

"As my car shot backwards, the marshal's out-stretched hands encountered no resistance. So instead of pushing me back he launched himself into a swallow dive, straight onto my car's nose – full length, flat on his face – right against my windscreen.

"I jerked forward but could hardly rush off with him as a bonnet mascot. So I jabbed the brakes, which fired him into a heap on the roadway – in my path...and while he was trying to recover, I just had to sit and wait.

"He'd done more damage to my car's nose than hitting the bales – but then I could charge off to take the flag, still – but only just – in second place... Jochen couldn't stop chortling about his lucky win. 'Jack!' he guffawed, '...what the hell happened to you?'. He confessed he never thought I'd drop it – but I had..."

The Belgian GP at Spa saw 'BT33-2' sidelined by clutch failure and in testing at the Zandvoort circuit before the Dutch GP Sir Jack suffered a left-rear tyre deflation. The car "...entered a vicious slide, and the deflated tyre left the wheel-rim, which then hit the road. The car broadsided into the sand, the wheel-rim dug in and we flipped, rolling over and over into the wire catch-fencing in which it wrapped itself up, trapping me inside my cockpit, trussed up like the Christmas turkey. I might not (quite) have been stuffed, but I was terrified I might yet get roasted. Had any leaking fuel caught fire, there was no way I could have escaped".

The car came to rest inverted over a ditch, with Sir Jack hanging from his seat belts. "Here I was in another test session – on a deserted circuit – out of sight of the pits, trapped in a crashed car. I really was getting too old for this. I'd have needed wire cutters to make my way out. I could smell petrol. My finger was poised (over the extinguisher button). At last I heard running feet and voices. Hands began to yank the wire away. I took that as my cue to twist my safety belt release – forgetting I was hanging by it – and dropped on my head, with my entire weight twisting my neck. The Dutch spectators then managed to raise one side sufficiently for me to wriggle out...I would have a stiff neck for a while".

The car also proved virtually undamaged, but after two more punctures during the GP itself the Brabham combination finished twice-lapped, 11th. The French GP at Clermont-Ferrand then saw Sir Jack finish third and set fastest lap.

He then qualified second fastest to Rindt's Lotus 72 for the British GP at Brands Hatch, and he followed the younger man for 60 of the 80 laps in another classic battle. "I tried to pressure him into a mistake and eventually he missed a gear leaving Bottom Bend and I outbraked him into the next left-hander at South Bank. I was able to out-drag him down the next straight and then drew away. Jochen had had enough. He resigned himself to finishing second. As he put it 'The old man was going to win for sure...'".

"Entering the final lap I held a 13-second lead. It was a bit shattering for everybody in our team, but especially for me, when I entered Stirling's Bend, with only Clearways to go before the finishing straight, and my engine died. We'd run out of fuel...

"As I went swishing along, engine dead...everybody just went wild. I could hear Jochen's Lotus coming, and then he went by me...heading for the checkered flag".

As he coasted to a stop after finishing second, Jack spotted Ron Dennis sprinting along behind him. "I thought 'I bet I know what's happened, the silly bugger's left the injection set to 'Full Rich' – the setting used to start the engine from cold" – he shrugged off his belts and leapt out determined to check the setting first. "Sure enough, it was on 'Full Rich'". For thirty years Sir Jack would blame Ron Dennis for the oversight, but at dinner with another team mechanic – Nick Goozee – in 2002, Nick owned up: "That wasn't Ron – it was me". And for the second time South African GP-winning 'BT33-2' offered here had lost a Grand Prix win in the very last corner, of the very last lap.

The German GP then saw a first lap failure, and in Austria Sir Jack was challenging the new flat-12 Ferraris when Ignazio Giunti's fired a trackside stone straight through the radiator of 'BT33-2'. He finished 13th. At Monza he glanced along the guardrail after his engine cut out in the Curva Parabolica and by his own admission – having taken the decision to retire at the end of that season – "I'd really begun to lose interest by that time". The car was inexplicably slow in Canada (retired) and at Watkins Glen (10th) and it was back home in the team's Guildford race shop that they "...isolated the gremlin. After Brands Hatch an engine breather line to the oil tank had been changed, creating tremendous backpressure which had caused oil to gather in the engine's bottom end. In effect we were wasting engine power in heating-up our own oil...now we had located the reason too late for it to matter...".

For Sir Jack's farewell race, the 1970 Mexican GP at Mexico City, he and 'BT33-2' proved back on form – qualifying fourth fastest and running third early in the race behind the superior Ferrari 312Bs of Jacky Ickx and Clay Regazzoni. Thirteen laps from the finish a casting within his engine split and the unit seized solid. "After 23 long and hectic years, the disappointing end to my career as a full-time professional racing driver. But I had to look on the bright side. I had survived".

Indeed he had – and so did 'BT33-2', his magic mount from that swansong season. The car was in fact sold in 1971 to the well-known Franco-British owner/driver Alain de Cadenet and associates for the British driver Chris Craft to try his hand at Formula 1 late in the 1971 season. He promptly finished fifth in it at the non-Championship Oulton Park Gold Cup race on August 22nd, but then had to non-start for the year's Canadian GP at Mosport Park following a practice failure, and then retired from the United States GP at Watkins Glen with a suspension problem.

The car's engine and several suspension components were then cannibalized to be built into the first De Cadenet Le Mans sports-racing car, known by the name of its main sponsor, Duckhams Oil, while the monocoque, body panels and all other related parts were preserved in store. The specialist British preparation and restoration company Crosthwaite & Gardiner had played the leading role in building the De Cadenet car, and Dick Crosthwaite finally fell heir to 'BT33-2' in part settlement of the bill.

Since 1998 – 'BT33-2' has been exquisitely well-maintained in race-ready trim by its current vendor – an exceedingly well-respected veteran personality within the vintage racing world. At one most prominent US vintage event, at Elkhart Lake's Road America in 2002, both Sir Jack himself and Ron Tauranac were on hand, taking off their sports jackets to pitch-in enthusiastically beside the owner and his crew to fix a minor problem. The owner today recalls that weekend spent in the company of Brabham and Tauranac as perhaps the pinnacle of his vintage racing career.

To acquire 'BT33-2' today is to share that association with true greatness. The car is immaculate. Its provenance is impeccable. Its historic record and its significance are plain. A sister BT33 has dominated the Monaco Historic Grand Prix in the hands of its owner-driver Duncan Dayton – managing what Sir Jack himself failed to achieve in 1970 – by leading out of the last corner instead of only into it. In capable hands we offer here a race winning Historic Formula 1 car.

And above all – it is Sir Jack Brabham's last Grand Prix-winning chassis. Now it could be yours.





Footnotes
Offered on a Bill of Sale.