Quail Lodge Auction / The Ex-works Weissach development and test1970 PORSCHE 908/03 SPYDER Chassis no. 908/03-002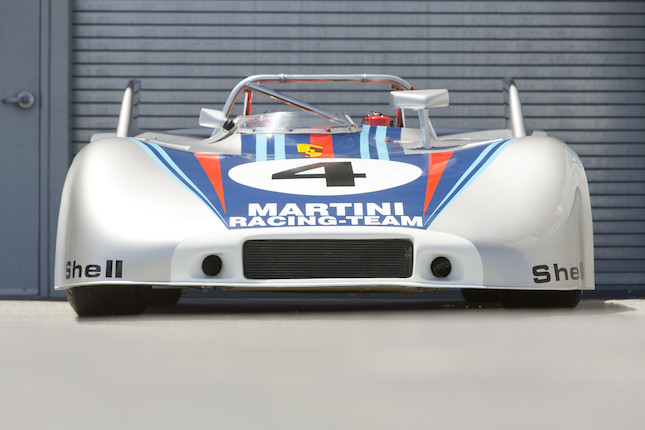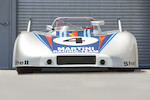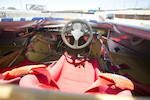 The Ex-works Weissach development and test
1970 PORSCHE 908/03 SPYDER
Chassis no. 908/03-002
15 August 2014, 11:00 PDT
Quail Lodge & Golf Club
US$1,800,000 - US$2,300,000
Own a similar item?
Submit your item online for a free auction estimate.
How to sell
Looking for a similar item?
Our Collector Cars specialists can help you find a similar item at an auction or via a private sale.
Find your local specialist
Ask about this lot
Mark Osborne
Vice President
Jakob Greisen
Head of Business Development
The Ex-works Weissach development and test
1970 PORSCHE 908/03 SPYDER

Chassis no. 908/03-002

2,990cc DOHC Flat 8-Cylinder Engine
Mechanical Fuel Injection
Approximately 370bhp at 8,400rpm
5-Speed Manual Transaxle
4-Wheel Independent Suspension
4-Wheel Disc Brakes


*Exquisitely restored genuine works development chassis
*As tested in 1970 by Le Mans-winning ex-works racing driver Paul Frere
*Ultra-lightweight – ultra-competitive – a race winner in the right hands
*Original works transaxle amongst many genuine period parts
*Extensive US vintage race history


THE PORSCHE 908/03 SPORTS-PROTOTYPE

The superb family of 3-liter flat-8 air-cooled Porsche sports-racing prototype cars first exploded upon the FIA World Championship of Makes scene in 1968. While the preceding Typ 907 model had been powered by a rear-mounted 2.2-liter flat-8 engine producing some 270bhp, the new 3-liter engine punched out a meaty 350bhp at a raucous 8,400rpm.

The 908 originated as a closed endurance-racing Coupe which minimized aerodynamic drag on fast-venue tracks, but from 1969 forward was campaigned mainly as a lightweight open-cockpit Spyder. For Porsche function was everything. Finish was irrelevant. And function brought a triumphant catalogue of race victories. Porsche's ambitions extended to outright victory in the FIA World Championship competition, and during 1969 Dr. Ferdinand Piech's landmark 4.5-liter flat-12 Type 917 Coupe was introduced to the factory team's armory.

That design was considered too bulky and unwieldy to be the optimum solution to racing on the tortuous Nurburgring in the annual ADAC 1,000Kms and upon the Piccolo Madonie mountain circuit in Sicily, for the Targa Florio. Both events were important points-scoring rounds counting towards the World Championship crown, and so Piech had a much more compact, open-cockpit Spyder tailored to those venues. Thus was born the 3-liter flat-8 engined Typ 908/3 as now offered here.

During the 1970-71 seasons the cars generally succeeded in their purpose, dominating both the Targa Florio and the Nurburgring 1,000Kms that first season, but being beaten by Alfa Romeo in the 1971 Targa Florio after suffering the misfortune of two cars crashing out on the opening 44-mile lap....

Based upon the ultra-lightweight, stubby, utterly spartan Porsche 909 prototype deployed by Porsche in the contemporarily highly-significant European Mountain Championship series, the new 908/03 was even shorter than the already abbreviated 908/02, and weighed a mere 500 kg (just 1,100lbs) - an astonishing figure for a long-distance endurance racer. In fact its weight contrasted starkly to that of the mighty Porsche 917 Coupe, at around 840 kg (1,900 lbs). In 1971, vertical tail fins were added to the cars and their 1-2-3 finish in their home 1,000Km race at the Nurburgring cemented the 908/03s' tremendous reputation as the minimum race car, for the maximum driver.

A total of thirteen Porsche 908/03 chassis were finally built, amongst which the first five were assigned to test and development use centered upon the factory's Weissach research facility outside Stuttgart. Of this group only chassis '003' was deployed in serious competition, finishing second in the 1970 ADAC 1,000Kms. During the factory's race program of 1970-71, no more than five 908/03s were ever fully assembled and running at any one time, and in fact only eight of the cars' bespoke transaxles were manufactured in period.

When FIA World Championship of Makes regulations changed for 1972, Porsche 908/03s began a second life as a number would eventually be reconfigured with turbocharged 6-cylinder engines, and would race on through the mid-1970s. Back at the factory's racing and experimental department, many of the early 908/03 chassis were stripped and stored, and salvaged components were then built into later machines. But '908/03-002' offered here earned particular immortality...

THE MOTORCAR OFFERED

The Porsche works team of 1970-71 used '908/03-002' offered here purely for extensive testing and development proving during that period. It was blasted round their tight little test circuit at Weissach and slithered round and round the skidpan complex there. It was hammered over the rough-road, launched at the inclines, and was even rigged with road registration plates and was tested on the public roads to gain experience for the punishing public road circuit of the Piccolo Madonie in the Sicilian Targa Florio.

Ultimately, in company with its sister early chassis '002' was stripped, dismantled and placed into store. Eventually it was located and acquired by the leading American Porsche specialist Dale Miller – formerly curator of the Collier Collection in Naples, Florida. He bought both this car's bare frame and that of its sister '004' almost simultaneously, this one from an associate of the factory and the other from former works mechanic-turned-Porsche preparer R.O. 'Paddy' O'Grady.

Mr. Miller had simultaneously begun to collect a comprehensive stock of related original and matching components to begin a comprehensive Porsche 908/03 restoration program. He had some of the more rare and missing parts re-manufactured, and by the time of the program's completion he had had made as many 908/03 transaxles (eight) as the factory produced in period...

Of all surviving Porsche 908/03s today, we understand that only one retains an original body-panel set, and that is the Porsche Museum's own example – chassis '009'. In common with the vast majority of its surviving sisters, therefore, '002' offered here features a re-made body. Nothing upon the car today is inaccurate for a 1970-71 908/03 race car. It has, furthermore, not a re-made Miller transaxle but a factory original. It has a proper-specification, painstakingly re-assembled, often run, hugely successful, and we are advised now race-ready flat-8 engine. The suspension uprights on the car are well-proven, carefully inspected and approved original components. Its brake calipers are genuine period components, the brake rotors are re-made parts. We are advised that the half-shafts are original, the seats 're-done', the instruments "new but right", other componentry all either original from period, perfectly re-made or in some cases they are newly adopted old-stock. The material noun 'unobtainium' surfaces often in any conversation about these magnificently uncompromising racing weapons...

In the hands of its present vendor, '002' as offered here has been campaigned widely and frequently in US vintage racing events over the past 14 years. Its winning record is almost unrivalled. With a capable driver strapped into its cockpit it has been a case of 'it starts – it wins'. In 2005, the owner shipped the car to the Targa Florio Storica event on the island of Sicily, staying a week, running the car upon the circuit for which it and its kin had been so fastidiously tailored as-new. He describes the experience as having been something he will remember for the rest of his life – "...we stayed a week – it was such fun!". He selected the startling Porsche Salzburg team livery for the car, which it still wears to this day, and '002' has proved to be not only a regular vintage race winner but also a much-admired Concours contender. At one point, California-domiciled ex-works racing driver Gijs van Lennep signed the car for its hyper-enthusiastic owner, and ex-works star driver Brian Redman has also driven it on several occasions.

It has been prepared, maintained and conserved effectively regardless of cost, while proving enduringly reliable and easy to run throughout the lengthy period since its restoration to running order was completed.

So what earned '002' its particular immortality if it never went to war in the factory team's hands in period? Former Porsche, Ferrari and Aston Martin works racing driver Paul Frere also had a parallel career as one of Europe's leading automotive journalists. In 1971 his book The Racing Porsches – A Technical Triumph was published by Motorbuch Verlag, Stuttgart. Its final chapter became a memorable landmark within automotive literature, Paul Frere headed it "Driving the 908/03 and the 917". And the Porsche 908/03 that he drove at the Nurburgring in April, 1970, was none other than '908/03-002' now offered here.

In fact we understand that three chassis were completed in February 1970, before the others - they were '002', '005', and '006'. Chassis '001' was not completed until a month after these first three, together with '003'. Chassis '004', '007', '008', '009', '010' and '011' were not completed until April 1970, while the final pair - '012' and '013' were built in 1971. Paul Frere drove "the first completed" at the Nurburgring - hence '002' offered here - while Herrmann is believed to have been driving '005' that day.

The factory had hired the old South Circuit – the Nurburgring Sudschleife – for four days. While Paul Frere describes his mount as having been "the very first prototype" while "the second one had been undergoing tests the whole morning with Hans Herrmann", the build sequence suggests that the car he eventually drove in earnest was indeed '002'. His account reflects: "When taking the wheel of this car, I could not help thinking of the progress made in the last ten years, remembering that this Porsche had the same 3-liter capacity as my Le Mans-winning Ferrari Testa Rossa of 1960, but exactly twice its power-to-weight ratio... In fact, the power-to-weight ratio must be very near the figure for the 917, but somehow it does not feel quite as ferocious, perhaps because the 3-liter has not got the colossal medium-range torque of the 4.5-liter flat-12."

He continued: "With this car more gear-changing was called for, all five gears being used in the course of one lap". And his verdict?

"The car was a sheer – if ear shattering – delight. It handled beautifully and could be flung around bends with the utmost abandon, being especially good in ess-bends where its immensely quick reaction to directional changes was marvelous. Except for the rather stiff gearchange" – on that occasion – "...this is a car you drive more with feel than force, and the perfect all-round visibility and beautiful responsiveness quickly inspire great confidence. Even the superb brakes don't take so much force and they check the car without drama, even when used to the limit. Too much power in a corner will, of course, bring the tail out but this is very easily checked and in tight corners such methods can readily be used to help the car round."

"Altogether I found this to be a much more humane car than the 917, somehow much more on equal terms with the driver. Consequently, my lap times were better. On this sinuous circuit I am sure I would be completely exhausted after driving the 917 really fast there for an hour, I would not mind driving the 908/03 in the same way, for twice the time, or more..."

If your bid for '908/03-002' beats all opposition, it would assure your chance to put the great Paul Frere's judgment to the test.


Footnotes
Offered on a Bill of Sale.