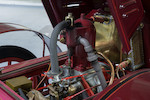 Winner of the Charles A. Chayne Trophy at the 2001 Pebble Beach Concours d'Elegance
1905 De Dion Bouton Bouton Model Z 8hp Rear Entrance Tonneau
Chassis no. 1040
Engine no. 17040
Amended
1 June 2014, 12:30 EDT
Greenwich
Sold for US$93,500 inc. premium
Own a similar item?
Submit your item online for a free auction estimate.
How to sell
Looking for a similar item?
Our Collector Cars specialists can help you find a similar item at an auction or via a private sale.
Find your local specialist
Ask about this lot
Eric Minoff
Senior Specialist
Rupert Banner
VP, Business Development
Evan Ide
Senior Specialist
Winner of the Charles A. Chayne Trophy at the 2001 Pebble Beach Concours d'Elegance
1905 De Dion Bouton Bouton Model Z 8hp Rear Entrance Tonneau
Chassis no. 1040
Engine no. 17040
Single cylinder, 106 by 120 mm,
3-Speed manual
Front semi-elliptic leaf springs, rear semi-elliptic leaf springs with transverse leaf spring
2-Wheel rear external contracting band
Right hand drive

*Rare example of singular model
*Recipient of comprehensive restoration
*Offered from an esteemed private collection

De Dion Bouton

The foundation of the automobile was laid by Comte Andre De Dion. Starting out in partnership with George Bouton and Charles Trépardoux they first built steam-powered small boats, then turned their attention to road vehicles. De Dion soon became convinced of the potential for internal combustion engines to surpass steam in power, weight and portability. Trépardoux did not share his conviction and his name disappears from the company in 1894.

It was at this point that Establissements De Dion-Bouton S.A. turned its attention solely to internal combustion engines, initially creating a 137cc single cylinder engine which, through one simple innovation, made the spark ignition engine as it is known today possible. It was the then-revolutionary concept of mechanically timing the spark so it always took place at exactly the same place in the crankshaft's travel.

Adjustment of the timing became, until the creation of effective throttle control and carburetors, the primary means of controlling a spark ignition engine's crankshaft speed and remains over a hundred years later essential for power, torque, economy and low emissions.

While De Dion Bouton built complete vehicles, from motorized bicycles through tricycles and lightweight quadricycles, it was as an engine manufacturer that the company made its greatest contribution to the growth of the automobile. De Dion Bouton sold engines and, even more importantly, licenses to manufacture their engines to anyone. Their licensed manufacturers formed the basis of companies which would define the automobile business including Packard, Peerless and Pierce-Arrow in the United States.

Literally tens of thousands of De Dion Bouton engines were built before the first decade of the new century was half over and their ubiquity is an important statement about the company's importance. De Dion Bouton engines were inexpensive (Samuel Langley acquired one in 1900 to use in his aviation experiments for only $115.80) and inspired hundreds of inventive engineers and mechanics to strive to do better, faster, more powerful while teaching them the rudiments of the Otto cycle spark ignition engine.

De Dion nomenclature places their earliest automobiles in an alphabetical sequence for their models, their tricycles and steam machines were uncharacterized but their first four wheel internal combustion engined automobiles, better known as 'vis-a-vis' for their face to face seating arrangement begin at Type D. Some sense of how advanced they were in the industry can be assessed by the fact that as they began 1905, they were already at 'Z'.

The Motorcar Offered

The Model Z represented something of a departure for the company as it had a plate clutch operated by pedal and sliding pinion gearbox, as opposed to the epicyclic system that they had used since the turn of the century, and a slightly larger motor. With these individual characteristics which were not repeated on subsequent models it makes identification of this rather rare model relatively straightforward.

Bonhams researched this automobile through noted British De Dion expert Rory Sinclair and noted historian Malcolm Jeal who were able to confirm that information exists to document that the first of these Model Z cars was 'type approved' by the French authorities on December 7, 1904. This being the 1040th car built in this series, together with the correlation of a 1905 engine number in the accepted sequence of De Dion engines conclusively points to it having been built in 1905.

They were also able to trace knowledge of its existence within the circles of the Veteran Car Club of Great Britain. Apparently, it first surfaced in the UK in the mid-1950s when it was the property of a Knolly Stokes of Ireland and wore the British license plate "MC5066". At that point it was examined by E.H. Jarvis whose family had owned a De Dion agency in North London since the very early days of the company, he deduced it to be a later model, but more recently this was pinned down to being a Model Z. By 1979 the car was still in the UK and was the property of R.N. Jones. In the early post-war days it was known to have worn a two seater body which at some point was replaced with or enhanced to a more commodious four seater tonneau body.

Arriving in the U.S. more than 2 decades ago it was subsequently restored for then owner Jay Kaufman, who exhibited it at the Pebble Beach Concours d'Elegance in 2001. The car was awarded with the Charles A. Chayne Trophy, an award given to the car with the most advanced engineering of its era. It subsequently passed into the present collection of a noted connoisseur of pioneering motor vehicles from which it is offered today.

That restoration has now aged a little, but the car remains an extremely well presented, well accessorized and handsome example of the marque, bearing all of its hallmarks, arguably with the benefit of a 'conventional' gearbox.

There are few more seminal figures in the automotive world than Comte Andre De Dion and examples of his mastery continue to thrill and astound.
Saleroom notices
Please note that this vehicle is titled with chassis number 9580B and its title is in transit.