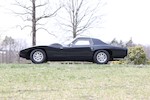 Unique prototype from the Estate of John Fitch
1966 Fitch Phoenix
Chassis no. 107375W224558
Engine no. T0930RB
Amended
1 June 2014, 12:30 EDT
Greenwich
Sold for US$253,000 inc. premium
Own a similar item?
Submit your item online for a free auction estimate.
How to sell
Looking for a similar item?
Our Collector Cars specialists can help you find a similar item at an auction or via a private sale.
Find your local specialist
Ask about this lot
Eric Minoff
Senior Specialist
Rupert Banner
VP, Business Development
Evan Ide
Vice President, Senior Specialist
Unique prototype from the Estate of John Fitch
1966 Fitch Phoenix
Chassis no. 107375W224558
Engine no. T0930RB
Flat-six, 140 cu.ins. 170bhp
4-Speed manual transmission
Independent suspension front and rear by coil springs
Front, Girling Disc brakes, rear drums
Left hand drive

*Unique road-going prototype vehicle
*Offered from the Estate of John Fitch
*Never offered for sale before

The Motorcar Offered

The fantastic Fitch Phoenix, the first of a projected series of 500 cars remains today the only one in the world. Strangled aborning by the bureaucracy and red tape of Washington, D.C. the Phoenix was Fitch's concept of what a luxury grand touring machine ought to be, and was a dramatic departure from production cars of its day. The body styling was the result of a three-year collaboration between Fitch and illustrator Coby Whitmore, his good friend and neighbor. Together they constructed a full-scale mockup which they spent countless hours developing and refining. The final design was executed in steel by Frank Reisner's Intermechanicca Group in Turin, Italy and wedded to a highly modified Corvair drive train and running gear. Building on a base of readily available mechanical parts was essential to ensure that spares would be available and to simplify servicing.

As assembled by Fitch, the Phoenix's Corvair underpinnings gave sensational performance and handling. The car weighed in at just 2,150 pounds dry and the flat-six air-cooled engine, fueled by multiple Weber carbs and tweaked to 170bhp got to 60mph in just 7.5 seconds and had a top end of 130. Brakes were Girling discs for and 9.5 inch drums aft. Tires were radials, but mounted on 6 inch rims in front and 7 inch rims in the rear, so that two spares were required, one of each size. A classic touch was mounting the spares in front fender wells.

Fitch premiered his dream car in New York, on July 7, 1966. Priced at $8,700, it created a sensation. Unfortunately, 1966 was also the year Congress passed the Highway Safety Act, legislating the establishment of a Highway Safety Bureau to set safety standards for automobiles. However, until the bureau was set up, a director appointed, a staff hired, and standards established, Fitch was unable to go into production with any assurance that his car would meet the as-yet-unspecified standards. Interim standards were established but challenged in the courts by Ford and Chrysler and it wasn't until January 1, 1968, that things were finally firmed up. But by then Nader's criticism of the Corvair had killed it and Fitch had his source of mechanical components knocked out from under him.

Despite its shelving, the Phoenix would become synonymous with Fitch, being regularly used and displayed by him. It is certainly no stranger to the Greenwich Concours d'Elegance were it was driven to and shown by him a number of times.

In his latter days, in 2009 John Fitch was reunited with another of his creations, the Fitch-Whitmore Special in the Bonhams tent at this Concours when that car passed into new ownership, we're delighted to present the creation which he was best known for directly from his Estate.
Footnotes
Footnote - The Fitch Phoenix is titled by its base identity of a 1965 Corvair.
Saleroom notices
Please note that this vehicle is titled as a Chevrolet and its title is in transit.