Goodwood Revival / The ex-London Motor Show, Lady Docker,1954 Daimler DK400 'Stardust' Limousine Chassis no. 92700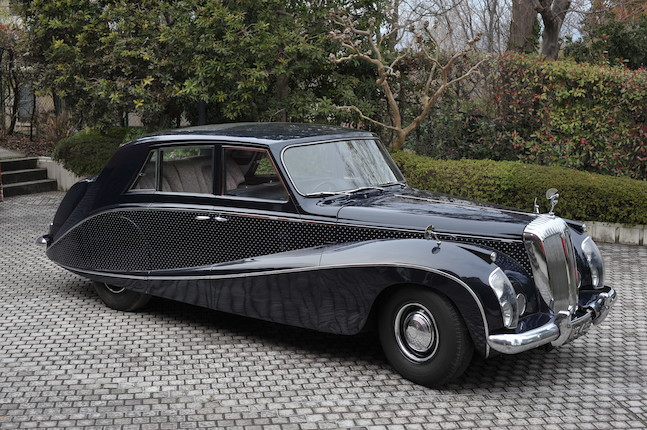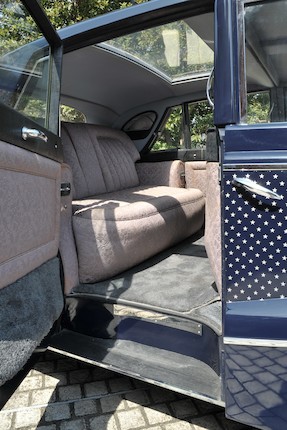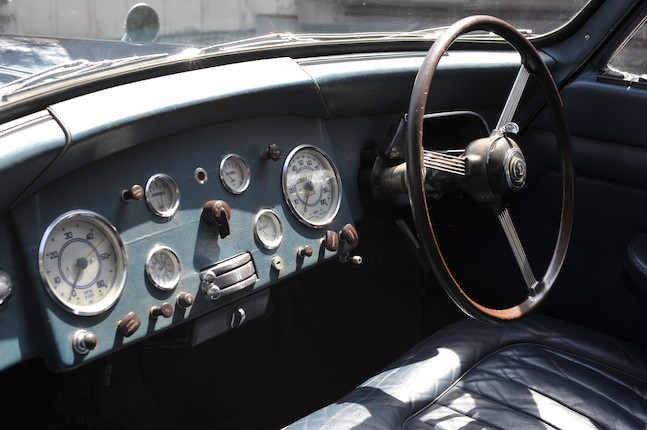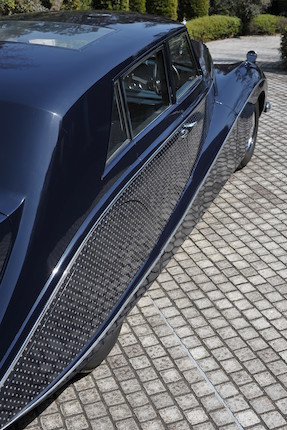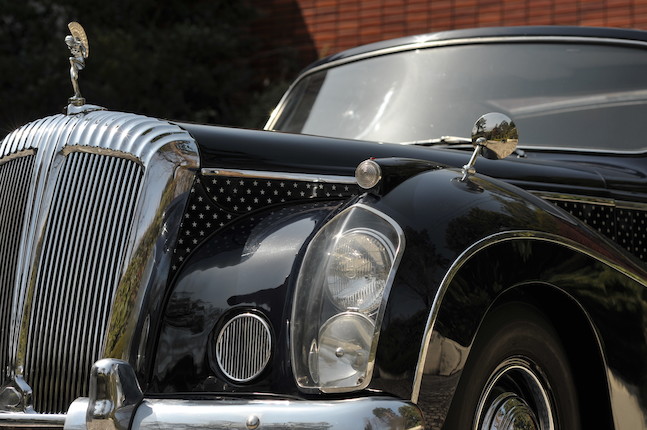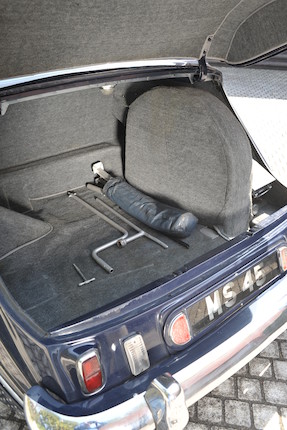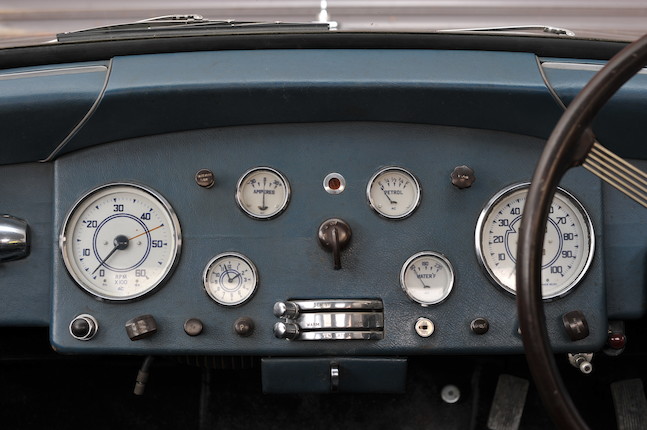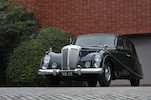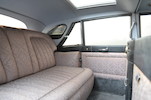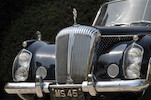 1954 Daimler DK400 'Stardust' Limousine
Coachwork by Hooper & Co Ltd Chassis no. 92700
Amended
13 September 2014, 14:00 BST
Chichester,Goodwood
Sold for £110,140 inc. premium
Own a similar item?
Submit your item online for a free auction estimate.
How to sell
Looking for a similar item?
Our Collector Cars specialists can help you find a similar item at an auction or via a private sale.
Find your local specialist
Ask about this lot
Tim Schofield
Head of Department
The ex-London Motor Show, Lady Docker
1954 Daimler DK400 'Stardust' Limousine
Coachwork by Hooper & Co Ltd
Chassis no. 92700
Footnotes
Daimler maintained its long-established position as royalty's favourite in the immediate post-WW2 years while grabbing headlines in the popular press thanks to a succession of often outrageous 'Docker Specials' featuring bodies by in-house coachbuilder Hooper & Co. The driving force behind these sensational styling exercises - all the more remarkable for their appearance at a time of great austerity - was Lady Docker (née Norah Turner), wife of the parent BSA Group's millionaire chairman, Sir Bernard Docker. Lady Docker had been appointed a director of Hooper's, with special responsibility for styling matters, and set about transforming Daimler's staid image into something altogether more exciting, commencing with the spectacular 'Golden Daimler' which amazed crowds at the 1951 Motor Show.

The couple had married in 1949 when Norah was 44 and Sir Bernard 53; it was her third and his second marriage. A former dancer at the Café de Paris, Norah had been left well off following her previous marriages to wealthy businessmen and had acquired a taste for the high life. Declaring, 'Daimler can't survive on status alone,' she convinced Sir Bernard that the firm needed shaking up and was duly given a seat on Hooper's board of directors.

In an awe inspiring display of excess, Norah specified red crocodile skin, blue lizard skin, gold stars and silver metallic paint. For the first 'Docker' car – the 1951 'Golden Daimler' – she used £900 worth of gold plating, and this at a time when that sum would have purchased two Morris Minors and left enough change to buy a small motorcycle. Justifying this extravagance, she explained: 'It was practically impossible to obtain chrome.' The culmination of this succession of sensational Docker cars was the so-called 'Ivory White Golden Zebra', a voluptuous extravagance on the 4.6-litre, six-cylinder, DK400 limousine chassis, which debuted on Hooper's stand at the 1955 Earls Court Motor Show. Lady Docker was particularly proud of the zebra skin upholstery. When asked 'Why zebra?' she famously replied with a flippancy that would have made Marie Antionette blush: 'Because mink is too hot to sit on.'

'Stardust', the penultimate car of the series, was built on the DK400 limousine chassis and bodied by Hooper at a reported cost of £12,500. The coachwork was finished in Royal Blue and silver, with 5,000 silver six-pointed stars on the sides, while the dancer bonnet mascot was modelled on Lady Docker herself. Norah once again excelled when it came to the interior decor, specifying hand-woven silver-grey silk brocatelle upholstery for the rear compartment and blue crocodile skin trim for the aluminium cabinets. The central division and double-glazed side windows were electrically operated, as was the sliding shutter beneath the fixed glass sunroof above the rear seats. There were four crocodile skin suitcases in the boot. For all its opulence, the relatively restrained 'Stardust' exhibited surprisingly good taste, and a similar car was made by Hooper for the Queen Mother in 1955.

In April 1956, 'Golden Zebra' and 'Stardust' were shipped to the South of France for the wedding of Prince Rainier of Monaco and film star Grace Kelly, to which Sir Bernard and Lady Docker had been invited. Their invitations are sold with the car. By this time the Dockers' perceived extravagance was causing rumblings of discontent within the BSA Group board and on 30th May 1956 a special meeting was called that resulted in Sir Bernard being voted out of office. The board concluded that the five 'Docker Daimlers' had been commissioned, not to generate publicity for the company as the Dockers claimed, but for the couple's personal amusement. Sir Bernard ended up with a £50,000 bill for their construction, to which the Inland Revenue added a further £20,000 tax bill.

With their creators banished, the Daimler show cars were stripped of their expensive trimmings and sold. In 1966 'Golden Zebra', which cost £12,000 to build (many times the value of the average semi-detached house at the time) was offered for sale by Daimler distributors Henlys of Chester with 25,000 miles on the clock for only £1,400.

The Dockers too suffered a similar decline; running out of money, they were expelled from their Monaco residence and for a while lived on Jersey, having sold their yacht and Hampshire estate. Sir Bernard died in a nursing home in 1978 and Norah, who spent her final years living in the Great Western Hotel, Paddington, in 1983, almost penniless.

By this time, 'Stardust' had enjoyed a miraculous rebirth. Found abandoned on a Welsh farm with a frost-damaged cylinder block, the car was fully restored to show condition in 1980. Geoffrey Francis, the heraldic artist who had worked on the car in 1954, was commissioned to reapply the stars to the coachwork. By this time, of course, crocodiles had become an endangered species, so blue-dyed lizard skin – a Norah Docker favourite - was used instead for the interior trim. Wonderfully redolent of the 1950s, an age when excess still had the capacity to shock, this uniquely stylish piece of Daimler history is worthy of the closest inspection.

Stardust was acquired from the renowned Blackhawk museum by a previous owner in the 1980s and subsequently imported into Japan. The present Japanese owner acquired the Daimler in the 1990s. The car was started occasionally but has not been driven on public roads. We are aware the brakes require attention and the Daimler will need re-commissiong prior to road use.

Should the vehicle remain in the EU, local import taxes of 5% will be applied to the hammer price.
Saleroom notices
Although the engine starts and runs we noted that there is a misfire and noise from the top end - possibly a loose tappet or sticking valve.