Goodwood Revival / 1956 Aston Martin DB2/4 Mark II Drophead Coupé Chassis no. AM300/1191 Engine no. VB6J/813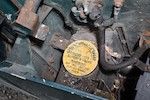 1956 Aston Martin DB2/4 Mark II Drophead Coupé
Coachwork by Tickford Registration no. 1 ATC Chassis no. AM300/1191 Engine no. VB6J/813
13 September 2014, 14:00 BST
Chichester,Goodwood
Own a similar item?
Submit your item online for a free auction estimate.
How to sell
Looking for a similar item?
Our Collector Cars specialists can help you find a similar item at an auction or via a private sale.
Find your local specialist
Ask about this lot
Tim Schofield
Head of Department
1956 Aston Martin DB2/4 Mark II Drophead Coupé
Coachwork by Tickford
Registration no. 1 ATC
Chassis no. AM300/1191
Engine no. VB6J/813
Footnotes
The rare Aston Martin offered here is one of only 15-or-so drophead coupés made on the DB2/4 Mark II chassis, of which nine were right-hand drive like this example. It was first owned by one W R Bullough Esq., who seems to have been the archetypal client for which Aston Martin catered in the 1950s: a gentleman of good taste, knowledgeable of the brand and with a well defined list of requirements that Aston Martin, then largely a bespoke manufacturer, was well positioned to meet.

In the case of chassis number '1191', Mr Bullough's requirements included that the car should be finished in Deep Carriage Green with a black interior, fitted with twin spotlights, and a hand-held Marchal spotlight for finding his way at night. He also required that the clutch pedal be built up by 2" (a modification that many DB2/4 owners would endorse) and clearly being a traditionalist, specified semaphore trafficators instead of indicators. As a practical man he also required that the car be fitted with the Smiths 'Jackall', an innovative hydraulic system that allowed the owner to jack up the front, rear or whole car. Though Mr Bullough's sporting aspirations can only be guessed at, it is worth noting that the factory chassis card lists the special requirements to include a 'Mod. Cyl. Head' and Alfin brake drums.

Examination of most Aston Martin chassis cards show that very few cars benefit from continued maintenance by the works, particularly when they fall into the hands of second or third owners or once the manufacturer's guarantee has expired. However, for the first nine years of its life, until the mileage reached 54,000 (a new speedometer was fitted in 1961 at 27,000 miles) chassis '1191' was fully maintained at Aston Martin's Works Service Department. With the odometer now showing 57,000 miles, the car's total mileage is approximately 84,000, which is consistent with its long period of storage (see below) and the third owner's recollection.

P R Southall Esq. is listed on the Aston Martin chassis card as the second owner, the third owner purchasing the car from him in 1975, an ownership that was to last 39 years until 2014. As with many forays into Aston Martin ownership, the purchase in 1975 resulted from the encouragement of a close friend who was already an Aston owner. During a custodianship of almost four decades, the car was stored for 29 years and last taxed for the road in 1985. It emerged only in March 2014.

The third owner entrusted the Aston's maintenance to the nearby Vicarage Garage, who serviced it regularly. When Vicarage's proprietor retired, maintenance was entrusted to a local specialist where it was worked on by a young mechanic named Andy Chapman, who would later co-found Chapman Spooner Ltd, one of the UK's leading Aston Martin restorers, and who for many years has been Technical Adviser to the Aston Martin Owners Club.
Reappearing after its 29-year sojourn, this car may well be the most original extant and is probably the last un-restored example of the model given the limited number manufactured. Very unusually for cars of this age, particularly those that have been stored, chassis '1191' is complete with all its original tools to the engine compartment and armrest, and even the brake bleed tin and its contents.

Though requiring body restoration, the car secured an MoT certificate in April 2014 with little servicing necessary other than expected items such as new brake lines, wheel cylinders and brake master cylinder, flushing and treating the petrol tank and, with safety in mind, the replacement of the aged Avon Turbospeed tyres. We are advised that the engine holds excellent oil pressure and is exceptionally sweet running, which a recent fast run through the Cotswolds attested, though given the lengthy time in storage, a full check of all the car's mechanical components is recommended.

At the AMOC annual Concours d'Élégance at Ragley Hall on 18th May, the car - definitely the only one on the lawn that had not been washed and polished since 1985 - was exhibited in the 'Pride of Ownership' class, to the intense interest of members and Aston Martin directors.
With special cars such as Aston Martin '1191', originality, rarity and a proven unblemished provenance are the most important factors determining their value. In meeting these three criteria perfectly, this Aston Martin DB2/4 represents a very rare opportunity, not having been offered on the open market for almost four decades. Taxed, MoT tested and ready for the road, this is surely a most interesting and unusual 'barn find'.