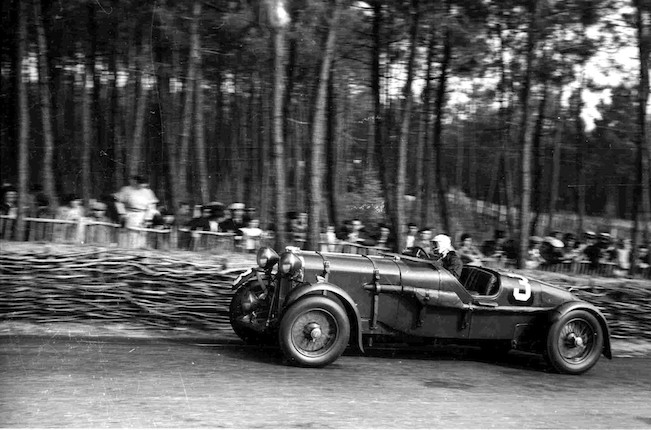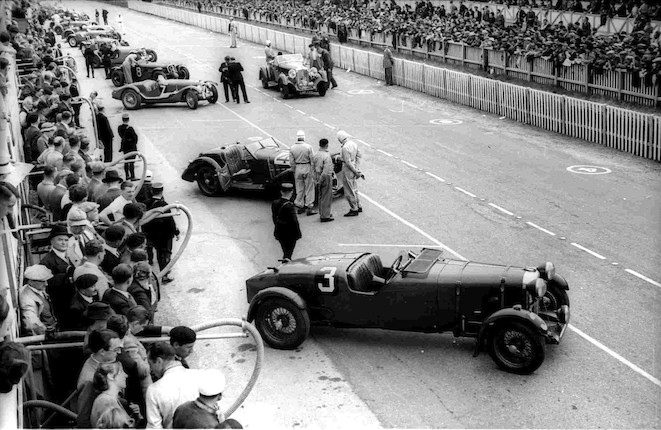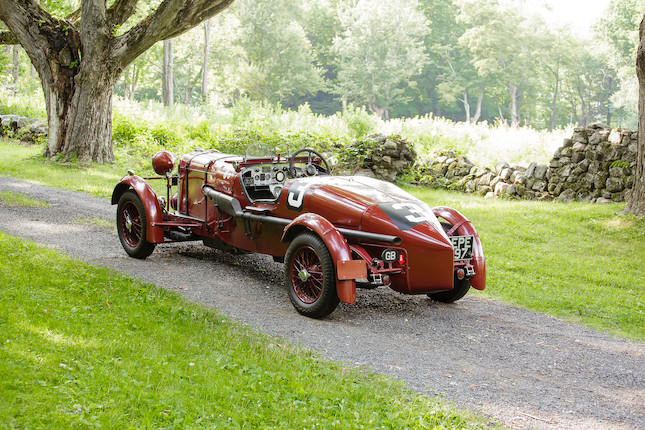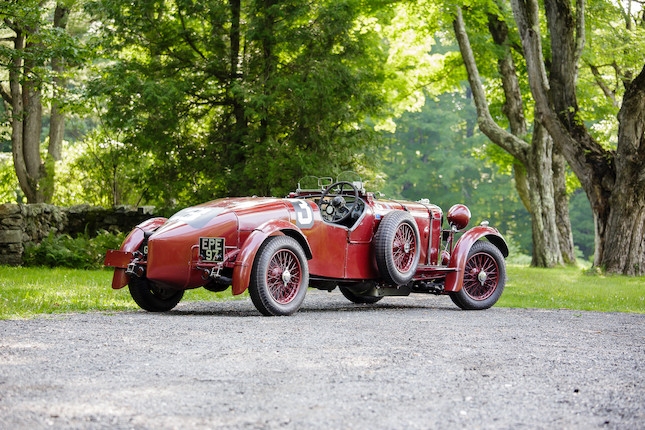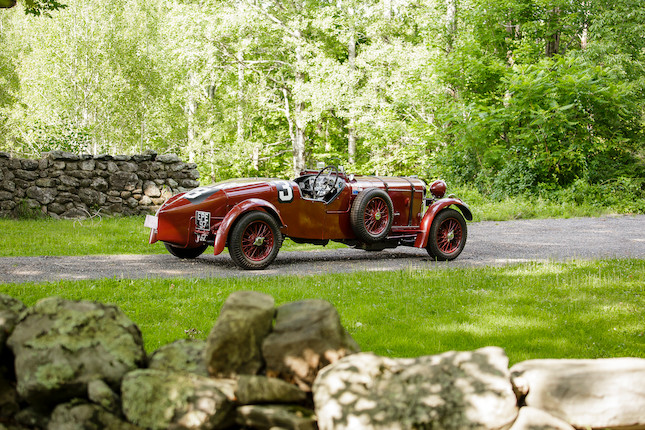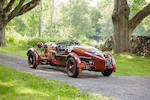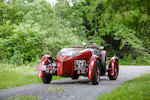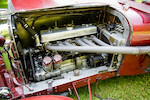 1936 Lagonda LG45R Rapide Sports-Racing Two-Seater
Coachwork by Fox & Nicholl Registration no. EPE 97 (see footnote) Chassis no. 12111 Engine no. 12111
Amended
13 September 2014, 14:00 BST
Chichester,Goodwood
Sold for £1,569,500 inc. premium
Own a similar item?
Submit your item online for a free auction estimate.
How to sell
Looking for a similar item?
Our Collector Cars specialists can help you find a similar item at an auction or via a private sale.
Find your local specialist
Ask about this lot
Tim Schofield
Senior Specialist, Head of Department, UK
The ex-Lord Howe/Hon. Brian Lewis/John Hindmarsh/Charles Brackenbury/C.E.C.Martin/Marcel Lehoux - 1936 Grand Prix de L'ACF, 1936 and 1937 RAC Tourist Trophy,1936 BRDC Brooklands 500-Mile Race, 1937 Le Mans, 1952 Goodwood Nine Hours entry and Alan Hess Sports Car record breaking, Fox & Nicholl Team Car

'EPE 97'
1936 Lagonda LG45R Rapide Sports-Racing Two-Seater
Coachwork by Fox & Nicholl
Registration no. EPE 97 (see footnote)
Chassis no. 12111
Engine no. 12111
Footnotes
The car that we present here is one of the most visibly recognisable pre-war sports racing cars to survive from that those halcyon days. It is a car that Geoff Seaton notably described as 'the most famous Lagonda of all', and it is one of the few cars of any period that have come to be known simply by its number plate, in this special case even that is simply abbreviated to 'EPE'.

12111 is without doubt an automotive icon, heralding from the days when there truly were 'all rounders' - cars that with a few tweaks to their form or formula campaigned in all manner of events. From a brief spell behind the wheel it is easy to appreciate the car's immense appeal to the number of luminaries who have been privileged to have owned her. The Rapide is fast, comfortable and straightforward to drive making it ultimately a very rewarding experience. But the best aspect of all is that the car simply oozes its history. Were there not a badge or sticker on her, you would still be able to tell that this war horse has an incredible tale to tell, a story that begins nearly 80 years ago.

It is perhaps an overlooked fact that the name of the Lagonda Motor Company of Staines in Middlesex originated from the Ohio District of Lagonda where its founder Wilber Gunn hailed from. Setting up shop in 1906, it was nearly 20 years before chief engineer Arthur Davidson designed a 2-litre overhead-valve engined model which established the company as a sporting marque.

At the 1933 London Motor Show two important new Lagonda models were unveiled: the 1,104cc Rapier with twin-overhead camshaft engine and the 4½-litre M45 which employed an overhead-valve six-cylinder proprietary engine, manufactured by Meadows. Here at last was a Lagonda sports car which was capable of genuinely high performance, not only by the standards of the time, but enduringly so – even today.

In 1935, two additional models were also introduced. Both shared the same shorter, lighter chassis frame and were entitled the 4½-litre Rapide and the 3½-litre. Unfortunately, this multiplicity of models added to the company's post-Depression financial problems, and even the notable victory in the 1935 Le Mans 24-Hour Race came too late to save the company from collapse. It looked as if Lagonda was about to absorbed by Rolls-Royce – as had Bentley Motors – but that summer it was rescued by entrepreneur Alan Good, who appointed the revered W. O. Bentley himself as new chief designer.

'W.O.' took Lagonda straight into the luxury car market in 1936 with the new LG45 model. It featured longer springs and Luvax dampers, while retaining the successful and well-proven M45-model Meadows six-cylinder engine and chassis. Bentley also directed his attention to improving the proprietary engine, and his modifications emerged in the 'Sanction III' power units introduced at the London Motor Show that very same year.

It was against this background that special competition variants of the LG45 had been tailor-made at Staines Bridge for the Lagonda company's experienced and battle-hardened quasi-works racing team, Fox & Nicholl Limited, of Tolworth, Surrey.

Arthur Fox and Bob Nicholl were Lagonda specialists, whose sizable business had been preparing and racing Lagonda cars since as early as 1927. Fox had persuaded the Lagonda company to support his team's competition activities and in 1929 he and Nicholl ran a flotilla of four 2-litre cars in both the Irish Grand Prix and RAC Tourist Trophy races. He rapidly established himself as a meticulous preparer of competition Lagondas, and he was never slow in improving upon the factory specification if he perceived any possible advantage. Just as Enzo Ferrari's private Scuderia ran the quasi-works Alfa Romeo team cars from 1932-37, so Fox & Nicholl's highly-effective organization became selected by the Lagonda company to represent their vital interests in International motor racing. In effect, one might read 'Fox & Nicholl' as 'Britain's Scuderia Ferrari'.

For 1936 the manufacturers' production department at Staines Bridge built four competition cars specifically for Fox and Nicholl. This quartet comprised two four-seaters, bodied to comply with Le Mans 24-Hour regulation requirements, and two two-seaters, this superb surviving example offered here being one of the latter. It was completed in May 1936 and entered by the team for that year's 24 Hour race at Le Mans, which was unfortunately cancelled due to strikes in France. It was first UK registered 'EPE 97' that August. Its sister two-seater was 'HLL 534' and also survives (incidently sold by the Bonhams team - when known as Brooks – on behalf of the then owner Lord Dunleath in 1995) while the fate of the sister four-seaters remains obscure.

At this point Fox & Nicholl's as yet officially un-registered new car, chassis '12111', made its racing debut. Apparently painted French blue instead of Fox & Nicholl's normal racing red livery. It was driven by the experienced hands of Algerian-born French driver Marcel Lehoux in the sports car Grand Prix de l'ACF at Montlhéry, outside Paris, France on June 28, 1936. While sister car 'HLL 534' won its class (in what appears to have been its only race), Lehoux was forced to retire.

There is some suggestion that 12111 was the car that Lehoux also campaigned at the Grand Prix de la Marne and that Seaman and Clifford ran at the Belgian Grand Prix in July, but this has never been definitively proven either way. What is certain is that by '12111's next appearance, it was registered as 'EPE 97' and finished in Fox & Nicholl's dark shade of red, for the RAC Tourist Trophy race over the fabulous Ards public road circuit outside Belfast, Ulster, in August 1936. It was driven there by the very capable aristocrat, the Honourable Brian Lewis, later Lord Essendon. The car carried race number '1' and was running in a strong second place after two hours, before sliding off the road and striking a bank. Lewis rejoined and recovered to run a close third behind Eddie Hall's famous Derby Bentley in what proved to be an epic duel.

Lewis's fastest lap of the Ards circuit during his fight back through the field was achieved at a shattering 83.20mph, compared to Hall's fastest of 81.07mph. If you imagine maintaining such an average speed around a narrow, undulating, winding loop of Ulster roads, through villages, a town center and out around rolling farmland, you will form an accurate impression of the remarkable performance of these imposing-looking mid-1930s British sports-racing cars.

Sadly, 'EPE 97' here began losing oil through a hole left by a broken engine timing cover stud, and after four hours of front-running – and recovery after his incident – Brian Lewis was reduced to touring round to nurse his car to the finish, finally coming home in 14th place at an average speed of 76.12mph.

This did not discourage Fox & Nicholl. They then entered 'EPE 97' for its third major race, the British Racing Drivers' Club 500-Miles classic on the high-speed Outer Circuit of the legendary Brooklands Motor Course near Weybridge, Surrey. This time esteemed privateer, BRDC President and former Le Mans winner Earl Howe partnered Lewis for the arduous race.

For this high-speed track race, without any tight corners whatsoever, its superfluous front brakes were removed to save weight and tyre wear. The car was fitted with a 3:1 back axle ratio, 7.00 x 21 rear tyres and a fairings between the front dumb irons and over the passenger seat. Howe and Lewis drew on their considerable racing experience and achieved EPE's greatest overall result finishing third at an average speed of 113.02mph. In doing so, they won a green marble-block trophy which is today awarded annually by the British Vintage Sports Car Club for the Fox & Nicholl road-equipped sports car race at Silverstone.

Fox & Nicholl retained 'EPE 97' for another season's racing in 1937. June that year saw it competing in nothing less than the Le Mans 24-Hour race, co-driven by Charles Brackenbury and by Fox & Nicholl's 1935 Le Mans-winning star, Hawker Aircraft test pilot-cum-racing driver John Hindmarsh. They were forced to retire at 10pm on the Saturday evening, due to unspecified mechanical trouble. Sadly, this proved to be Johnny Hindmarsh's last race, as he was killed soon afterwards when his early-model Hawker Hurricane single-seat fighter aircraft crashed on St. George's Hill golf course, alongside the Brooklands Motor Course and its infield aerodrome.

That year's RAC Tourist Trophy race was run at Donington Park in Derbyshire, and 'EPE 97' reappeared, now with a tiny regulation door fitted to the passenger side, still on the car to this day. It was co-driven by Charlie Brackenbury/C.E.C. 'Charlie' Martin and the latter crashed it at Melbourne Hairpin due to breakage of its near-side front stub axle. While this was the car's last major race it was then loaned to Alan Hess – editor of the contemporary magazine Speed – who set a new sports car record of 104.4 miles covered within one hour from a standing start (with passenger!).

The car survived the Second World War and in 1952 it was acquired by enthusiastic racer and subsequent VSCC stalwart Joe Goodhew. He lowered the entire body 10 inches and fitted the car with an ENV pre-selector gearbox. He and Bob Freeman-Wright, the Managing Director of Kodak, then co-drove the old car in that year's major international British endurance race – the inaugural Goodwood Nine Hours. Despite being 16 years old, the Lagonda finished 14th amongst the 18 finishers and averaged 72mph around the charismatic 2.4-mile Sussex circuit, in comparison to the victorious works C-Type Jaguar's 81mph.

Shortly after, Colonel L.S. Michael acquired 'EPE 97'. He was the contemporary leading authority on tuning Meadows engines, and he constantly developed the car through a busy club racing program until as late as 1960. He achieved an astonishing record over 120 placings with the car, including victory in the VSCC Pomeroy Trophy event in 1959, and then setting a long – and possibly still – unbroken record for the marque in the Firle hill-climb. In his hands 'EPE 97' covered the standing-start quarter-mile in 16.83 seconds, and the flying-start quarter-mile in 10.2 – 88.24mph – after a very brief run-up.

This fabulously versatile and drivable Post-Vintage Thoroughbred car then lay fallow until 1974, when it was acquired by David Dunn, who rebuilt it to its original Fox & Nicholl specification, restoring the bodyshell to its original height by fitting bonnet side panels but otherwise simply welding 10-inches of aluminium sheet back along the bottom where Goodhew had cut away the original. Both engine and gearbox were rebuilt during this extensive restoration, and it was little used by the contemporary owner before the car was offered for sale by auction in 1987. The buyer then was entrepreneur and car dealer Terry Cohn.

Mindful of the wealth of events for which the car was eligible, Mr. Cohn commissioned Coldwell Engineering to thoroughly overhaul EPE again and to prepare it for 'hard road and race driving'. At this point a contemporary engine was acquired and built to its correct race specification and sensibly what may well have been the original block was crated. It remains alongside the car to this day.

Over the course of the next decade 'EPE' perpetuated its active racing career, regularly being seen at many events either with Terry himself at the wheel or on occasions ace driver Martin Stretton. It was certainly one of his most prized cars, and was retained until his untimely death.

After Cohn's passing the Lagonda began a 15 year respite in America, leaving British shores to become the property of noted collector Dr. Richard Lisman of New York City. Dr. Lisman continued the line of true custodians of such an important automobile, actively campaigning the car while at the same time ensuring that it was maintained properly and the authenticity of the car preserved. When the original seats appeared to be deteriorating from the regularity of their use they were removed sent to a leather conservation expert and then stored (still being with the car) while exact copies where made and are in the car today. While he entrusted any mechanical repairs to acknowledged Meadows engine experts Cedar Classics under the auspices of the late Derek Green and Sue Wilkinson.

A passionate participant of the Mille Miglia Lisman would complete seven of the retrospective events between 2002 and 2008, before regulations tightened that year to allow only cars that had campaigned the event in period. At this point the Bonhams team handled its sale for the second time, passing his custody onto its current ownership, that of another long term enthusiast and racer.

In the last 15 years EPE has added participation in numerous events to its roster. These have included racing at the Monterey Historics at Laguna Seca, a series of Lime Rock Park meetings in Connecticut, Lagonda Club and Vintage Sports Car Club of America meetings and noted Hillclimbs at Mount Equinox in Vermont and Hunnewell in Massachusetts, where, true to form it took fastest time of the day. Its maintenance has continued to be handled by RPM of Vergennes, Vermont.

In this tenure, favouring one particular chapter of the car's history, its owner has had the car brought to resemble that of its racing in the most famous endurance race of all - the 24 hours of Le Mans. It is badged with the '3' that the car wore that day, and while carrying out this exercise, his restorer noted that the rear tube tail lights remain of the same pattern that once sat atop its tail at Le Mans to illuminate its rear racing numeral, albeit now mounted on the chassis. It is quite possible that they are the self same items.

This is an enormously charismatic classical British sports-racing car which is extremely easy and rewarding to drive. It is capable of terrific open road performance by the standards of the time, and still surprises many drivers of modern motor cars today as it is absolutely capable not only of sailing past them, but of maintaining extraordinarily satisfying average speeds on all kinds of road. It drips with history, having been handled in period by so many prominent personalities of British and European motor racing lore. It has tremendous presence. It is good looking with its distinctively streamlined tail, and has been much-loved and well maintained in its recent ownerships. And it began life as a carefully tailored Fox & Nicholl team car.

Today Bonhams welcomes 'EPE' back to the UK and appropriately to Goodwood where it ran in 1948, we are honoured to have been entrusted once again to secure a new home for this mythical pre-war racer. Its role call of major events places 'EPE' in that much lusted after category of not only being eligible by model for many of the world's most prestigious events, but having competed there in period, putting it at the top of the pile. Attesting to this history and assisting future competitive use, the car was one of the earliest and few that ever were granted an FIA Heritage certificate before the process was recalled. It has also held FIVA and FIA certificates, however owing to the fact that these apply to both car and owner these would need to be reapplied for by a new owner.

Over the course of 26 years since it first changed hands under Bonhams' gavel virtually all of EPE's brethren of Works or 'quasi Works' cars (be they 6 or 12 cylinder variants) have long since passed into major collections from which they are unlikely to emerge in the foreseeable future. For this reason it is quite possible that this is a generational opportunity not to be missed and deserving of very serious consideration.



Please note that having been outside the UK for the last 5 years the British registration 'EPE 97' has not been in use on the car. It remains available and will need to be reapplied for by its new owner.

Saleroom notices
Import VAT rate at 5%