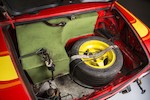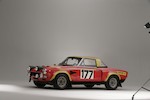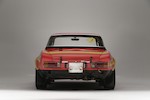 1973 Fiat Abarth 124 Rallye Two-Seat Rally Competition Coupé
Coachwork by Not registered in UK
(previously registered in Italy: PV 296410) Chassis no. 0064893
Amended
13 September 2014, 14:00 BST
Chichester,Goodwood
Sold for £51,750 inc. premium
Own a similar item?
Submit your item online for a free auction estimate.
How to sell
Looking for a similar item?
Our Collector Cars specialists can help you find a similar item at an auction or via a private sale.
Find your local specialist
Ask about this lot
Tim Schofield
Head of Department
1973 Fiat Abarth 124 Rallye Two-Seat Rally Competition Coupé
Coachwork by Not registered in UK
(previously registered in Italy: PV 296410)
Chassis no. 0064893
Footnotes
Cars powered by the Fiat/Lancia twin-cam engine and its derivatives dominated World rallying competition for over 25 years. Today, the combination of Fiat and Lancia teams have still won more World Championships than any other marque. The car that really launched them towards this unprecedented success was the 124 Spider Abarth.

Before the 124 Spider was introduced to rallying in 1968-69, Fiat had been building a service for privateers interested in rallying their cars. This Fiat Rally Service provided mainly technical advice for vintage and veteran cars being prepared for long distance and touring events. Independently of Fiat, Abarth provided many Italian enthusiasts with tuning components, and their own growing range of increasingly specialist, high-performance and serious competition cars. In the Italian road rallies of the era, Fiats proved most popular, with occasional Alfas and the outstanding Lancia Fulvias completing the entry lists. From 1967 Fiat's Rally Service was extended to provide a continuous support and car servicing capability. Fiat's factory rally support for overseas rallies had been set-up.

By 1968 a group of enthusiastic staff members had formed a team based around the Turin offices, warehouse and workshops that – back in the 1920s – had once served the Fiat racing team. In 1969 the giant Torinese company's attention became more focused.

Enhanced financial investment led to a more specialised workshop being set up, and the formation of an official team in 1970, when Alcide Paganelli and Dominico Russo won their first Italian rally title in a 1438cc Sport Spider. Late in 1969 the second series 124 Spider was released, with a new 1608cc twin-cam engine and twin Weber carburettors, replacing the 1438cc single-carburettor original. It was this model, the '124 Sport Spider 1600', that provided the all-round performance necessary to succeed in top-class rallying.

During 1970, corporate confidence grew in both the cars and the team, as the Turin operation handled a programme involving nine crews, competing for the International Makes, European Drivers, Italian, and Mitropa Cup Rally Championship titles. Over 40 designers and mechanical specialists were seconded to team duties and in 1971 Fiat for the first time entered an official factory team in National Rallies. The 125S was to be campaigned on gravel and very rough surface events, while the 124 Spiders were used on tarmac and smoother gravel venues.

Work to homologate a rally Fiat for international use was already underway when, in August 1971 Fiat bought Abarth & C. The company's world-class development efforts were then channelled exclusively into rallying – the specialist concern's expertise in rapid research, development, design, manufacture and testing of special components proving decisive.

Within their first year in partnership Abarth's input elevated competition efforts onto a truly World-class level. Under their guidance the 124 Rally was created.

After a serious development effort the124 Abarth Rally was launched in Autumn 1972. FIA homologation for international and national events – followed that November. The acceptance requirement was for a minimum 400 matching units to be manufactured. The standard 124 Spider chassis were built up in batches at Abarth to meet both the road-going (Stradale) and works rally cars required. Around 30 Fiat 124 Spider shells were set aside for works rally preparation. The rest were prepared as road-going Stradale versions for sale through Fiat dealerships.

Through the 1973 season, the 124 Abarth still lacked pace and reliability – and Fiat lost the World Championship to the established Renault-Alpine equipe in consequence. Through1974-75, Abarth progressively developed the car with stronger suspension, larger, better cooled brakes, wheel and tyre improvements and an extensively lightened shell - culminating in the wide body kit version of 1975 which sported a special 16-valve twin-cam engine with Kugelfischer mechanical fuel injection. By the end of 1975 this power unit was claimed to be delivering a reliable 210bhp. The car's livery was also changed from the initial Abarth red with black hard top, boot and bonnet to brighter red with yellow trim.

These cars won the European Rally Championship, but another Fiat Group rally car – the exotic Lancia Stratos – proved unbeatable at World Rally Championship level. The 124 Abarths continued winning events into 1974 and while the ultimate variant built for the 1975 season also had an Abarth 16-valve head with mechanical fuel injection this example is in earlier configuration with 8-valve head and Weber carburettors.

Documents preserved within the file accompanying this Lot reveal that chassis '0064893' offered here was first registered to Francesco Caprioni of Pavia on July 10, 1973, and later passed to Paolo Antonio Vercesi of Beccaria on April 18, 1975. By 1981 it was with Lino Moroni, still registered in Pavia under the licence serial 'PV 296410'. The original licence plates are preserved within the Lot's documentation file.

Upon inspection after its many years on static museum display, this Fiat Abarth 124 Rallye's 4-cylinder twin-cam engine was found to turn freely. Its cylinder bores are glazed but appear to be in generally good condition. The current state and age of the overhead-camshaft drive belt cannot be confirmed and we are confident it would need to be replaced prior to the engine being run. Throttle operation is poor due to the carburettors being partially seized. A full strip and rebuild is plainly required but overall it seems that the engine has the potential to be started after further attention to the electrics, fuel system, ancillaries and timing belt. The clutch is operating and it is possible to select all gears, while all brakes are binding but operational.

The Historic rallying potential of this generally well-used but nicely preserved and highly original Fiat Abarth 124 is self-evident. Expert inspection and re-commissioning is obviously necessary before a new owner could run the car, but we recommend that it should be given the closest consideration.

Please note this vehicle is subject to import tax should it remain in the EU.
Saleroom notices
We are pleased to confirm that all motor cars from the Maranello Rosso Collection, Lots 201 to 221, are subject to the reduced import tax of 5%.