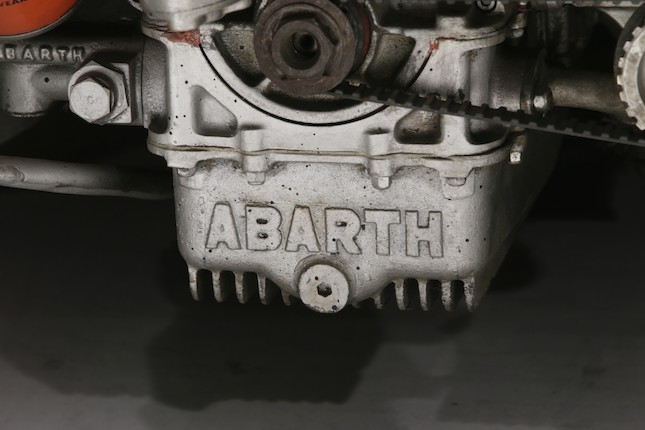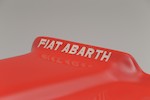 1969 Abarth 1300 Sport Spider SE010 'Quattro Fari' Sports-Racing Prototype
Chassis no. SE010/040
Amended
13 September 2014, 14:00 BST
Chichester,Goodwood
Sold for £186,300 inc. premium
Own a similar item?
Submit your item online for a free auction estimate.
How to sell
Looking for a similar item?
Our Collector Cars specialists can help you find a similar item at an auction or via a private sale.
Find your local specialist
Ask about this lot
Tim Schofield
Head of Department
1969 Abarth 1300 Sport Spider SE010 'Quattro Fari' Sports-Racing Prototype
Chassis no. SE010/040
Footnotes
Abarth historian Luciano Greggio writes in his fine book upon the marque 'Abarth – The Man – The Machines' (Giogio Nada, 2002) "On the much discussed question of the mid-engine favoured by Mario Collucci and the power plant inclined over the rear axle preferred by Carlo Abarth, Colucci recalls thirty years later 'The location of the rear engine gave vent to a diatribe without end and I found drivers were split between the two layouts. Arturo Merzario sided with Abarth, but it should also be said that he was the only one who knew how to drive the cars he test drove and helped to tune. On the other hand Lualdi" – the great Edoardo Lualdi-Gabardi, the multiple mountainclimb Champion – "...was never comfortable with the (overhung) power unit and moved on to mid engines". For some venues, particularly the hairpin-packed mountain-climbs of the period, and on the tighter road circuits – much mimicked today by most modern Autodrome circuit designs – the wheelspin-limiting tractional advantages of the Carlo Abarth-preferred, Porsche-type overhung engine location often proved a winning recipe.

Hence his long-held allegiance to this configuration for the sportsprototype cars which Mario Colucci and his design team continued to create in parallel with the Abarth marque's Gran Turismo and touring car series.

On April 7, 1968, the latest variant Abarth 2000 Sport Prototipo model made its victorious debut in the Ampus hill-climb in France driven by the Swiss sprint specialist Peter Schetty. The car was derived from previous experience with the SE04 series of barchetta cars, being assembled around a multi-tubular spaceframe chassis in 22mm chrome-molybdenum tubing, stiffened and reinforced with laminated glassfibre panelling. Overall chassis weight (bare) was claimed to be only 47kg – 103lbs – and weight distribution, with the 2-litre 4-cylinder engine hung outboard in line with Carlo Abarth's design tenet, if not Colucci's – was split 38 per cent to the front and 62 per cent rear.

The 1,496cc engine used at Ampus retained two of the factory team's huge preferred twin-choke Weber 58DCO3 carburettors, and power output was up to around 250bhp at a raucous 8,000rpm.

Cooling was by twin nose-mounted water and oil radiators. The wheelbase length was listed as 2085mm, front and rear track 1405mm and 1435mm and the bodywork comprised a lightweight detachable glassfibre shell that complete with vast goldfish-bowl windscreen still weighed barely 50kg. The car's overall weight was declared as being 575kg – 1,267lbs – and it was geared for some 270km/h – 169mph maximum speed.

The sloping wedge-shaped nose form was most distinctive, and it was made even moreso by the adoption of twin headlights on each side forming the soon-famous 'Quattro Fari' or four-headlight keynote by which the Abarth SE010 model would become known worldwide.

Its fame was spread not only by its long string of appearances and successes around the race track and hill-climb venues of the world but perhaps to an even greater extent by the design's popularity as a scale model subject. Quickly the SE010 Quattro Fari become one of the most recognisable of all racing sports-prototype cars of the 1960s, short perhaps only of Ferrari's finest P-series cars.

Although no official record appears to survive of the total number of each design that were produced by the Abarth factory, it is widely acknowledged that perhaps as many as 50 of these SE010 sports-prototypes were completed as the design enjoyed a long and distinguished motor racing career.

The first 25 examples of the 2000 Sport Spider were produced for FIA homologation into the contemporary Group 4 category, into which the design was accepted on April 1, 1969. Both four-valve per cylinder and two-valve per cylinder heads were used in the overall production run, with the 8-valve units tending to be preferred for hill-climb use, and the 16-valve alternative for circuit racing, it would appear.

This particular example of the Abarth Sport Spider 'Quattro Fari' – chassis number '040' – was displayed within the Maranello Rosso Collection museum at Falciano as a 2-litre '2000' model - but as far as we have been able to measure the engine it appears to have the circa 55mm stroke of a 1300 variant. The car's engine is equipped with an 8-valve head, 8-plug ignition cylinder head (whereas the 2-litre 16-valve heads accommodated only single spark plugs per cylinder). On April 21, 1968, two weeks after his debut victory at Ampus, Peter Schetty contested the Stallavena-Boscochiesanuova hill-climb in the 'Quattro Fari' and won again. His works team-mate Johannes Ortner then won the City of Volterra Cup in one of the car and throughout the balance of that memorable scene the Swiss and Austrian stars absolutely shone in European events with the 2-litre model.

On the classical Bologna-Raticosa 'climb Ortner won at recordshattering pace with Schetty second in a sister car, while on another old-established classic course at Bolzano-Mendola it was Schetty's turn to win at record pace with Ortner playing second fiddle. Arturo Merzario was another driver who had begun to shine in the 2-litre cars, and Peter Schetty's successful career in the Abarths that season led to his selection to handle the one-off 2-litre flat-12 Ferrari 212E Montagna to dominate the following year's European Mountain Championship series. He would go on to become Ferrari's racing team Direttore Sportivo into the early 1970s.

We have no information upon precisely when Fabrizio Violati acquired this Abarth 2000 Sport Spider 'Quattro Fari' for his eventual Collezione Maranello Rossi displays within the museums that he opened, sequentially, in the centre of San Marino and then at Falciano, but the car is presented here in generally very fine aesthetic order and we recommend it to potential owner/drivers and to collectors alike as warranting the closest consideration.

Under the skin, evidence of its long years on static museum display are of course apparent, but after delivery to BONHAMS we found that its engine is free and turns easily. Upon introscope inspection through the spark plug holes, cylinder Nos 2, 3 and 4 appear to be in good order. The spark plug in No 1 cylinder is seized and cannot be removed without danger of causing collateral damage. Therefore this cylinder has been passed uninspected. A long length of oil pickup piping from oil tank to engine is missing but overall the power unit clearly has the potential to be started with further investigation and work. It is possible to select all gears but the clutch appears inoperative, with the pedal going straight to the floor, so the relevant hydraulic system plainly requires further attention.

All brakes are operational but the system merits a full strip and rebuild prior to the car being used. In every respect such findings are completely consistent with the car's many years of static display in museum conditions. We naturally recommend that a buyer should engage expert further inspection and re-commissioning work before attempting to run the car in earnest.

Overall it is many years such a fine example of the renowned Abarth 2000 Sport Spider 'Quattro Fari' came up for sale in such a prominent public auction. There is no mistaking the quality and capability of these well-proportioned, lightweight and extremely powerful and fast 2-litre cars during their heyday. Their potential within Historic racing today is self-evident, but such is the flair and charisma of the Abarth marque that chassis '040' here is also an entry ticket to the world's leading concours events, quite apart from the call of the circuit and Historic hill-climb arena.

Considerable interest in this car has already been shown since this sale of the Collezione Maranello Rosso cars was first announced. It is offered here very much as the outstanding star of the renowned Falciano museum's former Abarth display. 'Four eyes' indeed... offered here in simply lovely original condition – a great car to restore to full, rampant, running order.

Please note this vehicle is subject to import tax should it remain in the EU.
Saleroom notices
We are pleased to confirm that all motor cars from the Maranello Rosso Collection, Lots 201 to 221, are subject to the reduced import tax of 5%.