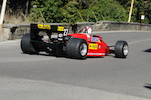 1984 Ferrari 126 C4 M2 Formule 1 monoplace
6 February 2014, 14:00 CET
Paris
Sold for €483,000 inc. premium
Own a similar item?
Submit your item online for a free auction estimate.
How to sell
Looking for a similar item?
Our Automobilia specialists can help you find a similar item at an auction or via a private sale.
Find your local specialist
Ask about this lot
Philip Kantor
International Chairman for Motoring
Ex-Michele Alboreto Certifiée par Ferrari Classiche
1984 Ferrari 126 C4 M2 Formule 1 monoplace
Châssis n° 072

La Tipo 126 C de Ferrari représente une étape importante dans l'évolution des Formule 1 du constructeur italien, car elle est la première à avoir été conçue spécialement pour recevoir un moteur suralimenté. Depuis 1966, le règlement de Formule 1 autorisait les moteurs 1,5 litre suralimentés aux côtés des 3 litres atmosphériques, mais personne ne pensa à exploiter le potentiel de cette première formule avant l'arrivée de Renault dans la discipline, en 1977. Au milieu de la saison 1979, l'avantage en puissance des Renault était devenu une cuisante évidence pour le reste de la grille et en l'espace de deux ans, tous les acteurs majeurs de la Formule 1 étaient passés au moteur suralimenté. L'ère du turbo venait de commencer. La Tipo 126 C est aussi importante pour d'autres raisons, sa conception intervient à l'un des tournants techniques les plus significatifs de la Formule 1, l'interdiction de l'effet de sol aérodynamique et l'obligation qui en résulte pour toutes les voitures d'avoir un fond plat. Dans sa version 126 C3, c'est aussi la première Ferrari de construction monocoque entièrement en carbone composite, une technologie développé chez Ferrari par l'ingénieur britannique Harvey Postlethwhaite, un ancien de McLaren.

Bien que conçue et engagée dans une époque de grands bouleversements technologiques, la 126 C allait s'avérer l'une des Ferrari les plus performantes, une fois que les problèmes de jeunesse son moteur V6 ouvert à 120° eurent été éradiqués, lui apportant deux championnats du monde des constructeurs successifs (en 1982 et 1983). Pour la saison 1984, deuxième année du fond plat, Ferrari choisit de n'apporter que des changements mineurs par rapport à la 126 C3, la 126 C4 paraissant peu différente, bien qu'un peu plus légère. Neuf 126 C4 furent construites, mais seules sept (numérotées de 071 à 077) furent réellement utilisées. Les pilotes Ferrari pour la saison 1984 étaient le Français René Arnoux et l'Italien Michele Alboreto. À cette époque le V6 biturbo développait 650 ch et pouvait aller jusqu'à 1 000 ch en version de qualification.

La saison débuta bien, mais à mi-étape, il devint clair que des améliorations importantes étaient nécessaires pour se maintenir à niveau, face au retour des McLaren sur le devant de la scène. La MP4/2 du constructeur britannique avait abandonné la forme en pointe de flèche de ses carrosseries au profit d'une forme qui plongeait directement après le cockpit, encapsulant moteur et boîte, ce qui laissait de l'espace entre l'ensemble moteur/transmission et les roues pour un panneau à effet de sol, baptisé « queue McLaren ». Il fut rapidement copié par les autres écuries, le premier essai de Ferrari dans ce sens apparaissant sur les châssis 072 (la voiture proposée ici) et 074 à Monza, bien qu'aucun des deux n'ait pris part à la course. Les deux voitures prenaient le nom de 126 C4 M2, le premier châssis 126 C4 M (pour Modificato) étant apparu en Autriche avec des modifications aux radiateurs, aux intercoolers et aux pontons latéraux.

Le début de saison d'Alboreto avec Ferrari avait bien commencé, avec une victoire dans la troisième épreuve à Zolder où il devint le premier pilote italien à remporter une victoire en Grand Prix pour Ferrari depuis celle de Ludovico Scarfiotti en 1966. Ce fut le point culminant de sa saison, il abandonna sept fois au cours des dix épreuves suivantes et ne finit sur le podium qu'une fois, en Autriche. Les trois dernières épreuves virent un retour de la chance avec deux secondes places (Monza et Nürburgring) et une quatrième (Estoril). Alboreto finit la saison 1984 à la quatrième place du championnat du monde des conducteurs avec 30, 5 points, tandis que Ferrari terminait second du championnat des constructeurs avec 57, 5 points, bien loin de l'insolente domination de McLaren avec 143, 5 points. 072 fut sur la ligne de départ dans seulement trois courses, chaque fois avec Alboreto, au Brésil (abandon), en Afrique du sud (12e) et à Monaco (7e). Pour le reste de la saison, elle servit de voiture d'entrainement.

En 1986, Ferrari vendit 072 au collectionneur Piero Tonioli, qui n'utilisa jamais la voiture et la conserva dans un strict état d'origine jusqu'à sa mort en 2007, lorsque la famille la vendit à un autre collectionneur, Lorenzo Prandina. En sa possession, 072 fut essayé sur circuit par Roberto Giordanelli pour le magazine Auto Italia (numéro de février/mars 2010 au dossier). Ayant calculé que la 126 C M2 avait un rapport poids/puissance de 1 482 ch par tonne, à peu près le même que celui d'une Formule 1 de 2009, Roberto faisait remarquer : 'Aucune supercar n'approche du rapport poids/puissance d'une Formule 1 et une Bugatti Veyron à 490 ch par tonne en est à une faible fraction en comparaison.'

Relativement simple et facile à piloter et à entretenir, contrairement aux modèles qui lui ont succédé, cette Ferrari 126 C4 est vendue avec une grande quantité de pièces de rechange qui incluent deux moteurs de rechange incomplets, une boîte de vitesse (cassée), deux moyeux arrière, des étriers et des disques de freins, un système d'allumage Marelli Raceplex, un démarreur électrique avec son chariot et sa batterie, une housse pour la voiture et des réchauffeurs de pneus, de nombreuses roues dont quatre avec jantes étroites pour le transport et diverses autres pièces. Les papiers au dossier comprennent des numéros de divers magazines où figure la voiture, une brochure d'usine de la 126 C4, le Ferrari Yearbook 1984/1985 et le très important document Ferrari Classiche comprenant la liste de résultats en course de la voiture.

En 2009, 072 passa aux mains de l'actuel (et troisième) propriétaire privé. Depuis sa sortie de la collection de Piero Tonioli, la Ferrari a été entretenue par Dario Gozzi de Modène (jusqu'en 2008) et par Landi Engineering de Lucca (de 2008 à aujourd'hui). La voiture a été pilotée la dernière fois par le vendeur à Florence en 2011 et est vendue en état de marche, prête à courir ou pour des démonstrations. À propos de démonstration, 072 a été invitée à participer à la renaissance des Members Meetings de Goodwood (le premier depuis 1966), les 29 et 30 mars 2014, en vue du plus grand rassemblement de Formule 1 de l'ère du turbo. Il y aura une série de tours de démonstrations à grande vitesse sur le magnifique circuit de Goodwood qui n'a jamais vu de Formule 1 d'après 1966 en si grand nombre. Ce sera sûrement une occasion que ne voudra pas manquer l'heureux nouveau propriétaire.

The ex-Michele Alboreto
Ferrari Classiche certified
1984 Ferrari 126 C4 M2 Formula 1 Monoposto
Chassis no. 072

Ferrari's Tipo 126 C represents an important stage in the evolution of the Italian manufacturer's Formula 1 cars, being its first designed specifically to accommodate an engine equipped with forced induction. Since 1966, Formula 1 regulations had permitted 1.5-litre supercharged engines to run alongside 3.0-litre normally aspirated units but it was not until Renault's entry into the sport in 1977 that anyone sought to exploit the former's potential. By the mid-point of the 1979 season, Renault's power advantage had become painfully obvious to the rest of the grid and within a couple of years all of Formula 1's major contenders would be powered by forced induction engines: the 'Turbo' era had arrived. The Tipo 126 C is also significant in other ways, as its development spans one of the most important technological watersheds in modern Formula 1: the banning of 'ground effects' aerodynamics and the stipulation that all cars must henceforth have a flat bottom. In its 126C3 form it is also the first Ferrari Formula 1 car to have a monocoque constructed entirely of carbon-composite materials, a technology brought to Maranello by the British designer Harvey Postlethwaite, formerly with McLaren.

Despite being conceived and campaigned at a time of great technological upheaval, the 126 C would prove to be one of Ferrari's most successful designs once the 120-degree V6 engine's initial reliability problems had been sorted out, securing back-to-back Manufacturer's World Championships (in 1982 and 1983). For the 1984 season, the second year of the 'flat bottom' era, Ferrari opted for relatively minor upgrades of the immediately preceding 126 C3, the 126 C4 looking little different while being slightly lighter. Nine 126 C4s were built but only seven (numbered '071' to '077') were actually used. Ferrari's drivers for the 1984 season were the Frenchman René Arnoux and the Italian Michele Alboreto. By this time the twin-turbo V6 was producing around 650bhp with up to 1,000 horsepower available in qualifying trim.

The season started promisingly but by the halfway stage it was clear that drastic improvements would be needed to maintain competitiveness in the face of a resurgent McLaren. The latter's MP4/2 car had abandoned the prevailing arrowhead-shaped body in favour of one that was angled inwards immediately behind the driver, tightly enclosing the engine and gearbox. This left room between the engine/transmission and the rear wheels for a pair of 'ground effects' diffuser panels: the so-called 'McLaren tail'. Soon it would be copied by other teams, Ferrari's first such effort appearing at Monza on chassis numbers '072' (the car offered here) and '074', although neither raced. These two cars were designated '126 C4 M2', the first 126C4 M (for Modificato) chassis having appeared in Austria incorporating alterations to the radiators, inter-coolers and side pods.

Alboreto's debut season with Ferrari had started well with victory in the third round at Zolder where he become the first Italian driver to win a Formula 1 Grand Prix for Ferrari since Ludovico Scarfiotti in 1966. This would turn out to be the high point of his year; over the course of the next ten races he retired on seven occasions and finished on the podium only once, in Austria. The last three rounds saw a return of good fortune with two second places (Monza, Nürburgring) and a fourth (Estoril). Alboreto finished the 1984 season in fourth place in the Drivers' World Championship with 30.5 points while Ferrari finished second in the Manufacturers' Championship with 57.5 points, though well adrift of dominant McLaren's 143.5. '072' made the start line in only three races, on each occasion driven by Alboreto: Brazil (retired), South Africa (12th) and Monaco (7th). For most of the rest of the season it served as a training car.

In 1986 Ferrari sold '072' to collector Piero Tonioli, who never used the car and kept it in totally original condition until his death in 2007, whereupon the family sold it to another collector, Lorenzo Prandina. While in Mr Prandina's ownership '072' was track tested by Roberto Giordanelli for Auto Italia magazine (February/March 2010 edition, copy available). Calculating that the 126C M2 had a power-to-weight ratio of 1,482bhp per tonne, around the same as a 2009 Formula 1 car, Roberto observed; 'No supercar gets close to the power-to-weight ratio of an F1 car and a 1,000bhp Bugatti Veyron at 490bhp per tonne is a feeble fraction by comparison.'

Relatively simple to run and maintain, unlike succeeding generations of Formula 1 cars, this Ferrari 126 C4 comes with a quantity of spares to include two incomplete engines; one gearbox (broken); two rear hubs; brake calipers and discs; Marelli Raceplex ignition system; an electric starter with trolley and battery; car cover and tyre warmers; a quantity of wheels including four with narrow rims for transportation; and a selection of other parts. Accompanying paperwork includes copies of various magazines featuring the car; a factory brochure for the 126 C4; Ferrari Yearbook 1984/'85; and the all-important Ferrari Classiche documentation containing a list of this car's race results.

In 2009 '072' passed to the current (third) private owner. Since its sale from Piero Tonioli's collection the Ferrari has been maintained by Dario Gozzi of Modena (up to 2008) and Landi Engineering of Lucca (from 2008 to the present day). The car was last driven by the current vendor in Florence in 2011 and is presented in running order, ready for racing or demonstrations. On the subject of demonstrations: chassis number '072', has been invited to participate in the revived Goodwood 'Members Meeting' (the first since 1966) on 29/30th March 2014 when it is expected to form part of the largest gathering of Formula 1 cars from the Turbo era. There will be a series of high-speed demonstration laps around the wonderful Goodwood Motor Circuit, which has never seen post-1966 Formula 1 machinery in such numbers. It is surely an opportunity that the fortunate new owner will not want to miss.