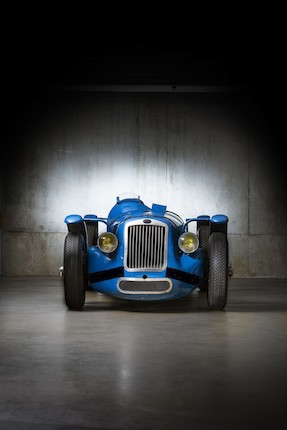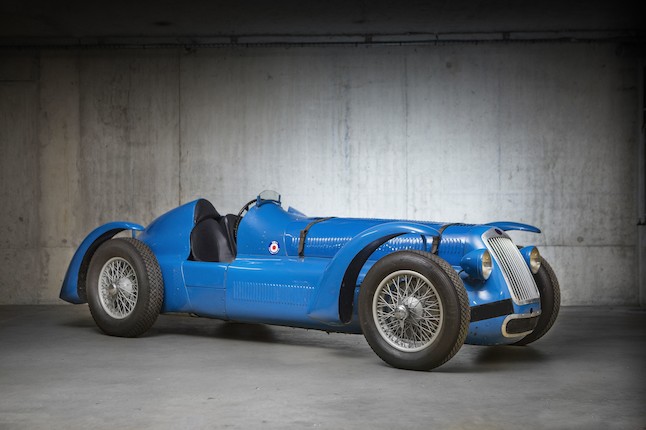 1947 Delage D6 3 litres compétition Grand Prix/Sport biplace
6 February 2014, 14:00 CET
Paris
Sold for €1,092,500 inc. premium
Own a similar item?
Submit your item online for a free auction estimate.
How to sell
Looking for a similar item?
Our Automobilia specialists can help you find a similar item at an auction or via a private sale.
Find your local specialist
Ask about this lot
Philip Kantor
International Chairman for Motoring
Ex-Phillippe Étancelin, Maurice Trintignant, August Veuillet, Charles Pozzi
1947 Delage D6 3 litres compétition Grand Prix/Sport biplace
Châssis n° 880003

Nous sommes absolument ravis d'offrir une voiture de compétition française classique, dans un état magnifique, issue de cette période si romantique de la résurrection du sport automobile au lendemain du grand traumatisme causé par la seconde guerre en Europe. Dans un climat de reconstruction marqué par les rigoureuses pénuries de l'après-guerre – dans laquelle la récession privait de tout ce qui est considéré aujourd'hui comme indispensable à la vie quotidienne – un noyau dur de passionnés de sport automobile cherchait la joie et la gaité libératrice et l'occasion tant attendue de reprendre la compétition automobile.

Au cours de cette époque, la grande confrérie du sport automobile, en France, en Belgique, en Italie et au Royaume-Uni, se retrouvait pour mettre en pratique toutes les vieilles recettes, et quelques-unes fraîchement improvisées, pour naviguer entre les restrictions, les pénuries et les tracasseries administratives de l'après-guerre, pour gagner une existence qu'ils espéraient fructueuse, grâce à leurs activités en compétition. En Europe continentale, la fourniture de pneus, d'huile, de bougies et même d'essence pour la compétition était extrêmement limitée. La situation au Royaume-Uni était un peu meilleure, notamment en ce qui concernait les pneumatiques, l'essence et l'huile, et la plupart des équipes britanniques qui se déplaçaient se rendait place de la Madeleine, à Paris, où elles faisaient une première étape à chacune de leur tournée européenne, afin de vendre à des passionnés français, volontaires et entreprenants, leurs pièces de rechange, souvent à moitié usées, des pneus, des bougies et même de l'essence et de l'huile. Les affaires se faisaient au prix fort, toujours en liquide, et tandis que les équipes britanniques poursuivaient en utilisant leur papier-monnaie pour payer leurs frais, les équipes françaises, tout particulièrement, préparaient fébrilement leurs voitures pour courir avec ces fournitures toutes fraîches.

C'est dans ce climat que les automobiles Delage de l'écurie Watney, comme le magnifique exemplaire présenté ici, allaient courir après la guerre. En 1938-1939, Delage avait gagné à Donington Park et terminé second aux 24 Heures du Mans. Après la guerre, la marque Delage réapparut sur la scène de la compétition automobile, sous la houlette de l'homme d'affaire parisien Walter Watney.

La voiture châssis n°880003, proposée aujourd'hui à la vente, faisait partie d'un lot de seulement cinq voitures semblables, préparées par l'usine Delage pour son retour à la compétition. Elle fut engagée au cours des saisons 1947 à 1949 comme voiture d'usine dans des épreuves telles que le Grand Prix de Pau et le Grand Prix de Belgique 1947, les 24 Heures de Spa et les 12 Heures de Paris 1948 et les 24 Heures du Mans 1949. Durant cette période, elle fut confiée à de grands pilotes français, des vedettes comme Philippe 'Phi-Phi' Étancelin, futur vainqueur au Mans et au Grand Prix de Monaco sur Ferrari et Cooper, Maurice Trintignant, l'importateur Porsche en France Auguste Veuillet et par le futur importateur Ferrari Charles Pozzi.

Inutile de présenter l'illustre marque Delage. Sous la direction de son fondateur Louis Delâge, elle fut, pendant plusieurs décennies, le véritable joyau de la couronne de l'industrie automobile française. Sous la direction dynamique et novatrice de Louis Delâge, la marque fit connaître son nom au monde entier dès 1906 dans la Coupe de L'Auto des voiturettes. En 1913, Delage présenta son premier six cylindres en ligne et la marque sortit de la Grande Guerre 1914-1918 suffisamment forte pour s'engager dans un ambitieux programme de compétition en Grand Prix, tandis que Louis Delâge lui-même confirmait sa sulfureuse réputation de noceur, toujours accompagné des plus belles jeunes femmes de la société Parisienne. Il s'acheta un somptueux château à la campagne, une luxueuse maison de ville à Paris et, bien sûr, un yacht sur la Côte d'Azur. Au cours des années 1920, Delage offrit dix-sept moteurs différents, à quatre, six et huit cylindres, et quelque sept voitures de course différentes dont le point culminant fut la fabuleuse 8 cylindres en ligne suralimentée de 1500 cm3 qui domina outrageusement les saisons de Grands Prix 1926 et 1927.

Mais la grande marque vacilla et finalement tomba pendant la grande dépression de 1929-1933, se retrouvant insolvable en 1935. Walter Watney, son distributeur pour la région parisienne, acquit les droits de la marque, ses projets et ses avoirs pour 2 millions de francs, mais, réalisant que continuer à construire des voitures n'était pas dans ses moyens, il en céda la production à Delahaye.

Toujours est-il que la Delage personnelle la plus raffinée de Walter Watney qui était équipé d'un moteur D6 3 litres conçu par Michelat et monté dans un châssis Delahaye 135, impressionna le jeune fils de Louis Gérard, 'le roi des machines à sous de Paris' à l'époque. Gérard père la lui acheta –la payant en sacs de pièces de 20 centimes, dit-on – et il l'engagea aussitôt dans un programme de courses pour le plaisir et le profit.
Il pilota sa Delage en compagnie de Jacques de Valence aux 24 Heures du Mans 1937 où il termina quatrième en remportant la classe 3 litres. Il gagna ensuite le Tourist Trophy du RAC britannique en 1938 à Donington Park et amena Watney à suivre son exemple en ramenant Delage à la compétition à peu de frais.

Watney fit construire et préparer deux Delage D6-70 de compétition, profondément modifiées et préparées par son directeur technique, Antoine Pinier, équipées de moteurs de 2988 cm3 à trois carburateurs, de 150 ch. Les voitures coururent sous les couleurs de l'écurie Walter Watney, avec Gérard et Georges Monneret comme pilotes habituels. Une carrosserie deux places, austère et légère, fut réalisée à la main pour les deux voitures par OLD (Olivier-Lecanut-Deschamps), avec des ailes motocyclettes amovibles et un éclairage pour la route qui permettaient aux D6-70 de courir aussi bien en Grand Prix qu'en Sport dans les courses d'endurance.

Au Mans en 1939, Gérard et Monneret terminèrent seconds au classement général et remportèrent la classe 3 litres. Pour les Mille Miglia de 1940, bien que la France soit déjà en guerre, les Delage de l'écurie Watney furent confiées aux équipages italiens Piero Taruffi/Luigi Chinetti et Gianfranco Comotti/Archimede Rosa, mais tous deux abandonnèrent.

En tout, seulement sept de ces Delage D6 3 litres furent construites, les deux voitures d'avant-guerre, suivies par cinq autres D6-70 après la guerre, dont la voiture proposée ici fait partie. Leur conception et leur construction solides – associées à leur puissance élevée, leur tenue de route et leur freinage – en faisaient de redoutables concurrentes tant en Grand Prix qu'en endurance.

Pesant environ 900 kg prête à courir, 880.003, telle qu'elle se présente ici, peut dépasser les 220 km/h. Au cours de la saison 1947, cette Delage alors neuve est, pense-t-on, celle qui fut pilotée par Étancelin/Henry Grignard au Grand Prix de Pau. Elle fut ensuite pilotée par Étancelin à Perpignan, Marseille et Nîmes, puis par René Achard à Saint-Hélier, sur l'île de Jersey, avant que le grand Maurice Trintignant ne la reprenne pour le Grand Prix de Suisse à Berne (où il termina septième) et le Grand Prix de Belgique à Spa-Francorchamps (une excellente 5e place). Au Grand Prix de la Marne, sur le circuit de Reims-Gueux, Trintignant/Henri Louveau se partageaient 880.003.

La voiture fut achetée par Auguste Veuillet en 1948. Ses résultats avec la voiture comprennent une belle 4e place au 24 Heures de Spa où il partageait la voiture avec Varet, tandis qu'il apparaissait aussi à son volant à Chimay, au Grand Prix de Paris et aux 12 Heures de Paris à Montlhéry. Veuillet conserva la voiture en 1949, la partageant avec Mouche au Mans dans le premier Grand Prix d'endurance de 24 Heures ressuscité après la guerre, puis pilotant seul, il termina second à Sarrebruck et 6e au Grand Prix de l'ACF.
En 1950, cette Delage D6-70 était devenue obsolète face aux nouvelles Sport et aux voitures de Grand Prix qui étaient apparues, mais Veuillet continua d'engager la voiture, termina 9e à Rouen, puis abandonna au Grand Prix de Paris et aux 12 Heures de Paris à Montlhéry.

Auguste Veuillet – qui allait plus tard fonder la fameuse société Sonauto – vendit cette voiture à Charles Pozzi en 1951. Charles Pozzi engagea alors la voiture vieillissante pendant la saison 1951, à la course en ville d'Oporto, au Portugal, où il termina 13e. Par la suite, il la conserva pendant plusieurs années, la conduisant à nouveau pour le rallye Delage en 1966 et au Grand Prix historique de La Baule, jusqu'en 1979. En 1981, elle passa aux mains de Claude Achain et, en 2002, elle fut achetée par le vendeur.

Telle que proposée ici, cette Delage de compétition évocatrice, avec sa provenance exceptionnelle chargée d'émotion et son histoire si romantique – est accompagnée d'un rapport d'expertise du spécialiste Hervé Charbonneaux. Il confirme qu'elle est « dans un état d'origine exceptionnel, le seul exemplaire survivant toujours équipé de sa carrosserie d'époque, avec un historique connu, tant en compétition qu'en collection (Étancelin, Veuillet, Pozzi, Achain), depuis son origine. Elle a connu des succès importants, en Grand Prix comme en endurance, entre 1947 et 1951 et a été pilotée par M. Trintignant et P. Étancelin... »

Que dire de plus ? Il s'agit d'une voiture de compétition bleu de France particulièrement importante et parfaitement authentique de cette période si particulière des années 1940. C'est une voiture agréable à conduire et avec laquelle courir, elle procurera un grand plaisir et offrira de remarquables performances avec un panache qui fera la joie de n'importe quel acheteur passionné. Son historique limpide et son magnifique pedigree en compétition feront de cette Delage complètement d'origine et parfaitement préservée une concurrente de première importance dans la plupart des manifestations et représente une occasion unique d'acquérir une importante pièce de l'histoire de la compétition française.
Nous recommandons la plus grande considération et l'inspection la plus minutieuse et souhaitons remercier Patrick Delâge et Hervé Charbonneaux pour leur aide précieuse dans les recherches sur cette voiture exceptionnelle.

The Ex-Phillippe Etancelin, Maurice Trintignant, August Veuillet, Charles Pozzi

1947 3-litre Delage D6 Competition
Dual-Purpose Grand Prix-Sports-Racing 'Biplace'

Chassis No: 880003

Here we are delighted to offer a delightfully presented classical French competition car from that most romantic period of motor racing's re-emergence after the European trauma of the Second World War. In a climate of shocked recovery through the most stringent postwar austerity – in which recession and scarcity of everything that is today considered indispensible to normal every day life – a hardcore of committed motor racing enthusiasts sought the escapist fun and jollity and earning opportunity of racing's resumption.

This was the period in which the racing fraternity of France, Belgium, Italy and the United Kingdom jointly used every trick in the book, plus a few new ones freshly invented, to navigate their way around postwar shortages, restrictions and petty bureaucracy to achieve a hopefully profitable existence from their racing activities. Within mainland Europe supplies of specialized racing tyres, oils, spark plugs and even fuel itself were extremely limited. The situation in the UK was rather better, certainly so far as provision of tyres, fuel and oil were concerned, and many of the travelling British teams would make the Place de la Madeleine in Paris their first stop on any European tour, there to sell to willing French enthusiasts and entrepreneurs any spare, and often part-used, tyres and spark plugs, plus fuel and oil. Deals were done at premium prices, always for cash, and while the British teams would move on using the paper currency to pay their expenses, the French teams in particular would eagerly prepare their cars to race on these fresh supplies.

It was within this climate that the postwar Ecurie Watney racing team of Delage cars such as the beautiful example now offered here went racing. In 1938-39 Delage had won at Donington Park and had finished second in the Le Mans 24-Hour race. Postwar the Delage company re-emerged upon the motor racing scene, under the control of Paris-domiciled businessman Walter Watney.

Chassis no '880003' now offered here was one of a mere five such cars prepared by the Delage factory for that postwar racing return. It was campaigned through1947-1949 as a Delage factory entry in such events as the 1947 Pau GP, the Belgian Grand Prix, the 1948 Spa 24-Hours, the Paris 12-Hours and the 1949 Le Mans 24-Hours. It was driven during this period by such renowned French racing stars as Phillippe 'Phi-Phi' Etancelin, subsequent Le Mans and Monaco Grand Prix winner for Ferrari and Cooper, Maurice Trintignant, by French Porsche importer Auguste Veuillet and by future Ferrari importer Charles Pozzi.

The illustrious Delage marque requires no introduction. Under company founder Louis Delage it was for many decades an absolute jewel in France's automotive industry crown. Under Louis Delage's dynamic and innovative leadership the marque first made its name Internationally as early as the 1906 Coupe des Voiturettes de L'Auto.By 1913 the first inline six-cylinder Delage was introduced, and Delage emerged from the Great War 1914-18 strong enough to embark upon an ambitious programme of Grand Prix racing, while Louis Delage himself cemented his spectacular reputation for high living and keeping company with some of the most glamorous young ladies of Parisian society. He acquired a lavish country chateau, a luxurious town house in Paris and of course a yacht on the Cote d'Azur. During the 1920s Delage offered seventeen different engine types with four, six and eight cylinders, plus some seven different racing designs culminating in the fabulous supercharged straight-8 1.5-litre which utterly dominated major-league Grand Prix racing 1926-27.

The grand marque eventually faltered, then failed, during the Depression of 1929-33 and in 1935 ran out of funding. Paris-area distributor, Walter Watney, acquired the company's rights, designs and inventory for 2 million francs, but appreciating that continuing automobile manufacture would be beyond his means he transferred the process to Delahaye.

However, Walter Watney's finest personal Delage using a 3-litre Michelat-designed D6 engine in a Delahaye 135S chassis, impressed the young son of Louis Gérard, the contemporary 'slot machine king of Paris.' Gérard Sr. purchased it - reputedly paying with a sack of 20-centime coins – and promptly embarked upon a racing programme, for fun and profit.

He co-drove his Delage with Jacques de Valence in the 1937 Le Mans 24-Hours, finished fourth and won the 3-litre class. He then won the 1938 British RAC Tourist Trophy at Donington Park and inspired Watney to follow his inexpensive lead into a resumption of Delage factory racing involvement.

Watney had two highly-modified D6-70 racing cars built and prepared by chief mechanic Antoine Pinier with 2,988 cc, three-carburettor, 150-horsepower engines. The cars were campaigned under the Ecurie Walter Watney banner, with Gérard and Georges Monneret as regular drivers. Stark and lightweight two-seat bodywork was hand-crafted for the cars by O.L.D. (Olivier-Lecanut-Deschamps), featuring detachable cycle fenders and road lighting which enabled the D6-70 3-litre cars to compete in both Grand Prix Formula and sports car endurance races.

At Le Mans in 1939 Gérard and Monneret finished second overall and won the 3-litre class. Even with France at war, for the 1940 Mille Miglia race the Watney team Delages were entrusted to Italian drivers Piero Taruffi/Luigi Chinetti and Gianfranco Comotti/Archimede Rosa, but both retired.

Only seven of these fabled Delage D6 3Ls were built overall, the two pre-war cars followed by five more D6-70s postwar, of which the machine offered here is one. Their robust design and construction – combined with their competitive power, handling and braking – made them consistent performers at both Grand Prix Formula and endurance sport car racing level.

Weighing around 900Kg ready-to-race '880.003' as offered here is capable of more than 220km/h/136mph. During the 1947 season this Delage as new is believed to have been the car co-driven by Etancelin/Henry Grignard in the Pau Grand Prix. It was then driven by Etancelin at Perpignan, Marseilles and Nimes, and by Rene Achard at St Helier, on the island of Jersey, before the great Maurice Trintignant took over for the Swiss Grand Prix at Berne (finishing 7th) and the Belgian Grand Prix at Spa-Francorchamps (a fine 5th). In the 1947 Marne Grand Prix at Reims-Gueux Trintignant/Henri Louveau co-drove '880.003'.

Into 1948 the car was acquired by August Veuillet. His record with the car includes a great 4th place in the Spa 24-Hours co-driving with Varet, while he also appeared in it at Chimay, in the Grand Prix de Paris and in the Paris 12-Hours at Montlhery. Veuillet retained the car for 1949, when he shared it with Mouche at Le Mans in the postwar revival 24-Hour Grand Prix d'Endurance race, and driving solo he placed 2nd at Sarrebruck and 6th in the Grand Prix de l'ACF.

By 1950 this Delage D6-70 was becoming obsolescent as more modern Grand Prix and sports-racing cars had emerged but Veuillet still campaigned the car, taking 9th place at Rouen, while retiring from both the Grand Prix de Paris and Paris 12-Hours at Montlhery.

Auguste Veuillet- subsequently founder of the famous 'Sonauto' concern – sold this car to Charles Pozzi in 1951. Charles Pozzi then campaigned the ageing car during 1951, taking it to the Portuguese city-race at Oporto in which he placed 13th. Thereafter he retained ownership for many years, running the car again in the Rallye Delage of 1966 and the GP de la Baule historic event as late as 1979. In 1981 ownership passed to Claude Afchain and in 2002 it was acquired by the present vendor.

As offered here this remarkably evocative racing Delage, with its impeccable provenance and so evocative, so romantic history – is accompanied by a notice of expertise from specialist Hervé Charbonneaux. He confirms that it is in "Exceptionally original condition, the only surviving example still with its period bodywork, its history known in competition and collection (Veuillet, Veuillet, Pozzi, Achain) since origination. It has important successes in Grand Prix and endurance (racing) 1947-1951, and was driven by M. Trintignant and P. Etancelin....".

Could we say more? This is a very important and highly original French Racing Blue competition car from that most evocative period of the later-1940s. It is a rewarding car to drive and in which to compete, and promises great enjoyment and reliable performance motoring in grand style to any enthusiastic new owner. With continuous history and a magnificent racing pedigree this highly original and preserved Delage represents a top level entry to many events and a rare opportunity of acquiring an important part of French motor racing history.
We recommend the closest inspection and consideration and would like to thank both Patrick Delâge and Hervé Charbonneaux for their help in researching this particular car.