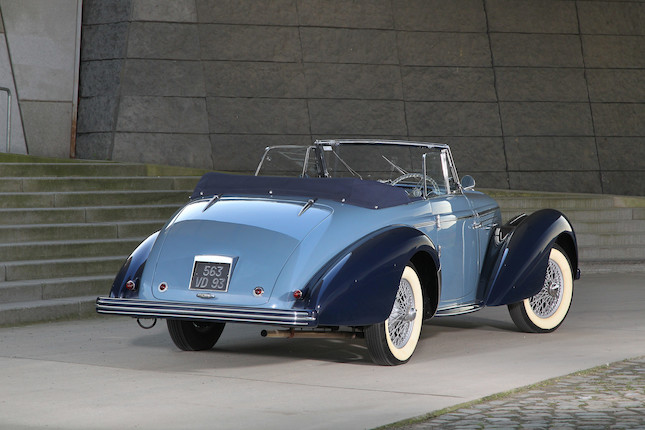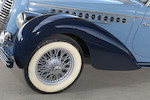 1949 Delahaye 135M cabriolet
6 February 2014, 14:00 CET
Paris
Sold for €293,250 inc. premium
Own a similar item?
Submit your item online for a free auction estimate.
How to sell
Looking for a similar item?
Our Automobilia specialists can help you find a similar item at an auction or via a private sale.
Find your local specialist
Ask about this lot
Philip Kantor
International Chairman for Motoring
Restaurée par André Lecoq
1949 Delahaye 135M cabriolet
Carrosserie Guilloré
Châssis n° 800863
Moteur n° 6S103-800863

D'abord installé à Tours puis, à partir de 1906, à Paris, Delahaye construisit sa première automobile en 1894 et diversifia rapidement ses activités dans les véhicules commerciaux. Ses premières productions manquaient pour le moins de panache, mais en 1935 apparut la première voiture d'une nouvelle génération qui allait changer l'image de la marque, la T 135 Coupe des Alpes. Excellente sportive, la T 135 empruntait assez paradoxalement son moteur à l'un des camions commercialisés par le constructeur. Le 6 cylindres 3,2 litres à soupes en tête développait 110 ch, grâce à trois carburateurs Solex, tandis que le châssis était doté d'une suspension avant indépendante avec ressort à lames transversal, d'une boîte synchronisée à quatre rapport ou d'une boîte Cotal, de roues fils à fixation centrale et de freins Bendix.

Delahaye améliora le modèle l'année suivante avec la T 135 MS, une 3, 6 litres de 120/130 ch dont la version compétition fit rapidement parler d'elle prenant les 2e, 3e, 4e et 5e places du Grand Prix de France 1936 - couru en catégorie Sport - remportant le rallye de Monte-Carlo et les 24 Heures du Mans, respectivement en 1937 et 1938. Le Prince Bira gagna les 12 heures de Donington en 1938 au volant de la voiture du prince Chula et gagna encore la course de 'La voiture de route la plus rapide' à Brooklands, devant une formidable concurrence. Le modèle réapparut après guerre sous le nom de 135 M avec son 3,6 litres et resta en production jusqu'en 1951.

Delahaye n'avait pas de carrosserie intégrée, ses châssis étaient donc tous confiés à des carrossiers indépendants qui les habillèrent de leurs plus élégantes créations. Le châssis n° 800863 porte une séduisante carrosserie signée par Guilloré de Courbevoie qui avait carrossé sa première voiture en 1937. Habillant presque exclusivement des châssis Talbot, Delahaye et Delage, Guilloré resta en activité jusque vers 1950, mais continua encore à construire quelques véhicules commerciaux après cette date.

Dotée d'une conduite à droite, comme toutes les voitures de luxe françaises de l'époque, cette Delahaye 135 M est équipée d'une boîte Cotal semi-automatique et arbore une livrée deux tons de bleu avec intérieur en cuir assorti. L'usage de plexiglas transparent pour le volant et les boutons du tableau de bord est remarquable, donnant l'impression que ces accessoires sont faits de cristal. Cet exemplaire à numéros concordants est inscrit au registre du club Delahaye (voir e-mail au dossier). Elle a été immatriculée pour la première fois en 1949 dans la Seine et vendue en 1985 par le marchand Henri Lalanne à un certain Frédéric Buch.

En 1998, la Delahaye a été complètement restaurée par le grand spécialiste français André Lecoq et est restée en très bon état général jusqu'à aujourd'hui. On nous signale que le châssis restauré ne présente aucune trace de corrosion ou d'accident et que la peinture, tout comme l'intérieur, sont tous deux en très bon état, ce dernier montrant quelques signes à peine visible d'usure. La capote bleue assortie a été refaite et l'échappement a été remplacé par un élément en inox, tandis que le moteur, décrit comme 'joliment restauré', conserve tous ses accessoires d'époque. La documentation fournie comprend un rapport d'évaluation (en date d'août 2013), une carte grise française annulée et un formulaire d'immatriculation belge 705.

1949 Delahaye 135M Cabriolet
Coachwork by Guilloré
Chassis no. 800863
Engine no. 6S103-800863

Based initially at Tours and from 1906 in Paris, Delahaye built its first automobile in 1894 and soon diversified into commercial vehicle manufacture. Its early products tended to be rather lacklustre, but then in 1935 came the first of a new generation that would change the marque's image: the T135 Coupe Des Alpes. A fine sporting car, the T135 somewhat paradoxically borrowed its engine from one of its maker's trucks. The 3.2-litre, six-cylinder, overhead-valve unit produced 110bhp on triple Solex carburettors, while the chassis featured transverse-leaf independent front suspension, four-speed synchromesh or Cotal gearboxes, centre-lock wire wheels and Bendix brakes.

Delahaye improved on the formula the following year with the 3.6-litre, 120/130bhp T135MS, and the sports version was soon making a name for itself in competitions, taking 2nd, 3rd, 4th and 5th places in the run-to-sportscar-regulations 1936 French Grand Prix and winning the Monte Carlo Rally and Le Mans 24-Hour Race outright in 1937 and 1938 respectively. Prince Bira won the 1938 Donington 12-Hour Sports Car Race in Prince Chula's example and went on to take victory in Brooklands' 'fastest road car in England' race against some formidable opposition. The model reappeared post-WW2 as the 135M with the 3.6-litre engine and lasted in production until 1951.

Delahaye had no in-house coachworks, so all its chassis were bodied by independents who created some of their most attractive designs on the Type 135. Chassis number '800863' carries elegant cabriolet coachwork by the Courbevoie-based coachbuilder A Guilloré, who bodied his first cars in 1937. Concentrating almost exclusively on Talbot, Delahaye and Delage chassis, Guilloré was active until circa 1950, although manufacture of commercial vehicle bodies continued for some time thereafter.

Right-hand drive like many high quality French cars of the period, this Delahaye 135M has the Cotal semi-automatic gearbox and is finished in two-blue with matching leather interior. The use of transparent Plexiglas for the steering wheel and dashboard buttons is particularly noteworthy, giving the impression that these items are made of crystal. A matching numbers example, the car is well known to the Delahaye Club register (see emailed correspondence on file). It was first registered in 1949 in the Département de la Seine and in 1985 was sold by dealer Henri Lalanne to one Frédéric Buch.

In 1998 the Delahaye was completely restored by the respected French specialist André Lecoq and it remains in generally very good condition today. We are advised that the restored chassis shows no evidence of corrosion or accident damage, and that the paintwork and interior are both in very good condition, the latter showing only insignificant signs of use. The matching blue soft-top has been renewed and the exhaust system changed to a stainless steel item while the engine, described as 'nicely restored', retains all its original ancillaries. Accompanying documentation consists of a detailed valuation report (August 2013), cancelled French Carte Grise and Belgian registration application form.