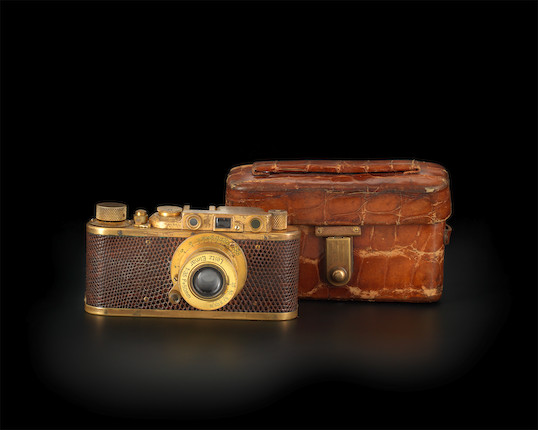 An extraordinarily rare Leica Luxus II,
1932,
22 November 2013, 18:00 HKT
Hong Kong
Sold for HK$4,840,000 inc. premium
Own a similar item?
Submit your item online for a free auction estimate.
How to sell
Looking for a similar item?
Our specialists can help you find a similar item at an auction or via a private sale.
Find your local specialist
Ask about this lot
Client Services (Hong Kong)
An extraordinarily rare Leica Luxus II, 1932,
Serial No. 88840. with 50mm f/3.5 Elmar lens, No.137447, with unusual bell-push release, camera with lavatory seat type range finder housing (with recess under the shutter dial), lens scaled in feet the base plate engraved with "Open" and "Close", body with faux lizard leather cover, together with Leica Luxus crocodile camera case, brass fastening clip
Footnotes
According to Leitz factory records, only four Luxus Leica IIs were made with serial numbers: 88840, 94573, 97313 and 98248. The whereabouts of the other three examples is currently unknown.

In addition, two special presentation Leica II's were also made. Number 75,000 was presented to Professor August Piccard, one of the pioneers of the exploration of the stratosphere and later designer of the "Bathyscape". Number 100,000 was presented to Dr Leon Frobenius, a leading explorer of Central America.

Although the crocodile ever-ready case appears in various advertisements for Leica Luxus, this is the first example ever to come to light.

Literature:
VAN HASBROECK, Paul-Henry, Leica in Colour, Philip Wilson Publications, 1997, pp.34-35.
LAGER, James L., Leica - An Illustrated History, Vol. I, Lager Limited Editions, 1993, p.27.

Provenance:
The British owner of this camera was a keen amateur photographer who acquired this Leica soon after World War II and used it for many years.