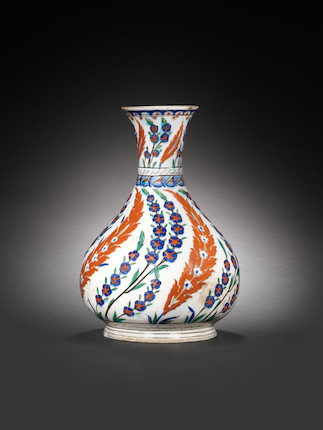 A rare, large Iznik pottery Water Bottle (surahi)
Turkey, circa 1575
23 April 2013, 10:30 BST
London, New Bond Street
Sold for £457,250 inc. premium
Own a similar item?
Submit your item online for a free auction estimate.
How to sell
Looking for a similar item?
Our Islamic and Indian Art specialists can help you find a similar item at an auction or via a private sale.
Find your local specialist
Ask about this lot
Oliver White
Head of Department
A rare, large Iznik pottery Water Bottle (surahi)
Turkey, circa 1575
with globular body, waisted neck with torus moulding and cylindrical flaring rim, on a short foot, decorated in raised red, cobalt-blue, green and black on a white ground, the body with a bold frieze of obliquely curving raised red saz leaves with flowers forming the central veins, alternating with floral sprays, the flowerheads with star-shaped centres, the torus moulding with a plaited design and a leafy band below, the neck with a frieze of smaller saz leaves with floral sprays between, the rim with a band of half-flowerheads, the foot with concentric bands, the base with collection labels, intact with restored rim chip
31.5 cm. high
Footnotes
Provenance:acquired in January 1919, together with the lot 76, by Leonard Daneham Cunliffe from Frank Dickinson, 104 New Bond Street, London, for £510 10s; Ida Copeland from 1937; and by descent to the current owner; Trelissick, Cornwall.

This spectacular bottle, which stands at 31.5 cm in height, is one of the most significant pieces of Iznik to have appeared at auction. From the so-called "Classic" period of Iznik, its last and best-known phase in polychrome in the floral style, this and the following are two fine examples of the wares produced in the 1570s in Ottoman Turkey.

The 1570s saw a variety of Iznik shapes, such as the more common long-necked bottle (also surahi) and globular jars with cylindrical necks (kup). Influenced by the Islamic mosque lamp shape, either in glass or precious metal, the fluid design and decorative torus moulding is echoed in two polychrome floral mosque lamps in the Cleveland Museum of Art (op cit. nos. 573 and 574), which have similar bodies and are shorter, but with lug handles and wider necks.

The shape had a short life, probably because they were only made to special order, and only a handful of related Iznik bottles of this form are known, including a widely published polychrome floral example 31.5 cm high in the Victoria and Albert Museum, London (Nurhan Atasoy and Julian Raby, Iznik: The Pottery of Ottoman Turkey, London, 1989, no. 703); and, the largest example of the group at 32.9 cm. high, a polychrome floral piece, formerly in the Aynard Collection, Lyon, sold through these rooms (Bonhams, Islamic and Indian Art, 17th October 2002, lot 144) and now in the Omer M Koc Collection, Istanbul (Hulya Bilgi, Dance of Fire. Iznik Tiles and Ceramics in the Sadberk Hanim Museums and Omer M Koc Collections, Exhibition Catalogue, Istanbul, 12th April-11th October 2009, p. 278, no. 162); an undecorated red-slip ground example 25 cm. high and another with stripes on a red ground also 25 cm. high, but both slimmer, in the Turk ve Eserleri Muzesi, Istanbul (Atasoy and Raby, nos. 710 and 711).

The use of underglaze red, a pigment introduced with initially disappointing results in the 1550s, is used to maximum effect on this bottle with its bold orange-red saz leaves decorated in thick relief. The decorative scheme also depicts a prunus or plum-blossom, introduced to Ottoman Turkey from Persia via China. Similar star-filled floral sprays between the saz leaves can be seen on the Victoria and Albert Museum bottle, which shares the same rim and base designs as the present lot.