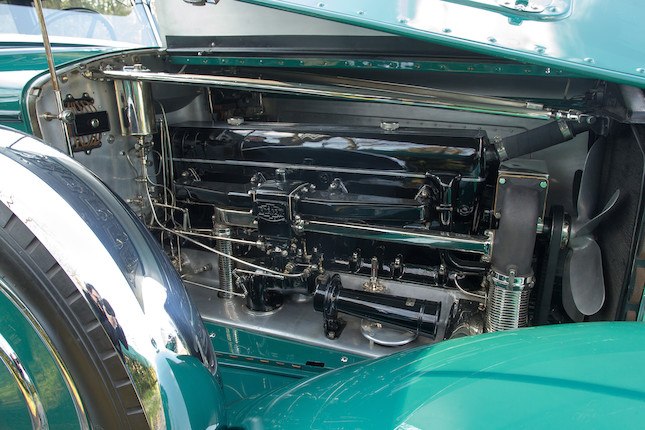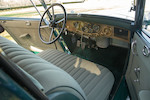 1931 Minerva Model AL 'Windswept' Convertible Sedan
Coachwork by Rollston
Chassis no. 80105
• 6,625cc sleeve-valve inline eight-cylinder
• Four-speed manual transmission
• 152" wheelbase

• One of an estimated 50 ALs made
• Luxurious American coachwork by Rollston
• Excellent provenance
• Superbly restored to concours level
• Eligible for all major concours events

One of the most striking automobiles of its generation, this Minerva is the result of pairing two of the finest manufacturers and coachbuilders at the very height of the coachbuilt era. Of course, there was another key factor in the creation of such a wildly designed automobile and that was a client willing to fund it. In this case that gentleman was Henry Walker Bagley, the son in law of R. J. Reynolds of the noted Tobacco Company.

The tobacco business was already a hugely wealthy industry, and the Reynolds Tobacco Company was one of the biggest players, owing to its founder. To better get a sense of his wealth by the time of his death in 1918, R. J. Reynolds was by far the richest man in his home of Winston-Salem, North Carolina, annually paying twice the amount of taxes of any other man in the state. In the early days his phenomenal income came from the company's chewing tobacco, of which they had one quarter of the market share. Reveune only grew when Reynolds, a true visionary, focused on selling the pre-packaged cigarette, against skeptics who advised there would be no market for since people liked rolling their own smokes. The Camel cigarette, so named because it was rolled in imported Turkish paper, sold 425 million packets within a year of its introduction. To this day the company remains one of the largest of all companies, with a plethora of the best selling brands worldwide.

Suffice it to say that in 1931 if you were married to a daughter of R.J. Reynolds, you could afford a very fine lifestyle indeed. To give some context to couple's individual means, in 1929 Bagley and his wife built Quarry Farm, a Normandy stone mansion set on 9 acres of Belle Haven waterfront in Greenwich, Connecticut, a house which remains one of the most desirable properties in the world. It would surely have taken quite an automobile to live up to the expectations of Mr. Bagley, and it can only be imagined this tour de force by both the Minerva and Rollston companies would have delighted him. His selection of car maker and coachbuilder were not the obvious choices perhaps, but were certainly well informed.

Symbolizing elegance and refinement, the Belgian Minerva company had a strong following in America, and was a favorite with high society. Film stars and politicians loved its refined good looks, even the archetypal provider of motors for the masses Henry Ford was numbered among the ranks of Minerva owners. All looked to be going well when Minerva unveiled its finest model, the 6.6-liter straight-eight Type AL, which was acclaimed as 'one of the most prestigious automobiles ever produced'. Its sleeve-valve engine produced 120 hp, had dual ignition and a crankshaft carried in nine main bearings. Road-holding was impeccable, aided by an Adex Stabilisator, one of the earliest anti-roll devices. Its 152-inch wheelbase was one of the longest on the market, enabling the fitting of supremely elegant coachwork. Unfortunately timing was not kind to the Belgian concern; its launch came on the eve of the Wall Street Crash in 1929 and sales quickly fell away. It is thought that around only 50 examples were built.

Rollston, one of few coachbuilders who could match the quality of the mechanical aspect, was also renowned for the very finest work in their field. Coachwork not only had to look great and be well-designed visually, but also structurally. However, to wear well and in a competitive market, coachbuilders frequently compromised substance for style. Not so with Rollston, and accordingly their coachwork was some of the most expensive that could be ordered. Putting this in perspective, the ratio of chassis costs to coachwork on the famed Rollston bodied Duesenberg SJN 'Twenty Grand' was something in the order of 60% to 40%. Their bodies were complex and built to last.

History does not recall the size of the check that Mr. Bagley wrote to create this car, but it must have been substantial and the result is undeniably incredibly striking, it would have looked magnificent parked up outside Quarry Farms. The design is one of a handful of cars ever built to have the visual effect of the wind blowing the top of the car backwards, almost like a Lartigue racing photograph. In doing so it makes the car appear to be in motion even when standing still.

Argubly Minerva's most famous automobile ever built, there is no finer statement of its importance than the list of custodians that have held it in their collections, which includes D. Cameron Peck and Dr. Gerald A. Rolph. Dr. Rolph kept the car for approximately 20 years before selling it at auction in Geneva in 1997. At this point, it crossed the Atlantic and shortly after it received a Concours restoration at the hands of Steve Babinsky's Automotive Restorations in New Jersey. This rebuild brought the car to the standard and guise in which it is today. When completed the Minerva passed to Charles Morse of Washington State, with whom it was successfully campaigned at a number of Concours events around the country. Accolades included its Best in Class at the the Pebble Beach Concours d'Elegance in 1998 and awards at Meadowbrook Hall, Amelia Island and the Louis Vuitton Classic at Rockefeller Center.

Since leaving Mr. Morse's collection, the car has added a couple more esteemed homes to its roster, presently sharing stable with a number of other important European automobiles. In the present ownership the car has returned to Mr. Babinsky for servicing and, fresh from this work, is running well, while its aesthetic condition remains extremely good throughout.

Sure to make an impression wherever it goes, as it was almost certainly intended to do from new, the Bagley Minerva Rollston Convertible Sedan is a truly unique and covetable automobile.
Saleroom notices
Please note that the title for this vehicle is in transit and that, for administrative reasons, this Minerva is titled as an International.