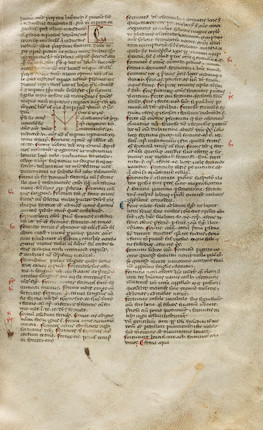 4 December 2012, 13:00 EST
New York
Sold for US$74,500 inc. premium
Own a similar item?
Submit your item online for a free auction estimate.
How to sell
Looking for a similar item?
Our Books & Manuscripts specialists can help you find a similar item at an auction or via a private sale.
Find your local specialist
Ask about this lot
Client Services (New York)
PAPIAS THE GRAMMARIAN. fl.1040s-1060s.
Latin manuscript on vellum, Elementarium doctrinae rudimentum. [Northeast Italy, late 13th century.]
139 leaves recto and verso (only, of 140?), folio, 60 lines, brown ink, gothic bookhand, written space 260 x 170 mm, rubricated with capital strokes and shoulder notes in red, numerous two- or three-line initials in alternating red and blue with contrasting penwork, 10-line opening initial to preface in red and blue with infill and full-length border. 4 diagrams in text in red and brown. 19th century quarter calf, spine gilt, red morocco lettering piece. Custom quarter morocco clamshell box. Incomplete—lacking the end of the letter "y" and the letter "z" (likely a single leaf), general soiling and scattered dampstain, occasional rubbing, f.91-99 with repaired tears through text, preface leaf soiled and with some marginal tears and a chip.
Provenance: anonymous owner, Ader Picard Tajan, October 19, 1989, lot 61.

THE FIRST MODERN DICTIONARY: of the utmost rarity in private hands. 700 years before Samuel Johnson published his Dictionary, Papias compiled what has been called "the first fully recognizable dictionary," sharing many salient features of dictionaries in the modern sense. Papias's Elementarium is a monolingual dictionary, organized alphabetically (based on the first three letters), and incorporates several innovations: "[Papias] adds an indication of gender, declension or conjugation; he also proposes to mark long vowels in cases where this is not obvious. He is also the first to mention authors or texts as the authorities from which words are taken" (Mantello Medieval Latin p 96). Very little is known of Papias personally except that he was a cleric living in Italy, probably Lombardy. Even the name "Papias" derives from "guide" and may be a pseudonym. Manuscript copies of the Elementarium survive from the 12th to the 15th century; the editio princeps (titled Vocabularium) was published in Milan in 1476 and three other incunable editions were published in Venice. However, medieval manuscript copies are extremely rare in private hands. The Schoenberg database records only one other manuscript Papias at auction, or otherwise for sale, in the 20th century: a German manuscript circa 1410 offered by Sotheby's in 1903, from the collection of Sir Thomas Phillipps.