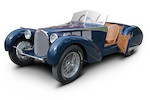 1938 Bugatti Type 57C 'Cäsar Schaffner Special Roadster'
Coachwork by in the style of Corsica
Chassis no. 57.584/57.577 (see text)
Engine no. C15
'The car sped along at 80mph with the comfort and quietness one associates with the Type 57... We were quite willing to believe that Jean Bugatti has achieved the 435 kilometres to Paris in just under 1½ hours in the Type 57 - an average of 77mph...' - Motor Sport, May 1939.
By the early 1930s Ettore Bugatti had established an unrivalled reputation for building cars with outstanding performance on road or track; the world's greatest racing drivers enjoying countless successes aboard the Molsheim factory's products and often choosing them for their everyday transport. Although Bugatti is best remembered for its racing models, most of the 6,000-or-so cars produced at the Molsheim factory were touring cars of sporting character. Produced from 1934 to 1940, the Type 57 exemplified Bugatti's policy of building fast and exciting touring cars possessing excellent handling and brakes.
Because of its lengthy run of success, Ettore Bugatti had remained stubbornly committed to his single-cam engine, only adopting the more advanced double-overhead-camshaft method of valve actuation, after much prompting by his eldest son Jean, on the Type 50 of 1930. From then on Jean Bugatti took greater responsibility for design, his first car being the exquisite Type 55 roadster, a model ranking among the finest sports cars of the 1930s. He followed that with a design of equal stature, the Type 57. A larger car than the Type 55, the Type 57 was powered by a 3.3-litre, double-overhead-camshaft straight eight of modern design, derived from that of the Type 51 Grand Prix car, and was housed in Bugatti's familiar vintage-style chassis. The range showed the strong influence of Jean Bugatti and at last gave the marque a civilised grande routière to match those of rivals Delage and Delahaye.
The Type 57 was the firm's most popular model and attracted coachwork of the finest quality executed in a startling variety of styles but was no mere rich man's plaything, as evidenced by two outright wins at Le Mans. Proof, if it were needed, that ancestral virtues had not been abandoned when creating a car fit to rank alongside Rolls-Royce or Bentley. Its success is revealed by the production figures: some 630 examples of all Type 57 models were produced between 1934 and 1940, and the post-war Type 101 was based on its chassis. However, although many Type 57s were fitted with bespoke bodies, the most popular coachwork was built to Jean Bugatti's designs by the marque's preferred carrossier, Gangloff of Colmar, just a few miles from the Bugatti works at Molsheim.
The car offered here is an example of the Roots-supercharged Type 57C competition model. Chassis number '57.577' was delivered on 8th October 1938 to Monestier, the Bugatti agent in Lyons, and first owned by industrialist Emile Glaizal. Its original body was made in standard Stelvio cabriolet style by Gangloff. After the war, in April 1947, Glaizal moved to Geneva, Switzerland, taking the Type 57 with him. The car was registered 'GE 12549', at which point it is noted that the car had hydraulic brakes all-round which it retains to this day. The registration changed to 'GE 11982' when Glaizal sold it to public works contractor and Bugatti collector, Gaston-François Riondel. Eventually the Type 57 ended up in the warehouse of the Geneva Bugatti agent, Jean Séchaud, and was purchased by Cäsar Schaffner, together with several others, after Séchaud sold up in the mid-1960s. Bizarrely, Séchaud had sold his cars for scrap!
Schaffner decided to restore '57.577' in the style of '57.593', the Corsica-bodied Type 57S sports roadster first owned by Colonel G M Giles, a former chairman of the Bugatti Owners Club. Based in North London, Corsica was a relatively small firm that allowed clients considerable freedom in determining their cars' final appearance – surely the ultimate in 'bespoke' – an approach that endeared it to wealthy sporting motorists. The body of the Colonel's car was designed by his brother, Eric Giles. Registered 'GU 7' and known as 'La petite Sézanne', the ex-Giles Type 57 currently resides in a private collection in the USA and in 1993 won 'Best of Show' honours at the Pebble Beach Concours d'Élegance.
Schaffner removed his car's original Stelvio body and had the chassis frame professionally shortened to a wheelbase of 2.6 metres (from 3.3 metres). This is much shorter than the standard Type 57S wheelbase of 2.98 metres. The engine was sent for reconditioning to the firm of Bereuter (Heinz and Kurt). Copies of photographs of the rebuild, held in Bereuter's archive, are included in the sale and show the conversion to downdraft induction.
Using photographs of 'La petite Sézanne' for guidance, Schaffner made the aluminium body himself with assistance from professional craftsmen. The Bugatti was finished in 1967/68 and painted in pale blue with tan upholstery. Using trade plates, Schaffner exhibited it at various classic car meetings around Switzerland before selling it on to Rolls-Royce collector, Matti Schumacher. Within a matter of days the Bugatti had changed hands again twice, leaving Switzerland for Germany circa 1972. From Germany the car went to the UK, was sold via a London showroom to Robert Yung, an American collector from Hawaii, and exported to the USA. The number currently stamped on the car - '57.584' - is believed to date from around this time when, coincidentally, the real '57.584' was returning to Europe from the USA. '57.584' currently belongs to a Bugatti enthusiast in the Netherlands.
Yung kept the Type 57 for some 30 years but it seems he did little with it. In 2004 the car was sold via a London-based intermediary to collector Gene Ponder from Texas, USA following some cosmetic attention from Gomm's Metals. Back in the USA, '57.577' underwent a thorough mechanical rebuild (engine, transmission, brakes, etc) at the hands of award-winning marque expert Jim Strandberg of High Mountain Classics.
In April 2007 the Ponder collection was auctioned in the USA and the Type 57 where it was purchased by Mr Paul E Andrews. In August 2009 a new Certificate of Title was issued in Texas for the next owner, Panther City Classic Autos of Fort Worth, Texas. The Bugatti was then sold at auction at Scottsdale in January 2010 to an intermediary organisation who sold it to the current owner. The current vendor then despatched the Bugatti to Jim Strandberg for preparation prior to participation in the 2010 International Bugatti Rally in California. Unfortunately, due to personal reasons, he was unable to attend and the car was then sent to Malcolm Gentry's workshop in the UK for further maintenance and refurbishment.
The history of '57.577' is recounted in detail in the accompanying 11-page report researched and compiled by noted Bugatti authority and Swiss Bugatti Club Registrar, Hans Matti. In his report, careful study of which is recommended, Mr Matti quotes the American Bugatti Club registrar, Sandy Leith, who had this to say about the Type 57: 'There seems little doubt that the frame, engine and rear axle assemblies are all derived from the same car. It is therefore very likely that this car represents the continuous history of the chassis no. 57577 with engine no. C15 and gearbox no. 248 with all numbers having been verified in a physical inspection.'
Hans Matti viewed '57.577' at Malcolm Gentry's workshop in February 2011 and his findings with regard to the serial numbers visible on various components are listed on pages 7 and 8 of his report. He concludes: 'For me, there is no doubt left, that this is the original, matching numbers chassis of 57.577/15C, shortened, restored and clad with the Cäsar Schaffner special roadster body, as inspired to him by the pictures of the ex-Colonel Geoffrey Morgan Giles Corsica roadster "La petite Sézanne."'
The ex-Schaffner Corsica-style roadster remains in excellent condition, its mechanical preparation and overall quality being quite exceptional. Although he only had photographs to work from, Schaffner achieved an accurate copy of the ex-Giles car's Corsica body and this most attractive lightweight coachwork is sure to command attention. With some 160 horsepower available courtesy of the Grand Prix-derived, 'blown', twin-cam straight eight, performance should be more than adequate and close to that of the original. Constructed on a genuine, professionally shortened Type 57C chassis, '57.577' is eligible for numerous prestigious events, including those of Bugatti clubs on both sides of the Atlantic, and thus represents a wonderful opportunity for aficionados of the marque to acquire a unique car with a fascinating history.

Le châssis Bugatti n° 57 577 carrossé en cabriolet Stelvio et livré le 8 octobre 1938 à l'industriel lyonnais Emile Glaizal suivit celui-ci à Genève en 1947. Vendu dans les années 1960 (pour la casse !) à Schaffner, celui-ci décida de restaurer 57 577 dans le syle du roadster à carrosserie Corsica du Colonel Giles en faisant raccourcir le châssis à 2,60 m d'empattement. Le moteur reconstruit par Bereuter fut alors équipé de carburateurs inversés. Vers 1972, la Bugatti partit en Allemagne puis au Royaume-Uni et au Texas chez Gene Ponder. Vers cette époque, le numéro de châssis devint « 57 584 » (mais la vraie « 57 584 » est actuellement propriété d'un collectionneur hollandais). « 57 577 » fut alors totalement restaurée en mécanique. La collection Ponder fut vendue et la 57 passa entre plusieurs mains avant son acquisition par le propriétaire actuel. (L'histoire détaillée de 57 777 a été écrite par le spécialiste de Bugatti Hans Matti dont le rapport qui figure au dossier conclut à la concordance des numéros de châssis, de moteur et de boîte de vitesses, entre autres éléments identifiants). Ce roadster 57 ex Schaffner à l'histoire aussi compliquée que documentée et fascinante, se présente en excellent état mécanique et cosmétique, prêt à participer aux manifestations historiques les plus prestigieuses y compris celles des clubs Bugatti.

Saleroom notices
Please note that this car has not received any form of maintenance or refurbishment at Malcolm Gentry's workshop, as stated in the catalogue. The car was simply Malcolm Gentry's workshop to be stored for a period of time. No work was carried out.