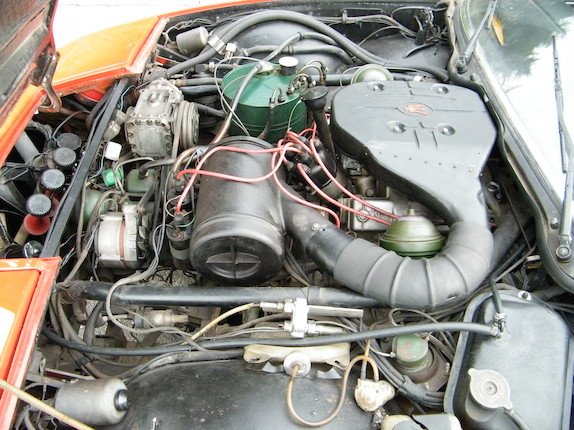 The ex-Geneva Salon
1972 Citröen SM Prototype Coupé
Coachwork by Carrozzeria Frua
Chassis no. 101
Using Citröen SM mechanical components, this unique prototype was created by the Italian Carrozzeria Frua in 1971 and first displayed at the Geneva Salon in March 1972. At that time Citroën owned Maserati and this Frua-styled 'concept car' looks remarkably similar to the Maserati Khamsin. The latter was first seen as a prototype displayed by Carrozzeria Bertone at the 1972 Turin Auto Show, and debuted as a Maserati production model at the Paris Motor Show in 1973. A conventional front engine/rear-wheel-drive design, the Khamsin was powered by a V8 whereas the Citröen SM employed front-wheel drive and a 90-degree Maserati V6 engine. The Frua-styled SM may owe its existence to proposals for a front-wheel-drive Maserati sports car, and although the Italian company would go on to use the Citröen-inspired V6 engine it would be in the mid-engined Merak.
Citröen had bought Maserati in 1968, principally to acquire the latter's engine technology for its new top-of-the-range Gran Turismo coupé, and the Italian firm responded to the brief with remarkable speed with a four-cam 90-degree V6. Introduced in 1970, the SM (Série Maserati) combined Maserati's engine know-how with Citröen's advanced chassis technology, featuring DS-style hydro-pneumatic self-levelling suspension, power-assisted all-round disc brakes, self-centring steering and steered headlamps. After some juggling of engine dimensions, a capacity of 2,670cc was settled on for a power output of 170bhp. Citröen was the world leader in passenger car aerodynamics at the time, the SM's class-leading drag coefficient enabling it to reach 140mph, making it the fastest front-wheel-drive car ever at that time. The model was prematurely axed in 1975 following Citröen's acquisition by Peugeot.
Following its debut at Geneva in '72, the Frua Citröen SM was shown there again the following year and also at the International Motor Show in Barcelona, Spain. It then passed into private ownership in Spain before coming to the current owner in Italy in the late 1980s. Partially restored during 2011/2012, the Frua prototype displays a total of 41,946 kilometres (approximately 26,000 miles) on the odometer and is described as in generally good condition. Offered with Spanish registration papers, this unique car represents a wonderful opportunity to acquire a fascinating 'might have been' created by one of Italy's most talented automotive stylists, Pietro Frua and surely an entry ticket to some of the finest concours d'élégance events.

Cet unique prototype de coupé Citroën SM fut produit par Frua en 1971 et exposé au salon de Genève de mars 1972 avant d'y figurer à nouveau en 1973 et d'apparaître au salon de Barcelone la même année. Ce concept car n'est pas sans rappeler la Maserati Khamsin à moteur V8 de 1972-1973. La SM de 1970 était dotée d'un V6 Maserati de 2,6 litres et 170 cv qui en fit la traction avant la plus rapide du monde en son temps. Elle offrait en plus une suspension hydropneumatique perfectionnée et un direction à assistance variable, entre autres raffinements exclusifs.
Vendu en Espagne, ce prototype fut acheté par le propriétaire actuel à la fin des années 1980. Partiellement restauré en 2011/2012, le prototype Frua qui affiche 41,646 km au compteur est décrit comme étant en bon état général. Proposée avec ses papiers espagnols, cette voiture unique est une bonne opportunité d'acquérir une passionnante proposition roulante et utilisable d'un styliste italien parmi les plus talentueux en son temps et, à coup sûr, un ticket d'admission aux plus prestigieux concours d'élégance à travers le monde.