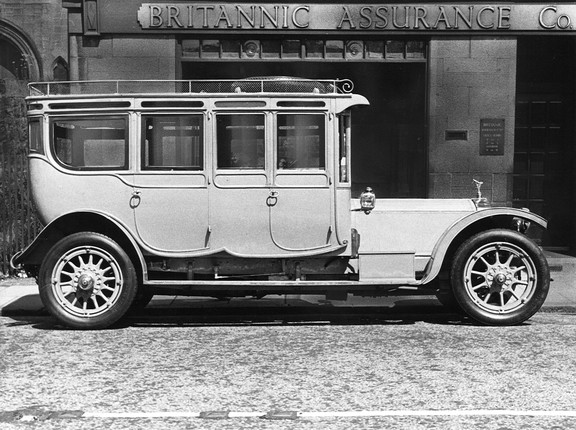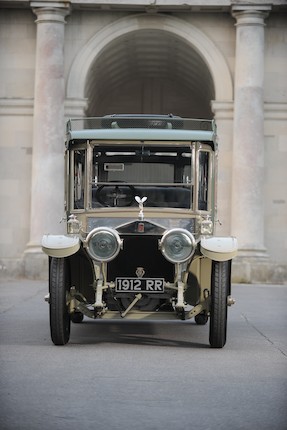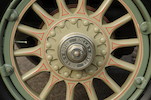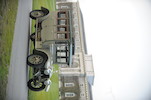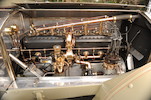 "The Corgi",1912 Rolls-Royce 40/50hp Double Pullman Limousine
Chassis no. 1907 Engine no. 127
Amended
29 June 2012, 14:15 BST
Chichester, Goodwood
Sold for £4,705,500 inc. premium
Own a similar item?
Submit your item online for a free auction estimate.
How to sell
Looking for a similar item?
Our Collector Cars specialists can help you find a similar item at an auction or via a private sale.
Find your local specialist
Ask about this lot
Tim Schofield
Senior Specialist, Head of Department, UK
"The Corgi"
1912 Rolls-Royce 40/50hp Double Pullman Limousine
Coachwork by Barker
Chassis no. 1907
Engine no. 127
Footnotes
Introduced in 1906, the 40/50hp Rolls-Royce soon established itself as the finest automobile in the world.
Its ruggedness, quality, power, simplicity and reliability made it the intelligent choice for motorists who could afford its prodigious cost.
While most could, and did, employ chauffeurs to maintain and drive their automobiles, the 40/50hp Rolls-Royce also appealed to forward-thinking owners who made driving a popular pastime. It was a unique combination that proved itself in long distance trials, pitting the automobile and its driver against the rudimentary roads of the day and it fostered the creation of dual-purpose automobiles.
Exclusive and luxurious, they were driven by chauffeurs during the week, then taken out by the family on weekends, to experience the joys and challenges of the countryside. Pride often earned their loyal Rolls-Royce personal names, a tradition started by Claude Johnson with the thirteenth 40/50 built, 60551, known also by its registration, AX 201, the "Silver Ghost", an automobile so famed for its achievements and style that its name attached itself to the entire model range.
This automobile, however, had to wait a half century before it earned the name by which it is known today, "The Corgi". Chosen by Mettoy as the basis for its Corgi brand's classic Rolls-Royce Silver Ghost model (#9041), it represented to generations of young men and women the personification of elegant, classic quality that attached to the name Rolls-Royce.
Many other automobiles, not least Claude Johnson's Silver Ghost and its successors, were named by their owners. But only one has acquired its name by the place it occupies in the impressions of myriad childhoods: "The Corgi."
Frederick Henry Royce had begun successfully to manufacture automobiles well before he met and was influenced by the Honorable Charles S. Rolls, third son of Lord and Lady Llangattock of Monmouth and Rolls' partner in importing Panhard-Levassor and Minerva automobiles, Claude Johnson. Rolls and Johnson were the ideal complement to the meticulous engineer Royce, bringing visibility to the aristocracy and commercial elite and creativity and enthusiasm to sales efforts that made the most of Royce's innovation and attention to detail.
C.S. Rolls & Co., Rolls' and Johnson's London showroom, contracted for all of Royce Ltd,'s production in chassis form. They turned to London's most established and reputable coachbuilder, Barker & Co., for bodies. Started in 1710, Barker had built coaches for Kings George III and William IV as well as no less than 24 for Queen Victoria. Coachwork by Barker brought an aura of history, quality and acceptance to the automobiles now known as Rolls-Royce.
Rolls and Johnson soon realised that the perfectionist Royce developed a continuing series of improvements in his products. Incorporating them in a range of models that shared many components added complexity to maintenance and administration. A single model upon which Royce could concentrate his brilliance and attention would resolve the organisational issues and leave Royce free to perfect his automobile. Rolls and Johnson prevailed upon Royce to design a completely new six-cylinder engine of 40 RAC horsepower.
Designated simply the 40/50hp, the new Rolls-Royce was rushed to its debut on the stand at Olympia in November 1906. Its L-head six-cylinder engine had dimensions of 4 ½" x 4 ½" giving a displacement of 7,036cc with two three-cylinder iron blocks with fixed cylinder heads on a cast aluminum crankcase.
An innovation that contributed mightily to the 40/50hp's reliability was Royce's decision to fit it with low pressure positive lubrication to the main and connecting rod big end bearings and gudgeon pins. Although it operated at only 10psi the pump flowed over a gallon per minute, providing both lubrication and cooling to the bearings.
The new engine produced 50 brake horsepower at 1,500rpm and sufficient torque to accelerate smoothly from 3 or 4 mph to a top speed of 60 mph in top gear of the 4-speed gearbox. It was superb in town or on the road.
Five years later Royce had put into practice his commitment to continuous improvement, implementing a long list of changes, both large and small, that cemented the reputation of the Rolls-Royce 40/50hp as "The Best Car in the World." Early owners who had recognised the 40/50's quality even before it established its reputation were ready to reap the harvest of their insight, loyalty and experience and began to acquire later models.
One of those insightful owners, in fact the first private buyer of the first Rolls-Royce 40/50hp, 60539, was John M. Stephens of South Croydon. He had acquired 60539 in May 1908 with clerestory roof limousine coachwork by Barker after it had served the factory in many capacities, notably as the Motor Show display car at the 40/50's introduction at Olympia in 1906.
60539 must have been particularly satisfying because in early 1912 Stephens took delivery of this car, chassis 1907, bodied with similar, but now subtly and distinctively refined and lavishly equipped, Double Pullman Limousine coachwork by Barker.
One of a number of Silver Ghosts similarly bodied by Barker, it is the only known survivor with this coachwork. It is the only Barker Pullman known to have been built without a division window, a deliberate omission that hints at happy hours with father behind the steering wheel able to communicate freely with his family ensconced in the luxurious passenger compartment with its twenty-nine beveled glass windows. In contrast with many similarly-bodied automobiles of the period the driver's compartment is as finely trimmed and equipped as the rear, again hinting at its regular occupancy by the owner.
Fenestration includes highly unusual curved corner glass and clerestory lights between the side windows and roof that illuminate the rear compartment even when the four side windows' silk shades are drawn for privacy. A small hinged glass panel in the windshield directly in front of the driver opens for visibility in rain.
In addition to the beveled glass the interior appointments are exceptional particularly the dome light surrounded by an elaborate fabric rosette in the headliner. Window frames are of finely finished wood, window pulls and door panels of embroidered silk, interior fittings of silver and door pulls of ivory. The rear compartment's footrest conceals a complete and exquisite picnic and tea service for four. The family lucky enough to tour in this Barker Double Pullman not only had china from which to take their tea but also an alcohol fueled burner and kettle to heat the water. A set of six decanters, three in sterling silver and three in carefully leather-wrapped glass, complete the setting.
An elaborate luggage grid on the roof complements the multi-faceted exterior's elegance. A full set of instruments for the driver include a Double Elliott speedometer. The exterior is finished in cream with green accents and roof, varnished wood window surrounds and accented with red coachlining and nickel plated brightwork.
Subsequent to Mr. Stephens' ownership it became one of the most important elements of the famed collection of J.C. Sword in East Balgray, Ayrshire. Its next owner was Mr. Denis de Ferranti in North Wales from whom it was acquired by Mr. Terry Cohn in 1986. Noted American Silver Ghost collector Mr. Richard Solove acquired it in 1992.
During all those years its special stature ensured it was carefully and consistently maintained in its original configuration and today it is one of few early parallel bonnet Rolls-Royce 40/50hp Silver Ghosts never to have been separated. The complete automobile is as-delivered by Rolls-Royce in 1912. After acquiring "The Corgi" Richard Solove commissioned Rod Brown to return it to its original elegance and style. Although Brown was given great latitude "The Corgi's" condition was such that it did not need to be disassembled, a tribute to its years in the Sword and subsequent collections.
Acquired from Richard Solove by John M. O'Quinn in 2007, its condition today continues to be magnificent.
Next only to Claude Johnson's AX 201, the original "Silver Ghost" it is the most recognisable of all Rolls-Royce, a statement of refinement, grace and gentility that for many defines the qualities – and the Edwardian period – in which Rolls-Royce established the unsurpassed reputation it still enjoys today. It has survived a century this year in its original highly elegant configuration, complete in all important respects as delivered by Rolls-Royce and Barker & Co. in early 1912 and is the only example of this coachwork without a division window. It drives perfectly, as intended by C.S. Rolls, Claude Johnson and Frederick Royce.
"The Corgi" is a singular example not only for what it is but also for what it means to generations of collectors who grew up with its Mettoy model.
Its list of keepers now admits a new member to continue its century of preservation, enjoyment and appreciation.

Saleroom notices
Please note the car will be subject to the reduced import tariff of 5% if it remains in the EU.