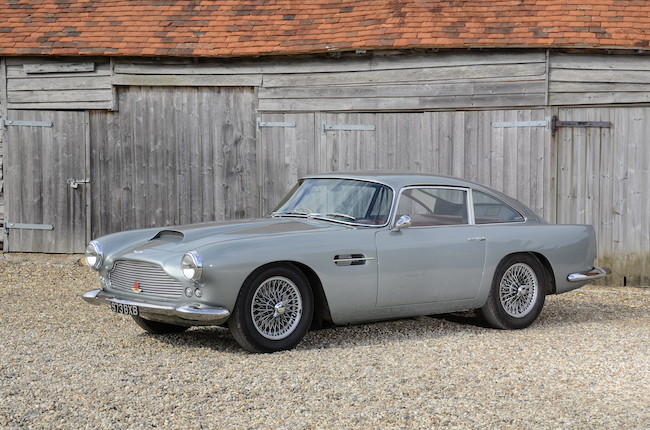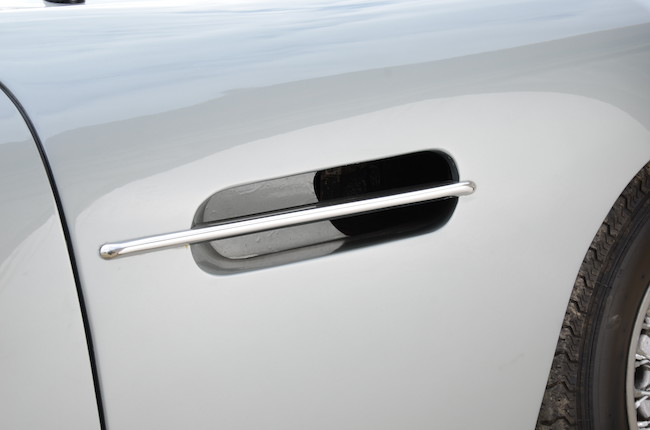 1961 Aston Martin DB4 Series II Sports Saloon
Registration no. 973 BXB Chassis no. DB4/541/R Engine no. 370/555
Withdrawn
Amended
19 May 2012, 14:30 BST
Newport Pagnell, Aston Martin Works Service
Ask about this lot
Tim Schofield
Senior Specialist, Head of Department, UK
1961 Aston Martin DB4 Series II Sports Saloon
Registration no. 973 BXB
Chassis no. DB4/541/R
Engine no. 370/555
Footnotes
This DB4 is well known to Bonhams, having previously been sold under our Brooks banner at Ascot Racecourse on 2nd August 1996 (Lot 671) and again at Olympia on 4th December 1997 (Lot 838). 'DB4/541/R' comes with three lever-arch files of history, as comprehensive and beautifully laid out as any we have seen, close inspection of which is highly recommended. The car is currently taxed until April 2013 , MoT'd and comes with Swansea V5.
When sold at Ascot in 1996, the DB4 had been in the then owner's hands for 33 years, and all history dating back to the mid-1960s, including purchase invoice and MoTs, is offered with it today. Described as very original, the Aston had been maintained and on show at the Midland Motor Museum since 1988, and in June 1991 was treated to a bare-metal re-spray (in original Snow Shadow Grey) costing in excess of £9,000. Its condition throughout was described as good, while generally the car reflected careful ownership and use over an extended period. Both the present and the immediately preceding owner have been in regular contact with the wife of the gentleman (now deceased) who had owned it for many years prior to its sale in 1996.
At Brooks' Olympia sale in December 1997, the Aston was offered fresh from a total engine rebuild by recognised marque specialists Chris Shenton Engineering (costing £10,000) and had covered only 1,000 miles since. At the same time, fine detailing of the engine bay had been carried out and the car was presented in superb condition, having covered approximately 54,000 miles from new.
Acquired by the immediately preceding enthusiast owner in December 1997, 'DB4/541/R' has benefited from a series of sensible upgrades including a Harvey Bailey handling kit comprising front anti-roll bar and HB springs all round, gas front shock absorbers, re-valved rear lever arms and altered front-end geometry. Other noteworthy improvements include DB4GT-type front brake calipers, braided steel brake lines, electronic ignition, Pacet electric fan and a stainless-steel exhaust system. In addition, the original radio has been overhauled, converted to FM reception and boosted in output. In the succeeding 10-plus years the preceding owner drove a further 12,000-or-so miles in the car, a figure that testifies equally to its usability and his enthusiasm.
The colour combination is delightful; the Snow Shadow Grey is a subtly elegant shade of silver metallic, not brash like some, and contrasts beautifully with the deep red interior. Completely original, even down to the carpets, the latter has a beautiful depth of patina that reflects a life of use, but is far from tatty. All in all, this is a car that has a wonderful feel about it.
The current owner purchased the DB4 at Bonhams' sale at Aston Martin Works Service in May 2008 (Lot 321) and in August of that year returned the car to Newport Pagnell for a major service that included renewing the cylinder head gasket, overhauling the front suspension and installing front seat belts at a cost of £10,788.
In February 2009 '973 BXB' was sent to celebrated marque specialists R S Williams Ltd for various works including overhauling the carburettors; replacing the clutch master and slave cylinders; fitting new brake callipers and engine mounts; and sorting out the throttle linkage at a cost of £6,000. The result, we are advised, is a much-improved car that is great fun to drive. Stored in an 'air flow' bubble and used fairly regularly, it is said always to start first time. All bills relating to the current ownership are contained within the aforementioned history files.

Saleroom notices
This car has been withdrawn from the sale.