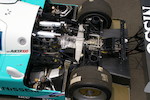 1987 Nisseki Trust Porsche Typ 962 T
Engine no. 956 308
Amended
18 August 2011, 14:30 PDT
California, Carmel
Own a similar item?
Submit your item online for a free auction estimate.
How to sell
Looking for a similar item?
Our Collector Cars specialists can help you find a similar item at an auction or via a private sale.
Find your local specialist
Ask about this lot
Eric Minoff
Senior Specialist
1987 Nisseki Trust Porsche Typ 962 T
Engine no. 956 308
Nisseki Trust Porsche 962 T- Car & Chassis

During the peak of the Group C era, it became common to see a variety of racecars on display at shows, international airports, even board meetings, all wearing the colors and lettering of assorted sponsors. Teams quickly learned the importance of marketing their efforts by exposing their product away from the track. Although there have been cars built especially for this purpose in the past, a Group C display vehicle demanded a more thorough undertaking. No longer could one get away with a couple pieces of wood for the chassis and angle iron as an axle with assorted fiberglass panels bonded together and blacked out plexiglas windows. The new style of show bluff had to have roots in the reality of the actual car.

Those with the resources were able to construct simple variations of a proper monocoque chassis to fit recently outdated bodywork and then turn the results over to their sponsor's marketing and promotional arm. The teams with the smaller budgets often used an incomplete chassis and parts that were past their lifecycle of usefulness and on occasion, the results could be stunning.

Today the business of display vehicles has reached a new level. Both Ferrari and McLaren have actual departments that produce F1 show cars that are complete down to the use of a unique chassis number to identify the origin and purpose.

This featured car was constructed from the extensive collection of spare parts used to support the Nisseki Trust RLR 962 program that competed in the Japan Sports Prototype Championship. Utilizing a T - chassis monocoque (spare or used for testing) along with a mixture of rare and expensive Porsche factory parts and components unique to the Richard Lloyd Racing projects, this is much more than a typical display show car. The front nose and rear tail are original spares while the doors and center section are of current construction. The motor is believed to have been completely overhauled by the Japanese Porsche racing engine specialist, with the exception of the electronics to operate it. Many of the parts were sourced directly from Porsche Motorsport North America. The color scheme and graphics are a direct copy of the Nisseki Trust RLR 962-106B which is also featured as the preceding lot.

A thorough examination of this offering will confirm a car that can be displayed as is or with some concentrated effort, be made as a full runner to participate in vintage and historic events.

Offered on a Bill of Sale.
Footnotes
Please note, this lot is applicable to an import duty calculated at 2.5% of the import value. This duty will be invoiced to the purchaser but may be refunded if the lot is exported within certain criteria.
Saleroom notices
We are advised by the vendor that this chassis dates to 1987. It was, according the vendor, crashed and repaired by Active Engineering. We are futher advised that the engine was overhauled by Japanese Porsche racing engine specialist Midwest Racing, with no use since. However, there is no documentation in our possession to confirm this work.