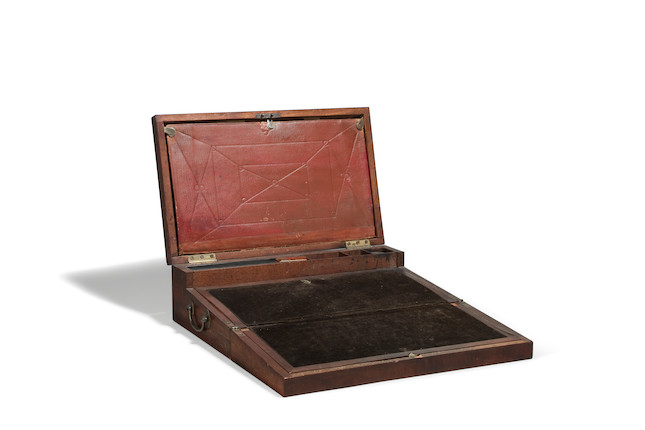 22 June 2011, 14:00 EDT
New York
Sold for US$34,160 inc. premium
Own a similar item?
Submit your item online for a free auction estimate.
How to sell
Looking for a similar item?
Our Books & Manuscripts specialists can help you find a similar item at an auction or via a private sale.
Find your local specialist
Ask about this lot
Catherine Williamson
VP/Director
[MELVILLE, HERMAN.]
MELVILLE'S TRAVEL DESK.
Victorian brass-mounted mahogany traveling lap desk, third quarter of the 19th century. The rectangular top opening to a hinged brown velvet-lined writing surface before fitted compartments and a pen well, the lid interior with a red leather folio with brass securing clips, the writing surface lifting to reveal a storage well and removable guard concealing three secret drawers; the sides with brass bale handles. Height 5in (13cm); length 17in (43cm); depth 10 1/2in (26.5 cm).
Enclosed in the desk are a gilt-metal-mounted agate snuff box, two small pen knives, one inscribed "E M Marett," a molded glass inkwell with associated cap, a pair of tweezers, a glass intaglio seal engraved "EMM," and a gilt-metal and mother-of-pearl pen.
The lid interior mounted with caricature prints, and two period small yellow sheets inscribed "Our Box at the Post Office is 1162" and "Herman Melville / 104 East 26th St / New York" respectively.

Herman Melville would have come into possession of this small writing desk by way of Ellen Martha Marett Gifford, whose name is inscribed on the pen knife and whose initials are engraved on the glass intaglio included among the desk's effects. Gifford (d.1889) was Elizabeth Melville's cousin, a life-long correspondent of the Melville's and, later in life, their benefactor. In 1886, aided in part by a generous gift from Ellen and by inheritances from Ellen's mother Martha and Elizabeth's brother Lemuel Shaw, Jr., Melville was able to retire from his long-held position at the New York Custom-House. In his final years, he privately published two volumes of poems: John Marr and Other Sailors (1888), and Timleon (1891); and began "Billy Budd" which he worked on up until his death.
Melville also found occasion to travel in his retirement and would appear from the presence of his ownership labels that the desk traveled with him. He fortuitously avoided the Great Blizzard of 1888 when he journeyed abroad to Bermuda (returning by way of Florida); and the following year he spent a fortnight with friends in Savannah.
Melville occupied the house at 104 East 26th St. from 1863 until his death in 1891.
See illustrations.