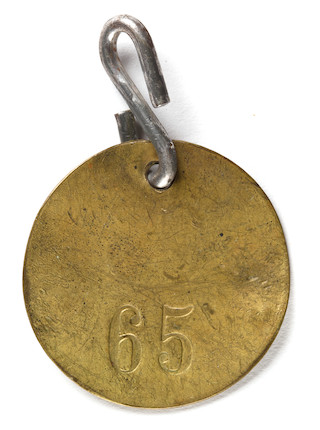 HAM THE SPACE CHIMP'S FLOWN NECK-TAG.
5 May 2011, 13:00 EDT
New York
Sold for US$12,200 inc. premium
Own a similar item?
Submit your item online for a free auction estimate.
How to sell
Looking for a similar item?
Our Space History specialists can help you find a similar item at an auction or via a private sale.
Find your local specialist
Ask about this lot
Matthew Haley
Managing Director
HAM THE SPACE CHIMP'S FLOWN NECK-TAG.
Flown brass disc, 1½ inch diameter, embossed on both sides with the number "65," and hanging from a metal loop.

Flown into space aboard Mercury-Redstone 2 on January 31, 1961.
40 chimpanzees were selected as candidates for space flight by the Holloman Aerospace Medical Center in New Mexico. Throughout training, and up to the day before the launch, one chimpanzee stood out. He had no official name other than "Number 65." NASA was afraid of a PR backlash if a chimp with a name—and therefore a personality—were to perish in space, mindful, no doubt, of criticism the Russians received over the death of Laika. Only when the mission proved a success would Number 65 be identified by his given name, Ham: an acronym from the lab that trained him.
On January 31, 1961, Ham flew 157 miles into space and reached a maximum velocity on his suborbital flight of 5,857 mph. Performing his tasks admirably, pushing levers 50 times during the flight, Ham was the first chimpanzee launched into space during the American space program.
In various official photographs from the period, Ham can be seen wearing a chain around his neck with the present tag hanging from it. The 2007 book Animals in Space publishes a photograph of Ham in his space suit and flight couch with the chain visible, the tag presumably being tucked to the side or back of his neck to prevent it floating around.
After his successful flight, Ham returned to the chimp colony at Holloman Air Force Base and was trained for a future flight, but ultimately never flew again. He spent the rest of his life first in the National Zoo in Washington, D.C., then at the North Carolina Zoo, and died in 1983.
The lot includes copies of the military papers of an airman based at Holloman, referring to his work with the chimpanzees.