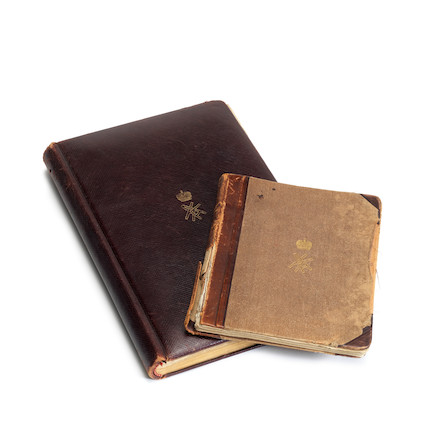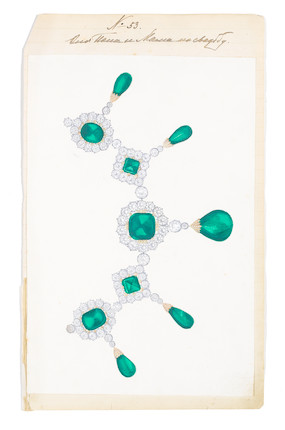 Ksenia (Xenia) Alexandrovna, Grand Duchess of Russia (6 April 1875 – 20 April 1960)
PERSONAL ILLUSTRATED INVENTORIES OF JEWELLERY AND BIBELOTS FROM 24TH JUNE 1880 TO 1905, AND OF JEWELLERY FROM 12 JANUARY 1894 TO 25 MARCH 1912, IN TWO VOLUMES
30 November 2011, 14:00 GMT
New Bond Street
Sold for £181,250 inc. premium
Own a similar item?
Submit your item online for a free auction estimate.
How to sell
Looking for a similar item?
Our Russian Paintings and Works of Art specialists can help you find a similar item at an auction or via a private sale.
Find your local specialist
Ksenia (Xenia) Alexandrovna, Grand Duchess of Russia (6 April 1875 – 20 April 1960)
PERSONAL ILLUSTRATED INVENTORIES OF JEWELLERY AND BIBELOTS FROM 24TH JUNE 1880 TO 1905, AND OF JEWELLERY FROM 12 JANUARY 1894 TO 25 MARCH 1912, IN TWO VOLUMES
the first, smaller, volume from 1880-1905.
4to (22cm. x 17.5cm.), on 91 ruled leaves of text with drawings in watercolour and bodycolour, some heightened, of which the first 20 leaves are written on rectos and versos (i.e. 39 pages of inventory, the first page with list of the twelve months with their birthstones), containing 74 entries (no.4 omitted and crossed through) with Russian text on versos and French translation on rectos, with no. 75 in Russian only; the following 43 leaves written on versos only containing entries 76 to 265 (no.147 and 241 with brief annotation on recto, no.194 with annotation on pinned slip of paper), with 4 additional drawings dated 1892 between nos.177 and 178; the final 27 leaves on rectos and versos containing entries 269 to 499 with briefer descriptions, the front free endpaper inscribed 'S.A.I. la Grande Duchesse Xenie Alexandrovna' with her signature in Cyrillic 'Ksenia' below, the back endpaper with pencil inscription '305 eggs', in original half roan and cloth boards, the upper cover stamped in gilt with crowned cypher 'KA', rather worn, stitching weak, spine partly loose and lacking central section, marbled endpapers with Russian printed label 'I. Baliasov's Shop, Nevskii prospekt'.

the second, larger, volume from 1894 to 1912.
Folio (34.5cm x 21.5cm.), on 99 ruled leaves of text with drawings in watercolour and bodycolour, some heightened, of which the first 18 leaves are written on rectos and versos (no.17 on verso only), followed by 26 leaves on rectos only, 8 on versos, and a further 47 on rectos only, with 426 numbered entries, of which all but no.62-64, 219, 221 and 422-426 are illustrated), 11 illustrations on card pasted on leaves, 9 with annotations on stitched slips of paper, followed by blank leaves, in original diced maroon leather, the upper cover stamped in gilt with crowned cypher 'KA', marbled endpapers.
Footnotes
PROVENANCE:
Grand Duchess Ksenia Alexandrovna
Thence by descent, England

The two lavishly illustrated inventories belonging to Grand Duchess Ksenia form an itemised record of jewellery received between 1880 and 1912. While the slimmer volume contains earlier and more modest personal donations presented by close family, the heavier tome details large-scale presentations made from the year of her wedding onwards. Presented together, the 925 entries provide a fascinating insight into the private wealth of the Romanovs, their personal taste and family relationships. The albums illustrate the manner in which important occasions were marked, and offer a crucial link to proving attribution and provenance for so many pieces later gifted, sold on by the Grand Duchess or seized by the Soviet authorities.

Grand Duchess Ksenia (1875-1960) was born in St. Petersburg at the Annichkov Palace when her grandfather, Tsar Alexander II, ruled the Russian Empire. Her father became Alexander III when she was six years old and, together with her mother Empress Maria Feodorovna (née Princess Dagmar of Denmark) and five siblings, she was raised at Gatchina Palace, well away from the political fermentation of St. Petersburg. There she received a private education alongside her brother, the future Nicholas II, which included the study of foreign languages as well as drawing, a skill in which she was accomplished and surpassed her brother. As well as travelling between Imperial residences, Ksenia's upbringing included regular visits abroad to the Danish home of her maternal grandfather (and Godfather), King Christian IX, whose name regularly appears in her entries.

Ksenia's privileged background limited her social contact mainly to royal relations and the aristocratic children of court officials. By the time she was eleven, Ksenia was smitten with her first cousin once removed, Grand Duke Alexander Mikhailovich ('Sandro') of Russia. Given their ages, it took another several years for the relationship to mature and for Ksenia's parents to finally approve their 1894 wedding. A daughter Princess Irina was born in 1895, then Prince Andrei in 1897, Prince Feodor in 1898, Prince Nikita in 1900, Prince Dmitri in 1901, Prince Rostislav in 1902 and Prince Vasili in 1907.

Although her father and grandfather's reigns were tainted by assassination plots and civil unrest, Russia was kept from war until the Russo-Japanese conflicts escalated in 1904. Ksenia was extremely affected by events around her and felt implicated in her family's treatment of political issues that arose. The albums served her as a personal, visual diary and are almost completely unrelated to political circumstances which the Grand Duchess elaborated upon in correspondence and personal accounts elsewhere. The current events of Bloody Sunday, formation of the Duma, involvement in World War I and trajectory towards Revolution are outside the purview of Ksenia's jewellery inventory apart from a passing notation that a piece 'disappeared during search of 1917'. In 1914, Princess Irina married Prince Felix Felixovich Yussupov, heir to a vast family fortune and notable for his involvement in the assassination of Rasputin. In the albums, we find notations likely to be in Ksenia's own hand of pieces given to her daughter. Later gifts to her sons and other family members are also noted.

The Revolution and 1918 assassination of her brother Nicholas II along with his family, as well as her brother Grand Duke Michael were devastating. It was only in 1919 that her English cousin King George V provided an escape route to Ksenia and to her mother along with other Romanov family members from Crimea aboard HMS Marlborough.

The Grand Duchess' personal circumstances altered dramatically as she lived through her father's and brother's reigns, Revolution, and two world wars, ending her days in a Grace and Favour apartment at Hampton Court Palace. Her eighty-five years spanned profound changes in the customs and fashion for jewellery as by 1901, she was a married mother herself when Queen Victoria died and in the year of her own death John F. Kennedy became President of the United States.

Following the discovery of Nicholas II's jewellery albums featuring more rudimentary illustrations, Alexander von Solodkoff offered further insight into Grand Duchess Ksenia in The Jewel Album of Nicholas II, Ermitage, 1997. As the daughter of a reigning monarch, Ksenia's wedding celebrations marked one of the last times the Crown commissioned jewellery from the Treasury. Alexander III ordered four complete parures several years before the wedding, visiting the repository of the Imperial Cabinet to select emeralds. This administrative institution's principal purpose was to oversee the care of Imperial jewels, pay for purchases ordered by the Tsar and for goods supplied to the court. Here were stored the most beautiful loose stones collected over the years by various Tsars and which belonged to the Treasury. Following the Imperial visit, Fabergé, Bolin and Ewing were each commissioned to design a parure for the wedding from which the Tsar finalised a choice. Nicholls and Ewing of Nevsky Prospect created an astonishing parure of emeralds and diamonds consisting of a necklace formed as a series of oval and rectangular cabochon emeralds, each surrounded by circular-cut diamonds, from each of which hung a pear-shaped cabochon emerald, a floral designed coronet entirely set with diamonds supporting pear-shaped cabochon emeralds and a large brooch with cabochon emeralds mounted in a double ring of diamonds, which could also be used as a centrepiece in the necklace. The inscription for No. 51-53 in the album reads 'from Mama and Papa for the wedding'.

At the same time, Bolin worked on an important commission from Ksenia's mother, Maria Feodorovna, to create a parure consisting of a tiara, necklace and large brooch in diamonds and rubies (No. 37-39). The stones which were particularly rare and carefully matched in colour also came from the repository of the Imperial Cabinet. Their selection was entrusted to Bolin with the collaboration of Ewing. In addition, the Tsar and Tsarina presented their daughter with two large diamond rivière necklaces and a wonderful tiara also created by Bolin, entirely decorated with briolette-cut diamonds which quivered with every movement of the head. There was also a diamond brooch that included three pear-shaped diamonds reminiscent of some owned by the Empress (No. 35). Her parents' gifts were completed by a parure of cabochon sapphires and diamonds and a five-stranded pearl collier de chien with a large button pearl clasp. The groom presented a splendid collier russe (No. 34) in diamonds by Bolin which could also be worn as a tiara. It was accompanied by a brooch with a naturalistic design of two vine leaves in diamonds which supported a drop cabochon emerald. The brooch (No. 36) was later given by Ksenia to her daughter Irina when she married Prince Felix in 1914.

Fig.(i) In this framed image of Grand Duchess Ksenia at the Boyar Ball of 1903, she wears jewellery received for her wedding. Around the neck, her two diamond rivière necklaces are arranged as a collier de chien with a string of large white oriental pearls in the centre. Also visible is the collier russe given by Sandro. Her emerald and diamond necklace has a large emerald and diamond brooch en-suite as its centrepiece. The cabochon emeralds from the tiara in the parure with the necklace are sewn to her headdress. Further precious stones enrich the embroidery on the brocade of her dress.

Other entries in the albums, while less lavish, provide a crucial insight into what was in vogue and illustrate forms no longer in use, such as the chatelaine and adornment set into elaborate coiffures. While St. Petersburg looked to Western Europe for stylistic influences, the Grand Duchess' personal jewels show designs that have been interpreted through the prism of Russian taste. Red gold was favoured over the yellowish hues and often densely set with cabochon sapphires, rubies or emeralds. These are more often represented in the albums than faceted stones. Semi-precious stones such as moonstones and mecca stones are in evidence as are those typical of the Russian territories. Agate with moss-like inclusions were popular and diamonds were usually tightly set rose-cut borders around a larger stone (No. 45).

Pearls were considered particularly valuable and are only present in a few of the illustrations. In a rare instance amongst the notations, Grand Duchess Ksenia expands her pencil entry for a necklace by carefully recording the number of pearls per row. Alongside the extravagant wedding emeralds and prized pearls are dozens of entries featuring enamel. These were valued for their technical mastery and were synonymous with Fabergé.

Cloisonné is noticeably absent and champlevé is incorporated into a design for a brooch in the form of a flag. The lavish hues of translucent enamel over engine-turned ground speak to the unmistakable signature of Fabergé guilloché work. As the albums evolve, so too do the stylistic influences as Art Nouveau takes hold. The taste for languid forms inspired by plants and animals travelled into Russia from Darmstadt when a Jugendstil colony was founded there in 1899 and gained an international foothold during the Paris Exposition Universelle in 1900. Still further into the inventory, the Art Deco style is represented in the rectilinear geometry of early 20th century design.

Both inventories illustrate that the Grand Duchess appreciated the symbolism of jewellery. Her interest in the language of stones is evidenced by opening notes in the smaller album attributing birthstones to their respective months. Designs drawn from such diverse sources as the Monomach Cap, Imperial Eagle, Royal Standard and crowned cyphers support the Imperial provenance but auspicious, romantic and other metaphors such as the horseshoe, clover, swastika, owl and elephant show Ksenia fully in step with the fashion of her times. Private in-jokes and references employ bibelots as couriers. A curiously shaped object presented by 'Georgi' resembling a potato may well serve as a sort of visual shorthand for the secret society which counted Ksenia and her brother among its members. Further research should uncover the meaning of some of the most private and perhaps evocative of Ksenia's trinkets and talismans.