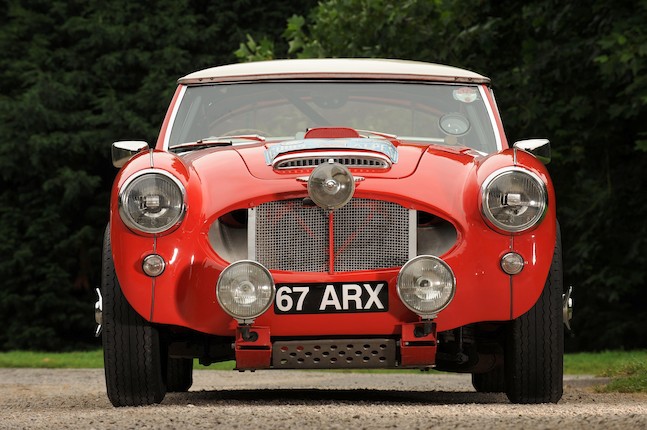 Property of a titled gentleman, the ex-works, Seigle-Morris, Makinen, Hopkirk, Morley twins,1962 Austin-Healey 3000 MkII Rally Car
Registration no. 67 ARX Chassis no. HBN7 18704
17 September 2010, 17:00 BST
Chichester, Goodwood
Sold for £113,700 inc. premium
Own a similar item?
Submit your item online for a free auction estimate.
How to sell
Looking for a similar item?
Our Collector Cars specialists can help you find a similar item at an auction or via a private sale.
Find your local specialist
Property of a titled gentleman, the ex-works, Seigle-Morris, Makinen, Hopkirk, Morley twins
1962 Austin-Healey 3000 MkII Rally Car
Registration no. 67 ARX
Chassis no. HBN7 18704
Footnotes
'Works rally cars... start from scratch, with the latest chassis which is upswept for greater ground clearance (originally developed for the tough Liège Rally, but now standard)... All the bodywork is made in aluminium instead of steel except for the doors... a classic competition car among the all-time greats in motoring history...' - The Autocar on works Healey 3000s, 1963.
BMC's development of the Big Healey for rallying started in 1958 with the 2.6-litre 100/6 model, which debuted in that year's Monte Carlo Rally driven by Tommy Wisdom. By the time the new 2.9-litre 3000 model took over midway through 1959, the 100/6 had demonstrated considerable promise, achieving a number of leader-board finishes, the best of which was Jack Sears' class win in the '59 Tulip Rally.
Development was facilitated by the transfer of Austin-Healey production to MG's Abingdon factory in 1957 and the decision to base the works' rally programme at the Competitions Department there under Marcus Chambers. Benefiting from the attention of MG's experienced engineers, the 3000 was progressively developed over the course of the next six years, before a change in the FIA's Appendix J regulations at the end of 1965 outlawed many of the special parts that had been homologated for competition use.
Although the Big Healey retained a separate chassis and body in traditional sports car fashion, for rallying these two components were welded together to form a structure of greatly increased strength and rigidity. Wherever possible, body panels - wings, doors and bonnet included - were fabricated in aluminium rather than steel to save weight, while from 1960 the boot lid was moulded in glassfibre, gaining a distinctive upward extension to accommodate twin spare wheels. To protect the low-slung under-body, 'bash' plates were invariably employed. This lack of ground clearance was the car's greatest weakness, explaining the works' policy of running them 'nose up' to avoid grounding the sump. Lack of rear suspension travel was another disadvantage, not addressed until the introduction of dipped chassis side members from late 1963, a modification that later found its way onto the 3000 MkIII Phase II production model. Other essential competition modifications included four-wheel disc brakes, close-ratio gears and a limited-slip differential.
Early works 3000s used engines that retained the production version's cast-iron cylinder head, twin SU carburettors and full-length exhaust system, developing around 160bhp. The adoption of a short side-exit exhaust system was one of the earliest modifications, followed by triple SUs, fabricated tubular exhaust manifolds, aluminium cylinder heads and triple Weber carburettors. These latter two modifications arrived in 1962, and in this ultimate specification the maximum power output had risen to around 210bhp.
The Big Healey's first major success was gained in 1960 when Pat Moss, partnered by co-driver Ann Wisdom, having finished second in the Alpine, then made history by winning the gruelling Liège-Rome-Liège (Marathon de la Route) event outright. It was the first occasion that a woman had won a major international rally. The following year the Morley twins - Don and Erle - won the Austrian Alpine Rally outright, a feat they repeated in 1962. Big Healeys were regular class winners and frequently took the team ward, though in the face of increasing competition, not least from the Mini Cooper, outright wins were comparatively few. The car's final outright victories came in 1964 when Paddy Hopkirk won the Austrian Alpine Rally and Rauno Aaltonen the last Marathon de la Route held on public roads, which on this occasion followed a Spa-Sofia-Liège route.
This ex-works BMC rally team 'Big Healey' is understood to be the sole surviving 1962 Team car. '67 ARX' was one of a series of five cars built by the works in 1962 with registration numbers respectively '37', '47', '57', '67' and '77 ARX'. Three ('37', '57' and '77') were written off in 1963 and one, '47 ARX', in 1964.
'67 ARX' made its international debut in the 1962 Alpine Rally, along with its sister cars '47', '57' and '77 ARX'. In the event it was crewed by David Seigle-Morris/Tony Ambrose, placing 8th and contributing to BMC's Team Prize victory. Seigle-Morris/Hercock then shared it in the gruelling Liège-Sofia-Liège Rally - a notoriously punishing, virtual road race in which the organisers' declared aim was 'no finishers'! Seigle-Morris actually led in this car until it sustained chassis damage. He nevertheless nursed it to the finish, earning a special Gold Award for having finished 'The Liège' in three consecutive years.
'67 ARX' next ran in the RAC Rally, crewed by Paddy Hopkirk/Jack Scott to win its class and finish - excellently – 2nd overall. This was Paddy's first significant result with the BMC team and signalled the start of a long and fruitful relationship. The car's next outing was the Swedish 'Midnight Sun' Rally in the hands of the legendary 'Flying Finn', Timo Makinen, another newcomer to the team who was drafted in by Competitions Manager, Stuart Turner and is regarded by many to be one of the most naturally gifted of all rally drivers. In this event, unfortunately, they were disqualified for not having any bumpers. The car had two more outings under the BMC works banner: Logan Morrison/Ross Finlay shared it on its second 'Liège' but crashed, while its last works event saw the Morley twins - Donald and Erle - finish 9th overall and 2nd in class to Makinen's sister-car, '47 ARX'.
At the end of the 1963 season, with a new batch of cars under construction for 1964, the surviving works cars were sold off. '67 ARX' went to Tony Ambrose, passing later to Healey enthusiast Ted Worswick who continued rallying it, still in works trim save for small wing extensions similar to the later works cars. Worswick competed in two events: the 1966 FRAM International Rally and the 1967 Gulf International Rally. In 1969 he sold it to Gary Bristow, of Marlow, Bucks, describing the car as being 'a little tired', not surprising after 9,000 arduous rally miles.
Bristow decided to rebuild the car, keeping it as a works rally car rather than making it a track racer as he had done with 'XJB 876'. The car was dismantled and all parts meticulously kept in order. New metal was welded into inner wings, inner sills and the bottoms of the door pillars. The rest of the chassis was left largely untouched apart from a suspension overhaul. In this uncompleted state the car was sold to BMC specialist Syd Segal, of Redbourn, Hertfordshire in 1979. Syd had already bought 'XJB 876' and owned 'SMO 744', another ex-works rally car, as well as 'ABL 6', John Gott's No. 2 track car. In the four years Syd Segal owned '67 ARX' nothing was done to it bar a coat of chassis paint, mainly due to the car being in London while Syd was in Hertfordshire. Indeed, the car's rebuild proper did not commence until the next owner, Nick Howell, purchased it in the early 1980s. The car was sympathetically restored throughout by Barry Simpson Restorations Ltd, using a 'repair rather than replace' policy. After the restoration's completion '67 ARX' made several appearances at historic meetings before being sold to Aston Martin Chairman, Victor Gauntlett, who used the car on such retrospective events as the Coppa d'Italia.
In the 1990s this historic machine underwent a full mechanical check and engine rebuild by marque expert John Chatham, with bills exceeding £6,000, and had covered only a limited mileage since when it was purchased by the current owner in 1998. While in the vendor's possession, '67 ARX' has been used on historic events such as the Monte Carlo Challenge (in 1999) and Classic Malts Rally (in 2000). After an accident in the Rally of Portugal in 2000, '67 ARX' was sent for repair to Austin-Healey specialists, Orchard Restorations, of East Sussex. Sadly, the chassis was found to be beyond saving, so a new frame was fabricated to works pattern and the car rebuilt around that while retaining as many of the original parts as possible. Orchard's estimate (on file) details the work carried out, which included careful removal of the original front and rear bulkhead sections, retaining all past works modifications. On completion, '67 ARX' was returned to the vendor together with its original chassis frame.
Orchard Restorations has continued to maintain the car, which has not been used for rallying since the rebuild but instead been taken to various shows and meetings including the 50th Anniversary of Austin-Healey at Thruxton in 2002. '67 ARX' is offered with a full file of history from new (close inspection of which is recommended) and in addition comes with FIA papers, FIVA passport, Swansea V5C, current road fund licence and MoT. Finished in the BMC factory team's red/white livery, this unique survivor represents a rare opportunity to acquire a genuine, historic, ex-works Austin-Healey possessing excellent provenance.