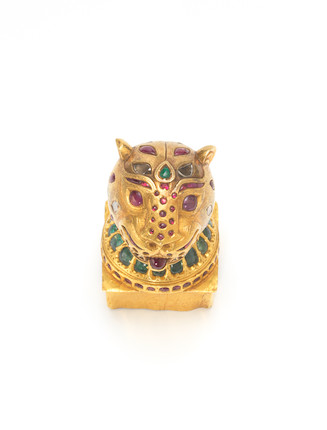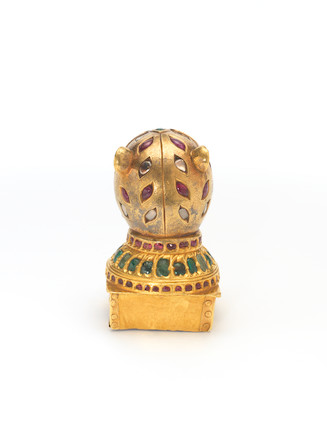 An important gem-set gold Finial in the form of a Tiger's Head from the throne of Tipu Sultan (1750-99)
Mysore (Seringapatam), made between 1787-93
7 October 2010, 10:30 BST
New Bond Street
Sold for £434,400 inc. premium
Own a similar item?
Submit your item online for a free auction estimate.
How to sell
Looking for a similar item?
Our Islamic and Indian Art specialists can help you find a similar item at an auction or via a private sale.
Find your local specialist
An important gem-set gold Finial in the form of a Tiger's Head from the throne of Tipu Sultan (1750-99)
Mysore (Seringapatam), made between 1787-93
gold sheet over a natural resin core, the gold sheet finely smoothed and burnished, set with rubies, diamonds and emeralds. The collar around the base with three tiers of gems: at the bottom an arcaded band set with foiled, polished cabochon rubies; above a band of foiled polished cabochon emeralds, the settings overlapping the stones and with small cusped claws extending onto the surface of the emeralds; and above a further band of foiled polished cabochon rubies. The main gold surface of the head worked decorated with fine dotted pointille punching; symmetrically set on either side of the centre line with foiled table-cut diamonds, foiled cabochon rubies and foiled cabochon emeralds of varying sizes, with larger rubies set on the eyes and the tongue, the teeth set with foiled table-cut diamonds. The ears projecting above the head decorated with chased lines and further pointille punching. The square base of gold sheet forming a collar with rivets (the rivets a contemporary repair as on the Clive finial). The inside of the base with a circular hole revealing the resin interior with two drilled holes, probably from originally mounting technique. The base chased with an arabesque-shaped mark.
8.4 cm. high; 346 g.
Footnotes
Provenance: Lieutenant-General Sir Thomas Bowser, K.C.B., H.E.I.C.S (1749-1833); and by descent to the present owners, a private Canadian family of Scottish origin.
 
Tipu Sultan (1750-99)
Tipu Sultan or Tipu Sahib was born in Devanhalli on 20th November 1750 to Haider 'Ali (1721-82) and his second wife Fatima, or Fakr-un-Nissa. Haider 'Ali was a soldier, who had risen through the ranks of the Mysore army to the point where he was able to establish himself as de facto ruler, usurping the brothers Nanjaraj and Devraj in 1752. In 1782 Tipu succeeded his father as Sultan of Mysore, which was the strongest, the best governed and the most prosperous state in India.

Tipu was a Sunni Muslim with leanings towards Shi'ism, revering the Shia Imams. He was devout and named his kingdom Saltanat-i Khudadad (God-Given State). The large majority of his subjects were Hindus of different denominations and only ten per cent were Muslims, both Sunni and Shia. He was very interested in Sufism and commissioned a number of written works on the subject. He was extremely superstitious and often took the advice of astrologers. He fed Brahmins and paid the expenses for Hindu ceremonies performed to invoke success for his arms. However, in his relations with both Indian and foreign powers, like his father, he was not influenced by religious considerations, but only the political and economic advancement of his kingdom (Hasan, 2006, pp. 378-79).

Tipu, who famously uttered: "I would rather live a day as a tiger than a lifetime as a sheep" adopted the royal tiger as his personal emblem. The association of a tiger with a dynasty was not unique to him: the Cholas and Hoysalas had used it before him, but he took its use to new heights and customised everything that might be associated with him, including his throne, ornamentation on his buildings, arms and armour, textiles such as tent panels, the uniforms of his courtiers and soldiers, and was even said to have a tiger-stripe or bubri motif as the watermark on the paper he used for official edicts. When travelling outside his court, he was known to wear a red coat emblazoned with bubris. The tiger was symbolic of power and Tipu objects are easily identified by this decoration. Tipu even dreamed of tigers and recorded such an incident in his notebook, which was discovered by Col. William Kirkpatrick after the fall of Seringapatam (Kirkpatrick, London, 1811).

Tipu Sultan was the East India Company's most tenacious enemy. According to propaganda from the Company, Tipu was "a cruel and relentless enemy", an "intolerant bigot", a "furious fanatic" with "a rooted antipathy and inveterate hatred of Europeans" who had "perpetually on his tongue the projects of Jihad". The Company badly wanted to take over Mysore and to seize its considerable mineral riches. To this end, the advocates of Regime Change went on a concerted propaganda drive, arguing that Tipu was a threat to the whole region. Tipu was certainly a tough and brilliant general. In the course of five wars against the Company, he inflicted on them the most humiliating defeat ever suffered by the British at Indian hands - the battle of Pollilur, in 1780. This battle, which took place only a few months before the equally disastrous surrender at Yorktown and the loss of the American colonies, was a tactically brilliant victory by Tipu, and led to the capture of no less than one in five of all British soldiers in India. More than 7,000 British men, along with an unknown number of women, were held captive by Tipu.

Tipu, it is now clear, was one of the most creative, innovative and capable rulers of the pre-colonial period. Tactically, the Mysore forces were fully the match of those of the East India Company, and Tipu's sepoys were every bit as well trained by their officers as those of the Company were by theirs; indeed, the steely discipline of the Mysore infantry amazed and worried many British observers. The sepoys' flintlock rifles and horse-drawn light cannon were based on the latest French designs, and were much superior to the Company's old matchlocks. Tipu watched the way the European companies trained their troops and equipped his own forces so he could beat the British at their own game, so he studied their economic methods and put in place a number of extremely imaginative measures which quickly transformed the economy of Mysore.

He tried to import European industrial technology through French engineers and experimented with harnessing water-power to drive his industrial machinery. French artisans were welcomed to Seringapatam, where they taught the craftsmen of Mysore the secrets of printing and of manufacturing porcelain, glass and watches, as well as the art of tapestry weaving. Tipu sent envoys to southern China to bring back silkworm eggs and established sericulture in Mysore, an innovation of his that still enriches the region today.

He set up a department of animal husbandry to breed superior strains of draught cattle and horses, and he built a network of new roads. More remarkably still, he created what amounted to a large State Trading Company with its own ships and factories dotted across the Persian Gulf, through which he began to open up a profitable trade with the Middle East. His substantial library, which contained some 2,000 volumes in several languages, was full of books not only about theology, ethics, Sufism, cosmology and Islamic jurisprudence, but also on history, poetry, the sciences, mathematics and astronomy and "was a library to do a Mughal prince proud", as one scholar later commented.

Perhaps the greatest of all the arts of the court of Tipu are the metalwork and jewellery. Tipu clearly loved beautiful objects, which filled his carefully amassed treasury and, as one observer described, he "passed the greatest part of his leisure hours in reviewing this various and splendid assemblage of his riches".

The Siege of Seringapatam and the aftermath of Tipu's death
On 19 February 1799, the six East India Company battalions in Hyderabad, under the command of James Dalrymple, joined up with General Harris's huge Company army, which had marched up from the southern military headquarters of Vellore.
By mid April the siege of Seringapatam had begun and Tipu was showing every sign of resisting with his characteristic ingenuity and tenacity. As one British observer wrote, "He gave us gun for gun [...] while the blaze of our batteries, which frequently caught fire [... ] was the signal for the Tiger sepoys to advance, and pour in galling vollies of musketry." By 4th May the British were ready for the assault.

At 1pm, in the heat of that day, most of Tipu's sepoys went off to rest for the afternoon. In the Company trenches, the British commander David Baird, who had spent 44 months in Tipu's dungeons, roused himself and gave his troops "a cheering dram and a biscuit". He then drew his sword, jumped out of the trench and led a storming party straight into the breach. Within a few hours the city was in British hands. Baird was later taken to Tipu's body by one of his courtiers. It lay amid a heap of dead and wounded, with three bayonet wounds and a shot through the head. Tipu's eyes were open and the body was so warm that, for a few moments in the torchlight, Baird wondered if the Sultan was still alive; but feeling his pulse, he declared him dead. His body was placed on his palanquin and carried back to the palace.

Lieutenant-Colonel Alexander Beatson wrote the following year: "Those who have served in this campaign, victorious and brilliant as it has proved, will however, I believe, agree that the infantry of the Sultaun were not inferior to our sepoys; and that, had he been joined three or four months ago by four or five thousand French troops, which he had every reason to expect, the event might have been very different" (Beatson, London, 1800, Appendix No. XXXIII, pp. ci-civ).

Following the fall of Seringapatam, there ensued several days of indiscriminate plunder not only of the palace and its treasury, but also of the houses of the city, home to 100,000 people. Arthur, Lord Wellesley was appointed Governor of Seringapatam Fort and instructed to restore law and order. Wellesley wrote to his mother: "Scarcely a house in the town was left unplundered, and I understand that in camp jewels of the greatest value, bars of gold etc have been offered for sale in the bazaars of the army by our soldiers, sepoys and followers" (quoted in Moiennudin, 2000, pp. 25-6.)

Major David Price, who later wrote his memoirs of these momentous events, was appointed Seringapatam Prize Agent, giving him responsibility for the division of the spoils, along with six other officers. He wrote: "The wealth of the palace, which was sufficiently dazzling to the eyes of many who were much more habituated to the sight of hoarded treasure than we were, seemed, at that moment, in specie, jewels and bullion, and bales of costly stuff, to surpass all estimates."

The exact process for the distribution is not clear from contemporary accounts, although auctions of at least part of the booty were held in May and June 1799. The Prize Agents were staggered by what they found in Tipu's treasury: gold, jewellery, arms and armour, palanquins, furniture and the finest cloths. The first day of counting alone yielded one million, two hundred thousand sultany pagodas, all neatly sealed up in bags of 1,000 (the equivalent of half a million pounds sterling). This was following the night of looting. Jewels too had disappeared, yet those remaining were worth the equivalent of £360,000 and some of the most senior officers had to take their part of the prize money in jewels. Even though so much had been taken by individual soldiers, great quantities of treasure remained and the most important pieces were reserved for the British Royal Family or the Directors of the East India Company. It was the latter who received "Tippoos Tiger", the mechanical royal tiger in the act of devouring a European officer (now in the Victoria and Albert Museum, London), together with numerous items from the palace wardrobe.

Tipu's gold throne was broken up at the order of the Prize Committee to the regret of the Governor-General, who wrote from Fort St George that if it could be reassembled, it ought to be acquired by the Company to present to the King. In a letter to the Court of Directors of the East India Company in January 1800, Arthur Wellesley wrote: "It would have given me great pleasure to send the whole throne entire to England, but the indiscreet zeal of the Prize Agents of the army had broken that proud moment of the Sultan's arrogance into fragments before I had been apprised even of the existence of such a trophy" (quoted in Buddle, Rohatgi and Brown, 1999, p. 25). Some years later in 1842, Surgeon-Major Pulteney Mein, an eye-witness, wrote in response to an article in a journal, which had reported the siege, that "this gorgeous throne was barbarously knocked to pieces with a sledge hammer", such was their eagerness (Moienuddin, 2000, p. 49).

The Asiatic Annual Register described the sheet gold as weighing 40,000 pagodas. (AAR 1799: 223; quoted in Moienuddin, 2000, p. 46) This gold was stripped from the wooden carcass of the throne, and cut up into pieces each worth one third of a subaltern's share, which amounted to 1,080 sultaunies (more than £500) (Stronge, 1987, p. 75). This was done to augment the gold to be shared out. The remaining components were sold by auction. The huma bird had been acquired by General Gent of the Madras Engineers for 500 sultaunies and had to be bought back from him for £1760 (Moiennuddin, 2000, p. 51). The large tiger head was bought in the auction by Pulteney Mein, but then purchased by Richard Lord Wellesley (later the Earl of Mornington) and sent to the Court of Directors of the East India Company, where it was displayed in their museum. Later, in 1831, it was presented to King William IV. Both the huma bird and large tiger head are in the Royal Collection today (RCIN 48482 and 67212).

Tipu Sultan's Throne
In 1784, Tipu had dispatched an envoy to the Caliph in Rum, Turkey to apply for letters patent to allow him to declare himself Padshah in imitation of the Mughals and thus establish his legitimacy to the Mysore throne. The embassy returned in 1787, and Tipu gave instructions for a throne of gold, ornamented with jewels of great value, to be made. Kirmani records: "The Sultan now, therefore, according to the suggestions of the Vizirs of Room, and the advice of his faithful Amirs, collected all the treasures of the state, or rather assumed the pomp and splendour of royalty, and directed the formation of a throne of gold, ornamented with jewels of great value in the shape of a tiger, a figure from the first most approved by the Sultan"; and later in 1793, he noted: "The throne of the kingdom was also at a fortunate period finished as desired" (Stronge, 1987, p. 75), indicating that work was completed in that year.

Tipu is known to have wished to follow Mughal precedent, and had proposed marrying a Rajput wife "according to the customs of the Kings of Delhi, first introduced by Sultan Julaluddin Muhammad Akbar" (Stronge, 1987, p. 75, quoting Kirmani). The throne represented an important part of the trappings of royalty, and he would certainly have been aware of the jewelled "Peacock" throne of Shah Jahan, even though it had been taken to Persia following Nadir Shah's capture of Delhi in 1739. Contemporary depictions and accounts reveal that both thrones shared the canopy, jewelled bird finial and polygonal platform (Stronge, 2004, figs. 7, 8, 10, 11 and 14).

A grand throne-mounting ceremony had been planned, with a host of festivities to include a general delaying of marriages in Mysore for a period so that 12,000 weddings could be solemnised the same day. It is not known when this was intended to take place, but Forrest suggests the date was delayed on account of the Third Mysore War (Forrest, 1970, p. 215). These would have been extensive celebrations and are not mentioned by Kirmani (Stronge, 1987, p. 75). Major David Price, the Prize Agent, following the siege in 1799, wrote: "Among the captured property in our hands, was the superb throne, overlaid with sheets of pure gold, which the Sultaun had never mounted" (Strong, 1987, p. 75); and in fact it is said that Tipu vowed that he would not mount it until he had vanquished the British.

Pictorial representations of the throne are few, but it was described by several eye-witnesses of the battle, including Lady Clive, Major David Price, Lieutenant-Colonel Alexander Beatson, Surgeon-Major Pulteney Mein and also Captain Benjamin Sydenham (see lot 369 in the present sale). Other descriptions appear in the account of the Asiatic Annual Register (1799-1802) and Mir Husain Ali Kirmani's history of the reign of Tipu. The descriptions vary in some details, but supplemented by the three contemporary images, it is possible to construct a reasonably accurate idea of the throne's appearance.

The first is a watercolour dating to 1800 by Anna Tonelli, an Italian artist who accompanied Lady Clive on her tour in South India as governess to the Clive children, which shows an octagonal throne with eight finials and a large central tiger support and a small canopy (illustrated in Bonhams, 2009, lot 212); another drawing by Captain Thomas Marriott, aide-de-camp to the Commander-in-Chief of Madras, dated 16th August 1799, shows an octagonal throne with a larger canopy, and the huma bird finial, as we know it today, is more realistically depicted (see illustration). Both depictions show eight small tiger head finials. There is a third depiction by Gholam Mohammad, one of Tipu's sons, first published in 1848 (Buddle, 1990, p. 11).

Lady Clive, writing in the notebook now at Powis Castle, also confirms that there were eight tiger head finials. In a letter of 12th July 1800, she wrote to her husband from Bangalore: "I now send you the throne's [sic] of Tippoo Sultan which you are to open and chuse for yourself and the other for Ld Wellesley. The Moonshee who Col. Close sent me was Tippoo's Treasurer as he says & I believe...he had the direction of making the Throne & the verses on the Koran were chosen by him I have made him write down exactly what was upon the whole round the Canopy or Umbrella were many sentences of the Koran & upon the head of the Tyger....I have put in a bit of paper explaining how I got it as I believe the zeal with which it was destroyed did not give the plunderers time to know that there was an Inscription on the Canopy....We have asked many questions of the Moonshi & it is alter'd as much as he said was necessary from the Model & slight sketch of Capt. Marriott's. He says that the face is very like Tippoo" (Stronge, 1987, p. 75).

Lieutenant-Colonel Alexander Beatson, writing in 1800, and Major Pulteney Mein, writing in 1842, both present at the siege of Seringapatam, as well as the Asiatic Annual Register for 1800, both mention ten small tiger head finials (quoted in Moienuddin, 2000, p. 47). Major David Price, the prize agent attached to the Madras Army described the throne: 'As far as I can now describe it, [the throne] was a clumsy, wooden platform, of six or eight sides, entirely overlaid with gold, of the thickness, I should conceive, of a sheet of lead; sculptured all over with the tiger streak device. It was to be supported on four tigers of wood, also covered with gold; and on an iron stay, curving over from the hinder part of the platform, was to be fixed, the Homai, or phoenix; also covered with gold, and set with jewels' (Stronge, 1987 p. 75).

Captain Benjamin Sydenham in a letter to Earl Macartney described the throne: "The Throne or Musnud is exceedingly rich and splendid. It is of an octagonal form, covered with thick plates of solid gold, the fringe of the Canopy is about 4 inches deep, & made of pearls. Its value cannot at present be ascertained, but there is no doubt that the amount will be considerable" (see lot 369 in this sale).

Another contemporary account written in 1800 by Mir Husain Ali Kirmani, a noted historian during Tipu's reign, reported the following: "The most pre-eminent acquisition to the captors, among the Royal property found in the palace, was a most superbly decorated throne, the precise value of which no person could ascertain; it was a Howdar supported on the back of a Tyger, the solid parts made of heavy black wood, and entirely covered with a coat of the purest sheet good as thick as a guinea, fastened on with silver nails, and wrought in tiger stripes, curiously indented, and most beautifully polished.

"The floor of the throne about eight feet in length, by five in width, was raised four feet from the ground; and besides the massy Tiger which formed its central support, stood upon richly ornamented uprights of the same material, placed at the outer angles; the ascent onto each side was by a ladder, in the manner of a coach-step, of solid silver-gilt, with silver nails, and all the other fastenings of the same metal. Intermixed with the ornamented workmanship of the Howdar, were hundreds of Arabic sentences, chiefly from the Koran, superbly stamped, being raised and polished with the most beautiful effect.

"The canopy was formed of a lighter wood, entirely cased with sheet gold in the same manner as the body of the throne and as highly ornamented; with a thick fringe all round it, composed entirely of fine pearls strung on threads of gold. The central part of the roof was surmounted by a most curious and costly figure of the Humah (the fabulous Royal bird of the east) formed of solid gold nearly the size of a pigeon, and covered over with the most valuable jewellery." (quoted in Moienuddin, 2000, p. 47).

The Bowser Finial
Only three other finials in addition to the present lot from the guard-rail of Tipu's fabled throne are known to have survived: the best known example is in the Clive Collection at Powis Castle, acquired by the second Lady Clive in India, a gift from Lord Wellesley; a second, acquired after the battle by Surgeon-Major Pultney Mein, either by allocation or in the agents' auction, was sold at Sotheby's (19 March 1973, lot 180) and then offered by a London antique dealer in 1974 (advertised in Oriental Art and the example referred to by Forrest as being in the collection of Alexander Bowlby of Hampstead, London) and has since disappeared from view, its current whereabouts unknown; and the Hope-Wallace finial sold through these rooms (Bonhams, 2009, lot 212). In addition to these three, Forrest refers tantalisingly to another finial in a private collection in Cornwall, but no further information or explanation is offered and there is no corroboration to be found in other sources. A very similar, but smaller tiger head (later mounted on a European sword) was in the collection of Robin Wigington (Buddle, Rohatgi and Brown, 1999, p.25, pl. 25) until dispersed at auction in 2005 (Sotheby's, 2005, lot 7). Because of its size, it was clearly not one of the throne finials, but its close affinity suggests that it was part of the Sultan's royal regalia, possibly from a rod of office.

The head of this particular lot matches very closely in workmanship the other three known finials, but in terms of features is almost identical to the Hope-Wallace finial. There are small aesthetic differences with the Powis finial, in particular the arrangement of the rubies on the nose, although it does share the projecting corner pieces of gold sheet and the sleeve with rivets forming the base. The method of manufacture common to all the known finials, where the head was hammered into shape from gold sheet and then filled with lac to enable the details of the decoration to be filled without the head collapsing. The settings of the stones can be compared to South Indian temple jewellery and jewelled objects. (Filliozat and Pattabiramin, 1966).

The Bowser finial, together with the gold bezoar stone holder (lot 372) and the Kutch gilt sword (lot 371) in the present sale, are itemised as the first three items on a ledger entry (see illustration) that was kept in the same chest as Sir Thomas' other possessions, including his Seringapatam Medal and insignia of the Knight Commander of the Most Honourable Order of the Bath (K.C.B.). The finial is listed at 20 pounds sterling, and the bezoar stone holder ("gold ball") and sword at 7 pounds respectively. The chest was held in storage for many years and narrowly escaped destruction in a fire that took other heirlooms.

The re-emergence of this fourth finial, after more than two hundred years in the same family, adds another piece to a still very incomplete picture of this most significant 18th Century Indian court, a complete understanding of which has been denied as a result of the wide dispersal of Tipu's treasury, and is an important addition to the existing relics of the Tiger of Mysore's reign.
 
Bibliography
Archer, Mildred, Tippoo's Tiger, London 1959;
Archer, Mildred, Rowell, Christopher and Skelton, Robert, eds., Treasures from India. The Clive Collection at Powis Castle, National Trust 1987;
Beatson, A., A View of the Origin and Conduct of the War with TippooSultaun; comprising a narrative of the operations of the army under command of Lieutenant-General George Harris, and of the siege of Seringapatam, London, 1800;
Bonhams, Islamic and Indian Art, 2nd April 2009.
Buddle, Anne, Rohatgi, Pauline and Iain Gordon Brown, The Tiger and the Thistle. Tipu Sultan and the Scots in India 1760–1800, Exhibition Catalogue, Edinburgh, 1999;
Buddle, Anne, Tigers around the Throne. The Court of Tipu Sultan (1750-99), London, 1990;
Bowring, Lewin B., Rulers of India.Haidar Ali and Tipu Sultan, Oxford, 1893;
Filliozat, J. and Pattabiramin, P.Z., Parures Divines du Sud de l'Inde, Pondicherry, 1966;
Forrest, Denys, Tiger of Mysore. The Life and Death of Tipu Sultan, London 1970;
Hasan, Mohibbul, History of Tipu Sultan, Delhi 1971;
Hodgson, John, et al., A History of Northumberland in Three Parts, Oxford, 1840;
Kirmani, Mir Hussain Ali Khan, transl. G. Miles, The History of the Reign of Tipu Sultan being a continuation of The Neshan Hyduri, London, 1864;
Kirkpatrick, William, Select Letters of Tippoo Sultan, London, 1811;
Mohammed, Gholam, History of Hyder Ali and Tipu Sultan, London, 1855;
Moienuddin, Mohammed, Sunset at Srirangapatam. After the Death of Tipu Sultan, Hyderbad, 2000;
Oriental Art (Periodical), Vol. XX, no. 4, 1974, p. 357: Advertisement placed by Douglas Wright Ltd of Curzon Street, showing the Pultney-Mein/ Bowlby finial;
Price, David, Memoirs of the Early Life and Service of a Field Officer on the Retired List of the Indian Army, Woodbridge, 1839;
Schimmel, Annemarie, The Empire of the Great Mughals, London 2004 (English translation);
Sotheby's, The Tipu Sultan Collection, London, 25th May 2005, lot 7;
Robert Skelton et al., Treasures from India. The Clive Collection at Powis Castle, National Trust 1987;
Stronge, Susan, 'Gold and Silver' in Treasures from India. The Clive Collection at Powis Castle, National Trust 1987;
Stronge, Susan, 'The Sublime Thrones of the Mughal Emperors of Hindustan', Jewellery Studies 10, 2004, pp. 52-67
Stronge, Susan, Tipu's Tiger, London, 2010