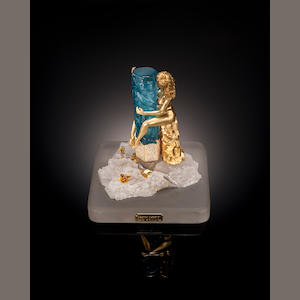 Carved Gem Aquamarine, Diamond, Platinum and Gold Sculpture—" Lost Love"
Natural History
The Natural History department conducts three auctions per year, firmly establishing Bonhams as the forerunner in the field internationally. An extraordinarily wide range of categories are offered, including: mineral specimens; fossils, including dinosauria, petrified wood, amber and ammolite; unmounted faceted gemstones, including rare phenomenal gemstones; gold; meteorites; lapidary, archaeological stone artefacts; mounts and animal, plant, insect and shell specimens, pearls and coral, and natural history-related decor and curiosities.
With consignments culled from private collections, palaeontologists, fossil preparators, quarry and mine owners, the auctions are successful in providing specimens that are fresh to the market.